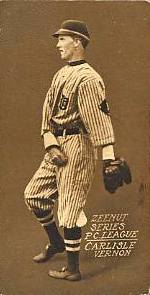 ---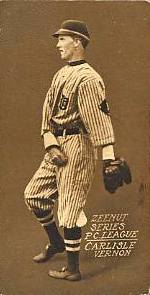 There have been 34 major-league ballplayers born in England. Yeadon, West Yorkshire, in England was a "traditional Victorian textile village," according to the Aireborough Historical Society. It was the birthplace on July 6, 1881, of Walter Carlisle, son of Ann and Matthew Carlisle. Matthew was a painter, per the 1881 England census. His mother brought him from the old country to the United States when he was 2 years old, settling in Minneapolis. She is found in the 1885 Minnesota census living with her husband and seven children.
It is unclear what became of Matthew. By early 1905, when Walter was 23, his mother was 57 and no husband was indicated. Walter's occupation was ballplayer. His younger brother Fred was a candy maker. Ann Carlisle's work was "housekeeping," perhaps indicating she worked as a maid.
Walter played amateur ball in Minneapolis for three years before joining the Minneapolis Millers of the American Association as an outfielder in 1902. That year the American Association was an independent league, without a classification. After just 13 games, Carlisle began to play for another independent team, the Crookston Crooks of the Northern League, which became a Class D league within Organized Baseball in 1903. Carlisle played for Crookston for part of 1904, advanced to the Rock Island Islanders of the Class B Three-I League later in 1904, and played for them into 1906. He never hit all that well, rarely getting above .250. His last season with Rock Island was a partial one, and he was hitting only .214 in his first 84 games, but he was advanced again, to the Pacific Coast League's Los Angeles Angels.
The Boston Americans had been after Carlisle since 1905, when he hit .258, and found themselves competing with Cleveland to secure him from the Rock Island club. Interest only increased in May and June 1907, when Carlisle made a "world's record" by hitting five home runs in a 20-game stretch for the Los Angeles Angels; the team won the PCL pennant and Carlisle was sold to Boston for $2,500. The Los Angeles Times declared, "Boston certainly gets a jewel in him, for he can hit, field, run and play almost any place. The Champions will look a long time to find his equal." In that 1907 season Carlisle had led the PCL in runs scored with 113 and in home runs with 14, hitting three on August 18 against Oakland.
Carlisle made the Boston team in spring training, regarded by the Boston Globe as "a fast man [who] keeps on winning his way for all-round cleverness. Though not a great batsman, he is a run-getter and a valuable young ball player to have around camp in a strenuous campaign." [1] In a game in Champaign, Illinois, with the Red Sox Number Two team, he showed some pluck running after a ball and slamming head-first into an iron picket fence in the outfield, knocked semiconscious for his efforts. [2]
Bullet Jack Thoney was Boston's regular leadoff hitter and left fielder, but he experienced problems with his arm and went to Youngstown, Ohio, to consult with noted sports "doctor" Bonesetter Reese. While he was away, Boston manager Jim "Deacon" McGuire designated Carlisle to fill his slot. Walter played left and batted leadoff – but he appeared in only three games in a four-day stretch in early May. The day before his debut, Carlisle shared a novel experience with his teammates. The afternoon game against the visiting New York Highlanders was called off, but in morning practice a leery Boston team had the opportunity to take batting practice against a pitching machine. Once they settled in, "the players enjoyed swatting the machine man's curves" but it took a bit for the operator to calibrate the machine and Denny Sullivan and Carlisle "threw somersaults to get out of the way of inshoots, but as a whole the machine was quite successful." [3]
The 5-foot-9, 154-pound switch-hitting Carlisle (who at some point attracted the nickname Rosy) was 1-for-4 in his first major-league game, at Boston's home Huntington Avenue Grounds on May 8, with a single in the sixth. The Red Sox lost to the visiting New York team, 3-0. New York won again the next day, beating Cy Young 2-1. Carlisle led off again, but was 0-for-4, though he reached base once on a walk and earned his one stolen base. The Boston Globe described a "beautiful throw from left field" on Kleinow's single, with Walter "picking up the ball on the dead run and sending it to the plate like a rifle shot." With a shoestring catch, the paper adjudged him "pretty near filling the bill as a throwing outfielder and a fast man on the bases."
There was no game on the 10th, it being a Sunday and baseball in Boston being illegal on the Lord's Day, but the two teams matched up once more on the 11th, the Highlanders taking that one, 3-0 again. Carlisle was 0-for-2, striking out twice and being replaced by Jim McHale in the seventh. Thoney returned to his accustomed role in time for the game on May 12. On May 29, Carlisle got the word that he'd been sold with three other players to the American Association team in Kansas City. Later reports had him "receiving great praise" for his work in KC. The Globe gave him a nice sendoff, with what proved to be his major-league obituary: "Carlisle is one of the finest outfielders in the profession. He is a beautiful thrower, and very speedy, but he failed to show good form at the bat in the few games that he played with the Red Sox." He was 1-for-10 (he also walked once, and had a stolen base to his credit.) He had six chances in the field, for five outs and one assist. His lifetime fielding average was 1.000; his career batting average was .100.
Carlisle hit .223 the rest of the year in Kansas City, but improved distinctly in 1909, to .258. In 1910, married to Mary Maisie Carlisle of Wisconsin and living in Los Angeles, he played for the Vernon (California) Tigers in the Pacific Coast League, the first of three straight seasons in Vernon. The Tigers moved to Venice and became the Venice Tigers beginning in 1913, still under manager Hap Hogan, and Carlisle played for Hogan through 1915 (though the team moved back to Vernon in July 1915.) He'd played for the same organization for much of seven seasons, before joining the Portland Beavers later in 1915. The Coast League had much longer seasons and in 1910 Carlisle played in a career-high 224 games. [4] In 1911 he hit 17 homers and hit for a .297 average.
Carlisle averaged more than 14 home runs a year his first three years, a significant total in that era albeit one that might appear inflated given the greater number of games. His biggest claim to lasting fame came on July 19, 1911, as a center fielder for Vernon. Running in from center, he caught a ball and fell rolling to the ground. The runners had been off with the pitch. Carlisle regained his feet and ran to second base, retiring the runner Moore, who had rounded third and was most of the way toward home plate. After doubling off Moore, Carlisle switched direction slightly and ran toward first base, where he tripled off that runner, Metzer, who was still between second and third – completing an unusual unassisted triple play. The Sporting News reported that he had at one point been a circus acrobat, which may have helped account for the bit of extra athleticism he showed in making the tumbling play. [5] He led the league in runs scored from 1910 through 1912.
In 1916 Carlisle played for a different team of Tigers; he had been released to the Lincoln (Nebraska) Tigers of the Western League. His 121 runs scored led the league in '16, and he posted his best season's average, .304. The Joplin Miners in the same league signed him for the next two seasons, though his hitting fell off, tailing down to .210 in the 64 games he played in the war-curtailed 1918 campaign. Carlisle was out of baseball in 1919, but returned in 1920 with the Double-A Minneapolis Millers, living back in the city where he'd been raised (and working in a wholesale candy manufacturing business during the offseason, perhaps the firm where his brother worked). At that time Maisie and Walter had a 6-year-old daughter, Virginia, who'd been born in California. The 1920 Census reported that Maisie had been born in Belgium and spoke Flemish as her mother tongue. Walter hit .292 in 76 games in 1920. He was 38 years old at the time.
After his retirement, there was one last hurrah when he played for the Western League's Sioux City Packers in 1923, hitting .256 in 117 at-bats.
The 1930 Census found Walter, Maisie, and Virginia living again in Los Angeles. Walter was working as a painter in the building trade. There he died, in Los Angeles, on May 27, 1945, of a coronary thrombosis. He'd been working as a painter for the Gilmore Oil Company at the time of his fatal heart attack.
Sources
In addition to the sources noted in this biography, the author also accessed the online SABR Encyclopedia, Retrosheet.org, and Baseball-Reference.com.
---
Born
July 6, 1881 at Yorkshire, Yorkshire (United Kingdom)
Died
May 27, 1945 at Los Angeles, CA (USA)
If you can help us improve this player's biography, contact us.
http://bioproj.sabr.org/bp_ftp/images4/CarlisleWalter.jpg
600
800
admin
/wp-content/uploads/2020/02/sabr_logo.png
admin
2012-01-04 20:32:32
2012-01-04 20:32:32
Walter Carlisle