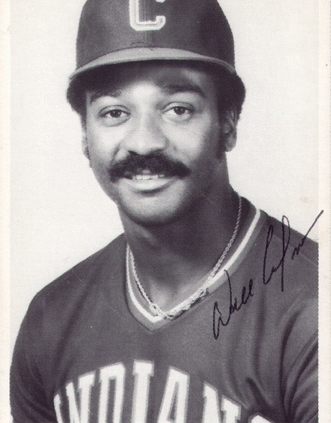 ---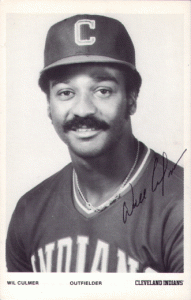 It had been over 28 years – from May 1983 to until September 2011 – since a man from the Bahamas had played in the major leagues. When the Atlanta Braves called up Antoan Richardson, it brought another Bahamian outfielder back into the news. Wil Culmer's name remains prominent at home, but in the United States he is little remembered. He played just seven games for the Cleveland Indians in 1983 – and after 1984, his pro career was finished. Culmer also died in 2003 at the untimely age of 45.
This man's impressive physique – 6'4" and 210 pounds – and righty power invited comparisons. He was likened to Jim Rice, since there was some resemblance in face as well as build, but Cito Gaston and Ryan Thompson also come to mind. Along with Tony Curry, "Sudgy" (as he was called at home) was perhaps the best slugger the Bahamas ever produced. He could also run and hit for average. Yet while Gaston and Thompson fulfilled just fractions of their promise in the majors, Culmer never advanced beyond the prospect stage.
Cleveland sportswriter Terry Pluto recalled of Culmer, "He was a big, strong guy. . .with holes in his swing. He was a decent athlete who seemed to be trying to learn baseball. He had God-given physical ability, but the game did not seem natural to him." As Pluto indicated, Culmer was not a good fielder. Pat Corrales, who knew him from both the Phillies and Indians organizations, allegedly once called him "allergic to leather." Wil himself acknowledged that baseball was less advanced in his homeland. In the view of Fred Sturrup, a sportswriter and longtime observer of baseball in the Bahamas, "The game was popular here but not as advanced because of lack of multiple facilities and advanced training as compared to the United States." Nagging injuries also hampered Culmer. Even so, at one point he was exciting enough that the Philadelphia Phillies put him on their 40-man roster ahead of future star George Bell.
Wilfred Hillard Culmer Jr. was born on November 11, 1957, in Nassau, the capital of the Bahamas, on the island of New Providence.[1] His father, Wilfred H. Culmer Sr., was a mechanic. His mother was named Phyllis Wilkinson-Ingraham. Wil was the youngest of three children, coming after older sisters named Yvonne and Donna.
When Culmer was a small boy, Bahamian baseball was at its zenith in terms of popularity and developing pro ballplayers. According to former Cincinnati Red Ed Armbrister, he and Wil were two of many youngsters who drew inspiration from local hero Tony Curry.[2] Curry (1960-61; 1966) and Armbrister (1973-77) were the nation's third and fourth major-leaguers, respectively, after Negro Leaguer Ormond Sampson and André Rodgers (1957-67). Culmer also "idolized Willie Mays and Willie McCovey while he was growing up, collecting baseball cards and listening to games whenever he could tune them in on an American radio station."[3]
Young Wil (he often signed his name as "Will") grew up in the Bain Town area. Originally this was a settlement "over the hill" from Nassau proper, founded by liberated Africans – Yorubas from Nigeria, whose customs would long endure. Over time, though, the capital expanded and absorbed the little town in the bush.
In recent years, Bain Town has become one of Nassau's roughest neighborhoods, but while it was poor in Culmer's childhood, crime was not prevalent. One of the local institutions was (and is) St. Joseph's Roman Catholic Church. In the late 1940s, a man who became known as "The Sporting Priest" launched an important youth program at St. Joseph's. "St. Bernard's Sporting Club was founded by Father Marcian Peters, and St. Bernard's Park, on which the current church is located, became a home away from home for youngsters wanting to hone their skills in the various sporting events. The club developed 'powerhouse' teams in cricket, basketball and baseball, and in the process provided an outlet for these youngsters – not only from the Bain Town area, but from other neighbouring communities – to do positive things."[4]
Fred Sturrup confirmed Culmer's connection with St. Bernard's, also noting, "He played other sports. He was good at volleyball, field events, and basketball at C. C. Sweeting High School in New Providence." Even at his size, Culmer could really run. According to an article from his second year as a pro in Spartanburg, South Carolina, he ran the 100-meter dash in 10.6 and the 60 in 6.7. [5] Sturrup said, however, "I can't speak to the accuracy of those times."
Culmer's curious nickname – "Sudgy" – means something like "Fatty" or "Porky." Fred Sturrup said, "His high school buddies cemented it. The nickname came about because of circumstances not complimentary. But, it stuck and actually endeared him to his friends and followers."
After high school, Wil "went to work in an import shop on Nassau's docks at $100 a week, playing in the country's only league."[6] Fred Sturrup called Colin Thompson (the older brother of NBA star Mychal Thompson) and Culmer "the two most prodigious home-run hitters in the history of the game here."[7] As Wil later noted, though, playing at home "may have slowed me down, because the situation could be better. If we had a system like they have in the Dominican, I could be further ahead."[8] So, in his late teens, the young man went to the U.S., briefly attending Chipola Junior College in Marianna, Florida. This program boasts several alumni who have made it to the majors; in recent years, the list includes Yankees catcher Russell Martin and José Bautista of the Blue Jays.
On October 25, 1977, the Philadelphia Phillies signed Culmer as a non-drafted free agent. The scouts were Andy Seminick and Paul Duval. Seminick, the catcher on the "Whiz Kids" team of 1950, was in the Phillies' organization for decades. At that time, he was also the coach at Florida Tech in Melbourne, where he resided. Although Melbourne is on the Atlantic Coast and Marianna is nearly 400 miles away in the Panhandle, Seminick still covered a lot of ground in Florida.
Culmer's pro career got off to a promising start in 1978. The Bahamian went out to Helena, Montana, in the Pioneer Rookie League. In 55 games, he was third in the league in hitting at .358, with 10 homers and 44 RBIs. (For context, though, batting champ Gary Redus hit .462, while the top home run hitter was Edward Packard with 20.)
Wil started 1979 with Peninsula of the Carolina League, skipping a level to high Class A. It proved a little too much, though, as he went .150-0-7 and committed seven errors in 22 games. He had served mainly as a designated hitter in Helena, with minimal action at first base. Thus he spent the rest of the '79 season with Spartanburg in the Western Carolinas League ("regular" class A). S-Phils manager Bill Dancy said, "I think he's mainly here to work with Mel [Coach Mel Roberts] since Mel is the organization's outfield coach."[9] Wil hit .307-6-46 in 68 games, but he remained very raw in the field, with eight errors and an .840 fielding percentage.
In 1980, Culmer returned to Peninsula, where he had his best pro season. He was a Carolina League All-Star, winning the batting crown with a .369 average on a league-best 184 hits, as he hit a blazing .413 in the second half of the season. For the year, he hit 18 homers and drove in 93 men. He also led the league in runs (112) and total bases (276), while placing second in doubles (28) and third in homers. In addition, he stole 26 bases.
In 1990, the Newport News Daily Press recalled the Bahamian at his peak. "'Wil Culmer was simply a tremendous athlete and a great-looking prospect," said Bob Neal, the general manager of the Pilots from 1976-81. [Neal] also marveled at Culmer's brute strength. 'Wil was put together like [Cincinnati Reds outfielder] Glenn Braggs – extremely strong,' Neal said. 'He was also a Junior Olympics hurdler and sprint champion in the Bahamas. What an athlete.'"[10]
However, appearing in 38 games at third base as well as 106 in the outfield, Culmer committed 27 errors. Yet his overall promise still led the Phillies to add him to their 40-man major-league roster that October.[11] This decision factored into a big mistake, as Philadelphia left George Bell (then still known as Jorge) unprotected in the Rule V draft that winter. The Dominican, who was Culmer's teammate at Helena and Spartanburg, missed much of 1980 with a bad back. The Phillies front office gambled that no one would notice, but Toronto scout Al LaMacchia saw a healthy Bell playing winter ball at home.[12]
For $25,000, the Blue Jays then scooped up one of their top stars of the '80s. In hindsight, there was much finger-pointing in Philadelphia, as author William Kashatus revealed. In one inside account, "according to Julian McCracken, then general manager of the Double-A Reading Phillies. . .the Phillies 'only had five openings on the forty-man roster that they took to spring training in 1981. . .those five spots went to Wil Culmer, Julio Franco, Len Matuszek, Alejandro Sanchez, and Ryne Sandberg, with Jorge Bell being omitted from the list.'"[13]
For the 1981 season, Culmer was promoted to Reading. That June, sportswriter Jayson Stark (then with the Philadelphia Inquirer) wrote a feature on the Bahamian, who had started slowly and disappointed the organization. Motivation was the article's key theme. Stark led off with this remark: "The label the Phillies have hung on Will [sic] Culmer is that he can be as good as he wants to be. The question is: How good does he want to be?" Also, while Wil had improved in the outfield, he was still making a lot of fundamental mistakes.[14] (It does not appear that he ever played any winter-league ball, though he would have been a good candidate.)
Culmer, who said that he'd been pressing after an early hip injury upset his timing, promised to work harder. The Reading Eagle said, "A thigh injury never permitted the big outfielder to get untracked." That story also quoted R-Phils manager Ron Clark, who agreed that Wil had been pressing. Clark said, "I told him the first half was over and he had to forget about the first 70 games. . .I think he can salvage the year."[15]
Wil did pick up in the second half and wound up with a fair year overall (.282-10-53). That was enough for him to rise to Triple A in 1982. With Oklahoma City in the American Association, he enjoyed a similar season (.288-14-58). He saw occasional duty at first base. Culmer was a possibility for a call-up to Philadelphia in April that year after Mike Schmidt suffered a painful rib injury swinging the bat.[16] He wasn't deemed ready yet, though, so instead the Phillies shifted Iván de Jesús over to third base temporarily. To replace de Jesús, Julio Franco – a shortstop in his early years – got his big-league baptism.
On September 12, 1982, the Phillies made a canny trade with the Indians – one that "raised brows" in Cleveland, as Terry Pluto observed.[17] General manager Paul Owens, "propelled by the excellent reports submitted by scouts Hugh Alexander and Moose Johnson,"[18] sent pitchers Jerry Reed and LeRoy Smith, along with Culmer, to the Indians in exchange for John Denny. Denny had a poor year in 1982, as his shoulder was sore. In 1983, though, he rebounded to have the best season of his career. He won the NL Cy Young award and helped the Phillies reach the World Series.
Meanwhile, Wil made the Indians team in spring training 1983, impressing manager Mike Ferraro and beating out Otto Vélez and Karl Pagel. On March 12, he hit a pair of two-run homers – muscling the first one out despite a broken bat, long before such a feat became unremarkable. He said, "I don't want to seem like I am bragging, but I can hit. With the Phillies, they never gave me much of a look. They had a Hall of Fame clubhouse."[19] "I got to keep swinging the bat," he added. "As long as I keep hitting, I'm going to force them to make a move, because Wil Culmer wants to be an Indian."[20]
Wil also took extra outfield practice that spring. "I want to be the best in the game," he said. "That's hard work. But that's how I want it. I don't want any hand-me-downs. I work hard for what I get, so when people point at me, they say, 'That's a hard worker there.'"[21]
His debut came at Cleveland's Municipal Stadium on April 12. Ferraro gave André Thornton one of his infrequent starts at first base and made Culmer the designated hitter that afternoon. The 25-year-old rookie went 2 for 3, singling in his first and third at-bats against Rick Honeycutt. The Texas lefty, who had a good pickoff move, caught Wil straying in the seventh inning; the Rangers won 2-1.
Fred Sturrup recalled, "After his first game with the Indians, he called me. He was elated and asked me to express his feelings to the entire nation." However, Culmer's hits that day were the only ones he ever got in the majors. He did have one sacrifice fly but otherwise came up empty in 17 plate appearances, which spanned four starts in right field as well as another at DH. The last game he played for Cleveland was on May 1; two weeks later the Indians sent him down to Triple-A Charleston as they activated Toby Harrah, who had recovered from a broken hand.
Although he still cut "an imposing figure in the batter's box,"[22] it didn't go well for Wil after his demotion. Charleston manager Doc Edwards said that July, "Culmer is struggling [.216]. He still hasn't hit the ball the way his previous stats indicate he should. But remember, he was in the bigs since Day 1, got something like 10 at-bats, then rode the bench. By the time he got here, he'd lost his stroke completely and he still hasn't found it. He takes double batting practice almost every day. He's determined to turn it around, and I'm sure he will."[23]
Culmer rewarded his skipper's faith to a degree, lifting his average to .245 with 7 homers and 29 RBIs in 87 games. Cleveland recalled Wil in early September but he did not see any action. In an unusual move, the Indians actually returned him to Charleston near the end of the month with five games still left on their schedule.
In 1984, the Tribe had a new Triple-A club, the Maine Guides. Culmer started the season there as a reserve outfielder.[24] He played in just 16 games with the Guides, though, spending a five-week stretch on the disabled list after jamming his thumb in a collision with Toledo's second baseman.[25] When he was active, he didn't do much with the bat (.200-3-9) – though he did pitch nine scoreless innings in a long extra-inning game. In June, Cleveland sent him down to Double-A Buffalo, where his hitting was not impressive either (.256-2-26 in 56 games, playing first base and DH). Evidence has not surfaced as to whether he quit baseball or was released, but Culmer's pro career had ended. Injury was the prime factor, according to his family.
He then came home to the Bahamas and sought employment at the Crystal Palace Casino, which had also employed Tony Curry as a host. Ed Armbrister also worked in the gaming business, a staple of the Bahamian tourist economy. Culmer was a croupier, then a supervisor, and finally a pit manager. In his leisure time, he remained prominent in baseball and fast-pitch softball. He donated equipment and assisted in coaching at a local senior high school, St. Augustine College.
On October 14, 2003, Culmer died at home from a hypertensive cerebral hemorrhage. At the time he was engaged to be married to Sharon Bethel. The couple had three sons: Wilfred H. Culmer III, Montenez, and Caleb.
Fred Sturrup and other local columnists still celebrate the heyday of Bahamian baseball in their work. Wil Culmer's name continues to turn up – and he has received another posthumous honor. In June 2011, the Ministry of Sports, Youth and Culture in the Bahamas announced Culmer as a member of the newest class in the National Sports Hall of Fame, to be inducted in October 2011.
Special thanks to Wil Culmer III, Sharon Bethel, and Fred Sturrup in the Bahamas. Thanks also to Terry Pluto.
October 1, 2011
Sources
Birth and death certificates for Wil Culmer.
Eneas, Cleveland W. Bain Town. Nassau, Bahamas, Timpaul Publishing Co.: 1976.
www.retrosheet.org
www.newspaperarchive.com
Photo Credit
www.baseballbahamas.net (Jeff Francis, webmaster)
Notes
---
Born
November 11, 1957 at Nassau, New Providence (Bahamas)
Died
October 14, 2003 at Nassau, New Providence (Bahamas)
If you can help us improve this player's biography, contact us.
https://sabr.org/wp-content/uploads/2012/01/wil_culmer_Indians.gif
520
331
admin
/wp-content/uploads/2020/02/sabr_logo.png
admin
2012-01-04 20:37:35
2022-12-05 14:21:53
Wil Culmer