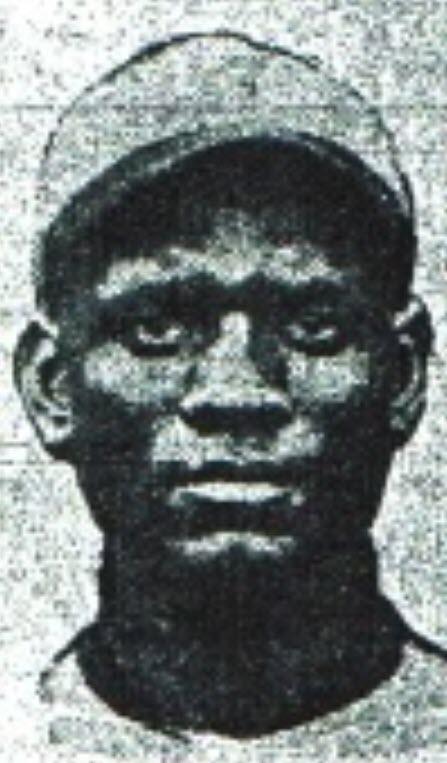 ---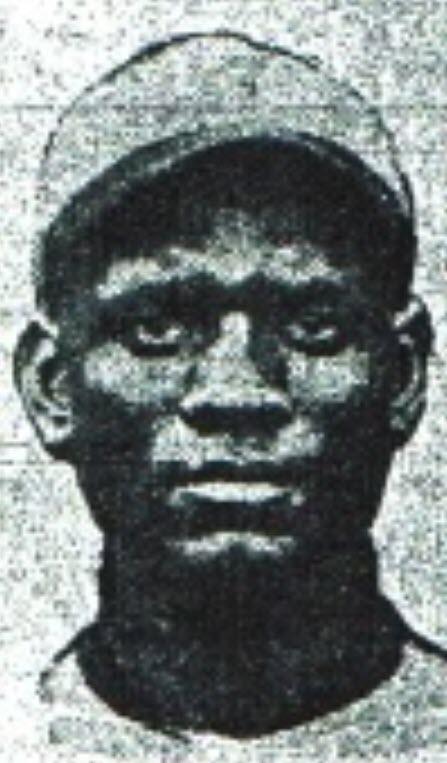 With a truncated index finger on his pitching hand,1 southpaw Willie "Three Finger" Gisentaner was the Negro Leagues' counterpart to the major leagues' Mordecai "Three Finger" Brown. Gisentaner moved from team to team in a career that lasted two decades. He was recognized as a smart pitcher and a good hitter.
On December 11, 1899, William Gisentaner was born in Ozark, Alabama, a farming community in the southeast corner of the state.2 Nothing is known about his childhood, but it is likely that he grew up on a farm there. The origin of his deformity is unknown; it may have been a birth defect or the result of a childhood accident.
In 1920 Gisentaner lived in Jacksonville, Florida, with his mother, Cordelia, and worked as a porter.3 That year he began his professional baseball career with the Jacksonville Stars.4 On September 7, as a member of the Atlanta Black Crackers, he threw a four-hitter in a 4-1 victory over the Knoxville Giants.5 He returned to the Black Crackers the following spring, and in midseason joined the Columbus (Ohio) Buckeyes, managed by the legendary John Henry "Pop" Lloyd. On July 16, 1921, Gisentaner shut out Rube Foster's Chicago American Giants for seven innings but fell apart in the last two frames in a 6-1 loss.6 On September 14 he hurled a two-hit shutout in a 6-0 triumph over the Kansas City Monarchs.7
Gisentaner joined the Monarchs in 1922. On August 1 he fired a five-hitter in a 3-1 victory over the Indianapolis ABCs and held the great Oscar Charleston hitless.8 On September 5 Gisentaner threw another five-hitter as the Monarchs mauled the St. Louis Stars, 15-3.9 Eight days later, the Monarchs played the Chicago American Giants at Kansas City's Association Park. With the bases empty and the game scoreless in the bottom of the ninth, Gisentaner belted a pinch-hit, walk-off home run over the right-field wall. The crowd "went wild" and "showered" him "with a bunch of currency."10 Although slender at 5-feet-9 and 156 pounds,11 Gisentaner could slug the ball. According to Seamheads.com, he was a left-handed batter and averaged .347 in 1922.
A paucity of box scores makes it difficult to track Gisentaner's activities over the next two seasons. However, it is known that he played for the Monarchs and Washington Potomacs in 1923 and for the Philadelphia Giants a year later.
In 1925 Gisentaner played for the Harrisburg (Pennsylvania) Giants, managed by Oscar Charleston. In a doubleheader against the Baltimore Black Sox on June 7, Gisentaner was an iron man: He pitched two complete games and won both, by scores of 3-1 and 3-0.12 It was reported that he "has one of the most wicked curves" in the East.13
Gisentaner began the 1926 season on the Newark Stars. After the team disbanded in late June, he moved to the New York Lincoln Giants, managed by Pop Lloyd. On August 15 the left-hander pitched "air-tight ball" in the Lincoln Giants' 7-2 victory over the Cuban Stars; Martín Dihigo's two-run homer accounted for the Stars' runs.14 The Lincoln Giants crushed Hilldale, 11-1, on September 12; Gisentaner struck out nine in the seven-inning contest and clouted a home run.15
Gisentaner's hitting was a major asset. He was the Lincoln Giants right fielder in the first game of a doubleheader on June 12, 1927, and slugged a grand slam in an 8-5 loss to the Cuban Stars.16 On May 27, 1928, he pitched an 11-inning thriller and singled in the winning run to edge the Philadelphia Elks, 4-3.17 He left the Lincoln Giants in the summer of 1928 and bounced from team to team — the Penn Red Caps, Brooklyn Royal Giants, Cuban Stars, and Havana Red Sox — before landing in Louisville in the spring of 1930.
The Louisville Black Caps played Indianapolis in a doubleheader on May 11, 1930. The box scores demonstrate the respect given to Gisentaner's hitting ability. In both games of the twin bill, he was third in the Louisville batting order. He played in right field in the first game and pitched a seven-inning shutout in the second contest.18
Against the St. Louis Stars on July 12, 1930, Gisentaner pitched a complete game and smacked two triples in four at-bats. But Louisville was defeated, 8-5, as two future Hall of Famers drubbed his deliveries: Mule Suttles hit a double and a triple, and Willie Wells added a triple and a home run.19
After 1930, Gisentaner pitched for Louisville, 1931-32 and 1934; the Pittsburgh Crawfords, 1932; the Nashville Elite Giants, 1933; the Columbus Stars, 1934; the Homestead Grays, 1934-36; and the Brooklyn Royal Giants,20 1937-38 and 1942. In 20 seasons of professional baseball, the well-traveled journeyman played for at least 20 teams.
On September 15, 1934, Gisentaner hurled a gem for the Homestead Grays, allowing four hits in an 11-2 rout of the Crawfords. He held future Hall of Famers Josh Gibson and Cool Papa Bell hitless.21 In December 1935 Grays manager Cum Posey called Gisentaner the smartest pitcher in the Negro National League.22
In October 1942, at the age of 42, Gisentaner enlisted in the US Army. According to the enlistment record, his civil occupation was porter and his marital status was "separated, without dependents." The name of his spouse is unknown.
Gisentaner's name does not appear in the rolls of World War II casualties, so presumably he survived the war. Research has yet to reveal what became of him after the war. The date and place of his death are unknown.
Acknowledgments
This biography was reviewed by Bill Lamb and Len Levin and fact-checked by Jeff Findley.
Sources
Ancestry.com and Seamheads.com (accessed March-April 2020).
Photo credit: Ohio State Journal (Columbus), July 17, 1921
Notes
1 "Grays' Three-Fingered Star," Pittsburgh Courier, August 31, 1935: 14. This article includes a photograph of Gisentaner's pitching hand.
2 World War II draft registration at Ancestry.com.
3 1920 US Census and Jacksonville city directory.
4 William J. Plott, The Negro Southern League: A Baseball History, 1920-1951 (Jefferson, North Carolina: McFarland, 2015), 19.
5 "Atlanta Meets Giants Today," Knoxville (Tennessee) Journal and Tribune, September 8, 1920: 12.
6 "Bucks Are Given Double Trimming by Plucky Giants," Chicago Whip, July 23, 1921: 7. Gisentaner pitched against the Chicago American Giants in the first game of a doubleheader on July 16, 1921.
7 "Monarchs Lose Two," Kansas City Kansan, September 15, 1921: 9. Gisentaner's shutout came in the second game of a doubleheader on September 14, 1921.
8 "A's Drop Last One," Indianapolis News, August 2, 1922: 20.
9 "Monarchs Defeat St. Louis Stars by 15-to-3 Score," St. Louis Globe-Democrat, September 6, 1922: 8.
10 "Monarchs Cop Great Game," Kansas City Kansan, September 14, 1922: 7.
11 World War II Army enlistment record at Ancestry.com.
12 "Gisentauer [sic] in Iron Man Role," Harrisburg (Pennsylvania) Evening News, June 8, 1925: 19.
13 "Sox and Giants to Lock Horns Sunday," Baltimore Afro American, August 8, 1925: 7.
14 "Season's Biggest Crowd See Cubans and Lincoln Giants in Even Break," New York Age, August 21, 1926: 7; "Cuban Stars and Lincolns Break Even," Pittsburgh Courier, August 21, 1926: 15. Gisentaner pitched in the first game of a doubleheader on August 15, 1926.
15 "Lincoln Giants and Hilldale Break Even," New York Age, September 18, 1926: 6. Gisentaner pitched in the second game of a doubleheader on September 12, 1926.
16 "Cuban Stars Take 2 from Lincolns and Go into Second Place," New York Age, June 18, 1927: 6.
17 "Lincoln Giants Defeat Phila. Elks in Thrilling Eleven Inning Contest," New York Age, June 2, 1928: 6.
18 "Caps Take Double Bill from Indianapolis Nine," Louisville Courier-Journal, May 12, 1930: 9.
19 "St. Louis Stars Take Series Opener from Louisville Club, 8-5," St. Louis Post-Dispatch, July 13, 1930: 16.
20 John Palmer, "Royal Giants Go on Hitting Spree Taking Two from Bay Parkways," Brooklyn Citizen, August 16, 1937: 6; "Poughkeepsie Stars Defeat Brooklyn Royal Giants, 6-4," Poughkeepsie (New York) Eagle-News, June 23, 1938: 8, 9; "Scarlets Split with Brooklyn Royal Giants, Win Opener, 13-9; Lose, 4-0," Mount Vernon (New York) Daily Argus, August 31, 1942: Sports, 8.
21 William G. Nunn, "Gisentaner in 4-Hit Classic as Grays Triumph," Pittsburgh Courier, September 22, 1934: 15.
22 Cum Posey, "Cum Posey's Pointed Paragraphs," Pittsburgh Courier, December 21, 1935: 13.
Born
December 11, 1899 at Ozark, AL (US)
If you can help us improve this player's biography, contact us.
/sites/default/files/GisentanerWillie.jpg
600
800
admin
/wp-content/uploads/2020/02/sabr_logo.png
admin
2020-05-19 17:30:04
2021-09-17 01:14:39
Willie Gisentaner