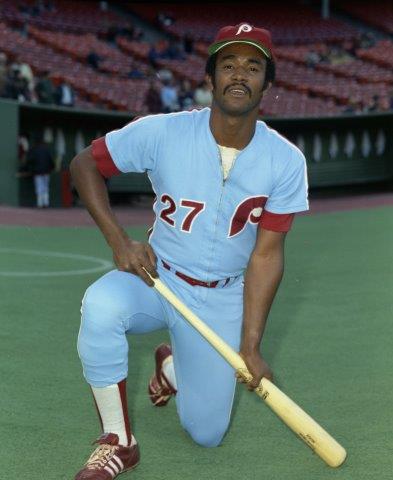 ---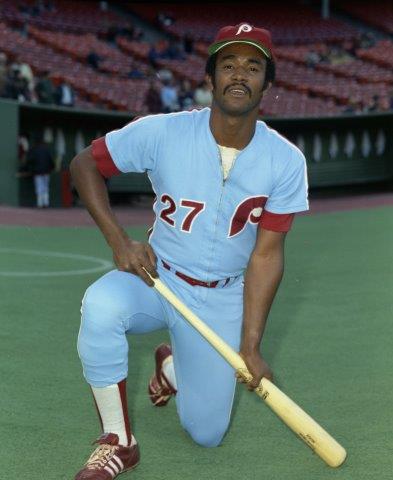 When Willie Montanez walked to the plate from the on-deck circle he would flip his bat end over end like a baton. When he swung and missed he had a high, circular finish reminiscent of a matador twirling his sword at a charging bull. At first base, he would sometimes tap runners on the rear end with his glove which on occasion led to more than one altercation. He was called a hot dog or showboat or worse, all of which Montanez disputed. "I'm just being me," he said, "I'm just doing my thing."1
Guillermo Naranjo Montanez was born on April 1, 1948, in Catano, Puerto Rico, a small suburb of San Juan best known as the home of the Bacardi Rum distillery. Montanez's mother, Felicita, was a housewife and his father, Julio, a truck driver.
On March 1, 1965, Montanez was signed for the St. Louis Cardinals by scout Chase Riddle. A longtime scout both on the mainland and in Puerto Rico, Riddle produced 19 major leaguers in his career, including Terry Kennedy, the three Cruz brothers (José, Hector, and Tommy) and future Hall of Famer Steve Carlton. Still just 17 years old, Montanez reported to the Cardinals' Rookie League team in Sarasota, Florida, where he hit .235 in 32 games.
On November 29, 1965, the California Angels surprisingly selected Montanez in the Rule 5 draft, which meant the 17-year-old had to remain in the major leagues for the entire 1966 season.
Montanez made his major-league debut on Opening Day, April 12, 1966, against the Chicago White Sox in Chicago. Montanez entered the game as a pinch-runner for Norm Siebern with nobody out in the top of the 14th inning. Montanez promptly stole second base but was stranded there. Montanez took over at first base for Siebern in the bottom half and handled one chance on a fielder's choice. His first major-league plate appearance came on April 22 at Anaheim Stadium, when he struck out as a pinch-hitter against Jim Perry of the Minnesota Twins.
On May 5, 1966, the Angels, perhaps believing a roster spot could be better utilized than by a teenage pinch-runner, returned Montanez to the Cardinals. During his time with the Angels, Montanez played in eight games, six as a pinch-runner and two as a pinch-hitter, striking out both times.
Upon his return to the Cardinals organization, Montanez reported to Rock Hill of the Western Carolinas League. In early June the Cardinals placed Montanez on the inactive list for 10 days, allowing him to return to Puerto Rico for his high-school graduation. Shortly after his return, Montanez took over as the everyday right fielder and batted .281 with 11 home runs.
In 1967 Montanez spent, for the first time in his brief career, the entire season with one team and it paid off for him. Playing for the eventual league champion St. Petersburg Cardinals of the Florida State League, Montanez played 134 games, posted top-10 finishes in several offensive categories, and led the league in triples with 17. He played exclusively at first base as well, finishing second to future major leaguer Mike Jorgensen in voting for the postseason All-Star team.
The next two seasons proved challenging for Montanez: He played in 46 games for Modesto (Class-A California League) in 1968, missing time with an assortment of minor injuries. Assigned to Triple-A Tulsa for'69, Montanez started the season on a hot streak, hitting .375 over his first 14 games. On May 5 Montanez flew to St. Louis with his Tulsa teammates but it wasn't to play in that evening's exhibition game with the parent Cardinals; it was to have X-rays taken on a troublesome leg that he had injured sliding a week earlier. Initially diagnosed as a tendon strain, the X-rays revealed a fractured right knee and torn ankle ligaments which required him to wear a cast and eventually cost him the remainder of the season.2
The Cardinals recalled Montanez on September 13 but he didn't play in any games. After the season, as had become his custom, Montanez returned home to Puerto Rico to play winter ball and once again the injury bug bit him; this time he missed two weeks with a sprain to the same right ankle he had injured during the season.
On October 6, 1969, the Cardinals and Philadelphia Phillies pulled off a blockbuster seven-player trade that included four current or future All-Stars. The key player for the Cardinals was flamboyant superstar first baseman Dick Allen. The Phillies acquired two everyday players, catcher Tim McCarver and center fielder Curt Flood, so it was a trade that was expected to impact both teams in 1970 and beyond.
There was just one problem; Flood wanted no part of playing in Philadelphia; he would sit out the entire 1970 season while embroiled in a court case challenging baseball's reserve clause. The Cardinals, on the other hand, were worried that the commissioner's office would void the deal; they desperately needed Allen's bat in their lineup. The two teams reached a compromise in which the Phillies would select two players from a list submitted by the Cardinals. When Phillies manager Frank Lucchesi saw the list, he encouraged the front office to choose a player he had seen while managing in Puerto Rico who had impressed him with his playing skills and desire.3 On April 8, 1970, Willie Montanez became the first of the two players the Phillies chose to replace Flood. (Pitcher Jim Browning was the second; he went to Philadelphia on August 30.)
Montanez got off to a slow start with his new organization, hitting just .220 after the first month of the season with Triple-A Eugene. He picked it up as April turned to May and was riding a 14-game hitting streak on June 4 when he received a recall notice; but it wasn't from the Phillies, it was from Uncle Sam. Montanez was ordered to report for training with the US Coast Guard, which kept him out of the Emeralds' lineup from June 13 through July 5.4
Montanez hit .276 in 119 games with Eugene and was recalled by the Phillies after the end of the Triple-A season. He played in 18 Phillies games in September, picking up his first major-league hit on September 5, a pinch-single off Fred Cambria of the Pittsburgh Pirates at Three Rivers Stadium in Pittsburgh.
The odds were stacked against Montanez making the Phillies' Opening Day roster in 1971; there were four first basemen and 12 outfielders in camp. Manager Lucchesi described Montanez's odds of making the teams as 100 to 1, but Montanez persevered, staying late to work on his outfield play and relying on the knowledge of his roommate, veteran second baseman Tony Taylor.5
The hard work paid off as Montanez surprised everyone by making the Opening Day roster as the starting center fielder. He started the season hitting well, keeping his average above .300 well into May. An 0-for-3 collar against Gary Nolan of the Reds on May 24 dropped his average below .300 for the first time; he did not go over the mark for the rest of the season. As his average dropped, his production started to go up. Hitting third in the Phillies' order, Montanez hit five home runs in May with 15 runs batted in, five in June with 29 RBIs, and followed that up with a seven-homer/23 RBI July.
The highlight of the Phillies' 95-loss season came on June 23 in what is considered not only one of the greatest games in Phillies history but in major-league history. The Phillies defeated the Cincinnati Reds 4-0, a game made memorable by not only the two homers and three RBIs by pitcher Rick Wise but also by the fact the 25-year-old right-hander threw a no-hitter.
By his own admission, Wise had "good, but not overpowering" stuff, which resulted in his allowing just one baserunner, on a sixth-inning walk to shortstop Dave Concepcion. Wise struck out just three, and the lack of his normal repertoire resulted in several hard-hit balls and fine defensive plays. Shortstop Larry Bowa, third baseman John Vukovich, and even Wise himself turned in solid defensive plays but it was Montanez in center who turned in two game-savers.
The first came in the bottom of the second, when Hal McRae blooped a short fly ball to center that Montanez charged in for and caught knee-high on the dead run. The second came in the fourth, when Pete Rose hit a liner that Montanez caught a few steps in front of the center-field wall.6
By mid-August the race for the National League Rookie of the Year was down to three players, with Montanez believed to be holding a slight edge over Atlanta Braves catcher Earl Williams and San Francisco Giants shortstop Chris Speier. On August 15 in the second game of a doubleheader against the Padres in San Diego, Montanez went 1-for-4 with his 25th homer of the season; his average stood at .265.
Over the next four weeks, Montanez found himself in his worst slump of the season, at the worst possible time. From August 17 through September 12 he hit .151 with no homers and just six runs batted in. His batting average dropped to a season low .247. A 5-for-5, two-homer game against the Cardinals in St. Louis on September 13 got him back on track, but it seemed too late with just 15 games remaining on the season.
Montanez's second homer of the game, a solo shot off Don Shaw, was his 27th of the season, bringing him within two of tying Dick Allen's Phillies rookie record set in 1964. The next day, September 14, Montanez broke Allen's single-season RBI record for rookies with a second-inning sacrifice fly in a 5-3 Phillies win over the Cardinals.
On September 30 the Phillies played their final game of the season, against the Pirates in Philadelphia. Montanez had tied Allen's home-run record on September 24 in Chicago but had gone homerless in his next four games. Montanez's season RBI total stood at 97; a good day would get him to the century mark.
In the bottom of the third inning, with fellow rookie Mike Anderson aboard after drawing a walk, Montanez drilled an 0-and-2 pitch from Nelson Briles over the wall for his 30th homer of the season, breaking Allen's record of 29.
Montanez's season total of 30 homers still stood as of 2017 as the Phillies' rookie record.
When the Rookie of the Year voting was announced, it came as not much of a surprise; the winner was Earl Williams. But the margin of victory may have been surprising; Williams was named on 18 of the 24 ballots with Montanez receiving the other six.
A brief holdout cost Montanez the first two weeks of spring training in 1972, which didn't seem to hurt him much as the season began; when the Phillies returned home on May 3 after a 10-game road trip, he was hitting an even .300. The home cooking didn't help him, though, as his average fell 67 points on the 14-game homestand; an 0-for-4 against the Cubs on May 16 dropped his average to .250, and he didn't see that mark again until mid-August. He remained steady through the end of the season, coming in at .247, a drop of eight points from the previous season. Montanez led the National League with 39 doubles, but his homer total dropped from 30 to 13 and his RBIs from 99 to 64, a number you wouldn't expect from your number-three hitter.
Montanez also ran afoul of manager Frank Lucchesi and with Paul Owens after Lucchesi was fired in early June. Lucchesi had pulled Montanez for not hustling twice and had also fined him a number of times for the same offense. Owens pulled Montanez in the first inning of a game against the Pirates after he failed to cut off a base hit by Gene Clines that cost two runs.7
Montanez's 1973 season saw his doubles total drop from 39 to 16, his homers from 13 to 11 and walks from 58 to 46 but he was showing signs of becoming a better hitter. He dropped his strikeouts from 108 to 80 and increased his on-base percentage despite a drop in his slugging.
Beginning in 1974, Montanez hit over .300 for three straight seasons, topping out with a career-high .317 in 1976, the same year he led the National League in games played with 163 and posted his only 200-hit season. In 1974 Montanez put together a career-high 24-game hitting streak, falling just short of Chuck Klein's then team-record 26-game streak set in 1930.
Montanez was also traded twice during this time period, the first coming on May 4, 1975, when he was sent to the San Francisco Giants for outfielder Garry Maddox. The trade was a precursor to another move; the Phillies needed to clear room at first base as they trying to bring back Dick Allen, which they did on May 7 in a trade with Atlanta.
Montanez had started the '75 season on a hot streak, totaling 16 RBIs in 21 games and he kept driving in runs with San Francisco; he finished the season with a career-high 101, an amazing total considering he hit just 10 homers.
Montanez reported to Arizona for spring training in March 1976 and immediately demanded a trade to an East Coast team. A frequent complainer about the San Francisco weather, he was looking for warmer summers and wanted to be closer to his Puerto Rico home. Montanez refused to sign a new contract with the Giants; he played under the terms of his expired deal from the previous season, which included a limited no-trade clause. The Giants attempted to accommodate his trade request but Montanez vetoed a deal that would have sent him to St. Louis. Finally, on June 13, 1976, the Giants sent Montanez to the Atlanta Braves in a deal that sent the also unhappy and unsigned Darrell Evans back home to California. The change of scenery served Montanez well; over the final 103 games of the season with the Braves, he hit .321.
Montanez spend the entire 1977 season in Atlanta and reached the 20-homer mark for the second (and final) time in his career. He hit .287 and was named to the National League All-Star team, the only time in his career he received the honor. Montanez did not start in the game; he replaced Steve Garvey in the fifth inning and was hitless in two at-bats.
On December 8, 1977, Montanez was involved in a four-team, 11-player deal that actually had him traded twice. The first deal sent him to the Texas Rangers for three players, the second deal sent him from the Rangers to the New York Mets along with Tom Grieve for pitcher Jon Matlack and first baseman John Milner.
Mets manager Joe Torre liked the potential Montanez brought to New York, saying, "We got back some of the punch we need. We'll score more runs next year and I think we're a better team."8 On the other hand, the three-year, $999,000 contract he signed the previous year with Atlanta made him the highest-paid player in Mets history. The question became how much could he improve a last-place team?
The answer was two: The 1978 Mets won 66 games and again finished in last place. Montanez, to his credit, did what he was acquired to do, he led the Mets in most offensive categories and drove in the same number of runs as Mets losses (96).
Montanez was a notoriously slow starter to the season throughout his career, so when he began the 1979 season hitting below .250 as May turned to June, the Mets were not yet in panic mode. However, Montanez went into a 15-game slump during the first three weeks of June that dropped his average from .225 to .198. In that stretch, he had just six hits, all singles, drew just one walk and drove in four runs. He managed to get the ship pointed in the right direction, getting his average up to .234 on August 12, when he was traded to the Rangers.
Montanez played well during the rest of the season, hitting .319 with 8 homers and 24 RBIs over 38 games but he was not happy as he was forced to split the first base and designated-hitter roles with rookie Pat Putnam. While the Rangers front office wanted Montanez back for the 1980 season more than he wanted to return, it became moot when he was traded to the San Diego Padres on February 15.
The Padres needed a veteran bat to hit behind cleanup hitter Dave Winfield. After the first 50 games of the season, Montanez had driven in 26 runs, just five fewer than Winfield, so the Padres' plan was working. It was a short-lived plan, however, as Montanez was traded to the Montreal Expos in late August.
Over the final 32 games of the season with the Expos, of which Montanez in 14, he hit .211 and drove in just a single run. After the season Montanez became a free agent and surprised everyone by re-signing with the Expos, agreeing to a two-year, $600,000 deal, in part because he was told he'd be the everyday first baseman in 1981.
It didn't work out that way. Rookie left fielder Tim Raines made the team out of spring training, forcing Warren Cromartie to first base and Montanez to the bench. He played in just 26 games with Montreal in 1981, which was mostly a reflection of the players strike, hitting just .177 with no homers and five RBIs. After the players returned Montanez was traded to Pittsburgh in August; he played even less with the Pirates, getting 39 plate appearances in 29 games.
Montanez returned to Pittsburgh in 1982, largely as a pinch-hitter and defensive replacement. He had just 35 plate appearances in 36 games. He was released by the Pirates on July 31. He signed with the Phillies as a free agent with the Phillies on August 10. Montanez went 1-for-16 in his return to Philadelphia and was released after the season, ending his professional career.
Montanez continues to play winter ball in Puerto Rico as he had done almost throughout his career. He enjoyed an 18-year career playing in his adopted hometown of Caguas for 14 seasons and four with Bayamon. He was the MVP of the Caribbean World Series in 1975, driving in 11 runs, including 10 in the championship series win for Caguas. After his 30-homer rookie season with the Phillies in 1971, Montanez returned to Puerto Rico and led the league in homers with 15.
Montanez stayed active in baseball after his career, spending several years as a scout and co-founding a training facility in Caguas, where he settled.
Montanez and his wife, Marta (they were wed in 1968) had four children, a son Guillermo (who was killed in a car accident in 2006), and three daughters, Miriam, Zaraida, and Marta, and three grandchildren.
Last revised: August 1, 2018
This biography is included in "Puerto Rico and Baseball: 60 Biographies" (SABR, 2017), edited by Bill Nowlin and Edwin Fernández.
Acknowledgments
The author wishes to thank Alain Usereau for his research assistance on this project.
Notes
1 Ray Kelly, "Phils' Montanez Stages Swat Show," The Sporting News, August 10, 1974: 13.
2 "American Association Notes," The Sporting News, May 24, 1969: 35.
3 Allen Lewis, "Phils Enter Montanez in Rookie Sweepstakes," The Sporting News, May 8, 1971: 16.
4 "Pacific Coast League Notes," The Sporting News, June 20, 1970: 40.
5 Allen Lewis, "Phils Enter Montanez in Rookie Sweepstakes."
6 Allen Lewis, "No-Hit Arm and HR Bat Make Hero of Wise," The Sporting News, July 10, 1971: 5.
7 Allen Lewis, "Montanez Waging Terrific Battle to Kayo Pesky Sophomore Jinx," The Sporting News, September 9, 1972: 15.
8 Jack Lang, "Mets Gamble on Montanez to Supply Punch," The Sporting News, December 24, 1977: 63.
Full Name
Guillermo Montanez Naranjo
Born
April 1, 1948 at Catano, (P.R.)
If you can help us improve this player's biography, contact us.
https://sabr.org/sites/default/files/Montanez_Willie_PA73-1027_FL_NBL_McWilliams.jpg
600
800
admin
/wp-content/uploads/2020/02/sabr_logo.png
admin
2012-01-04 20:08:36
2012-01-04 20:08:36
Willie Montanez