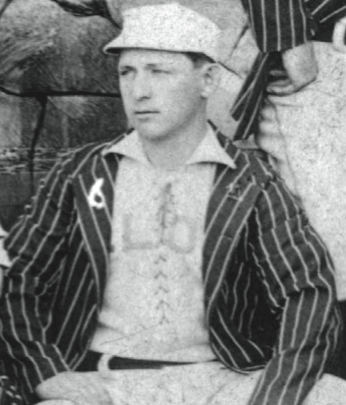 ---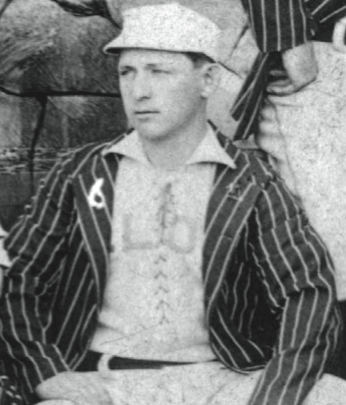 In 1889 the Cincinnati Enquirer ran a human-interest story about Yank Robinson's entry into professional baseball. The story centers on a "stickily-built lad of about 18 years whose ragged clothing caused much unfavorable comment." He had just come to an unspecified Massachusetts town that day and asked to be part of practice as the town team prepared to face a strong visiting contingent. The newcomer proved to be quite talented in his audition and was assigned to right field. When the game began, "the little right fielder seemed everywhere." He backed up first and second, roamed far and wide in the outfield and even became involved in an infield rundown. He topped his performance by tracking down a long drive that would have won the game for the visitors had it hit the turf.1
The story claims he was signed by a professional team the next day. In reality he did not sign with the bigtime until age 22. While the story is undoubtedly embellished, it does give a glimpse into Yank's style of play. He earned a reputation for his speed both in the field and on the base paths. He also was regarded as a wide-ranging, acrobatic, and ambidextrous fielder who was fearless in turning a double play or tagging a runner at second base. His error totals are a result, in part, of his range while not wearing a glove.
A modern fan might look at his .241 lifetime batting average (including three seasons below the Mendoza line) and his 376 errors, primarily at second base, with the St. Louis Browns in five seasons and conclude he was not much of a player. In this case the numbers do him an injustice. Cap Anson regarded him as the best overall player in the league.2 Another "experienced ex-ballplayer" listed him with Buck Ewing and Hardy Richardson as the "finest all-around players in the profession."3
Little is known about William H. "Yank" Robinson's background. A search of census records through ancestry.com reveals that his parents were possibly William and Mary Robinson. William was from England and Mary was Irish. They lived in Philadelphia's second ward in 1860 where William worked as a laborer.4 That 1860 census was compiled in July and listed William H., aged 10 months, which coincides with his September 19, 1859, birthdate. From his will we know Yank had two brothers, George (birthdate unknown) and Thomas D. (1864).5 A census entry showing all three brothers (or even two of them under the same roof) has not been uncovered by the author. The Enquirer story previously cited described him as a ragged urchin. Other sources suggested he had forsaken schooling and worked as a shoe-shine boy. The true nature of his early life is a mystery.
The exact source of the nickname "Yank" is uncertain. It started to appear in print in 1886. Robinson was playing in St. Louis by then. The city had been divided on the slavery issue and was occupied by Union forces during the Civil War because of its strategic importance. The sympathies of the citizenry were split between the North and the South even after the conflict. This undoubtedly contributed to the nickname for a player with roots in Philadelphia and Boston.
His other nicknames were "Robbie" and "Willie." Letters in the file on Robinson at the Hall of Fame even show managers and team owners referring to him as Robbie. Sportswriters were split in their use of Yank and Robbie.
Most authors mention Robinson as leaving home as a teenager and moving to Massachusetts. He settled in Natick, now a western suburb of Boston. Natick was the home of the Harwood baseball factory, which began production of baseballs before Robinson's birth. The Harwood firm was just one of many factories that dominated the employment landscape in Natick at that time; the wealth of jobs was obviously a draw for a young man like Robinson.
Robinson hooked on with the Aetnas (aka Etnas) to play baseball.6 The Boston Post and the Globe occasionally ran scores of the Aetna games but with very little commentary. It is known that Robinson played shortstop and performed well enough to attract the attention of the Detroit Wolverines late in the 1882 National League season.
The Wolverines were in Boston for a series to end an eastern swing. Shortstop had been a trouble spot the entire season. Mike McGeary fielded well but batted .143. Walt Kinzie was tried but batted a dismal .094. Detroit added Robinson on August 23 and gave him his first action the next day in a 4-0 loss to the Red Stockings. The Detroit Free Press reported, "Robinson did well at short stop, but was weak at bat, striking out twice" against Grasshopper Jim Whitney.7
Before returning home, the Wolverines stopped in Philadelphia for two games with the American Association Athletics. They split the decisions. Robinson got two hits and scored twice in the second affair after a hitless performance in the first game. Manager Frank Bancroft was pleased with the stopover because his team made more money than they had on the other 12 games of the trip.8
Robinson sat out the home stand against Troy, then was used as the catcher in an exhibition in Port Huron. He laced three hits and scored three times as the clean-up batter. The Wolverines played two more exhibitions wrapped around a series with Boston. Robinson played catcher again in the exhibition games but saw no action in the league games.
Robinson returned to league action against Worcester on September 12, playing center field in place of Ned Hanlon. He struck out twice but lined a double to left late in the 8-5 loss. He played in nine more league games to close out the season. Those appearances included a scoreless, two-inning relief stint. On a post-season tour he compiled a 1-1 record in at least two starts as a pitcher.
The Wolverines arranged for him and a few teammates to play for the East Saginaw Grays in the Northwestern League in 1883. With a pitching staff that included future Hall of Famer John Clarkson, the Grays opened the season on fire and won nine of 10. In an early exhibition game against Dayton, Ohio, they scored 20 runs in an inning. Purportedly Robinson had a double and two triples in the frame.9
Robinson played mainly shortstop. The Grays' hot streak helped to keep them in first place until mid-June when Grand Rapids finally caught up to them. By August it was a race among Saginaw, Peoria, and eventual winner Toledo. In late August, Robinson's conduct on and off the field angered management and he was fined $50. The team threatened to withhold Yank's wages until the fine was paid. Despite the wrangling he seems to have been in the lineup every day. Toledo captured the flag. Robinson closed out the year with a .215 batting average.10
In 1884 a third major league, the Union Association, was formed. The demand for talent created openings for heady, athletic players, even those with minimal credentials. Robinson signed with the Baltimore Monumentals of the new league as their third baseman. Yank was something of a veteran on the team; more than half the players who dotted the roster had no major-league experience.
Robinson played 71 games at third base, the fourth-highest total in the league. He had a much higher fielding percentage than the three men ahead of him. He also had a range factor of 3.68 chances per game, more than .5 above each of the trio. Robbie also led the league in walks.
In addition to playing third, Robinson appeared in 14 games at short, 11 behind the plate, and 11 as a pitcher. One of his three starts came against Chicago on June 24. Robinson went the distance for a 17-8 victory. He walked one and struck out nine, the same figures posted by his opponent, One-Arm Daily. Daily allowed fewer hits than Robinson but his road-weary fielders made 13 errors.11
The St. Louis Maroons dominated the league. Baltimore piled up 58 wins, but they finished 32 games off the pace. Emmett Seery was the offensive star for the Monumentals. Robinson was second to him in games, at bats, hits, doubles, triples, and slugging. His .267 average was third on the team and he slammed three home runs, second behind first baseman Charlie Levis.
The Union Association unraveled during the season and died in the fall. Robinson was contacted by teams in both the National and Association before finally signing, albeit with some trepidation, as a catcher for owner Chris Von der Ahe and the St. Louis Browns in 1885. When asked about his new man, Von der Ahe said, "He seems to be one of the best players in the country." Other teams had offered Robbie big money and the Browns' owner felt he had "secured a prize."12 Robinson signed for $2,100.
In the first of many disputes between Von der Ahe and himself, Robinson refused to be a fulltime catcher. He only caught five games and was serving as a utility man until mid-June when Tip O'Neill went down from a leg injury in a crash at second base in New York. Robbie played 78 games that year, 52 of them in left field. He batted .261 and was second on the team in on-base percentage thanks to 29 walks, second highest on the team.
In the post-season series against the National League champions from Chicago, Robinson played right field and caught. Over the winter, management decided to release second baseman Sam Barkley and replace him with Robinson for the coming season.
Robinson was now 26 years old. He moved to St. Louis and eventually acquired property in the city. He stood 5-feet-6 and weighed in at 170 pounds in his prime. He threw and batted right-handed and used a cross-handed grip for much of his career.13 His hustle and heady play pleased his manager, Charlie Comiskey, who was overjoyed with Robinson's ability to get along with his teammates.
Sportswriter Henry H. Diddlebock eulogized Robinson in the press by saying he "was a good fellow in every sense that the word implies."14 The phrase "good fellow" is defined as affable, agreeable, companionable and convivial in various dictionaries. The term convivial implies a fondness for feasting and drinking. "Yank lifted many a beer with the boys" but because of the comradery he was able to be a pacifier when the clubhouse needed it.15
The Browns took the pennant the next three seasons with Robinson playing 392 games. The bulk were at second base though he did play 34 at shortstop in 1888. He batted all over the lineup but excelled at getting on base. He posted on-base percentages (OBP) of .377, .445, and .400. His finest streak came in the 1887 "World Series" versus the Detroit Wolverines. The series, won by Detroit, was a drawn-out 15-game affair played in several eastern cities. Robinson led the team in doubles and walks and produced .326/.446/.478 numbers that led the team in each category.
In Robinson's five years with the Browns, they won four pennants, then finished second. He played to win. If that meant coaxing a walk, he was a master. He was highly adept at fouling off pitches and being selective at the dish. In fact, a Sporting News writer suggested he get into the restaurant business because "he was such a good waiter."16 In the Players' League in 1890 he became the first fulltime major-leaguer to gather more walks than games played.
If winning meant bending the rules, he was your man. Soft-spoken and gentlemanly off the field, he was rated as "one of the trickiest men that ever played ball."17 In one tight game, the umpire was distracted while Robinson was on base. Seeing an opening he streaked across the diamond from second base and "fell upon home plate, claiming the run." The umpire had missed the event and was forced to declare him safe. The opposing team's president had seen the play and hurled abuse upon Robinson for the trickery. Robinson replied, "I am not playing ball for you. I want the St. Louis team to win this game. We need it in our business."18
Robinson was not always so gracious in his earnest desire to win. Manager King Kelly took great exception to the fact that Robinson had "a practice of hitting a runner a punch in the abdomen as he passes second base."19 In 1891 Kelly added Robinson to his roster and ceased his complaining.
On May 2, 1889, with the Browns in first place, Yank got into a shouting match with Von der Ahe and found himself fined $25. The incident started when Robinson sent a young boy to retrieve a pair of sliding pants from his room across the street from the ballpark. The gate attendant would not allow the boy to enter. When word reached Robinson, he was indignant and began "frothing at the mouth" with anger. He berated the gate keeper with language that "made his gray hair stand on end."20
The gate keeper reported the incident to Von der Ahe, who went straight to Robinson. The two of them got into a shouting match that led to Robinson's fine. Robinson replied that he would not accompany the team to Kansas City that night unless the fine was dropped. The scene shifted to the train platform later that night as Robinson stood with his teammates and again refused to board the train. When the conductor yelled "All aboard," only Von der Ahe, Comiskey, and center fielder Charlie Duffee were seated.
The team secretary feverishly negotiated with the players and all, except Robinson, finally boarded a later train and joined the team in Kansas City. The Browns lost the next three games to the lowly Cowboys. The St. Louis Post-Dispatch ran an in-depth article about the turmoil, including an interview with Robinson about the spat.21
Comiskey served as intermediary and resolved the issue by having the fine rescinded. Robinson returned to the lineup on May 7 in a 21-0 pasting of Columbus at Sportsmans Park. The Browns maintained their grip on first place until the end of August when four consecutive road losses dropped them behind the Brooklyn Bridegrooms. A 12-game winning streak late in the season was only enough to pull them within two games of Brooklyn.
The formation of the Players' League afforded Robinson an opportunity to leave the Browns in 1890. He joined the Pittsburgh Burghers managed by Ned Hanlon. Baseball scribes poked fun at Robbie saying he should have played in Pittsburgh years earlier (1883) when the squad was known as the "Brewery Nine" and the players were known for blowing the foam off many a beer.22
The Burghers opened the season at home in front of 7,000 fans but dropped the game to Chicago, 10-2. The team left home on May 3 with a 5-5 record for a lengthy road trip. When they returned in June, they were 14-21 and in seventh place. Robinson was a fixture at second base until late in August. He batted in the bottom of the order and led the team in OBP. However, his inconsistency with the bat, "making two, three and four hits in one game and then taking a long rest," led to hot-hitting Jocko Fields taking over for him.23 Coupled with an arm injury that forced him to wear a sling, he missed a month of action, but closed out the year in the line-up. His .436 OBP was fourth in the league, but he only had 13 extra-base hits and batted a mere .229.
In October Comiskey made plans to take a contingent to California to play during the fall and winter. Robinson was to be involved as were King Kelly, Patsy Tebeau, Dummy Hoy, and a dozen more. When the Players' League began to unravel in early November it appears that the trip was cancelled. Over the winter Robinson signed to play for Kelly on his Cincinnati Kelly's Killers in the American Association.
Robinson was 31 when he joined the Queen City team. He may have been seeing the first signs of the lung issues that would lead to his death because his performance was the worst of his career. He batted a dismal .178 and showed little power. His .328 OBP was his lowest since 1884. His fielding numbers were especially bad as he made 78 errors in 97 games. On May 26 he made seven errors in a match with Boston. He might be forgiven for some of the miscues because the field conditions were horrible in Cincinnati. The Athletic Club was installing a cinder track which ran through the outfield. "The whole field wants rolling badly, and the ball takes most surprising bounds." Robinson was "simply unable to do anything but make the most egregious errors."24
The Killers disbanded after their August 16 game in St. Louis. Two days later Robinson played second base for St. Louis, then was released after he went hitless and made an error in a 7-2 loss to Milwaukee. He wintered in St. Louis but certainly suffered from the onset of consumption. In the spring he went to Hot Springs, Arkansas, to get his body into shape for the coming season when he would play third base for the Washington Senators.
Robinson's health was deteriorating, and papers reported he now weighed under 150 pounds. Nevertheless, he held down the third base job for two months before being relegated to a utility role. He returned to a full-time role until his release in mid-August. In 67 games he batted .179.
It was reported that teams, especially Louisville, were after his services for 1893. He again went to Hot Springs to get his body into condition, but his breathing capacity was too severely compromised. He returned to St. Louis with hopes of regaining his strength. The turnaround never materialized. In January 1894 his friends held a theatrical benefit for him in St. Louis and raised about $1,000. At the time it was reported he was heading to Los Angeles to regain his health.25 Later the destination was thought to be New Mexico. In the end he traveled to San Antonio, Texas.
In July it was reported that Robinson had been hospitalized in Texas. He was so weak, and his lungs so compromised, that he could barely speak. He returned to St. Louis and moved into the home of Oliver (Patsy) Tebeau, where he was cared for by Tebeau and his mother. Death came on August 25, 1894. Robinson was buried in Calvary Cemetery in St. Louis. He was buried with a wooden cross, but arrangements were made for a headstone. It appears that the stone was paid for but never placed as the grave is listed as unmarked.26
In a will written a few days before his death, Robbie appointed Tebeau as his executor and split the bulk of the estate between his brother, George Robinson, and Tebeau. Robinson bequeathed a dollar to every member of his brother Thomas's family, a total of $6. The will was in probate for two years.
Robinson had handled his money well and owned property along with a sizeable bank account. An article from 1892 had listed Robinson as one of the top nine "richest ball players in the country."27 Despite that suggestion, his personal effects were meager: a valise of clothing, a watch and chain, a diamond pin and a lodge pin.
Robinson and Von der Ahe had quite a few run-ins. The 1889 near strike received the most press, but another incident with more wide-ranging social implications deserves mention. In 1887, as the Browns ran away with the pennant, an exhibition game was arranged with the Cuban Giants on an off day (Sunday) during a September eastern swing.
Arlie Latham, Jack Boyle, and O'Neill supposedly coaxed five other teammates (Comiskey, Dave Foutz, and Ed Knouff did not sign) into signing a letter dated September 10 that stated they "…do not agree to play against negroes to-morrow. We will cheerfully play against white people at any time…" The letter was delivered to Von der Ahe while he was at dinner and he immediately sought out his men. Did Von der Ahe have a moral sense that bristled at the racism? Or did the businessman in him take umbrage at the loss of prestige and money that a last-minute cancellation would create?
He confronted the players "who acted like a ship's crew about to mutiny." Von der Ahe demanded an explanation, but none was offered. For his part, Robinson "hung his head and sneaked to the rear of the crowd." The owner agreed to cancel the match.28
Acknowledgments
This biography was reviewed by Bill Nowlin and Norman Macht and verified for accuracy by the BioProject fact-checking team.
Notes
1 "Base Ball," Cincinnati Enquirer, September 29, 1889: 10.
2 "Diamond Points," Boston Globe, October 15, 1887: 5.
3 "Base Ball," Daily Leader (Gloversville, New York), May 12, 1891: 6.
4 https://search.ancestry.com/cgi-bin/sse.dll?dbid=7667&h=4327844&indiv=try&o_vc=Record:OtherRecord&rhSource=7163 Last accessed on May 15, 2019.
5 Last accessed on May 26, 2019. Missouri probate records has a lengthy file showing all the decrees and dispersements. https://search.ancestry.com/cgi-bin/sse.dll?dbid=9071&h=1587425&indiv=try&o_vc=Record:OtherRecord&rhSource=9071
6 There were multiple Aetna teams notably one from North Andover and another from South Boston. It is most likely that Robinson was with the South Boston contingent.
7 "Sporting Matters," Detroit Free Press, August 25, 1882: 1.
8 "Fair Balls," Detroit Free Press, August 27, 1882: 6.
9 "Ready for Opener in Burkart's Town," Lansing State Journal (Lansing, Michigan), April 24, 1911: 5.
10 "Base Ball Briefs," Saginaw Courier-Herald, October 30, 1883: 3.
11 "The National Game," Baltimore Sun, June 25, 1884: 1.
12 "A Chat with Chris," St. Louis Post-Dispatch, December 17, 1884: 8.
13 The information about the cross-handed grip is courtesy of baseball historian David Nemec who mentioned it in an email discussion about Robinson. The exchange of information came on May 20, 2019.
14 "A Running Review of Sporting News," Philadelphia Inquirer, August 27, 1894: 3.
15 Robert L. Tiemann, Nineteenth Century Stars (Kansas City: SABR, 1989), 109.
16 "Diamond Dashes," St. Paul Globe, November 11, 1888: 8.
17 "A Great Ballplayer Dead," San Francisco Chronicle, September 1, 1894: 9.
18 "Robinson's Famous Steal," St. Paul Globe, May 28, 1899: 7.
19 "The Sporting World," Des Moines Register, May 1, 1887: 12.
20 "Ball Players Strike," St. Louis Post-Dispatch, May 3, 1889: 3.
21 Ibid.
22 "Sporting Notes," Pittsburgh Daily Post, February 17, 1890: 6.
23 "Season's Work in Figures," Pittsburgh Daily Post, August 30, 1890: 6.
24 "Roast Him in Fine Style," Boston Globe, May 27, 1891: 19.
25 "Baseball Notes," Boston Globe, January 14, 1894: 13.
26 Confirmed by the cemetery staff in a May 24, 2019 email.
27 "Isn't Anything Alarming," Boston Globe, February 22, 1892: 9. It should be noted that a ballplayer's wealth was more than that of a common working man but nowhere near the money that shrewd business owners could pile up during the Gilded Age.
28 "Color Line in Baseball," The Times (Philadelphia), September 12, 1887: 1. It should be added that the Post-Dispatch had a different take on the events. It identified Bill Gleason and Boyle as the leaders. It also claimed that Von der Ahe threatened to release the whole team. It also suggrested the cancellation would cost the team $500-700 for breach of contract. "That Revolt," St.Louis Post-Dispatch, September 13, 1887: 8
Born
September 19, 1859 at Philadelphia, PA (USA)
Died
August 25, 1894 at St. Louis, MO (USA)
If you can help us improve this player's biography, contact us.
https://sabr.org/sites/default/files/images/RobinsonYank.png
600
800
admin
/wp-content/uploads/2020/02/sabr_logo.png
admin
2019-07-30 13:15:20
2020-04-09 14:37:32
Yank Robinson