BioProject: Inserting Hyperlinks for SABR Articles
SABR authors, we ask for your help in enhancing your articles as they appear on the SABR website and making them more interactive for future readers. We would like for you to use Microsoft Word's hyperlink function to link to SABR biographies the first time a player's name appears in your article. This is a quick and easy addition to your story that allows readers to connect to stories of other players at the tap of a key. Readers have commented favorably on it.
Linking to a player's BioProject page should be done for all names mentioned in a biography, even if a bio has not been written for that person yet. All retired MLB players have a dedicated page on the BioProject site, along with many executives, managers, scouts, umpires, and minor-league players. One reason to link to unwritten biographies is that it saves future writers and editors from having to go back into the story and add links once the bio is published. Another is that even the "stub" pages have useful links to other reference sites.
Here are step-by-step instructions on how to add links to your stories in Microsoft Word. (If you have volunteered to help add links on the website, scroll down to find instructions on how to add links at SABR.org.) Click on any image to enlarge.
1. Find the player's BioProject page
Use the SABR BioProject search tool at SABR.org/BioProject and enter the name of the player to whom you wish to add a link.
2. Copy the link address
In most cases, typing in the person's full name will list their BioProject page as the #1 search result.
Click on the person's name to open their BioProject page, and copy the URL in your browser:
https://sabr.org/bioproj/person/sherry-magee
If you use Google Chrome, right-clicking on the chosen name will save you a step. (Mac users can hold down the Control button and then click the mouse to pull up the menu.) Then click on the Copy Link Address item. Otherwise, you can open up the window and copy the URL.
If the player has a common name (like Bob Johnson), you may need to scroll down a few listings to determine which is the right page to which you should link.
3. Add the link to the story
Highlight the name in your document.

Go to the Insert menu in Word and choose the command Hyperlink.

Then paste the link address into the Address box.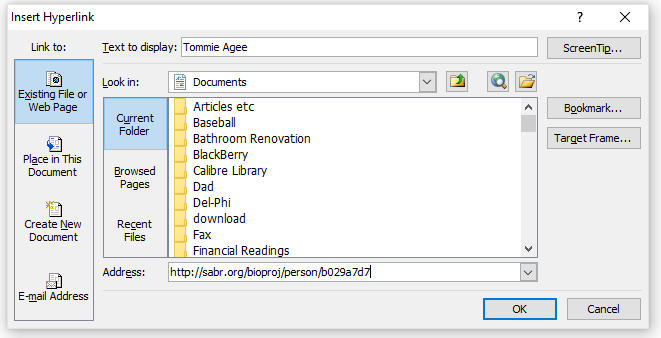 Voilà! The plain text has been converted into a working hyperlink.

If you have any questions, you can Contact the Editors for more information. Click here to go back to the BioProject Resources page.
---
How to add links to a SABR biography on the website
If you have volunteered to help enhance our biographies by adding links to player pages, click here to download an instructional guide to learn how to update and edit BioProject pages on the SABR website.
If you have any questions, or if you have trouble logging in to WordPress, you can Contact the Editors for more information. Click here to go back to the BioProject Resources page.