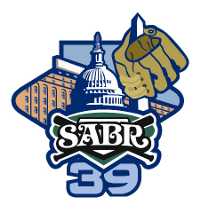 Where available, click on a link below to download PowerPoint slides from the research presentations given at SABR 39 in 2009 in Washington, D.C.:
RP1: Forfeit: The Final Game of the Washington Senators
Rick Schabowski
RP2: Stadium Construction and Fan Attendance for Minor League Baseball
Seth Gitter, Thomas Rhoads
RP3: Senators' Hitting Streaks, and Their Contributions to Pennants in 1924 and 1933
Steve Krevisky
RP5: 21*
Tim Herlich
RP6: The Whole Show: George Wilson 1875-1915
Todd Peterson
RP7: The Big Train vs. The Big Bambino: Walter Johnson Against Babe Ruth
Eric Weiss
RP8: Baseball's Lost Generation: The Profound Effect of the Great Depression on Baseball in the 1960s
Anthony Giacalone
RP9: Frank Howard in 1969: Can an Old Dog Learn New Tricks to Get on Base?
Steve Walker
RP10: Pull Up a Chair: Vin Scully's Niche In Baseball History
Curt Smith
RP11: How Does the Quality of a Team's Defense Impact Pitching Usage?
Vince Gennaro
RP12: Mis-Management 101: The American League Expansion of 1961
Andy McCue
RP13: Closers, Setup Men, and LOOGYs: The Evolution of the Modern Bullpen, 1960-2008
Mike Emeigh
RP14: Baseball's First Expansion Draft
Eric Thompson
RP15: Does Running the Bases Harm Pitching Performance?
David W. Smith
RP16: Doubled Up: The Mysterious Illness that Almost Ended George Sisler's Hall-of-Fame Career
Jim Provenzale, Rick Huhn, David Goss
RP17: Strategy, Fatigue, or Something Else?
Patrick Kilgo, et al
RP18: Rickey Being Rickey: Branch Rickey's 1948 Wilberforce Speech, An Ironic Waterloo
Lee Lowenfish
RP19: Perfect: Don Larsen's Miraculous World Series Game and the Men Who Made It Happen
Lew Paper
RP20: A Framework for Analysis to Evaluate Managers: Indicators of a Manager's Impact
Bryan Soderholm-Difatte
RP21: The Value Production Standings: 1946-2008
Steve Treder
RP22: The Baseball Philosophy of Charles Comiskey
Chris Jaffe
RP23: Do Players Try Harder When a Big Goal is in Sight?
Phil Birnbaum
RP24: "Then from 5,000 throats and more there rose a lusty yell:" Baseball and Electroacoustic Technology
Alex Kupfer
RP25: The Green and the Blue: The Irish-American Umpire, 1880 to 1965
David Fleitz
RP26: Once and For All: "Who's On First?"
Ray Zardetto
RP27: A Tale of Two Umpires
Mark Armour
RP28: Deadball and the Silent Filmmaker
Jill Singleton
RP29: What Do Rock/Paper/Scissors and Baseball Have in Common?
Mark Pankin
RP30: Baseball and the Automobile: An American Love Affair
Ed Mayo, William M. Anderson, Dobb Mayo
RP31: AggPro: Aggregate Projection System
Ross Gore, Cameron Snapp
RP32: Extra Innings: One of Baseball's Favorite Features
Zak Hudak
RP33: Dominican Connection
George Gedda
RP34: "I'll Go When They Collar Me": Athletic Heroes, Citizen-Soldiers, and the Press Coverage of Hank Greenberg
Jacob Baska
RP35: Baseball's Global Trend and Emergence in China
Ryan Hutzler
RP36: The Promotion of Baseball Players in a Global Market
Jennifer McGovern
RP38: Cal and Bill Ripken: It's Not What You Think
Bill Haelig
RP39: Henry P. Edwards: Making a Case for His Induction into J.G. Taylor Spink's Writers Wing of the Hall
Jim Odenkirk
RP40: Winning Percentage Contribution: Extending the Reach of Wins Probability Added
David Shplgler
---
For more SABR convention history, click here.