Never been to a SABR convention before? You're missing out! Here are some highlights from our previous gatherings. Click on a link below to scroll down.
1970s | 1980s | 1990s | 2000s | 2010s | 2020s
---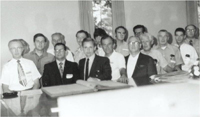 SABR 1: Cooperstown, New York
August 10, 1971
National Baseball Hall of Fame Library
In a meeting organized by L. Robert Davids, 16 interested "statistorians" gathered to form the Society for American Baseball Research on the second floor of the National Baseball Hall of Fame Library one day after the Induction Ceremony was held for Satchel Paige, the first Negro Leaguer elected, and eight other Veterans Committee selections, along with the Hall of Fame Game between the Cleveland Indians and Chicago Cubs.
SABR 2: Washington, D.C.
June 23-24, 1972
Central Quality Motel (Arlington, Virginia)
Featured speaker: Chuck Hinton
Ballgames: Orioles 3, Tigers 1 (Game 1); Tigers 2, Orioles 1 (Game 2)
Thirty-three members attended SABR's second annual meeting — including four of the founders: Bob Davids, Paul Frisz, Cliff Kachline and Bob McConnell — despite massive flooding that weekend because of Hurricane Agnes. Recently retired MLB outfielder Chuck Hinton spoke about his job as Howard University baseball coach and hitting a home run off knuckleballer Hoyt Wilhelm. Films on the 1971 World Series and relief pitchers were also shown.
SABR 3: Chicago, Illinois
June 22-24, 1973
Sheraton-Chicago Hotel
Featured speakers: Bob Elson, Dave Malarcher
Ballgame: A's 14, White Sox 3
Twenty-six members attended the third annual meeting at the Sheraton-Chicago Hotel on Michigan Avenue. Featured speakers were Bob Elson, longtime broadcaster who later received the Hall of Fame's Ford C. Frick Award; and Negro Leaguer Dave Malarcher, who managed the Chicago American Giants to five pennants. Ballgame at Comiskey Park on Saturday night included "Welcome SABR members" message on the scoreboard.
SABR 4: Philadelphia, Pennsylvania
June 22-24, 1974
Holiday Inn
Featured speakers: Fred Lieb, Gene Kelley, Ted Page
Ballgame: Phillies 5, Mets 2 (Game 1); Phillies 8, Mets 5 (Game 2)
Forty members and guests attended the fourth meeting. Guest speakers included Phillies/Reds announcer Gene Kelley, Negro Leaguer Ted Page, and sports writer Fred Lieb — who founder Bob Davids often credited with legitimizing the Society in baseball circles. The Negro Leagues Committee also organized a meeting at the hotel with a dozen former players, including Hall of Famer Judy Johnson. Dick Cramer, who helped organize the convention, and Pete Palmer formed a new research committee on statistical analysis that would revolutionize the game.
SABR 5: Boston, Massachusetts
July 11-13, 1975
Children's Inn
Keynote speaker: Joe Dugan
Ballgame: Red Sox 10, Rangers 4
Sixty-four members attended the fifth convention, organized by SABR's first Treasurer, Eric Simonsen. Guest speaker was Jumpin' Joe Dugan, who regaled the audience with stories of Babe Ruth, Ty Cobb, Lefty Grove and former Boston Braves owner Judge Emil Fuchs. SABR members were guests of the Red Sox at Fenway Park on Saturday night, as Luis Tiant subdued the Rangers despite two rain delays. SABR established a permanent address for the first time in Cooperstown, New York.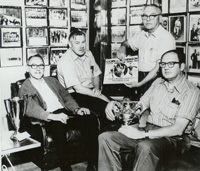 SABR 6: Chicago, Illinois
June 25-27, 1976
Howard Johnson Motor Lodge
Keynote speaker: Lew Fonseca
Ballgame: Mets 10, Cubs 2
Forty-five members attended the sixth convention — the second held in the Windy City — at the Howard Johnson Motor Lodge on Lake Shore Drive. Guest speaker was Lew Fonseca, the 1929 American League batting champion and former White Sox manager. Chicago Sun-Times sports writer Eddie Gold showed old highlight films of the Cubs and sports writer Jim Enright spoke at the Friday session. Former Pirates and White Sox infielder Tony Piet also spoke. John Milner's grand slam off Bill Bonham keyed a six-run fourth inning as Jerry Koosman and the Mets cruised to a victory on Saturday afternoon at Wrigley Field. Free tickets were provided to SABR members, courtesy of the Arthur Meyerhoff Associates advertising agency.
SABR 7: Columbus, Ohio
June 24-26, 1977
Holiday Inn Downtown
Featured speaker: Johnny Bucha
Ballgame: Columbus Clippers 5, Tidewater Tides 4
The first convention held in a minor league city, which coincided with the 100th anniversary of Columbus' first entry in the professional ranks with the Buckeyes of the International Association, was attended by 74 SABR members. Guest speaker at the Friday night "welcoming social" was former Cardinals/Tigers catcher Johnny Bucha, who was a mink farmer in Pennsylvania at the time. Future SABR President Kit Crissey organized a reunion that drew 24 former players — including Johnny Lipon, George Sisler Jr., Jim Fridley, Dick Hoover and Roy Hughes. Some of them later participated in an old-timers' game umpired by SABR members Al Payson, Troy Soos and Tom Zamorski at the newly refurbished Franklin County Stadium, the first minor league park to have Astroturf.
SABR 8: Paramus, New Jersey
July 28-30, 1978
Paramus Parkway Holiday Inn
Keynote speaker: Tony Lupien
Ballgame: Yankees 7, Twins 3
The eighth annual convention, attended by 81 members, was highlighted by the release of SABR's groundbreaking Minor League Baseball Stars, the first major compilation of seasonal and career records for players, teams and leagues at that level. Bob Hoie and Ray Nemec spearheaded the effort to get the book ready for publication. Guest speaker was Tony Lupien, the longtime Dartmouth College coach who played with the Red Sox and Phillies during World War II; he gave a "scholarly discourse on player organizations, personnel management and the pension plan." Kit Cressey organized another players panel, which included Jack Martin, Hinkey Haines, Charlie Hargreaves and Russ Van Atta. An old-timers' game, narrated by Mel Allen, preceded the Saturday afternoon game at Yankee Stadium. But, as Bob Davids reported, "DiMaggio, Mantle, Maris, Ford and Berra all took a back seat when (the recently fired) Billy Martin came on the field to the announcement that he would be back as Manager in 1980."
SABR 9: St. Louis, Missouri
June 29-July 1, 1979
Lennox Hotel
Keynote speaker: Mike Shannon
Ballgame: Phillies 6, Cardinals 4
For the first time, more than one hundred attendees — 115 to be exact, including 78 members — showed up for the annual convention, thanks in part to the promotion of off-site activities around the city for spouses and children of SABR members. Former Cardinals World Series hero Mike Shannon, already a seven-year veteran of their broadcast team, was the keynote speaker at the banquet. Negro Leagues great James "Cool Papa" Bell became the first of many Hall of Fame inductees to speak at a SABR convention. Former players Andy High of the "Gas House Gang" Cardinals and Buddy Blattner also spoke, along with longtime SABR member Bob Broeg, a St. Louis sports writing legend. At Busch Stadium, SABR members saw Del Unser hit a dramatic game-tying home run with two outs in the ninth as the Phillies won in extra innings.
Audio: Listen to Cool Papa Bell, Andy High, and Buddy Blattner's talks at the 1979 SABR Convention (courtesy of Cleveland Public Library)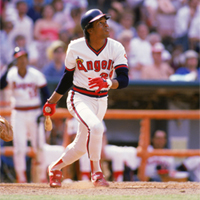 SABR 10: Los Angeles, California
July 11-13, 1980
Travelodge Hotel at Los Angeles International Airport
Keynote speaker: Roy Smalley Jr.
Ballgame: A's 5, Angels 4
Attendance for the 10th annual convention, the first one held on the West Coast, was 85, with 62 of them being active SABR members. Former National League shortstop Roy Smalley Jr. fielded questions about his son, All-Star infielder Roy Smalley III, and his brother-in-law, longtime manager Gene Mauch. A Friday players panel included 1930 Braves rookie sensation Wally Berger; Negro Leagues catcher Quincy Trouppe; Bert Shepard, who lost a leg in World War II and returned to pitch; and American League umpire Joseph Rue. SABR members saw another old-timers' game, this time at the "Big A" in Anaheim, marking the Angels' 20th season in the American League. Eleven research presentations were delivered, including one on statistical support in broadcasting by longtime Dodgers statistican Allan Roth, later to be namesake of SABR's Los Angeles chapter. Meanwhile that summer, in Lawrence, Kansas, Bill James coined the phrase "sabermetrics" to describe the study of statistical analysis in baseball.
Read more: A look back at SABR 10 in Los Angeles
SABR 11: Toronto, Ontario
July 24-26, 1981
University of Toronto, Erindale campus
Keynote speaker: None (panel presentation)
Ballgame: None (MLB labor dispute)
The first convention held outside the United States drew another record attendance of 147, including 97 members. Preparations for the convention were hampered by the MLB players' strike and the Canada Post labor dispute, but organizers Bill Humber and Dave Crichton were still able to mail all correspondence to SABR members during business trips to New York. Hall of Famer Early Wynn, then a Blue Jays broadcaster, also canceled his scheduled banquet appearance at the last minute, so the keynote speech became a panel discussion that included former major leaguers Goody Rosen, Phil Marchildon, Roy Hughes and Reno Bertoia. Former Negro Leaguers Gene Benson, Buddy Burbage, Jeep McLain and Sy Morton were joined by novelist John Craig for another panel. Convention attendees were saddened by the May 29 death of SABR member John Tattersall, "the national authority on home runs hit in the majors." Tattersall's research on home runs was continued by Bob McConnell and, later, David Vincent. SABR's Tattersall-McConnell Home Run Encyclopedia has been licensed to Baseball-Reference.com and is publicly available there.
Read more: John Thorn explains why he became a SABR member at the 1981 convention — and why you should be, too.
Related link: Read John Thorn's review of SABR 11 in The Sporting News (August 8, 1981)
SABR 12: Baltimore, Maryland
June 25-27, 1982
Towson State University
Keynote speaker: Sparky Anderson
Ballgame: Orioles 4, Tigers 1
A lively convention saw another explosion in attendance, this time to 227 (including 151 members), "by far the biggest event the Society has participated in during its 11 years," as Bob Davids reported. Tigers broadcaster Ernie Harwell delivered the invocation at the Saturday banquet and then introduced the main speaker, manager Sparky Anderson, who offered "a testimonial of his … good fortune of going from a .218 hitter to a World Champion manager." Rex Barney, former Dodgers pitcher and longtime Orioles public-address announcer, also spoke; Dick Beverage, Bob Bluthardt, Dutch Doyle, Cappy Gagnon and Ron Liebman delivered impromptu presentations, while Bill James held a Q&A session. The Friday night panel included former Rangers manager Billy Hunter, SABR member Roy Hughes and Towson State star Al Rubeling. The Orioles generously provided 200 free tickets to Saturday night's game — No. 24 in Cal Ripken Jr.'s record-setting streak.
Read more: A look back at SABR 12 in 1982
SABR 13: Milwaukee, Wisconsin
July 15-17, 1983
Mashuda Hall, Marquette University
Keynote speaker: Hal Goodenough
Ballgame: Brewers 5, Twins 0
Hal Goodenough, a boyhood teammate of Mickey Cochrane and former member of the Braves' front office, was the guest speaker for the 13th annual convention, which set another record with 262 attendees (including 205 members). It was the third straight convention held on a college campus facility. The players panel consisted of Ken Keltner (also a SABR member), Andy Pafko, Mike Hegan, Fabian Gaffke, umpire Stan Landes and Negro Leaguers Lester Lockett and Ted "Double Duty" Radcliffe. A "traditional Milwaukee" tailgate party was held before the Saturday night game, which featured a Moose Haas three-hit shutout over the Twins.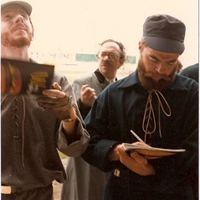 SABR 14: Providence, Rhode Island
July 6-8, 1984
Brown University
Keynote speaker: Lou Gorman
Ballgame: Pawtucket Red Sox 7-3 and 4-2 over Rochester Red Wings (doubleheader); 1884 vintage game
The 14th convention, which drew another record crowd of 350 (including 230-plus members), was held in Providence to coincide with the 100th anniversary of the 1884 World Series between the Providence Grays and the New York Metropolitans. A symposium on that season was led by Joe Lawler, Dick Waldbauer, Fred Ivor-Campbell, John Husman (great-grandson of John Lee Richmond) and Fred Stinson. Lou Gorman, a Providence native then in his first year as general manager of the Boston Red Sox, was the banquet speaker. The player panel consisted of Clem Labine, Dave Stenhouse, Tony Lupien and Pawtucket Red Sox owner Ben Mondor, who generously offered McCoy Stadium as the venue for SABR's re-enactment of the 1884 World Series between games of an International League doubleheader. A workshop on writing and publishing was led by Linda Levin and James A. Peterson. The 1884 "vintage game" (right), featuring replica uniforms produced by the Textiles Department at the University of Rhode Island, was delayed by rain and the five innings had to be split up (three innings before the first PawSox game and two-and-a-half before the second PawSox game). The SABR "Mets" got revenge on their real-life World Series defeat by beating the SABR "Grays," 4-3. But, as Rich "Dixie" Tourangeau recalled, "with all the greatest SABR minds either in the stands or on the field, not one had thought to record a box score of the game … an unforgettable oversight." This year was the first SABR convention with its own journal, a series of nearly three dozen articles from the Providence Journal from 1875 to 1885 documenting the history of major-league baseball in the city.
SABR 15: Oakland, California
July 11-14, 1985
Hyatt Regency
Keynote speaker: Roy Eisenhardt
Ballgame: A's 11, Brewers 2
SABR's return to the West Coast saw an attendance of 293 for the 15th annual convention. Oakland A's president Roy Eisenhardt was the featured speaker at the banquet. The Friday player panel consisted of Philadelphia A's all-star Sam Chapman, ex-major leaguer Earl Robinson and longtime Oakland Oaks catcher Bill Raimondi. A Saturday presentation by sports writer Leonard Koppett was followed by a sabermetrics panel discussion with Bill James, Allan Roth and Pete Palmer. On Sunday, members saw the A's defeat the Brewers with SABR providing trivia questions for the Oakland Coliseum scoreboard. Bob McConnell, one of SABR's 16 founding members, won the inaugural Bob Davids Award, SABR's highest honor.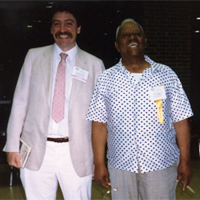 SABR 16: Chicago, Illinois
July 17-20, 1986
Loyola University, Lakeshore campus
Keynote speaker: Bill Gleason
Ballgame: Cubs 11, Giants 6

The SABR convention's popularity continued to grow, as a record 479 members and guests attended SABR 16 in Chicago. It was the last national convention held at a college campus using dormitory rooms and cafeteria dining. Bill Gleason, the longtime Chicago Sun-Times columnist, was the banquet speaker on Saturday night following a sweltering ballgame at Wrigley Field in 96-degree heat. Rich Topp reports: "Roland Hemond was willing to give us 500 free tickets to the White Sox game, but a survey of the membership wanted to see the Cubs. So we took a tour of Comiskey Park and Roland gave us 500 free batting helmets instead. The Cubs wouldn't do tours. So we got 'em back by taking our helmets to the Cubs game. When Harry Caray led the singing in the seventh inning, the TV camera scanned the area of SABR members and we all wore helmets with 'SOX' on them." Chico Carrasquel, John Klippstein, Rich Nye, Ted "Double Duty" Radcliffe (right, shown with Mark Kanter), Marv Rotblatt and Nelson Potter made up the player panel. Local chapter members also put out a 56-page special publication called Baseball in Chicago, with articles celebrating the 80th anniversary of the Cubs-White Sox World Series of 1906. Joe Simenic, another one of the "Cooperstown 16", won the second Bob Davids Award.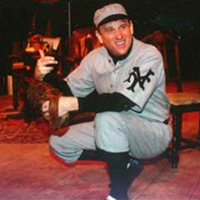 SABR 17: Washington, D.C.
June 26-29, 1987
Crystal City Marriott (Arlington, Virginia)
Keynote speaker: John Steadman
Ballgame: National Old-Timers' Baseball Classic, RFK Stadium
The 17th annual convention set an attendance record of 631 that wouldn't be topped for 15 years. The convention featured more than 15 hours of research presentations, a player panel headlined by Milt Pappas, tours of Baltimore's Memorial Stadium (the Orioles were out of town) and the Babe Ruth birthplace. The premiere of Eddie Frierson's award-winning one-man show Matty, written and performed by the longtime SABR member from California (right), was delivered at SABR 17. Longtime Baltimore sports writer John Steadman delivered the banquet speech. SABR members also got front-row seats for the sixth annual old-timers' game, which featured the newest members of the Baseball Hall of Fame, Catfish Hunter and Billy Williams. Frierson, dressed as Christy Mathewson, pitched batting practice to Joe DiMaggio and Hank Aaron, among others.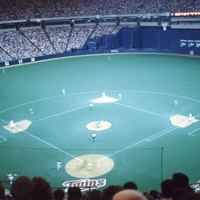 SABR 18: Minneapolis, Minnesota
July 7-10, 1988
Holiday Inn Metrodome
Keynote speaker: Andy MacPhail
Ballgame: Brewers 5, Twins 4
Andy MacPhail, the young general manager of the Twins, delivered the keynote address to a crowd of 340 members and guests in Minneapolis. Minor league home run legend Joe Hauser was a special guest speaker. Actor Peter Thoemke performed "Casey at the Bat" at the convention opening, while the players panel consisted of former AL Rookie of the Year John Castino, original Twin Julio Becquer, two-sport star Howie Schultz and Negro Leaguer Collins Jones. More than 30 research presentations were given, including "The Ebbets Field Diamond Jubilee" by Ron Gabriel, "The 30-30 Club" by Cappy Gagnon and "The Great Minneapolis-St. Paul Baseball Rivalry" by Stew Thornley.

Read more: A look back at SABR 18 in Minneapolis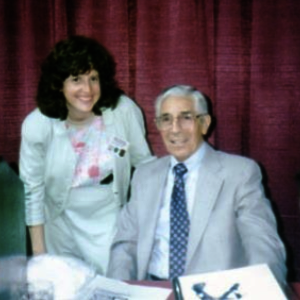 SABR 19: Albany, New York
June 23-26, 1989
Keynote speaker: Bobby Brown
Ballgame: Albany Yankees 4, Eastern League All-Stars 3
SABR's most tumultous national convention welcomed 524 members and guests. Dr. Bobby Brown, the former Yankees "bonus baby" infielder and the sixth president of the American League, was the banquet speaker. 1950 AL MVP Phil Rizzuto, who would be elected to the Hall of Fame five years later, was also a guest speaker. A group trip was made to the Hall of Fame in nearby Cooperstown and members took in the Eastern League All-Star Game. A political crisis erupted when, during Eight Men Out author Eliot Asinof's presentation on the Black Sox, member John Holway handed out "8 Men Out" buttons to protest the Board's recent ousting of Lloyd Johnson after four years as Executive Director. At a wild business meeting, Holway motioned to unseat the entire board (it failed) and withdrew his name as a candidate for president. Rich Topp, nominated from the floor, was elected in a close vote.
SABR 20: Cleveland, Ohio
July 27-29, 1990
Sheraton Cleveland City Centre
Keynote speaker: Sam McDowell
Ballgame: Yankees 8, Indians 5 (Game 1); Yankees 4, Indians 3 (Game 2)
SABR's 20th convention saw 481 members and guests, as 1960 Indians fireballer "Sudden" Sam McDowell was the awards banquet speaker and Hall of Famer Bob Feller headlined a player panel during his first convention in Cleveland. Bob Buege won the inaugural Cox Award — now called the Doug Pappas Award — as the best research presentation, for his "Milwaukee Braves: A Baseball Eulogy". A Negro Leagues panel with Dr. Larry Hogan and authors Robert Peterson, Donn Rogosin, James Riley and John Holway was one of the highlights. Members also took a tour of Cleveland Stadium on Saturday and an Indians-Yankees doubleheader on Sunday afternoon.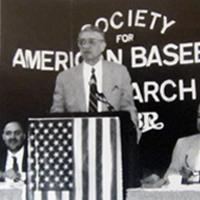 SABR 21: New York, New York
June 27-30, 1991
New York Penta Hotel (Hotel Pennsylvania)
Keynote speaker: Mel Allen
Ballgame: Phillies 6, Mets 2
SABR's 21st convention, and its first in the heart of the Big Apple, attracted 405 members and guests. Longtime Yankees announcer Mel Allen (right) was the keynote speaker. Singer Terry Cashman performed a rendition of "Talkin' Baseball" and the famous Brooklyn Dodgers Sym-Phony Band also performed. SABR members got a special preview of Ken Burns' upcoming documentary film, Baseball, heard audio highlights from Lawrence Ritter's The Glory of Their Times interviews, and also took in a ballgame at Shea Stadium. Later that summer, founding members Bob Davids, Dan Dischley, Tom Hufford, Cliff Kachline, Pat McDonough, John Pardon and Joe Simenic gathered at the Hall of Fame Library in Cooperstown to celebrate the organization's 20th anniversary.
Read more: A look back at SABR 21 in New York City
SABR 22: St. Louis, Missouri
June 25-28, 1992
Adam's Mark Hotel
Keynote speaker: Bing Devine
Ballgame: Cardinals 4, Mets 3
SABR's 22nd convention, which drew 485 members and guests, was a celebration of the 1942 Cardinals and Sportsman's Park. Former players Stan Musial, Terry Moore and Red Schoendienst took part in players panels, along with Marty Marion, Ted Savage, Joe Cunningham and Tom Poholsky and St. Louis Browns players Ned Garver, Don Lenhardt, Jim Delsing, Ed Mickelson and Babe Martin. (The Cardinals panel was moderated by longtime SABR member and sports writer Bob Broeg, namesake of the St. Louis chapter.) Members took part in a tour of The Sporting News and attended a Cardinals-Mets game at Busch Stadium. Former Cardinals general manager Bing Devine was the keynote speaker.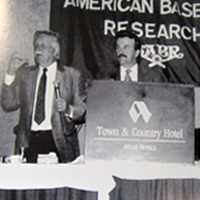 SABR 23: San Diego, California
June 24-28, 1993
Town & Country Resort Hotel
Keynote speaker: Dick Williams
Ballgame: Reds 6, Padres 2
The Ted Williams Chapter played host to 350 members and guests for SABR's 23rd convention, back on the West Coast for the third time. A panel of players from the 1984 Padres included Kurt Bevacqua and Bruce Bochy. The manager of that team, Dick Williams (right, with Bevacqua at the mic), was the keynote speaker after the Saturday night banquet. Another memorable session was a Thursday night reception with San Diego native and Boston Red Sox Hall of Famer Bobby Doerr. Other panels included former major-leaguers Joe Nuxhall, Ray Boone, John Kibler, Pete Coscarart, and Irv Noren, and Pacific Coast League veterans Rod Graber, Al Olsen, and Tony Criscola with umpire Bob O'Regan and sports writer Earl Keller. A non-players panel included former American League umpire Ed Runge, longtime executive Buzzie Bavasi, and Reds announcer Marty Brennaman. Many attendees and their families also took a trip to the San Diego Zoo.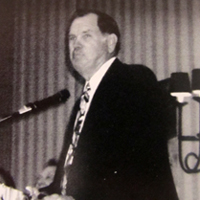 SABR 24: Arlington, Texas
June 16-19, 1994
Arlington Marriott
Keynote speaker: Robin Roberts
Ballgame: A's 11, Rangers 10
SABR's 24th convention drew 405 members and guests to the Metroplex for a packed schedule that included four panels, plus speeches by Hall of Famers Nolan Ryan at the Friday luncheon and Robin Roberts (right) at the Saturday banquet. The players panel included Roberts, Bobby Bragan, Frank Lucchesi, Jim Kern, Ray Burris, Rich Hand and Randy Hundley; the executives' panel, moderated by longtime Astros boss and SABR member Tal Smith, included Eddie Robinson, Sandy Johnson, Dick Butler and Stan McIlvaine; and the writers panel included Jeff Guinn, Tim Kurkjian, Phil Rogers, Jim Reeves, Mike Sowell and John Thorn. In addition, Thorn and Buck O'Neil participated in a special talk called "Old Time Baseball." Many members also took a trip to the Six Flags amusement park nearby and a tour of The Ballpark in Arlington.
SABR 25: Pittsburgh, Pennsylvania
June 15-18, 1995
Hyatt-Regency Pittsburgh
Keynote speaker: Chuck Tanner
Ballgame: Padres 12, Pirates 4
Chuck Tanner, manager of the 1979 World Series champion Pirates, delivered the keynote address to 451 attendees at SABR's 25th annual convention in Pittsburgh. The convention opened Thursday with an afternoon of softball at the Bill Mazeroski Field, adjacent to old Forbes Field in Oakland. Some forty men played ball that afternoon. The evening included a lengthy panel discussion involving former Pirates living in the Pittsburgh area who were part of the 1960 World Series championship team, including Mazeroski, Elroy Face and Bob Friend. On Friday, the convention gang went to Three Rivers Stadium to see the Pirates play San Diego. The pre-game party included a "tailgate" picnic at the Stadium. On Saturday, members of the 1971 championship Pirates participated in a panel discussion that took care of the morning. There was an afternoon bus tour of historical baseball sites in the city; the sites included two old downtown ball park locations and grave sites of several Pirates immortals. The awards banquet was held Saturday night. The master of ceremonies was Nellie King, former Pirates pitcher and radio broadcaster. The guest speaker was Chuck Tanner. Sunday morning featured another panel of baseball greats from the Pittsburgh area; the chief spokesman for that group was Frank Thomas.
Read more: A look back at SABR 25 in Pittsburgh
SABR 26: Kansas City, Missouri
June 6-9, 1996
Kansas City Marriott
Keynote speaker: Steve Fehr
Ballgame: Royals 12, Mariners 8
SABR's 26th convention attracted 431 members and guests to Kanas City. Steve Fehr, longtime outside counsel to the Major League Baseball Players Association, was the keynote speaker. The player panel consisted of Hall of Famer Bob Feller, back for his second appearance at a SABR convention, along with Bob Usher and Clarence Marshall. The first Seymour Medal, for the best book on baseball history or biography published in the preceding year, was awarded in 1996 to David Zang for Fleet Walker's Divided Heart.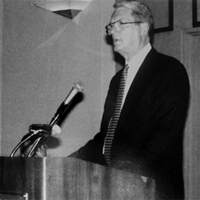 SABR 27: Louisville, Kentucky
June 20-23, 1997
Hyatt Regency Louisville
Keynote speaker: Jim Bunning
Ballgame: Iowa Cubs 3, Louisville Redbirds 0
A total of 440 members and guests attended SABR's 27th convention in Louisville, Kentucky. Hall of Fame pitcher and Kentucky Congressman Jim Bunning (right) delivered the keynote address. Pee Wee Reese, a Louisville native, highlighted a player panel that also featured Carl Erskine, Don Lund, Ed Stevens and Tot Presnell. Another panel included then-current Louisville Redbirds Gaylen Pitts, Kevin Koslofski and Brian Maxcy. Branch Rickey III and Redbirds general manager Dale Owens also spoke. Members took a tour of the Louisville Slugger Museum and Bat Factor and attended an American Association game between the Redbirds and Iowa Cubs. Cubs pitcher Miguel Batista tossed a two-hit shutout.
Related audio: Listen to Jim Bunning's keynote speech from SABR 27 (with introduction by former major league pitcher Ned Garver)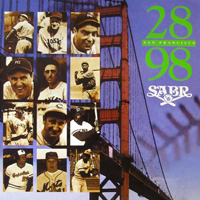 SABR 28: San Francisco, California
June 25-28, 1998
San Francisco Airport Marriott (Burlingame, California)
Keynote speaker: Bill Rigney
Ballgames: Rangers 7, Giants 3 and San Jose Giants 5, Lake Elsinore Storm 0
A Giants player panel and a Pacific Coast League player panel highlighted the 28th annual SABR convention in Northern California, which drew 437 members and guests. Hall of Famer Orlando Cepeda headlined the former discussion, which also included Hank Sauer, Eddie Bressoud and Mike McCormick. The PCL panel included Larry Jansen, Gino Cimoli, Dino Restelli, Bud Watkins and Ernie Broglio. Bill Rigney, the Giants' first manager after their move to San Francisco, was the keynote speaker. Longtime Orioles, Giants and ESPN broadcaster Jon Miller also spoke.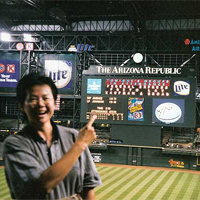 SABR 29: Scottsdale, Arizona
June 23-28, 1999
Radisson Resort and Spa Scottsdale
Keynote speaker: Tommy Henrich
Ballgame: Cardinals 1, Diamondbacks 0
Four hundred members and guests attended SABR's 29th convention, which was highlighted by José Jiménez's thrilling no-hitter (outpitching Randy Johnson, no less) at the convention ballgame on Friday night. Many community activities were on the schedule: SABR Day at Scottsdale Stadium included a cookout, a clinic with members of the MLB Players Alumni Association and a "vintage" game; also a SABR/MLBPAA golf tournament and a tour of Cactus League spring training parks. The Yankees' "Old Reliable," Tommy Henrich, was the keynote speaker. The panels included a baseball fiction discussion with authors Mark Harris and Andy McCue.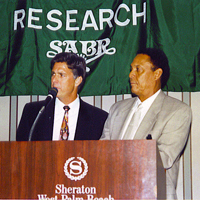 SABR 30: West Palm Beach, Florida
June 21-25, 2000
Sheraton West Palm Beach Hotel
Keynote speaker: Elden Auker
Ballgame: Marlins 7, Cubs 4 and Brevard County Manatees 4, Jupiter Hammerheads 3
SABR's 30th convention, which drew 302 members and guests, focused on baseball in Florida and the Caribbean, with panels highlighted by Hall of Famers Tony Perez and Monte Irvin. Former Detroit Tigers pitcher Elden Auker was the keynote speaker and a bus trip to Pro Player Stadium in Miami was taken for a Marlins game. General manager Dave Dombrowski (right, with Perez) was also a featured speaker. Articles in the convention publication From McGillicuddy to McGwire focused on the 1997 Marlins, spring training ballparks, and the Caribbean Baseball Series. Doug Pappas won the research presentation award now named for him with "111 Years of Major League Ejections."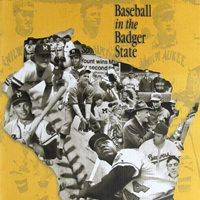 SABR 31: Milwaukee, Wisconsin
July 11-15, 2001
Four Points by Sheraton Milwaukee
Keynote speaker: Bud Selig
Ballgames: White Sox 7, Cubs 2 and Twins 5, Brewers 3
Commissioner Bud Selig was the keynote speaker in his hometown for SABR's 31st annual convention, which had an attendance of 574 members and guests. There were four informative panel discussions: an All-American Girls Professional Baseball League panel that included Vivian Sheriffs Anderson, Annastasia Batikis, Jackie Mattson Baumgart, Betty Moczynski, Mary O'Hara and Joyce Hill Westerman; a panel of former Negro Leaguers with Dennis Biddle, Sherwood (Woody) Brewer and Carl Long; Milwaukee authors Tom Flaherty, Jim Ksicinski and Gregg Hoffmann; and finally, the traditional players panel with former Milwaukee Brewers and Braves Johnny Logan, Felix Mantilla, Andy Pafko and Bert Thiel. Members had the chance to attend a game at new Miller Park, along with a trip to nearby Chicago for another game at Wrigley Field.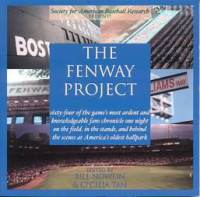 SABR 32: Boston, Massachusetts
June 26-30, 2002
Boston Park Plaza Hotel
Keynote speaker: Talkin' Ted Williams Forum
Ballgame: Braves 4, Red Sox 2
Because everyone who sees a game inevitably sees it differently, the record-high total of 712 members and guests attending SABR 32 in Boston were asked to contribute their observations of the Braves-Red Sox game at Fenway Park — this idea culminated in the 2004 publication of The Fenway Project, edited by Bill Nowlin and Cecilia Tan. (It was reissued as an e-book in 2013.) Before the game, SABR's first female president, Claudia Perry, threw out the first pitch. Other convention highlights included the showing of the oldest existing broadcast of a regular-season major league game (the next-to-last game of the 1967 season between the Twins and Red Sox); a "Lively Ball Colloquium" with two New England academic research teams; and a "Baseball as America" session organized by the National Baseball Hall of Fame. Panel discussions included a scouts panel with Bill Clark, Paul Snyder, Ray Fagnant and Galen Carr; a media panel with Nowlin, Joe Castiglione, Gordon Edes, Rob Neyer and Pete Van Wieren; a Boston Braves panel with Sibbi Sisti, Art Johnson, Joe Morgan and Ralph Evans; a Latino baseball panel with Anthony Salazar, Dr. Carlos Munoz, Eduardo Valero, Bruce Markusen and Luis Tiant; an umpires panel with Dave Anderson, David Vincent, Kevin O'Connor, and Bob Long; and the Talkin' Ted Williams Forum led by former teammates Dominic DiMaggio and Johnny Pesky.
Download the e-book: Get your copy of The Fenway Project by clicking here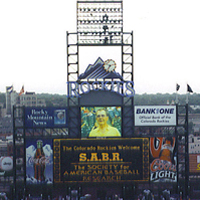 SABR 33: Denver, Colorado
July 10-13, 2003
Marriott City Center
Keynote speaker: Jim Evans
Ballgames: Rockies 7, Dodgers 6 and Colorado Springs Sky Sox 4, Salt Lake Stingers 3
The 33rd SABR convention brought 494 attendees to the Mile High City. The keynote speaker was longtime major league umpire Jim Evans. A "future of baseball" panel included economist Andrew Zimbalist, Project Scoresheet founder Gary Gillette and former National Labor Relations Board chair William Gould. A panel on baseball simulation games included STATS Inc. founder John Dewan, Diamond Mind creator Tom Tippett, publisher Glenn Guzzo and longtime SABR member Bill James. A panel on publicly funded stadiums included SABR member Doug Pappas, Zimbalist, Tom Gleason and Karle Seydel. A "Baseball at Altitude" panel included Rockies general manager Dan O'Dowd, Rany Jazayerli of Baseball Prospectus and author Dr. Robert Adair. Members attended a Rockies game and ballpark tour at Coors Field (right) and a minor league game in Colorado Springs.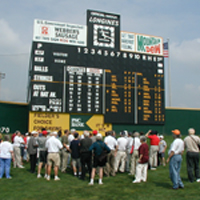 SABR 34: Cincinnati, Ohio
July 15-18, 2004
Westin Hotel Cincinnati
Keynote speaker: Marvin Miller
Ballgames: Cardinals 7, Reds 5 and Clinton LumberKings 6, Dayton Dragons 5
The 34th SABR convention attracted 644 members and guests to Cincinnati. The featured speaker was Marvin Miller, longtime head of the Major League Baseball Players Association. The 1919 World Series panel included authors Jim Sandoval, Alan Nathan, David Fleitz, Gene Carney and Alan Schwarz. A panel on the Crosley Field-era Reds included Joe Nuxhall, Jim O'Toole, Lee May and sports writer Lonnie Wheeler. A local players panel consisted of Cincinnati high school products Todd Benzinger, coach Mike Cameron, Glenn Sample, Pat Tabler and Chris Welch. A panel on agents included Theodore High, Richard Katz, Brian Goldberg and Joe Bick. A panel on baseball relatives featured Joyce Dolle (wife of Gus Bell, mother of Buddy Bell), Eleanor Kluszewski (wife of Ted), Susan Dellinger (granddaughter of Edd Roush), Charles Dautel (grandson of Cy Rigler) and Paul Sallee (cousin of Slim). A panel on baseball collecting included Dick Hinds, Greg Rudd, Bill Daniels, Tim Turner and Stuart Hodesh. Members also took a tour of historic Cincinnati ballpark sites, including Crosley Field (right).
SABR 35: Toronto, Ontario
August 4-7, 2005
Holiday Inn on King
Keynote speaker: Paul Godfrey
Ballgame: Yankees 6, Blue Jays 2
The SABR convention traveled north of the 49th parallel for the second time as 461 members and guests converged on Toronto. Blue Jays president and CEO Paul Godfrey was the featured speaker at the awards banquet, emceed by longtime Montreal Expos announcer Jacques Doucet. A panel on the Canadian business of baseball included former MLB chief operating officer Paul Beeston, Tom Valcke and Gary Gillette. The "Domed or Doomed Stadiums" panel included sports writers Richard Griffin and Lou Cauz, architect Greg Alexander and Buffalo Bisons GM Mike Buczkowski. A panel on Canadian baseball literature included Martin Levin, George Bowering, Steven Hayward and David McGimpsey. The traditional players panel included Paul Spoljaric, Warren Sawkiw and Bill Humber. A Toronto media panel included Neil MacCarl, Larry Millson, Bob Elliott, Spencer Fordin and SABR member John Matthew IV. The close of the convention was highlighted by a maple pancake breakfast at Windows Restaurant at Rogers Centre with Sam Bat manufacturer Bill MacKenzie.
Photo gallery: Check out a collection of photos from SABR 35 in Toronto (courtesy of Rick Schabowski)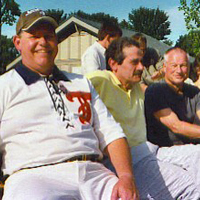 SABR 36: Seattle, Washington
June 28-July 1, 2006
Renaissance Hotel
Keynote speaker: Jim Bouton
Ballgame: Rockies 2, Mariners 0 and Tacoma Rainiers 6, San Jose Grizzlies 2
A gathering of former Seattle Pilots players, including Ball Four author Jim Bouton, was one of the highlights for 539 attendees at SABR's largest convention held west of the Mississippi. Bouton and former teammates Steve Hovley, Mike Marshall and Jim Pagliaroni convened with moderator Jim Caple of ESPN.com for an entertaining session. Bouton kept busy with a book signing and his keynote speech at the awards banquet; he also participated in a vintage game (right) at nearby Bobby Morris Field during the convention and sung an a cappella rendition of the infamous song "Proud to be an Astro". Dave Eskenazi's amazing photo collection of Pacific Northwest athletes was on display all week. SABR celebrated its 35th anniversary with a panel that included founding members Tom Hufford, Bill Gustafson and Bob McConnell and longtime members Tom Zocco and Pete Palmer. A Pacific Coast League panel included Eddie Basinski, Dick Fitzgerald, Wes Stock and Edo Vanni, moderated by PCL Historical Society president (and past SABR president) Dick Beverage. A collective bargaining panel included Marshall, Dick Moss, Andrew Zimbalist and Rob Neyer.
Related audio: Listen to the Seattle Pilots panel with Jim Bouton, Steve Hovley, Mike Marshall, and Jim Pagliaroni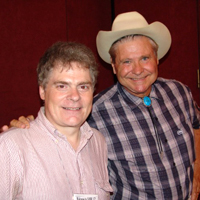 SABR 37: St. Louis, Missouri
July 26-29, 2007
Adam's Mark Hotel
Keynote speaker: Joe Garagiola
Ballgame: Brewers 12, Cardinals 2
SABR returned to St. Louis for the third time and set a convention attendance record with 726 members and guests. Former catcher and longtime announcer Joe Garagiola was the keynote speaker at the awards luncheon. A special vintage baseball game was played on the grounds of the Gateway Arch, with permission from the National Park Service. A St. Louis Browns panel of Bill Jennings, Don Lenhardt, Bud Thomas, Ed Mickelson and Roy Sievers shared entertaining stories of Satchel Paige and Bill Veeck, while the Cardinals panel included Al Hrabosky, Ricky Horton, Ted Savage and George Altman, moderated by Bob Broeg Chapter president Norm Richards. A panel on women in baseball included Jean Hastings Ardell, Erma Bergmann, Sara Blasingame, Dorothy Seymour Mills, Cecilia Tan, Judith Testa, Melody Yount. 1974 NL Cy Young Award winner Mike Marshall led an hour-long session on pitching — and then continued talking with SABR members for nearly two hours afterward! An umpire's panel was highlighted by Larry Gerlach and Bill Haller. HOK Sport's Jim Chibnall gave a presentation on the design of the new Busch Stadium. Ben "Cooter" Jones (right, with Damian Begley) performed a one-man play as "Ol' Diz". After the Trivia Contest finals on Sunday, many members gathered together to watch the Baseball Hall of Fame induction ceremonies live on television.
Related video: Watch highlights of the SABR 37 vintage game on YouTube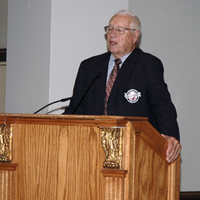 SABR 38: Cleveland, Ohio
June 26-29, 2008
Renaissance Cleveland Hotel
Keynote speaker: Ron Shapiro
Ballgames: Indians 6, Reds 0
Reading Phillies 7, Akron Aeros 2
Hagerstown Suns 4, Lake County Captains 3
Speaking for the third time at a SABR convention, Hall of Famer Bob Feller (right) welcomed 632 attendees to Cleveland, where the organization had been headquartered for nearly two decades. Ron Shapiro, agent to five Hall of Fame players and father of Indians general manager Mark Shapiro, was the keynote speaker. Mark Shapiro continued the baseball discussion after the awards banquet in a session with minor league executive Mike Veeck, son of Bill Veeck, that was moderated by former SABR Executive Director Morris Eckhouse. A player panel of former Indians, moderated by Rick Bradley, included Len Barker, Dave Burba, Joe Charboneau, Vern Fuller and Kevin Rhomberg. Rob Neyer, Charles Alexander and Tom Swift participated in an authors' roundtable. An origins panel with David Block, Larry McCray, Sam Marchiano and Tom Shieber followed the world premiere of the documentary Base Ball Discovered. A media panel was led by Indians vice-president of public relations Bob DiBiasio, announcers Tom Hamilton and Rick Manning, and sports writer Russ Schneider; afterward, author Curt Smith played host to a special session on the state of broadcasting. Convention attendees saw an interleague game, for the second time in three years, at Progressive Field. A trip was also taken to University Circle for a picnic on Wade Oval and a tour of the Western Reserve Historical Society. Attendees also saw a minor league game at Akron's Canal Park.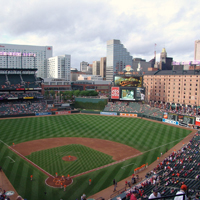 SABR 39: Washington, D.C.
July 30-August 2, 2009
JW Marriott
Keynote speaker: Josh Alkin
Ballgames: Red Sox 6, Orioles 5 and Winston-Salem Dash 5, Potomac Nationals 0
SABR's third convention in the nation's capital drew 664 members and guests. Major League Baseball lobbyist Josh Alkin was the keynote speaker at the awards banquet (replacing Stan Kasten at the last minute.) A major league player panel, moderated by TV personality George Michael, featured 1983 World Series MVP Rick Dempsey and former Washington Senators slugger Frank Howard. A Negro Leagues player panel included Mamie "Peanut" Johnson, Rev. Henry "Pistol" Mason and Pedro Pastor Sierra y Quintano. Baseball Prospectus co-founder Christina Kahrl and Baseball Weekly founding editor Paul White spoke in separate special sessions. Members took a tour of Nationals Park in Washington (and heard a talk from local historian Phil Wood) and attended a game at Camden Yards (right) in Baltimore. Some also took a trip to Woodbridge, Virginia, for a Carolina League game and Waldorf, Maryland, for an independent Atlantic League game. Sessions on using the Library of Congress for baseball research were led by SABR member David Kelly and Librarian Thomas Mann.
Read more: Read every article from The National Pastime: Monumental Baseball, the SABR 39 convention journal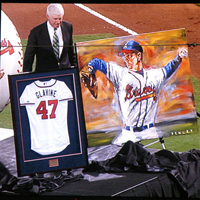 SABR 40: Atlanta, Georgia
August 4-8, 2010
Sheraton Atlanta
Keynote speaker: John Schuerholz
Ballgames: Giants 3, Braves 2 and Greenville Drive 12, Rome Braves 6
SABR's first trip to the Peach State saw 435 members and guests at the convention. Longtime Braves general manager John Schuerholz was the keynote speaker at the awards banquet, where recently fired Marlins manager Fredi Gonzalez was spotted taking in the festivities — and, later, joining SABR himself. Gonzalez was named to succeed Bobby Cox as Braves manager soon afterward. A standing-room-only crowd showed up to hear Cox, Mark Lemke, Ron Gant, Phil Niekro and emcee Pete Van Wieren discuss the Braves' rise from "worst to first" in the 1980s and '90s. A panel on Shoeless Joe Jackson and new developments in the Black Sox Scandal, moderated by Jacob Pomrenke, included Furman Bisher, David Fleitz, Mike Nola, Paul Duffy and Dan Voelker. Alan Nathan led a panel on new technologies in baseball with Dave Allen, Josh Kalk, Greg Moore and Rob Ristagno. Side trips were taken by members to the Ty Cobb Museum in Royston, Georgia; the Shoeless Joe Jackson Museum in Greenville, South Carolina; and Rickwood Field in Birmingham, Alabama. The Braves game was highlighted by Tom Glavine's number retirement ceremony (right) despite a two-hour rain delay before the start.
Related audio: Listen to John Schuerholz's keynote speech at SABR 40
Read more: Read every article from The National Pastime: Baseball in the Peach State, the SABR 40 convention journal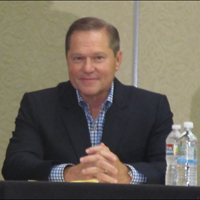 SABR 41: Long Beach, California
July 6-10, 2011
Long Beach Hilton
Keynote speaker: Scott Boras
Ballgames: Dodgers 1, Padres 0
Angels 9, Mariners 3
Lake Elsinore Storm 15, Visalia Rawhide 8
SABR's first visit to the Los Angeles area since 1980, which drew 421 members and guests, was a jam-packed event that celebrated the organization's upcoming 40th anniversary. Super-agent Scott Boras (right) belied his reputation with a personable keynote speech before the annual business meeting. Five panel discussions were held: a panel on sports medicine, moderated by Will Carroll, with Ned Bergert, Neal ElAttrache and Kevin Wilk; a panel on the future of baseball media consumption, moderated by SABR President Andy McCue, with Dave Cameron, Sean Forman, Bill Squadron and Russ Stanton; a panel on the evolution of baseball over SABR's 40 years, moderated by SABR founding member Tom Hufford, with John Dewan, Dennis Gilbert, Roland Hemond, Wes Parker and John Thorn; a general managers panel, moderated by Rob Neyer, with Fred Claire, Dan Evans and Jed Hoyer; and the traditional player panel with Willie Davis and Al Ferrara that was moderated by Barry Mednick. For the first time in 10 years, two major league games were part of the convention schedule with trips to Chavez Ravine and Anaheim. Members filled two buses for a tour of historical Southern California ballpark sites such as Wrigley Field and the Coliseum. Throughout the convention, baseball films of all stripes were shown during the weeklong Film Festival with discussion by filmmakers, authors and producers.
Complete coverage: For more coverage from SABR 41, visit SABR.org/convention/2011
Read more: Read every article from The National Pastime: Endless Seasons, the SABR 41 convention journal
Related audio: Listen to each of the five panel discussions from SABR 41
Related video: Former Dodgers star Wes Parker held court with SABR 41 attendees after the SABR Era panel
Photo galleries: View photo galleries from each day of SABR 41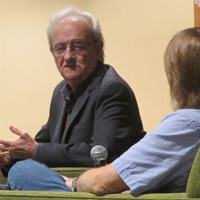 SABR 42 (2012): Minneapolis, Minnesota
June 27-July 1, 2012
Minneapolis Marriott City Center
Keynote speaker: John Thorn
Ballgame: Royals 4, Twins 3
SABR headed to the North Star State and beautiful Target Field in the summer of 2012. Four hundred forty-eight SABR members and guests heard Minnesota Twins president Dave St. Peter deliver the opening remarks and longtime Twins general manager Terry Ryan speak candidly about life as a major league executive in the 21st century. The SABR 42 keynote speaker was John Thorn, Major League Baseball's Official Historian, who encouraged us to "Stay nerdy, my friends". The Business of Baseball and Ballparks committees teamed up for an interesting panel on the development and financing of Target Field, while our Official Scorers Panel with Stew Thornley, David Vincent and Gregg Wong brought down the house with their amusing takes on scoring decisions and rules interpretations. The Players Panel with Tim Laudner, Bill Davis, Frank Quilici and Bob "Rocky" Johnson entertained the crowd with stories from their lives in baseball. Roland Hemond's one-on-one interview with David Laurila (right) was a delight, as was the Women in Baseball Panel with Dorothy Seymour Mills, Leslie Heaphy, Laura Day and Cecilia Tan. In the SABR Trivia Contest, Mike Caragliano pulled off a historic double victory in the Individual and Team competitions as baseball fans followed along live on Twitter.
Complete coverage: For more coverage from SABR 42, visit SABR.org/convention/2012

Read more: Read every article from The National Pastime: Baseball in the North Star State, the SABR 42 convention journal
Related audio: Listen to our SABR 42 featured panel discussions here
Related audio: Listen to select SABR 42 research presentations and view the presentation slides here
Related video: Watch highlights from baseball executive Roland Hemond's one-on-one session with David Laurila
Photo galleries: View photo galleries from each day at SABR 42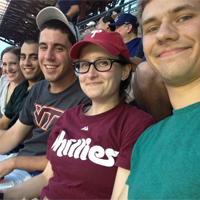 SABR 43 (2013): Philadelphia, Pennsylvania
July 31-August 4, 2013
Philadelphia Marriott Downtown
Keynote speaker: Larry Bowa
Ballgame: Braves 6, Phillies 4
We came back to the City of Brotherly Love for the first time in nearly four decades, and 709 SABR members and guests took advantage of the opportunity to see a star-studded event with many Phillies greats. Phillies CEO David Montgomery spoke about the great moments he's seen in Philly baseball history, while Philadelphia mainstay Larry Bowa — who graciously filled in as keynote speaker for MLB Executive Vice President Rob Manfred at the last minute — spoke about his four decades in the game with MLB.com's Barry M. Bloom. The Phillies Player Panel was spectacular, with postseason heroes Brad Lidge, Dickie Noles and Gary "Sarge" Matthews talking October baseball with the energetic "voice" of the Phillies, PA announcer Dan Baker. Other panels included a Women in Baseball Panel highlighted by AAGPBL alumnus Sarah "Salty" Ferguson; the colorful "Imagining Baseball" Panel moderated by John Thorn; a Baseball Scouting Panel with Tom Tippett of the Red Sox, Ian Levin of the Mets and Roland Hemond of the Diamondbacks; a commemoration of the 50th anniversary of Eight Men Out with a special appearance by Patricia Anderson, the niece and surrogate daughter of Buck Weaver (attended by Braves manager Fredi Gonzalez and radio broadcaster Jim Powell); a wide-ranging Media Panel discussion led by Alan Schwarz of the New York Times; a Statistical Analysis Panel with a surprise host, MLB Network's Brian Kenny; and a Philadelphia Baseball History Panel with authors Norman Macht, Jerry Casway, Richard Hershberger, Rich Westcott and David Jordan. Film producer Aviva Kempner also hosted an exclusive screening of film extras from her award-winning documentary The Life and Times of Hank Greenberg. Mike Caragliano made history again at the SABR Trivia Contest, always an entertaining spectacle. We also had a special tour of historic Philadelphia ballpark sites, a vintage 1860s-style base ball game, and a special video presentation by ESPN's Steve Wulf on Phillies great Johnny Callison.
Complete coverage: For full coverage from SABR 43, visit SABR.org/convention/2013

Read more: Read every article from The National Pastime: From Swampoodle to South Philly, the SABR 43 convention journal
Related video: Watch select videos from SABR 43 featured panels on YouTube
Related audio: Listen to our SABR 43 featured panel discussions here
Related audio: Listen to select SABR 43 research presentations here
Photo galleries: View photo galleries from each day at SABR 43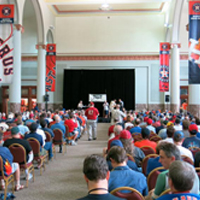 SABR 44 (2014): Houston, Texas
July 30-August 3, 2014
Royal Sonesta Houston
Keynote speaker: Larry Dierker
Ballgames: Astros 8, Blue Jays 2 and Sugar Land Skeeters 6, Bridgeport Bluefish 3
The host Larry Dierker Chapter pulled out all the stops for the 540 attendees and guests at our 44th annual convention, including the chapter's namesake himself, the Houston Astros icon and longtime SABR member Dierker who delivered the keynote speech at the SABR 44 Awards Luncheon. Astros president Reid Ryan spoke about growing up as the son of a Hall of Famer and his career in baseball, while Roger Clemens made a rare public appearance for the College Baseball Panel with Mike Gustafson, Jim Gilligan, and Mike Vance. The highlight of the conference was our visit to Minute Maid Park on Saturday for a special ballpark session in the historic and beautiful Union Station atrium. Thanks to the Astros' hospitality, we held two panel discussions before the game on Andy Pettitte Jersey Night, including an Astros Player Panel with Art Howe, Alan Ashby, and Dierker, followed by the Decision Sciences Panel led by GM Jeff Luhnow. Afterward, the Astros and Blue Jays put on a tremendous show in a game that featured an inside-the-park homer, a homer off the train tracks, Jose Altuve running wild, and two over-the-wall defensive gems. Other panels included a Houston Colt .45s Panel with Jimmy Wynn and other early Houston stars; the 1980 Houston Astros Panel with Jose Cruz, Enos Cabell, coach Deacon Jones, and former GM Tal Smith; the Media Panel with Bill Brown, Buck Martinez, Alyson Footer, and Evan Drellich; the Women in Baseball Panel with Jana Howser, Footer, Leila Rahimi, and Marie "Red" Mahoney; and the From Playing Field to Front Office Panel with Dr. Bobby Brown, Bob Watson, and Eddie Robinson. We also visited Constellation Field, home of the Atlantic League's Sugar Land Skeeters, where Tal Smith and Ira Liebman, voice of the Skeeters, spoke before the game.
Complete coverage: For full coverage from SABR 44, visit SABR.org/convention/2014
Read more: Read every article from The National Pastime: Baseball in the Space Age, the SABR 44 convention journal

Related video: Watch select videos from SABR 44 featured panels on YouTube

Related audio: Listen to our SABR 44 featured panel discussions here
Related audio: Listen to select SABR 44 research presentations here
Photo galleries: View photo galleries from each day at SABR 44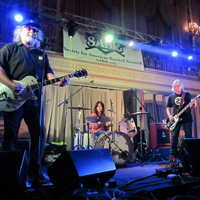 SABR 45 (2015): Chicago, Illinois
June 24-28, 2015
Palmer House Hilton
Keynote speaker: Phil Rogers with Ernie Banks/Minnie Minoso tribute
Ballgame: Dodgers 4, Cubs 0
The elegant and historic Palmer House Hilton played host to the 660 SABR members and guests for our 45th annual convention in Chicago. Attendees were treated to one of the most memorable sessions — and certainly the loudest — at any SABR convention with our special concert with The Baseball Project, who delivered an energetic 90-minute performance of baseball-themed songs that tapped into their shared kindred spirit with SABR members' passion for the game. It was a perfect match of artist and audience. Another highlight was the appearance of baseball pioneer Masanori Murakami, the first Japanese major-leaguer, with author Rob Fitts at the Asian Baseball Committee meeting as part of their book tour for Mashi. At the Awards Luncheon, MLB.com columnist and author Phil Rogers delivered an emotional tribute to Chicago baseball icons Ernie Banks and Minnie Minoso, both of whom passed away earlier in the year. Other featured panels included: a Broadcasters Panel with Cubs announcers Len Kasper, Jim Deshaies, and Ron Coomer; a White Sox Players Panel with Ron Kittle, Carlos May, and Mike Huff; a unique panel on pitching prodigies, real and imagined, with former major-leaguer Steve Trout and Joe Berton, who portrayed "Sidd Finch" in the iconic April Fools' Day hoax by Sports Illustrated; a Women in Baseball Panel with Martha Jo Black, Christy Spisak, John Kovach, Caroline Phillips, and Leslie Heaphy; and a Negro Leagues Panel with former players Ernie Westfield and Al Spearman.
Complete coverage: For full coverage of SABR 45, visit SABR.org/convention/2015
Read more: Read every article from The National Pastime: Baseball in Chicago, the SABR 45 convention journal
Related audio: Listen to our SABR 45 featured panel discussions here
Related audio: Listen to select SABR 45 research presentations here
Photo galleries: View photo galleries from each day at SABR 45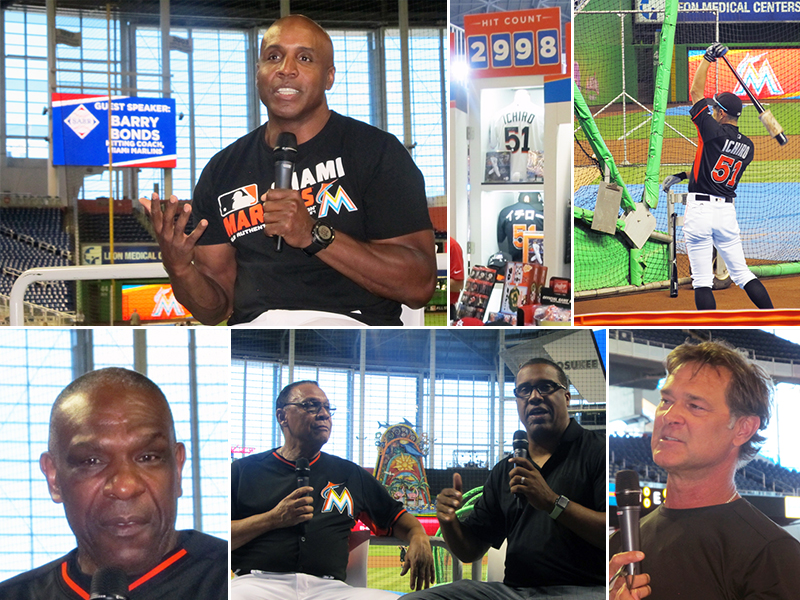 SABR 46 (2016): Miami, Florida
July 27-31, 2016
Hyatt Regency Miami
Featured: SABR 46 ballpark session with Barry Bonds, Don Mattingly, Andre Dawson, Tony Perez
Ballgame: Cardinals 11, Marlins 6
We were joined by 477 SABR members and guests for the 46th annual SABR convention in downtown Miami. Before the Marlins' game against the St. Louis Cardinals — with 42-year-old Ichiro Suzuki in the starting lineup, just two hits away from the 3,000 milestone — we were treated to an outstanding ballpark session at Marlins Park, with special guest speakers Barry Bonds, Marlins manager Don Mattingly, Hall of Fame outfielder Andre Dawson, and Hall of Fame first baseman Tony Perez. Although we didn't get to see Ichiro make history, the experience was a memorable one nevertheless. Earlier, Miami Marlins President of Baseball Operations Michael Hill also spoke to the group, delivering candid remarks in between a flurry of moves at the trading deadline. The 2003 Marlins Championship Panel, which included Jack McKeon, Juan Pierre, Jeff Conine, and broadcaster Dave Van Horne, celebrated the franchise's unlikely run to a championship. The SABR 46 convention enjoyed many panels and presentations focused on Latin-American baseball, including the Perspectivas del Béisbol Panel with former manager Ozzie Guillen, Emmy Award-winning announcer Ernesto Jerez, and Enrique Rojas and Leonte Landino of ESPN Deportes. The Latino Baseball Authors Panel included historians Adrian Burgos Jr., César Brioso, Peter C. Bjarkman, and Anthony Salazar. The Cuban Players Panel brought in former major-leaguers Jackie Hernandez, Leo Posada, Miguel "Mike" de la Hoz, and Gonzalo "Cholly" Naranjo, while the Media Panel had Cuban journalist Reynaldo Cruz and Marlins beat writer Jorge Ebro with moderator Chuck Hildebrandt.
Complete coverage: For full coverage of SABR 46, visit SABR.org/convention/2016
Read more: Read every article from The National Pastime: Baseball in the Sunshine State, the SABR 46 convention journal
Related video/audio: Watch or listen to our SABR 46 featured panel discussions here
Related audio: Listen to select SABR 46 research presentations here
Photo galleries: View photo galleries from each day at SABR 46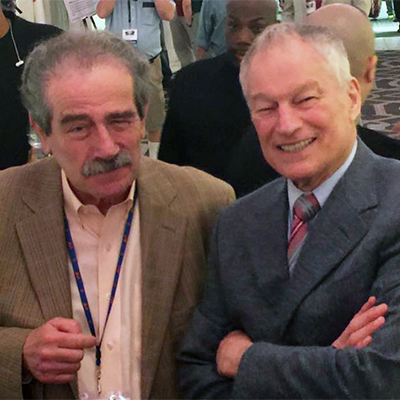 SABR 47 (2017): New York, New York
June 28-July 2, 2017
Grand Hyatt New York
Featured: SABR 47 ballpark session with Mets GM Sandy Alderson, broadcasters, and more
Ballgame: Mets 2, Phillies 1
A record attendance of 806 SABR members and friends gathered in the heart of the Big Apple for a memorable convention week. Former major-leaguer Jim Bouton joined us to talk about the legacy of Ball Four and his baseball career in an emotionally resonant panel that included his good friend and moderator John Thorn, his wife Paula Kurman, and authors Mark Armour, Mitchell Nathanson, and Marty Appel. A panel focused on beloved Yankees great Yogi Berra included his granddaughter Lindsay Berra, former Yogi Berra Museum director Dave Kaplan, and authors George Vecsey and Harvey Araton. We celebrated Jackie Robinson's legacy 70 years after his historic MLB debut with a panel that included authors William C. Rhoden and Lee Lowenfish, Jackie Robinson Foundation CEO Della Britton Baeza, and new Bob Davids Award recipient Larry Lester. MLB Network's Brian Kenny led a panel on the Changing State of Sabermetrics with Mark DeRosa, Vince Gennaro, Joel Sherman, and Mike Petriello. The namesake of our NYC chapter, Casey Stengel, was the focus for a panel with Marty Appel, Ira Berkow, Steve Jacobson, and Ed Randall. Our "Day at the Ballpark" pregame session at Citi Field featured New York Mets GM Sandy Alderson, first-base coach Tom Goodwin, broadcasters Josh Lewin, Wayne Randazzo, and Steve Gelbs, and an analytics panel with T.J. Barra, Joe Lefkowitz, and Pat Roessler. Guest speakers at SABR 47 also included Keith Olbermann at the Baseball Cards Committee meeting, New York Yankees Sr. Vice President Jean Afterman in a one-on-one interview with Spink Award winner Claire Smith, Baseball Encyclopedia guru David Neft at the Baseball Records Committee meeting, award-winning authors Peter Bjarkman and Glenn Stout, an oral history interview with Tom Villante, and Strat-O-Matic founder Hal Richman.
Complete coverage: For full coverage of SABR 47, visit SABR.org/convention/2017
Read more: Read articles from The National Pastime: Baseball in the Big Apple, the SABR 47 convention journal
Related audio: Listen to our SABR 47 featured panel discussions here
Related audio: Listen to select SABR 47 research presentations here
Photo galleries: View photo galleries from each day at SABR 47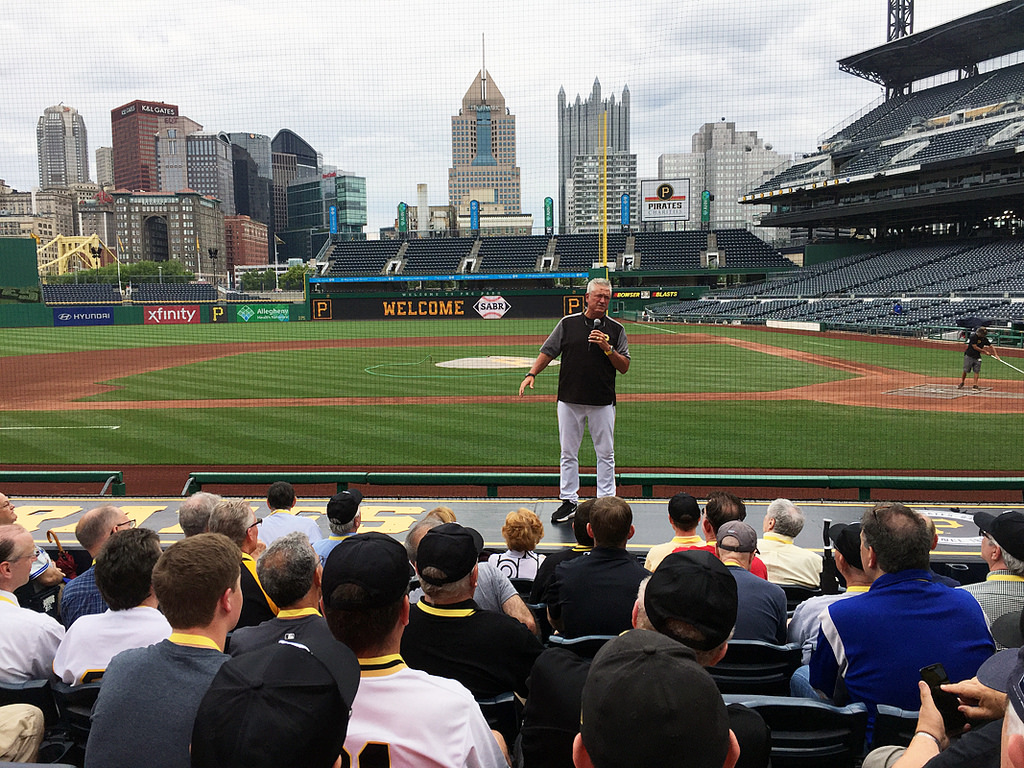 SABR 48 (2018): Pittsburgh, Pennsylvania
June 20-24, 2018
Wyndham Grand Downtown Pittsburgh
Featured: SABR 48 ballpark session with Neal Huntington, Clint Hurdle, Joe Block, Dan Fox, and Thomas E. Kennedy
Ballgame: Diamondbacks 2, Pirates 1
We were joined in the Steel City by 604 members and guests at the Wyndham Grand Downtown Pittsburgh, just blocks away from picturesque PNC Park. The Pirates' home stadium served as a fine setting for our "Day at the Ballpark," where we enjoyed a view of the three rivers and city skyline and heard from Pirates manager Clint Hurdle, GM Neal Huntington, front-office analytics guru Dan Fox, broadcaster Joe Block, and Thomas E. Kennedy on the park's construction. Pirates president Frank Coonelly opened the festivities with welcoming remarks and team broadcasters Block, Steve Blass, Greg Brown, and Lanny Frattare delighted the crowd with a Media Panel full of stories on their favorite Pirates moments. Another highlight was the Pirates Player Panel with John Candelaria and Grant Jackson that focused on the 1979 World Series championship. We also heard from Roberto Clemente Museum director Duane Rieder and authors Adrian Burgos Jr. and Danny Torres on the life and legacy of "The Great One" and learned about pioneering sports writer Wendell Smith in a panel with historians Chris Lamb, Larry Lester, Pamela E. Walck, and David Wiggins. Another panel focused on the Pittsburgh tenure of Hall of Fame executive Branch Rickey with Lee Lowenfish, Jack Bowen, Jeffrey Flannery, and ex-major-leaguer Frank Thomas. The SABR 48 committee meetings included guest speakers former MLB pitcher Dick Bosman, Hall of Fame senior curator Tom Shieber, Pirates official scorers Bob Webb and Evan Pattak, and more.
Complete coverage: For full coverage of SABR 48, visit SABR.org/convention/2018
Read more: Read articles from The National Pastime: Steel City Stories, the SABR 48 convention journal
Related audio: Listen to our SABR 48 featured panel discussions here
Related audio: Listen to SABR 48 research presentations here
Photo galleries: View photo galleries from each day at SABR 48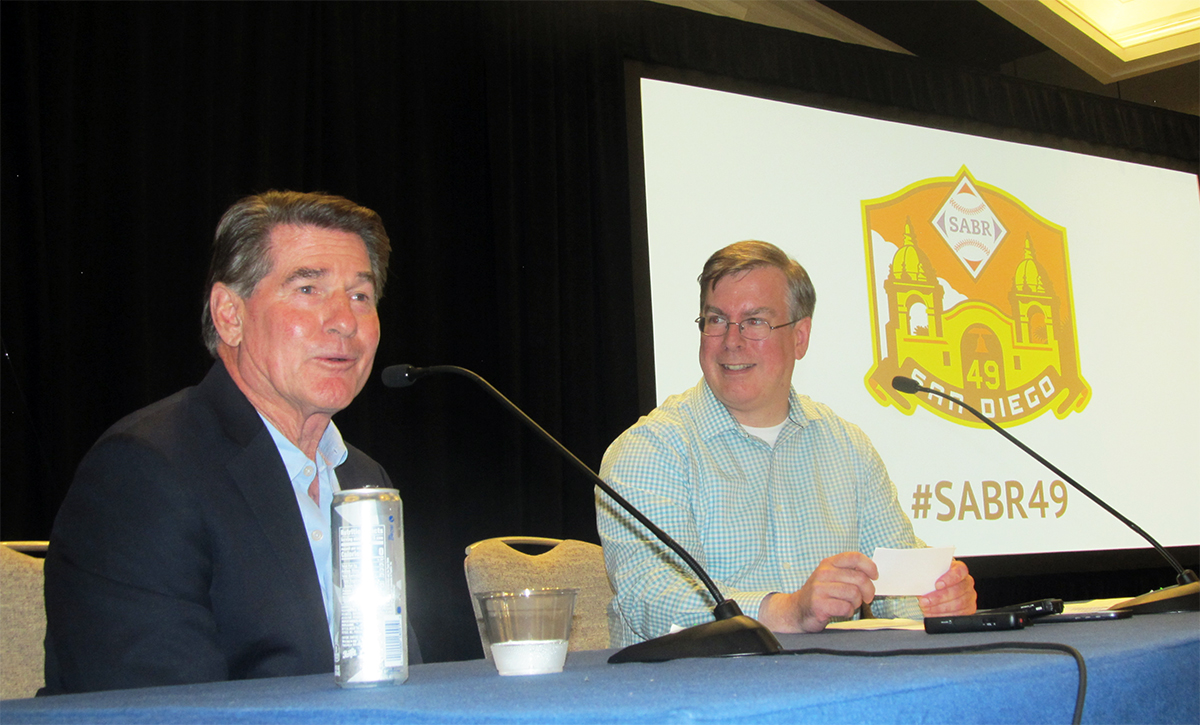 SABR 49 (2019): San Diego, California
June 26-30, 2019
Manchester Grand Hyatt
Ballgame: Padres 3, Cardinals 1
In San Diego, 463 members and guests gathered at the Manchester Grand Hyatt for the 49th annual SABR convention. We were entertained by many terrific stories about the Padres' first World Series team by star first baseman Steve Garvey in a one-on-one oral history interview and a special 1984 Padres panel with Kurt Bevacqua, GM Ballard Smith, sports writers Ron Rapoport and Bill Center, and broadcaster Bob Chandler. Rob Neyer hosted a live episode of his SABRcast podcast with Cy Young Award winner and barbeque guru Randy Jones and 1998 World Series hero Mark Sweeney. We also celebrated the 50th anniversary of The Baseball Encyclopedia with a panel featuring David Neft, David W. Smith, Sean Forman, and John Thorn, and the 100th anniversary of the Black Sox Scandal. Other panels included an MLB Umpires Panel with Gerry Davis, Mike Port, and Fred Rodgers; a Women in Baseball Panel with Janet Marie Smith, Ila Borders, Perry Barber, Justine Siegal, Kelsie Whitmore, Jewel Greenberg, and Jean Hastings Ardell; and an Early California Baseball History Panel with Bill Swank, Carlos Bauer, and Angus Macfarlane. San Diego Padres Assistant GM Josh Stein delivered the opening remarks and talked about his team's high-profile signing of Manny Machado and MLB executive Del Matthews spoke about increasing diversity and participation in youth baseball. Convention attendees were also treated to an exclusive screening of The Spy Behind Home Plate with filmmaker Aviva Kempner at the San Diego Central Library, home of the SABR Collection at the Sullivan Family Baseball Research Center.
Complete coverage: For full coverage of SABR 49, visit SABR.org/convention/2019
Related audio: Listen to our SABR 49 featured panel discussions here
Related audio: Listen to SABR 49 research presentations here
Photo galleries: View photo galleries from each day at SABR 49
SABR 50 (2022): Baltimore, Maryland
August 17-21, 2022
Hyatt Regency Inner Harbor
Keynote speaker: Tim Kurkjian
Ballgame: Orioles 15, Red Sox 10
In 2022, after three years of planning due to a global pandemic, 539 members and guests gathered at the Hyatt Regency Inner Harbor in downtown Baltimore. Orioles legend Boog Powell brought down the house with plenty of entertaining stories about his life in baseball and barbeque. ESPN's Tim Kurkjian shared stories of his recent experience in Cooperstown as he was honored with the BBWAA Career Excellence Award. Orioles assistant general manager Sig Mejdal spoke about the team's surprising resurgence in midseason with a flood of young talent. A panel commemorating the 50th anniversary of Curt Flood's landmark Supreme Court case included Flood's widow, Judy Pace Flood, along with Brad Snyder, Mark Armour, and Shakeia Taylor. Other panels included a Camden Yards 30th anniversary panel with Joe Spear, Greg Bader, and Bill Stetka; a Women in Leadership panel with Eve Rosenbaum, Nicole Sherry, Lisa Tolson, and Jennifer Grondahl; and a Babe Ruth Panel with Mike Gibbons, Bill Jenkinson, and Tom Shieber. The SABR Ballparks Committee hosted a special panel with former Orioles president Larry Lucchino, acclaimed ballpark design director Janet Marie Smith, and Charles Steinberg. Other committee meeting speakers included Red Sox broadcaster Joe Castligione and the Orioles' Kevin Brown (Media), former Orioles infielder Mike Bordick (Oral History), and author Melissa Ludtke (Women in Baseball). On Friday night, SABR's last living founding member, Tom Hufford, was honored before the Orioles-Red Sox game at Camden Yards. Attendees also had an opportunity to visit the Babe Ruth Birthplace and Museum, take a bus tour of historic ballpark sites around Baltimore, and catch a Bowie Baysox minor-league game.
Complete coverage: For full coverage of SABR 50, visit SABR.org/convention/2022
Related audio: Listen to SABR 50 featured panel discussions here
Related audio: Listen to SABR 50 research presentations here
Photo galleries: View photo galleries from each day at SABR 50
SABR 51 (2023): Chicago, Illinois
July 5-9, 2023
Palmer House Hilton
Keynote speaker: Jason Benetti
Ballgame: White Sox 8, Cardinals 7
In Chicago, 499 members and guests returned to the Palmer House Hilton hotel for the 51st annual SABR convention. Chicago White Sox broadcaster Jason Benetti delivered a stirring keynote address at the Awards Luncheon, while legendary baseball team owner and promoter Mike Veeck brought down the house with stories from his own family and career. Former White Sox World Series-winning manager Ozzie Guillén had a lot to say about sabermetrics during the Player Panel and Cubs front-office executive Chase Carpenter fielded many questions about the team and its iconic ballpark during his Opening Remarks. Speaking of Wrigley Field, a panel discussion looking at the Friendly Confines' past, present, and future included Kelly Holton of Populous, Cubs historian Ed Hartig, and Fred Mitchell. A panel on Black Baseball in Chicago brought insights from historians Adrian Burgos Jr., James Brunson III, Leslie Heaphy, and Louis Moore. The glamorous Maybelle Blair highlighted a panel on the All-American Girls Professional Baseball League, along with Kat Williams of the International Women's Baseball Center and Kristie Erickson of The History Museum in South Bend. Adam Darowski of Sports Reference and Katie Krall of Hawk-Eye Innovations delivered featured presentations and the full lineup of 32 research presentations was also a big hit. Committee meeting speakers included artists Andy Brown and Steve Musgrave, a Games and Simulations panel with Rob Neyer, Geoff Reiss, and Mike Cieslinski, and a Black Sox panel with Jacob Pomrenke and David Fletcher. Attendees also had an opportunity to watch a film screening of Last Comiskey with director Matt Flesch and longtime MLB executive Dan Evans, take a walking tour and bus tour of historic baseball sites around Chicago, and catch the fireworks after a Chicago White Sox game.
Complete coverage: For full coverage of SABR 51, visit SABR.org/convention/2023
Read more: Read articles from The National Pastime: Heart of the Midwest, the SABR 51 convention journal
Related audio: Listen to SABR 51 featured panel discussions here
Related audio: Listen to SABR 51 research presentations here
Photo galleries: View photo galleries from each day at SABR 51
SABR 52 (2024): Minneapolis, Minnesota
August 7-11, 2024
Hyatt Regency Minneapolis
---
Hall of Famers to speak at SABR conventions
1974: Judy Johnson (SABR 4, Philadelphia)
1979: Cool Papa Bell (SABR 9, St. Louis)
1982: Sparky Anderson (SABR 12, Baltimore)
1987: Harmon Killebrew (SABR 17, Washington)
1989: Phil Rizzuto (SABR 19, Albany)
1990: Bob Feller, Bob Lemon (SABR 20, Cleveland)
1992: Stan Musial, Red Schoendienst (SABR 22, St. Louis)
1993: Bobby Doerr, Dick Williams (SABR 23, San Diego)
1994: Robin Roberts, Nolan Ryan, Buck O'Neil (SABR 24, Arlington)
1995: Bill Mazeroski (SABR 25, Pittsburgh)
1996: Buck O'Neil, Bob Feller (SABR 26, Kansas City)
1997: Jim Bunning, Pee Wee Reese (SABR 27, Louisville)
1998: Orlando Cepeda (SABR 28, San Mateo)
2000: Monte Irvin, Tony Perez (SABR 30, West Palm Beach)
2001: Bud Selig (SABR 31, Milwaukee)
2003: Pat Gillick (SABR 33, Denver)
2004: Marvin Miller (SABR 34, Cincinnati)
2008: Bob Feller (SABR 38, Cleveland)
2010: Phil Niekro, Bobby Cox, John Schuerholz (SABR 40, Atlanta)
2016: Andre Dawson, Tony Perez (SABR 46, Miami)
Hall of Fame manager Tony La Russa also spoke at the 2015 SABR Analytics Conference and pitcher Randy Johnson spoke at the 2017 SABR Analytics Conference in Phoenix.

---
In 2023, R.J. Lesch, Stephen Roney, Mark Simon, Cary Smith prevailed in the team contest, while Dan Massey won his fourth career individual title at SABR 51 in Chicago. Click here for a list of all past winners in the SABR Trivia Contest, including all-time leaderboards for individual, team, and total.
---
SABR Convention ballgame history
SABR members are known for keeping track of everything — so why not the all-time standings for SABR Convention ballgames, too? Ever wonder how many MVP and Cy Young Award winners we've seen at the SABR Convention ballgame in the year they won the award? We've got that! Click here to view our Games Project series on every major-league, minor-league, and even old-timers games we've seen at the Annual Convention from 1972 to the present day.
---
Road Trips: SABR Convention Journal Articles
In 2004, SABR published an anthology called Road Trips with dozens of standout articles and stories from the first two decades of SABR convention journals, dating back to the first one in 1984 at Providence, Rhode Island.
Click here to read articles online from Road Trips. Or click here to download a PDF e-book edition.