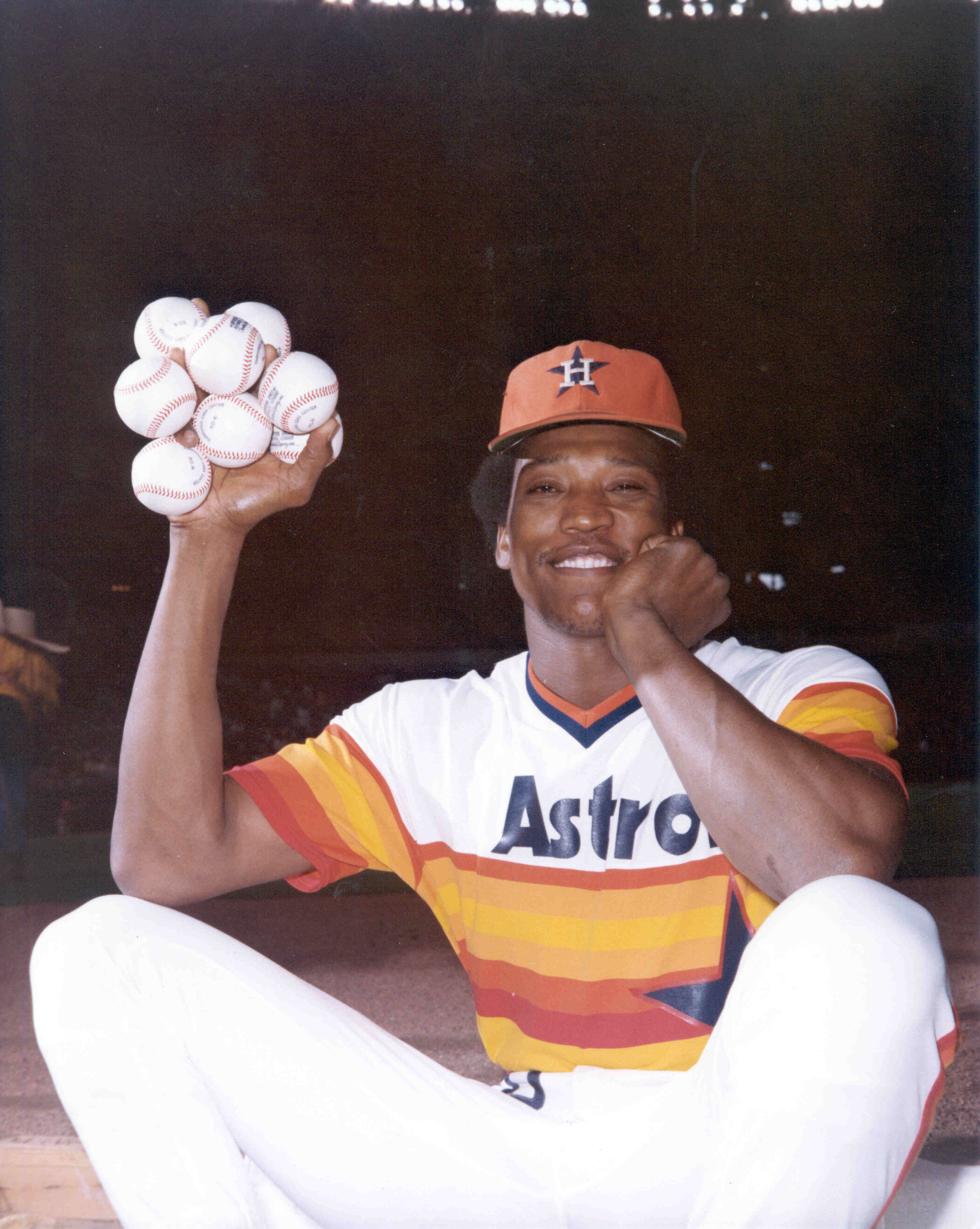 April 10, 1980: Astros' J.R. Richard flirts with perfection on Opening Day
---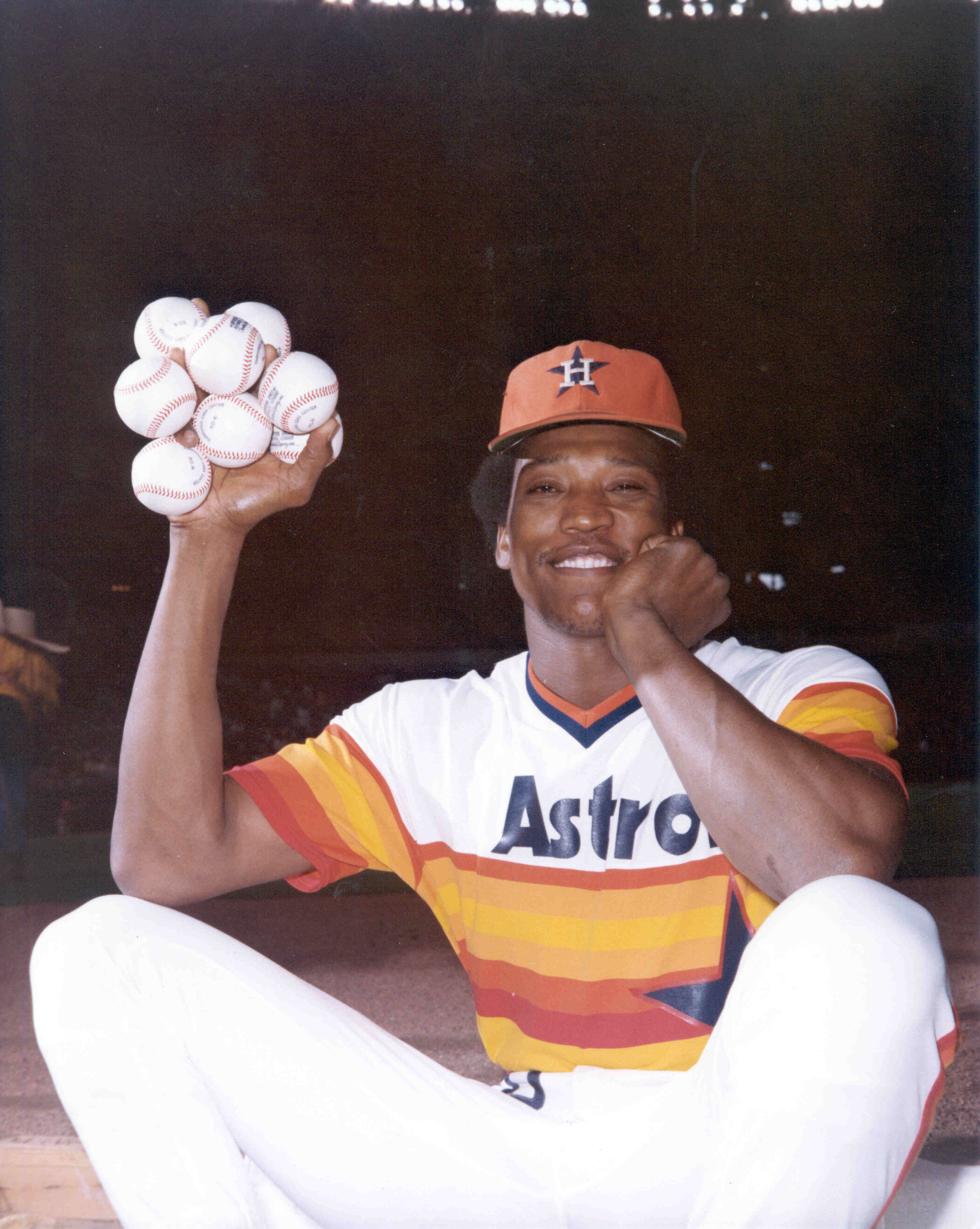 As the Houston Astros opened the 1980 season, the franchise had high hopes that it would win its first division title and more. After finishing second in the NL West to the Cincinnati Reds the previous year, the team had signed free agent Nolan Ryan, the seven-time AL strikeout king, who also held the modern single-season record of 383 strikeouts. Ryan was the perfect complement to 21-game-winning knuckleballer Joe Niekro and fellow fireballer J.R. Richard, who had set a new NL record for right-handers with 313 strikeouts in 1979. With a pitching staff that boasted these three aces, it likely would not matter if the Astros' offense, which had ranked dead last in the NL in home runs and runs scored the previous year, was once again anemic.
Richard, who had posted his finest season to date in 1979, drew the Opening Day assignment vs. the Los Angeles Dodgers, a team against which he had a personal 11-game winning streak.1 The formerly erratic hurler had gained full control over his arsenal and had pitched to an 18-13 record while leading the NL in strikeouts, fewest hits allowed per nine innings (6.8), and ERA (2.71); his newfound control also had made him the NL leader in strikeout-to-walk ratio at 3.19.
A crowd of 33,270 was on hand at the Astrodome to cheer on the home team, and Richard gave the fans something to get rowdy about when he set the Dodgers down in order while striking out two batters in the first inning. What no one in the Dome expected was that Terry Puhl, Houston's leadoff batter, would kick-start the Astros' offense with a solo home run off Dodgers starter Burt Hooton. Craig Reynolds then reached first base on an error by shortstop Derrel Thomas but was erased on Cesar Cedeño's double-play grounder. The score remained 1-0 when Joe Morgan grounded out to end the inning.
Richard returned to the mound for a brief stay in the second inning. His short time atop the hill was due to the fact that he struck out the side –sluggers Steve Garvey, Dusty Baker, and Ron Cey — in order. When the Astros came to bat, it was déjà vu all over again as Jose Cruz tagged Hooton for the second Houston homer of the game and a 2-0 lead. Cruz had led the 1979 Astros in home runs with the underwhelming total of nine, which was fewer than some players hit in a single month. Nonetheless, Houston hitting coach Deacon Jones said, "Jose told me before the game he was going to leave tonight" [meaning that he would hit a ball that left the park].2 When asked about Jones's claim, Cruz replied, "I was lucky. … I'm not going to hit that many home runs but I knew that one was gone."3
After an Enos Cabell grounder resulted in the first out, Art Howe smashed a triple down the right-field line and then scored the Astros' third run on Alan Ashby's single. Hooton picked Ashby off first base and struck out Richard to prevent further damage, but his day was already over. LA manager Tommy Lasorda later asserted that the early hook was due to Hooton's lingering arm problems. According to the Dodgers skipper, "[w]e didn't want to take a chance with it."4 Hooton, whose teammates had given him the ironic nickname Happy for his stoic demeanor, was decidedly unhappy after the game. He claimed, "I had no aches, no pains," and added, "I've given up three runs that early before and not been taken out. It was a big disappointment."5
Meanwhile, Richard continued to cruise through the Dodgers lineup and struck out two more batters in the third, although he was to suffer a disappointment of a different kind later in the game. For now, he settled into a pitchers' duel with Jerry Reuss, who took the hill for the Dodgers when the Astros came to bat in the bottom of the frame. Reuss allowed a walk and a single in his first inning of work, but the Astros were unable to score. After that, both pitchers retired the side in order from the fourth inning through the sixth.
When the Dodgers came to bat in the seventh inning, Richard was in the process of pitching a perfect game. He set down Davey Lopes to make it 19 consecutive outs, but then rookie Rudy Law broke up the perfect game and no-hitter with a clean single to right field. Reggie Smith followed with a double, and Garvey reached first on an error by Cabell at third base. Law scored on the error to spoil Richard's shutout bid, and Smith advanced to third. Garvey stole second, then Baker hit a sacrifice fly that drove in Smith with the Dodgers' second run. Richard bore down and made Cey his 12th strikeout victim of the day to end LA's rally, but it was now a 3-2 game.
Reuss and Richard both retired the side in order once more before relievers finished the game for both teams. Bobby Castillo became the Dodgers' third pitcher of the game in the bottom of the eighth, and Richard, of all people, greeted him with a leadoff single. After Puhl struck out looking, Reynolds grounded into a double play that also resulted in the end of Richard's day.
Astros fans may have been somewhat disappointed to see bullpen ace Joe Sambito take the mound in the top of the ninth, because Richard had still been going strong in the previous inning. Houston manager Bill Virdon explained, "My decision to take him out was made because he jarred himself slightly going into second base in the eighth and he had thrown more pitches than in any spring game."6 No one could blame Virdon for wanting to protect his ace, and Sambito finished the game off in style with a 1-2-3 inning to seal the Astros' victory.
After the game, Richard, who had just defeated the Dodgers for the 12th straight time, downplayed any disappointment at losing his no-hit bid and not being able to finish the triumph. In regard to Law, the hitter who broke up the no-no, Richard said, "I wasn't upset that a rookie broke it up. He's a professional ballplayer. You have to respect any major leaguer."7 Richard had received a standing ovation after the no-hitter was ruined, and he exclaimed, "I loved that ovation: I felt like jumping on top of the Dome."8
Over the course of the first 19 consecutive batters that Richard had set down, he "recorded 58 strikes and only 19 balls. Four of his pitches were clocked by a radar gun at 98 miles per hour, 11 at 97 mph, 13 at 96 mph and four more at 95 mph."9 In a classic example of understatement, Garvey, the Dodgers' perennial All-Star first baseman, said, "He's not exactly the fellow you'd like to start (the season) against but he gets you sharp in a hurry."10 Garvey also noted that, in spite of Richard's early dominance, the Dodgers had almost pulled off a comeback victory, and observed, "To be beaten by home runs by the Astros is something that probably won't happen often this season."11
Richard's 13-K triumph was a grand beginning to a marvelous April in which he won the Pitcher of the Month award. He finished the first half of the season at 10-4 with 115 strikeouts and a 1.96 ERA and was selected as the NL's starting pitcher for the All-Star Game on July 8. Richard pitched only two innings in the midsummer classic, and he soon began to complain that he felt as though he had a dead arm. His July 14 start against the Atlanta Braves turned out to be his last major-league game. Richard suffered a career-ending stroke while taking part in pregame warm-ups at the Astrodome on July 30.
The Astros went on to win their first NL West title in 1980, but they fell to the Philadelphia Phillies in five games in the NL Championship Series. Many an old-time Astros fan still wonders two things: 1) Would the Astros have made it to the World Series that year if Richard had still been pitching? And 2) Would J.R. Richard have pitched his way into the Hall of Fame if he had stayed healthy?
The answers to those questions will never be known. However, on April 10, 1980, with Richard throwing smoke and Astros batters clouting homers, anything seemed possible.
Sources
The author consulted baseball-reference.com and retrosheet.org for the box score of the game. Unless otherwise indicated, all player statistics were taken from baseball-reference.com.
https://www.baseball-reference.com/boxes/HOU/HOU198004100.shtml
https://www.retrosheet.org/boxesetc/1980/B04100HOU1980.htm
Notes
1 Mike Littwin, "Dodgers Go Down Swinging in Opener/Richard Beats L.A. 12th Straight Time and Strikes Out 13," Los Angeles Times, April 11, 1980: 3-1.
2 John Wilson, "Cruz Predicted He'd Hit One Out," Houston Chronicle, April 11, 1980: 2-4.
3 Wilson.
4 Ed Fowler, "Hooton Not Backing Up Lasorda Tale," Houston Chronicle, April 11, 1980: 2-4.
5 Fowler.
6 Harry Shattuck, "Richard Almost Perfect in Astros' 3-2 Victory," Houston Chronicle, April 11, 1980: 2-1.
7 Littwin, "Richard Defeats Dodgers, 3-2": Los Angeles Times, April 11, 1980: 3-8 (continuation of "Dodgers Go Down").
8 Shattuck, "Richard's Pitching, Astro Homers Subdue Dodgers," Houston Chronicle, April 11, 1980: 2-4 (continuation of "Richard Almost Perfect").
9 Shattuck: 2-4.
10 Shattuck: 2-4.
11 Fowler.
Additional Stats
Houston Astros 3
Los Angeles Dodgers 2
---
Astrodome
Houston, TX
Box Score + PBP:
Corrections? Additions?
If you can help us improve this game story, contact us.
Tags
https://sabr.org/sites/default/files/images/JR%20Richard%20Astros.jpg
600
800
admin
/wp-content/uploads/2020/02/sabr_logo.png
admin
2020-03-11 01:43:16
2020-04-17 10:22:16
April 10, 1980: Astros' J.R. Richard flirts with perfection on Opening Day