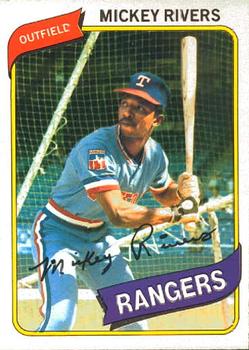 April 10, 1980: Rangers' Mickey Rivers runs home to beat Yankees on Opening Day
---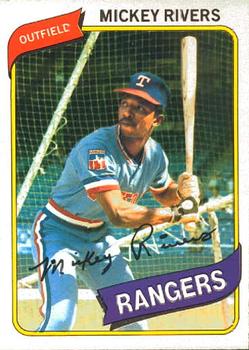 A crowd of 33,196 showed up at Arlington Stadium for Opening Day in 1980. The New York Yankees were in town to face the Texas Rangers. It was the second time in three years that the two teams squared off against each other in the season opener. The Rangers won the earlier contest, 2-1, when Richie Zisk led off the bottom of the ninth with a walk-off home run off Rich Gossage in his Yankee debut.
Jon Matlack and Ron Guidry faced each other in that 1978 Opening Day contest, and the same two pitchers were back on the mound to open the 1980 season. Matlack had missed the second half of the 1979 season when bone chips in his pitching elbow required surgery.
After the surgery, there were questions about whether Matlack would be able to pitch and for how long. Doctors told the Rangers staff that he shouldn't be allowed to "throw more than 110 pitches in a single outing, and he was told he would be a seven-inning pitcher."1
Matlack retired the first two Yankees he faced in the first. Then he allowed two singles before retiring Lou Piniella on a fly ball to right for out three. Matlack retired the next six batters before Bob Watson led off with a single in the fourth. Although Watson reached third on a passed ball and force out, Matlack retired the next two batters, keeping the Yankees from scoring again.
Guidry picked up where he left off in 1979 when he finished with an 18-8 record and a league-leading 2.78 ERA to finish third in the Cy Young Award voting. The Rangers managed to get a runner on base in the second when Buddy Bell's grounder was bobbled by Graig Nettles. But Guidry retired the next three batters, leaving Bell stranded on second.
The Rangers got their first hit off Guidry in the third inning when Jim Sundberg led off with a single. But Sundberg never advanced as Pepe Frías popped out and Mickey Rivers grounded into a double play.
Guidry continued to shut down the Rangers until the sixth. Sundberg again led off with a single. And once again Guidry retired the side without allowing Sundberg to even get into scoring position.
Meanwhile, Matlack continued to keep the Yankees in check. After Watson's single, he retired the next 18 Yankees he faced before he was removed. After retiring the side in the ninth, Matlack had thrown 103 pitches.
"After seven innings, I hadn't thrown many pitches, so we decided I'd go another. That one went about six pitches, I think, so they let me go again," he said after the game.2
Matlack's teammates had nothing but praise for him. Bell said, "Everybody was really happy for Jon. He worked so hard rehabilitating. Man, he seemed even better than I've ever seen him."3
Guidry got the Rangers out in order the bottom of the ninth. When he struck out Bump Wills for the third out, he had thrown just 98 pitches. Guidry set down the final 12 batters he faced. And when both starters were sent to the showers, the scoreboard just showed a length of zeros.
"We couldn't do anything with Guidry," Bell said. "That's about par for the way he pitches against us. He'll pitch better though … and that's a shame. We're sorry that we couldn't get a run off him to win it for Jon."4
When the Rangers took the field in the 10th, Jim Kern replaced Matlack on the mound. With one out, Kern hit pinch-hitter Oscar Gamble and walked Jim Spencer to put Gamble in scoring position.
Rangers manager Pat Corrales then made a surprising move: He pulled the right-handed Kern, who had been the Rangers' bullpen ace in 1979 with 29 saves, and called for left-hander Sparky Lyle, a former Yankee, to come to the rescue. "I couldn't take a chance; that wasn't the time to be gambling," Corrales said later.5
Lyle struck out the left-handed Nettles and got Rick Cerone to ground into a force out at third. It was a solid start to the season for Lyle, who struggled in 1979. He had been forced to add a fastball and a curve to his usually dominant slider midway through that season.
"I'm going to be more effective with these three pitches," he said. Before, when I didn't have the slider I was in trouble."6
"Pat called down to the bullpen and let me know he might go to me in a hurry. I just didn't want Jon to lose this game, not the way he pitched," Lyle told reporters.7 He retired New York in order in the 11th. Watson led off the Yankees 12th with a bloop single but Lyle bore down and got the next three batters out to keep the score tied.
Tom Underwood replaced Guidry in the bottom of the 10th inning and got the Rangers out in order. With two outs in the 11th, Sundberg got his third hit of the night, a double to center field. Corrales sent Rusty Staub to the plate to pinch hit for Pepe Frías. Staub grounded out to send the game to the 12th.
When the Rangers came to bat in the 12th, Rivers, another ex-Yankee, rapped a groundball down the third-base line. The ball bounced off Nettles' chest and into left field for a single. Rivers ended up on second when Nettles chased down the ball and made an off-balance throw to second.
"I knew Rivers was running. Anybody else but him and I've got enough time to make that play. That's what happens when you hurry," Nettles said afterward.8 It was the usually flawless Nettles' second error of the game.
Wills sacrificed Rivers to third. The Yankee's new manager, Dick Howser, ordered Underwood to give intentional passes to Al Oliver and Bell in order to set up a force at home or a double play. Then Howser brought in Gossage to face Zisk.
With Zisk expecting to face one of Gossage's fastballs, he stepped into the batter's box. "Gossage served up his lethal heat. The ball came in low and away, far away where catcher Rick Cerone was concerned."9 The ball bounced off Cerone's glove and rolled to the screen behind home plate. Rivers ran home with the winning run.
Cerone had joined the Yankees in the offseason and had caught Gossage for only one inning in spring training after an eight-day strike by the players canceled 92 exhibition games.
"There's no room for error in that situation," Gossage said. "I'm trying for a strikeout, but I wanted to keep the ball down." Cerone said he should have handled the pitch. "I got my glove on it. I tried to backhand it. It was a tough pitch but I'm a major-league catcher. If I had been a split-second quicker I would have caught it."10
"Gossage throws awfully hard," said Howser. "He usually throws the ball up. He's a strikeout pitcher and we were looking for a strikeout." The rookie manager was philosophical in defeat, saying, "We'll win some like that too."11
Matlack was excited about his return to form. "It was all there tonight. I was all excited and forcing some pitches early, but I got under control pretty quickly. After the second or third inning, I was really putting the ball in the right spot."12
Asked about Matlack's performance, Corrales said: "If you had told me that he'd do this when I saw him last November, I would have been very surprised."13 Although Matlack ended up with a no-decision, it was a personal triumph.
After the game, Guidry told reporters that "Matlack called me and we decided that next year we're going to pick our games. Either he throws on the first day and me the second or vice-versa."14
Rangers fans got quite a show as Matlack and Guidry pitched a duel that "will rank up there in the classic department for first games, for midseason or for October, for that matter."15
Sources
In addition to the sources cited in the Notes, the author used the Baseball-Reference.com, and Retrosheet.org websites for box-score, player, team, and season pages, pitching and batting game logs, and other material pertinent to this account.
https://www.baseball-reference.com/boxes/TEX/TEX198004100.shtml
https://www.retrosheet.org/boxesetc/1980/B04100TEX1980.htm
Notes
1 Carter Cromwell, "Rangers Edge Yanks on Wild Pitch, 1-0," Austin American-Statesman, April 11, 1980: E8.
2 Cromwell.
3 Skip Bayless, "And Matlack Threw 'It' for All It Was Worth," Dallas Morning News, April 11, 1980: 21.
4 Cromwell.
5 Randy Galloway, The Ending Was Wild," Dallas Morning News, April 11, 1980: 23.
6 Galloway.
7 Bayless.
8 Galloway.
9 Galloway.
10 Murray Chass, "Rangers Edge Yankees in 12th on Wild Pitch by Gossage," New York Times, April 11, 1980: 17.
11 Chass.
12 Cromwell.
13 Bayless.
14 Chass.
15 Galloway.
Additional Stats
Texas Rangers 1
New York Yankees 0
12 innings
---
Arlington Stadium
Arlington, TX
Box Score + PBP:
Corrections? Additions?
If you can help us improve this game story, contact us.
Tags
https://sabr.org/sites/default/files/Rivers-Mickey-TEX.jpg
600
800
admin
/wp-content/uploads/2020/02/sabr_logo.png
admin
2020-04-04 09:09:50
2020-06-22 16:26:51
April 10, 1980: Rangers' Mickey Rivers runs home to beat Yankees on Opening Day