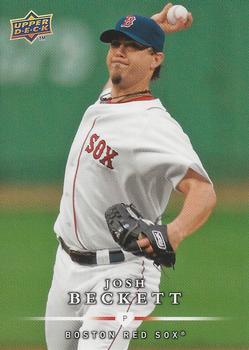 April 10, 2007: Red Sox rebound from a humiliating implosion toward a World Series championship
---
"Opening Day at Fenway arrives like a secular rite of spring. Never mind that a February chill lingers in the air. When the players doff their caps for the national anthem a few minutes after 2 this afternoon, patient souls in Red Sox Nation will be thankful that a long penitential off-season is finally over, that last year's humiliating implosion had receded into history, and that another pennant race has some around again to take our minds off real-world disasters of war and petty politics." — Editorial, Boston Globe1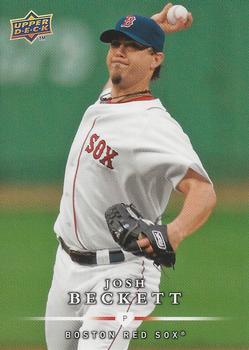 The Boston Red Sox were coming off a 2006 season in which they'd held first place in the AL East for almost the full season, until early August. They finished in third place, 11 games behind the New York Yankees.
Returning for their home opener at Fenway Park, the Red Sox were 3-3 after games on the road against the Kansas City Royals and Texas Rangers.
The Seattle Mariners arrived in Boston for a Tuesday afternoon game. They were 2-1, after hosting the Oakland A's for three games, but then had not played for five days, April 5-9, due to a snowed-out weekend in Cleveland.
Before the game, the Red Sox honored the "Impossible Dream Red Sox" team of 1967, in this its 40th-anniversary year, with some 20 alumni brought back to Boston for the occasion.
There were snow flurries as late as 11:30 AM, preceding the 2:08 PM start. Game-time temperature was 43 degrees.
Red Sox manager Terry Francona started Josh Beckett; Mariners manager Mike Hargrove started right-hander Jeff Weaver, now pitching for his fifth major-league team.
Beckett had won 16 games for the Red Sox in 2006, his first year with the team, but had a far-from-impressive earned run average of 5.01.
He got off to a great start in 2007. Beckett retired the side in order, without the ball leaving the infield. Weaver walked Red Sox leadoff batter Julio Lugo on four pitches. Kevin Youkilis singled and so did David Ortiz. The bases were loaded with nobody out. Manny Ramirez singled, driving in one. J.D. Drew hit a sacrifice fly to center, deep enough for Youkilis to score and for Ortiz to tag up and take third. Two batters later, center fielder Coco Crisp doubled (fan interference was called) and two more runs scored. It was 4-0, Red Sox after the first inning. Weaver, who hadn't worked for 10 days, had thrown 47 pitches.
Beckett faced three more batters in the top of the second. With two groundouts bracketing a strikeout, again not one ball left the infield.
In the bottom of the second, Lugo led off again — this time doubling to left. Then Youkilis also doubled to left, driving in Lugo. Ortiz and Ramirez both made outs but right fielder Drew homered to center field to make the score 7-0.
Beckett's mojo didn't hold. Kenji Johjima singled and Yuniesky Betancourt doubled, Johjima holding at third base. Second baseman Jose Lopez grounded out to second base, Johjima scampering home with the first Seattle run. No more damage was done.
Jake Woods took over mound duties for the Mariners. Catcher Jason Varitek singled to lead off the third. After a fly out, a base on balls moved Varitek to second; he then scored the eighth Red Sox run when Lugo singled to left.
Beckett had another 1-2-3 inning, two of them on fly balls. The Red Sox scored again in the bottom of the fourth. After Ramirez walked and Drew reached on an error, third baseman Mike Lowell doubled to left, driving in Ramirez. Varitek singled to center, driving in both Drew and Lowell. The score after four was 11-1, Red Sox.
Top of the fifth — Beckett had another inning where he faced only three batters and no ball left the infield. And the Red Sox offense — for the fifth inning in succession — scored again. This time they faced a third pitcher, Brandon Morrow. This time they got two runs. The first scored when Lowell hit into a double play, the second when Varitek doubled to left. The score was Boston 13, Seattle 1.
On 12 pitches, Josh Beckett struck out the side in the sixth, getting Ichiro Suzuki for the third time in three plate appearances. (All three K's were on swinging third strikes.) Terry Francona praised Jason Varitek as much as Beckett for whiffing Ichiro all three times he came up to bat. "We caught a break," he said. "Chalk it up to good timing. … Tek does a fabulous job of making adjustments as the game goes on. You keep (Ichiro) off base, you just count your blessings and move on. The minute you think you've got him figured out, he'll throw four hits on you so fast, and they'll all be in different directions. We respect that. He's phenomenal."2
Another new pitcher came in from the Mariners bullpen in the Boston sixth. Julio Mateo allowed a hit, a double by Youkilis, but the Red Sox failed to score.
Beckett had another no-ball-left-the-infield inning in the seventh. The Red Sox faced the fifth Seattle pitcher after the seventh-inning stretch, Chris Reitsma. Eric Hinske doubled, advanced to third on a groundout, and scored on Lowell's sacrifice fly.
Beckett had thrown only 84 pitches, but with the score 14-1 and nothing like a no-hitter in progress (he had given up two hits, struck out eight, and walked no one — Beckett retired each of the last 15 batters he faced), Terry Francona sent Brendan Donnelly in to pitch the eighth. He struck out the first batter, Jose Guillen, who made a move toward the mound after Donnelly struck him out, saying that Donnelly had made a rude gesture to him. Some words and gestures followed. The benches cleared and there was pushing and shoving. Guillen was ejected. Then Donnelly hit the second better he faced. He too was ejected, replaced by Hideki Okajima, who secured the final two outs.
J.J. Putz, the sixth Mariners pitcher, retired the Red Sox 1-2-3 in the bottom of the eighth. With a 13-run lead, it was likely they wouldn't need to bat in the ninth. The Mariners batted in the ninth, of course. Mike Timlin relieved Okajima. He gave up a single, got a couple of outs, then walked Raul Ibanez. Richie Sexson doubled so deeply to center that both runners scored, Ibanez all the way from first. Timlin got the third out. The final score was 14-3, Red Sox.
Of Beckett, Jeff Weaver said afterward, "He was very impressive. He was painting his fastball on both sides of the plate. He was throwing his changeup for strikes. He had the curveball going. All of that keeps the hitters off balance and prevents them from sitting back and waiting for the fastball."3
Beckett's 20 wins in 2007 led the majors. He was 20-7, with a 3.27 ERA, and was 4-0 in postseason play, the MVP of the ALCS.
It was the biggest blowout in 119 Red Sox home openers. There was just one home run in the game, Drew's. The Red Sox doubled seven times — half of their 14 base hits. The Mariners hit safely only four times, and made the game's only two errors.
Most of the 35,847 fans in attendance were Red Sox fans and after 3 hours and 6 minutes went home happy.
The Red Sox season played out nicely. Eight days later, they took first place after the 13th game of the season and never left. Memory of the "humiliating implosion" of 2006 faded as the season progressed. They swept the Angels in the ALDS, beat the Indians in a hard-fought seven-game ALCS, and then swept the Colorado Rockies in the World Series. After the 86-year gap from 1918 to 2004, the Red Sox had won their second World Series championship in four years.
The Mariners finished second in the AL West, six games behind the Angels.
Sources
In addition to the sources cited in the Notes, the author consulted both Baseball-Reference.com and Retrosheet.org.
https://www.baseball-reference.com/boxes/BOS/BOS200704100.shtml
https://www.retrosheet.org/boxesetc/2007/B04100BOS2007.htm
Notes
1 Editorial, "Baseball's Eternal Return," Boston Globe, April 10, 2007: 14.
2 Gordon Edes, "Have They Hit in Something Vs. Ichiro?" Boston Globe, April 11, 2007: 42.
3 Jackie McMullan, "Icy Efficiency from Beckett," Boston Globe, April 11, 2007: 41.
Additional Stats
Boston Red Sox 14
Seattle Mariners 3
---
Fenway Park
Boston, MA
Box Score + PBP:
Corrections? Additions?
If you can help us improve this game story, contact us.
Tags
https://sabr.org/sites/default/files/Beckett-Josh-2008.jpg
600
800
admin
/wp-content/uploads/2020/02/sabr_logo.png
admin
2020-02-07 12:30:24
2020-04-17 10:22:19
April 10, 2007: Red Sox rebound from a humiliating implosion toward a World Series championship