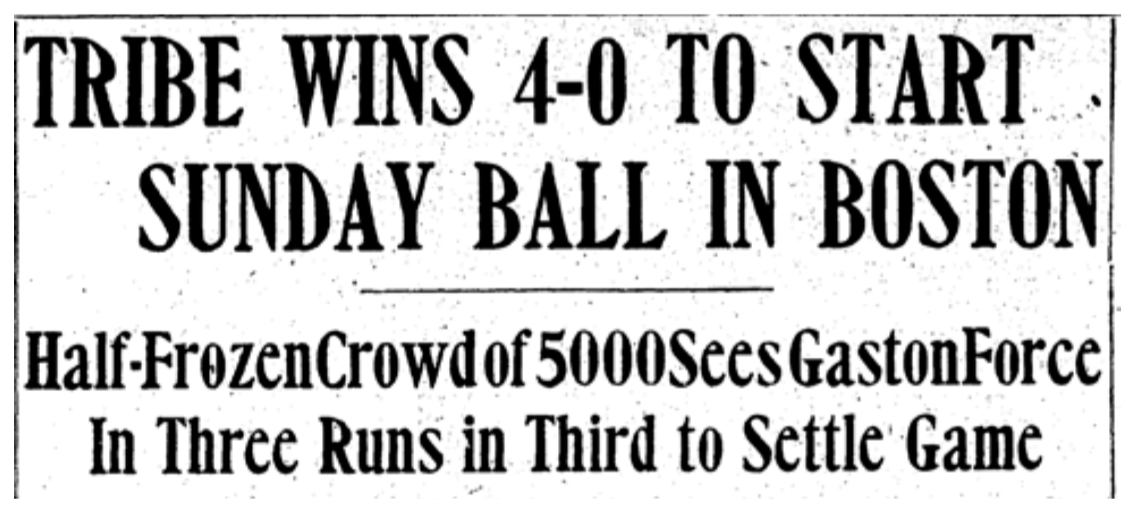 April 14, 1929: Sunday baseball in Boston for the first time
---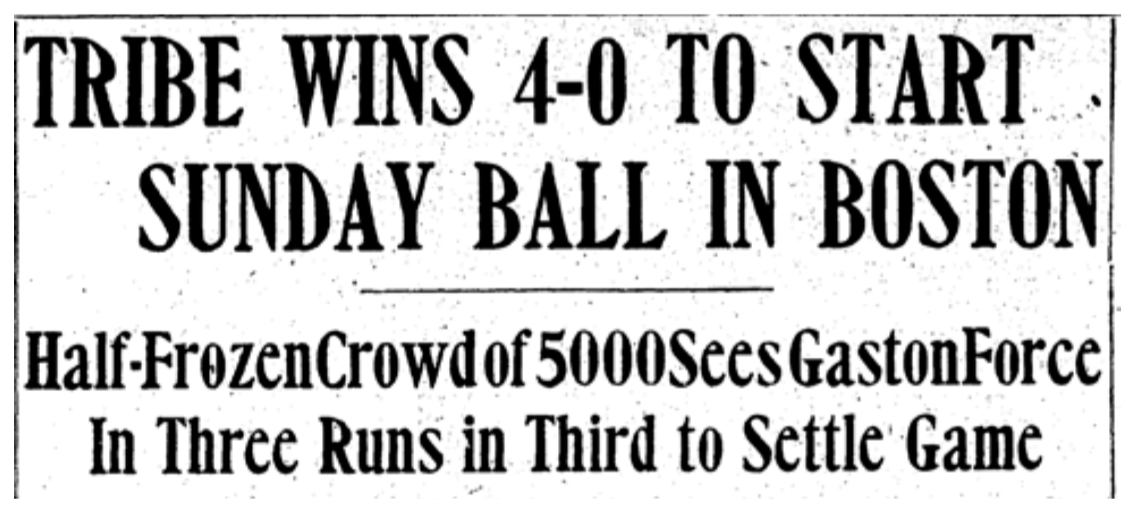 The weather turned unseasonably cold, rainy, and windy in Boston during the second week of April 1929, and that was bad news for baseball fans. The Boston Braves and the Boston Red Sox were scheduled to play back-to-back exhibition games on April 13 and 14, with one game at Fenway Park and the other at Braves Field. Sportswriters wondered if either game would be played, given the unpleasant conditions, and the players, who had just returned to Boston after spring training in warm and sunny Florida, were shocked to encounter near-freezing temperatures.1 To make matters worse, the bad weather not only played havoc with Boston, but it also affected Worcester, 35 miles away, where the Braves had agreed to play an exhibition game against the Holy Cross Crusaders on Friday the 12th. That game had to be postponed, much to the disappointment of the fans, who were eager to see the collegians take on the major leaguers.2 And the next day's weather wasn't much better: Rain and cold caused the Saturday game in Boston to be postponed too.
In addition to the weather, local baseball writers had one other story line to discuss: Assuming conditions improved, the April 14 game at the Wigwam would be the first time major-league baseball had been played in Boston on a Sunday. It had been a long and hard-fought battle to persuade opponents of Sunday baseball to relent. In fact, clergy, politicians, team owners, and fans had debated the issue for decades; but finally it was legal to attend a Sunday ballgame in Boston.
To modern readers there is nothing unusual about Sunday as a day to watch the local teams in action. But in the early 1900s, playing professional sports on "the Lord's Day" was extremely controversial. Influenced by its Puritan founders, the Massachusetts Legislature had passed "Sunday laws," promoting strict observance of Sunday as the day of rest. And it was not just in Boston that Christian clergy insisted upon keeping the Sabbath holy: In many other cities, religious leaders stressed that Sunday was a day for going to church, not a day for going shopping or seeing a ballgame. There were occasional exceptions, however. In Rocky Point, an amusement park in Warwick, Rhode Island, minor-league baseball (as well as some exhibition games with major-league teams) was played on Sunday from 1891 through 1917. The games were especially popular with working-class fans, who could not get time off from their jobs Monday through Saturday, but had leisure time on Sunday; attendance was often between 5,000 and 7,000, and Sunday baseball proved quite lucrative for Colonel Randall A. Harrington, who owned the resort property where the games were played.3
But despite the growing number of people who wanted to go to a Sunday game, most legislators were reluctant to have a confrontation with the clergy. In Massachusetts, repeated attempts to change the Sunday laws were stymied by opposition from Cardinal William O'Connell4 and organizations like the Lord's Day League and the Christian Endeavor Union.5 It was not until November 1928, when a voter referendum to permit Sunday sporting events passed decisively, that the future of Sunday baseball looked brighter. Some legislators tried to delay or even stop the referendum from becoming law, but by the end of the year the Boston City Council had agreed to let it be implemented, much to the delight of not just the fans, but the owners of both the Braves and the Red Sox. Most other major-league teams had already begun playing on Sunday, and the Boston teams could now have a chance at the profits Sunday baseball brought to them.6 Sportswriters also noted that Sunday games would give a boost to the state's minor-league, semipro, and town teams; players could now be paid, and clubs could charge admission.7
Despite the fact that the Braves-Red Sox game was just an exhibition, excitement was in the air; the bad weather reduced the size of the crowd, but still about 5,000 diehard fans were in attendance at Braves Field. They huddled together, shivering in the near-freezing temperatures and biting wind. Many wore heavy coats and boots or wrapped themselves in thick blankets, as if at a football game. (Boston Globe cartoonist Gene Mack, illustrating the game for an article by Jim O'Leary, had two characters jokingly referring to football expressions, and then correcting themselves: "That was a nice forward pass, I mean single, that Dugan hit." Mack's cartoon also noted that WNAC radio play-by-play announcer Fred Hoey looked as if he were trapped in an igloo.) The players too struggled to keep warm. The Braves management brought a portable oil stove to the dugout, and players on both teams were seen wearing sweaters. But for one celebrity, the bad weather was no reason to stay home: Humorist and film star Will Rogers, a friend of the Braves' president, Judge Emil Fuchs, "laughed off" the cold, as he sat in a box seat behind the Braves dugout.8 Fuchs was about to begin his first, and only, year managing the Braves; he hoped to improve upon their dismal 1928 record of 50-103.
As for the game itself, the Braves won, 4-0. It was surprisingly well-played, given the poor conditions. Reporters commented that neither team treated it as just an exhibition. Paul Shannon noted that it was as hard-fought a game as fans might see during the regular season.9 Burt Whitman of the Boston Herald even described it "brilliant, air-tight baseball"; he was impressed with the Red Sox new shortstop, Hal Rhyne, who made a "miracle short-hop stab" of a hard-hit groundball from Braves left fielder George Harper, robbing him of a hit.10 Jim O'Leary's report also praised several Braves players for good fielding, including first baseman George Sisler, second baseman Freddie Maguire, and Rabbit Maranville, who had returned to playing shortstop. (Maranville delighted the crowd by making one of his famed "vest pocket" catches, fielding a fly ball at his belt-line with ease.)
Maguire, who was playing his first game as a member of the Braves, also had a good day at the plate, with three hits. Each team used three pitchers. For the Braves, it was Harry "Socks" Seibold, Art Delaney, and Bruce Cunningham, while the Red Sox used Milt Gaston, Danny MacFayden, and Ed Carroll. Gaston, whom Red Sox manager Bill Carrigan believed to be a good cold-weather pitcher, failed to live up to expectations; he pitched two uneventful innings, but he lost his good control in the third. Maguire, Sisler, and center fielder Earl Clark singled, loading the bases, and then Gaston walked three consecutive batters, forcing in three runs. The Braves then scored a fourth run in the eighth inning. Catcher Al Spohrer singled, stole second, and came home on a hit by right fielder Lance Richbourg.
The Braves outhit the Red Sox. Interestingly, some box scores and game summaries said the Braves had nine hits and the Red Sox had six; but others said the Red Sox had seven. In the field, the Sox made two errors, while the Braves did not make any. (Reporters observed that most fans had avoided taking sides; they cheered the good plays of both teams, enthusiastically applauded the new members of the Red Sox and Braves, and seemed happy to be in the stands for this historic Sunday game.11)
The Braves then traveled to Worcester on Monday to make up the game against Holy Cross. The weather was still cold and windy, but the Braves had no trouble defeating the Crusaders, 6-1, before 3,000 shivering fans.12
Having completed their exhibition schedule on a positive note, the Braves prepared for Opening Day, on April 18 at the Wigwam. The weather still did not cooperate: Rain and chilly winds were in the forecast. But the Braves sent their fans home happy, beating the Brooklyn Robins, 13-12.
This article appeared in "Braves Field: Memorable Moments at Boston's Lost Diamond" (SABR, 2015), edited by Bill Nowlin and Bob Brady. To read more articles from this book, click here.
Sources
Bevis, Charles. "Rocky Point: A Lone Outpost of Sunday Baseball in Sabbatarian New England," NINE: A Journal of Baseball History and Culture, Volume 14, Number 1, Fall 2005, 78-97.
"Fight on Sunday Baseball Begins in Hearing," Springfield (Massachusetts) Union, February 4, 1915, 4.
"First Baseball Game Saturday," Boston Herald, April 7, 1929, 38.
Mumpton, Leroy J. "Braves Tally 6-1 Win Over Holy Cross," Worcester Telegram, April 16, 1929, 15.
Mumpton, Leroy J. "Either Ray Dobens or Nekola to Pitch," Worcester Telegram, April 12, 1929, 30.
O'Leary, James C. "Tribe Wins 4-0 to Start Sunday Ball in Boston," Boston Globe, April 15, 1929, 1, 8.
Sawyer, Ford. "Baseball's Plans for Sunday Sports," Boston Globe, March 24, 1929, B14.
Shannon, Paul H. "Braves Defeat Red Sox 4 to 0," Boston Post, April 15, 1929, 1, 21.
Shannon, Paul H. "First Sunday Baseball in Boston Today," Boston Post, April 14, 1929, 1, 34.
"Sunday Baseball Ratified in Boston," New York Times, December 28, 1928, 26.
"Sunday Sports Rules Adopted," Boston Globe, January 29, 1929, 1, 26.
"Take Sides on Sunday Ball," Boston Globe, February 18, 1913, 15.
Whitman, Burt. "Braves Win in Boston's First Sunday Game," Boston Herald, April 15, 1929, 1, 16.
Whitman, Burt. "Sunday Baseball Opens in Boston Today," Boston Herald, April 14, 1929, 13.
"Will Rogers to See Sox and Braves Today," Boston Herald, April 14, 1929, 14.
Notes
Additional Stats
Boston Braves 4
Boston Red Sox 0
---
Braves Field
Boston, MA
Corrections? Additions?
If you can help us improve this game story, contact us.
Tags
https://sabr.org/sites/default/files/1929-Boston-Sunday-ball-headline.png
600
800
admin
/wp-content/uploads/2020/02/sabr_logo.png
admin
2017-04-25 00:43:58
2020-04-17 10:25:52
April 14, 1929: Sunday baseball in Boston for the first time