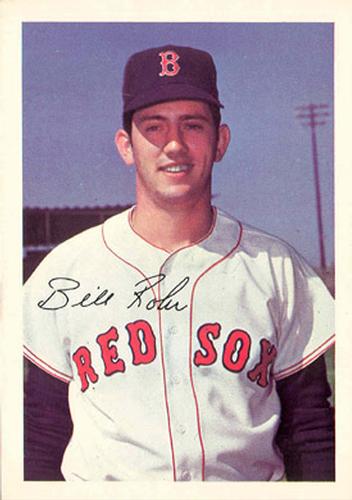 April 14, 1967: Red Sox's Billy Rohr misses no-hitter by one out in MLB debut
---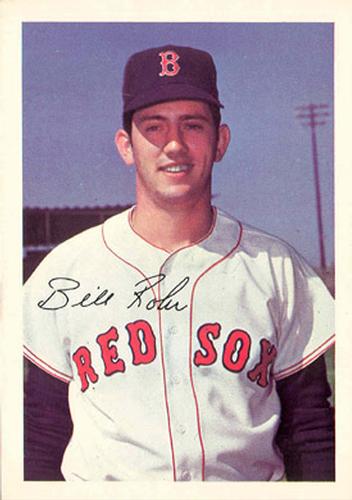 "It's a big place and I was nervous," said Boston's 21-year-old left-hander Billy Rohr about seeing Yankee Stadium for the first time. "[A]fter I got the first batter out I forgot all about it"1 The lanky hurler from California came within one pitch of becoming the first big leaguer in history to toss a no-hitter in his debut when he held New York hitless for 8⅔ innings before yielding a single to Elston Howard, settling for a sparkling one-hit shutout, the only one in his brief two-year career.
Little was expected of archrivals Boston and New York as the 1967 season kicked off. Never had the two clubs finished last and next-to-last in the same year as they had in 1966. Boston had posted eight consecutive losing seasons and lost 100 games in 1965. Their rookie skipper, 38-year-old former Red Sox utility player Dick Williams, hoped to instill a new winning tradition. Boston won its season opener against Chicago, and had a 1-1 record as they arrived in New York for a three-game series. Since winning the pennant in 1964, their 14th flag in 16 seasons, the aging Yankees had posted consecutive losing seasons for the first time since 1917-1918. In 1966 they landed in the cellar for the first time since 1912 when they were known as the Highlanders. The Yankees (1-1) also won their season opener behind a sparkling two-hit shutout by ace Mel Stottlemyre against Washington.
Taking the mound for New York was a pitcher who, like The Babe, was known to even the casual baseball fan by just his nickname, Whitey. Whitey Ford, starting his 11th home opener, was no longer the standout hurler who posted a hard-to-fathom 207-83 record from 1953 to 1964 and winning 10 more in 11 World Series, including six championships. Rather, he was a 38-year-old coming off two shoulder operations, looking for his last moment of glory.
Boston's Billy Rohr was as unknown as Ford was famous. After Boston acquired him from the Pittsburgh Pirates in the 1963 first-year draft, the 6-foot-3, 170-pound hurler progressed through the Red Sox farm system, posting a 14-10 record with the Toronto Maple Leafs in the Triple-A American Association in 1966. Dick Williams, who had skippered Toronto to league championships in 1965 and 1966, hoped to keep Rohr calm by starting his Maple Leaf batterymate, 28-year-old Russ Gibson, who made his first big-league appearance after 10 years in the minors.
New York's home opener on Friday, April 14, 1967, drew a disappointing crowd of just 14,375 to the "House that Ruth Built," a far cry from the 40,006 in the previous year. The game started out with a bang when rookie Reggie Smith, who had 26 at-bats as a September call-up in 1966, led off by sending a 2-0 slider from Ford over the left-field fence for his first career home run. Boston appeared to have Ford on the ropes when Joe Foy walked and moved to third on Carl Yastrzemski's single. But after Tony Conigliaro hit a sharp grounder to third baseman Charley Smith who threw to catcher Howard to erase Foy at the plate, Ford retired the next two to escape a potential disaster.
After Rohr set down the side in order in the first, Ford yielded a leadoff single to Rico Petrocelli. A soft grounder by Russ Gibson resulted in a 5-4-3 double play. The crafty veteran, with 234 wins in his 16-year career, went on a roll retiring every batter he faced through the seventh inning, save for Conigliaro, who reached a bunt on the fourth.
As well as the "Chairman of the Board" pitched, so, too, did Rohr, who also got some help from his teammates. First baseman George Scott ended the second by digging out a poor throw by shortstop Petrocelli on Charley Smith's sharp grounder. After Rohr walked Bill Robinson and Joe Pepitone in the fourth, Howard hit a long fly to center. According to sportswriter Larry Claflin of the Boston Record American, center fielder George Thomas overran the ball but caught it awkwardly before crashing to the field.2
Rohr was lucky to survive the sixth inning. After Yaz made a nifty one-handed grab of Horace Clarke's line drive, Robinson smacked a screaming shot back to the mound, whacking Rohr on the left shin right below the knee. "I never saw the ball come back at me," said Rohr.3 Foy fielded the ricochet barehanded and heaved a bullet to Scott for an out. Williams and trainer Buddy LeRoux rushed to check on Rohr, writhing in agony on the mound. "He limped from there to the finish," wrote Henry McKenna of the Boston Herald.4 After walking off the pain, Rohr issued a walk to the next batter, Tom Tresh, who was subsequently forced out on Pepitone's grounder to end the frame. "After he got hit he actually got better," mused backstop Russ Gibson. "He amazed me."5
Receiving ice-pack treatments between innings, Rohr set down the side in order in the seventh. He claimed after the game that the shin injury did not affect his pitching. Williams monitored him closely, making sure that he did not tax his shoulder overcompensating for his leg. Had Rohr not been working on a no-hitter, it's likely he would have been relieved.
Ford seemed to be tiring in the eighth. He hadn't gone that deep in a game in almost a year, since holding Kansas City to five hits over eight innings in a loss on May 1, 1966. Gibson led off with a single, and moved up a station on Rohr's sacrifice bunt. After Reggie Smith grounded out, Foy smashed a two-run homer. Yastrzemski followed with a single, but was forced at second on Conigliaro's grounder to end the frame.
With tension mounting on the field and in the stands, Yankees skipper Ralph Houk played to win, but also harbored a time-honored tradition with regard to no-hitters. "We wouldn't bunt on him when the game got into the late innings," said the old-school skipper before there was an old school. "It was going to be a clean hit or nothing."6 Houk sent in sore-legged Mickey Mantle to pinch-hit for light-hitting John Kennedy. The Mick popped up harmlessly to right fielder Bill Robinson. Pinch-hitting for Ford, Lou Clinton, who had hit a career-high 22 round-trippers for the Red Sox in 1963, hit a tapper back to the mound. Grabbing what was described as an "easy chance" by beat writer Henry McKenna, Rohr threw wildly to first for the game's only error.7 The situation became critical when Rohr issued his fifth and final walk of the game, to Clarke. While the Yankee faithful held their breath for the kind of comebacks that had characterized the team for generations, Robinson hit into a soul-crushing 6-4-3 twin killing to end the inning.
After rookie right-hander reliever Thad Tillotson worked through a rough ninth, loading the bases on two walks and a hit in his big-league debut, Rohr had a date with destiny. Throughout the game, he kept knocking his cap off with his overhand delivery, like former Yankee 20-game winner Jim Bouton. "He's a herky-jerky type of pitcher," said Williams, "[W]hen his head is bobbing right, off falls his hat."8 Tresh led off with a powerful blast to deep left field. Yastrzemski, playing shallow to prevent a cheap single, made what Bill Liston of the Boston Traveler described as a "near miracle" catch.9 Rohr called it the "greatest catch" he ever saw."10 Yaz made a lunging grab at full speed, somersaulting on the grass as he secured the ball. After Pepitone flied out to right, Rohr had a 1-and-2 count on Howard. Just a strike away from a no-hitter, Rohr threw a heater which many Boston sportswriters claimed was a strike. "[It] missed by an inch," said Gibson.11 After another ball, Howard lined a "flat curve" over second baseman Reggie Smith's head, evoking a hefty round of jeers from the crowd.12 "That's the first time in my life I ever made a base hit and was booed," said Howard.13 Rohr retired Smith on a popup to right field to end the game in 2 hours and 11 minutes.
"Russ called a perfect game," gushed Rohr, who struck out two. "He knew what I was trying to do and I think I only shook him off twice. We were thinking together."14 There was a feeling of déjà vu for Rohr, who had tossed 8⅔ innings of no-hit ball against Toledo the previous year before yielding a single to Mike Ferraro, coincidentally the property of the Yankees. "I think my fastball had them guessing," said the pitcher, "since it was breaking away from the right-handed hitters, and I had a good change that I got guys out on."15
For a brief moment, Rohr was cast in the national spotlight. Two days after the game he appeared on television's Ed Sullivan Show.
The St. Louis Browns' Bobo Holloman remains the only big-leaguer (as of 2016) to toss a no-hitter in his first start, against the Philadelphia Athletics on May 6, 1953. It came after four relief appearances.
This article appears in "The 1967 Impossible Dream Red Sox: Pandemonium on the Field" (SABR, 2017), edited by Bill Nowlin and Dan Desrochers. To read more stories from this book, click here.
Notes
Additional Stats
Boston Red Sox 3
New York Yankees 0
---
Yankee Stadium
New York, NY
Box Score + PBP:
Corrections? Additions?
If you can help us improve this game story, contact us.
Tags
http://sabr.org/sites/default/files/images/RohrBilly.jpg
600
800
admin
/wp-content/uploads/2020/02/sabr_logo.png
admin
2017-08-28 15:25:43
2020-04-17 10:25:45
April 14, 1967: Red Sox's Billy Rohr misses no-hitter by one out in MLB debut