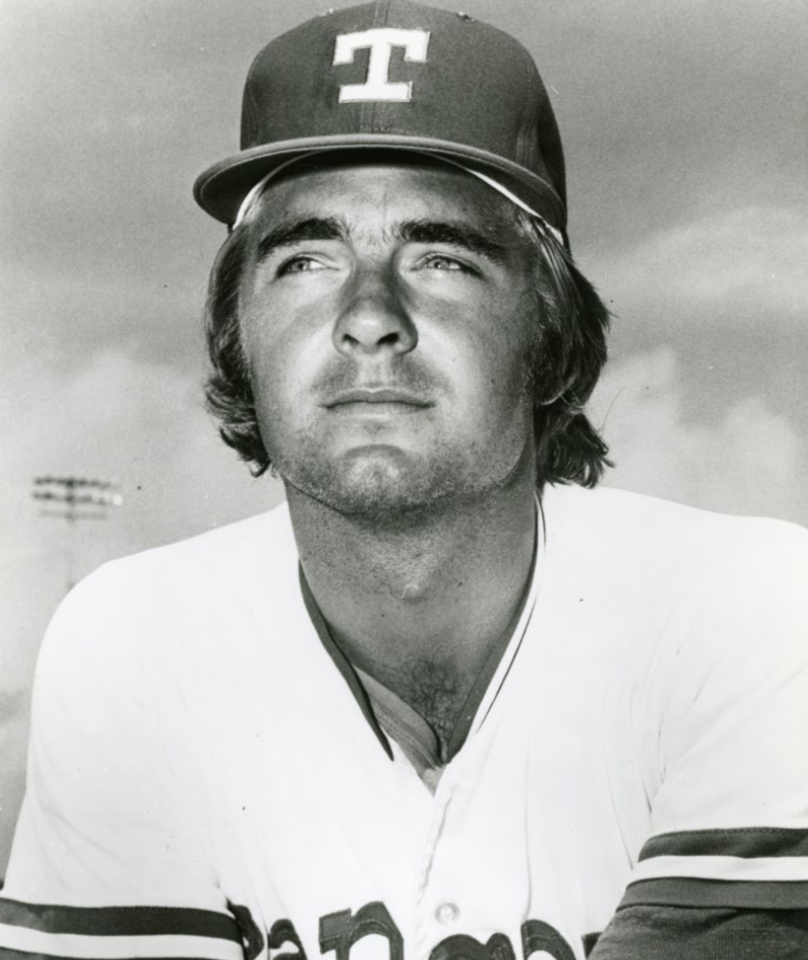 April 16, 1972: Pete Broberg's eight strong innings give Texas Rangers first win in club history
---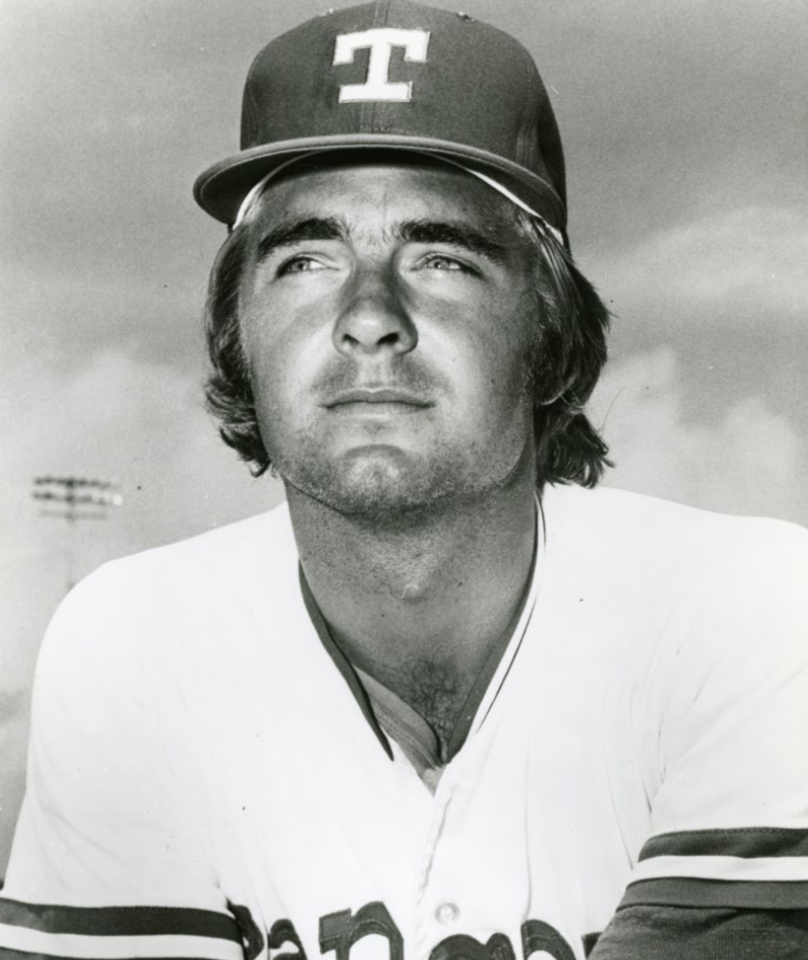 On April 16, 1972, Apollo 16, NASA's eighth of nine manned lunar missions, took off from Cape Canaveral, Florida. On that same day, some 3,000 miles away in Anaheim, California, there was another blast-off of sorts. The Texas Rangers, behind eight strong innings by hard-throwing right-hander Pete Broberg, won their first-ever game.
After 11 mainly disappointing seasons in the nation's capital, the Washington Senators relocated to Arlington, Texas, a city between Dallas and Fort Worth, and were rechristened the Rangers for the start of the 1972 baseball season. Led by Ted Williams since 1969, the Senators had finished with a dismal 63-96 record (fifth place in the AL West) in 1971; however, Texas seemed to have the talent to notch a winning season, something they had done just once as the Senators. "We were excited to start the season," Broberg told the author. "We had some young players like me on the club, Toby Harrah, Lenny Randle, Jeff Burroughs, and some older guys and veterans, Frank Howard, Dick Billings, and Dick Bosman. We had a good mix."1
Notwithstanding the players' excitement, the 1972 season was delayed by 13 days when the players union, the Major League Baseball Players Association, called the first strike in baseball history, resulting in 86 canceled games. "We expected to do well," recalled Broberg about the start of the season despite the layoff. "We had some success against the Angels the year before (8 wins, 4 losses), and we knew we could hit them. Dick Bosman pitched a great game in the season opener and lost."2 In that game, Angels right-hander Andy Messersmith, who would play a central role in another showdown between the players' union and baseball owners three years later, outdueled Bosman, blanking the Rangers, 1-0, on two hits. "Both Andy and Broberg are overpowering pitchers," said Angels pitching coach Tom Morgan in anticipation of a tough afternoon against the Rangers. "That type will have less trouble coming back from the long layoff."3
"I felt right at home on the club," Broberg recalled. "I was more mature, was with the club for about four months in '71, and had just had my first spring training with them."4 Originally chosen second overall by the Oakland A's in the 1968 draft, Broberg rejected a reported $150,000 bonus and instead enrolled at Dartmouth College, where he earned All-American honors. On June 8, 1971, Washington chose him with the second pick of the secondary draft. The 21-year-old Broberg made his big-league debut 12 days later, tossing three-hit ball and yielding two runs in a 6⅓-inning no-decision against Boston. "He can be as good as anybody pitching today," said Williams of Broberg, who concluded his rookie campaign with a 5-9 record and a 3.47 ERA in 124⅔ innings. "He has tremendous ability and intelligence."5
Toeing the rubber for first-year skipper Del Rice's Angels was 31-year-old southpaw Clyde Wright. An All-Star in 1970 when he finished with a 22-12 record, Wright had fashioned a 58-55 record in parts of seven big-league seasons.
A sparse crowd of 6,556 turned up at the Big A, as Anaheim Stadium was known, for a Sunday afternoon of baseball. Attendance had been down all over baseball on the belated opening weekend as thousands of fans mounted their own informal strike. Only 13,916 attended the Angels' season opener the night before.
"No more two-hitters against us," said skipper Williams before the game. "We're gonna get some blankety-blank hits."6 The Rangers might have taken the Splendid Splinter's words to heart as the first five batters reached base. Randle led off with a walk, moved to third on Dave Nelson's single, and scored the first run in Rangers history when, 6-foot-7, 275-pound "Hondo" Howard lined a single to right field. Texas was counting on a productive season from Howard, who Williams claimed hit "left-handers as well as – probably better than – anyone in the league."7 After smashing a big-league-most 136 home runs from 1968 through 1970 and leading the AL in round-trippers in '68 and '70, Howard belted 26 in 1971. Billings followed with a single to drive in Nelson. After Tom Grieve bunted to third base to load the bases, rookie Joe Lovitto hit a grounder to shortstop Leo Cardenas, who opted for a 6-4-3 double play instead of risking a throw home to nab Howard, who was running on contact and scored. Lovitto was not credited with an RBI. Wright fanned Elliott Maddox to end the frame.
The Angels came out swinging against Broberg. Leadoff hitter Sandy Alomar lined a single to center and moved to second on a wild pitch. While the rugged, 6-foot-3, 205-pound right-hander retired the next three hitters, Alomar scored what proved to be the Angels' only run on Cardenas's one-out grounder to Harrah.
Wright regained his composure to retire all six batters he faced in the second and third innings. The Angels managed to get a runner to second base with two outs in both innings, yet came up empty-handed both times.
With two outs in the fourth, Maddox got the game's only extra-base hit, a double to right field. He moved to third on Wright's wild pitch with Harrah at the plate, and scored the Rangers' fourth run on a passed ball charged to catcher Jeff Torborg.
After yielding a leadoff hit to Ken McMullen in the fourth, Broberg went on a roll. Described as "dazzling" and "baffling" by sportswriter Leo Noonan of the Los Angeles Herald-Examiner, Broberg did not yield another hit in the fourth through eighth innings.8 He did issue three walks, but also started a double play in the fifth when he made a fine fielding play on Mickey Rivers' bouncer to the mound, and threw to Harrah to erase the speedy Alomar at second. Harrah then rifled to Howard for the inning-ending twin killing.
The Rangers maintained a 4-1 lead until the ninth inning. Two innings earlier they had had runners on second and third with two outs against Tom Murphy in his second inning of relief. But the former starter, who had lost his spot in the rotation with the acquisition of fireballer Nolan Ryan from the New York Mets in a blockbuster trade in the offseason, induced Howard to ground out. Larry Biittner led off the ninth with a shot to shortstop Cardenas, who misplayed it for his second error of the game. After Broberg's one-out sacrifice bunt moved Biittner into scoring position, Randle followed with an infield single off reliever Lloyd Allen, in his second inning of work, to drive in Biittner and increase the Rangers' lead to 5-1.
Broberg's afternoon ended when McMullen led off the ninth with a single. Rubber-armed southpaw Paul Lindblad, who would lead the AL with 66 appearances in '72, retired left-handed hitter Vada Pinson, still a dangerous batter in his 15th big-league season. Right-hander Horacio Pina, whom beat writer Merle Heryford of the Dallas Morning News affectionately called "the Latin pretzel" because of his tall and lanky appearance, retired the last two batters to preserve Broberg's victory and earn his first of what would be a team-high 15 saves.9
"I thought Broberg pitched a good game, a strong game, especially since he hadn't worked in two weeks and hadn't gone more than five innings this spring," said Williams.10 Broberg yielded five hits, walked four, and struck out three in eight impressive innings. Said Ross Newhan of the Los Angeles Times after the game, "the pitchers are clearly ahead of the batters."11 Angels beat reporter Leo Noonan equated Broberg's stuff with his staff's 20-game winner from the previous season, opining, "Broberg pitched the same kind of game Messersmith did on opening night."12
In the days before pitchers were monitored so closely, Broberg told the author, he never thought much about pitch counts and could not remember how many pitches he threw that day. The Los Angeles Times reported that Broberg was wound up and visually excited on the mound. "I had a lot of nervous energy I couldn't burn off," Broberg told the paper.13
After losing their next two games, in Chicago facing the White Sox at Comiskey Park, the Rangers finally had their home opener on Friday April 21, against the Angels. Bosman pitched just well enough (nine hits, four runs, three earned, in 5⅓ innings) to pick up the win, 7-6. The following afternoon, in front of just 5,517 spectators in Arlington Stadium, Broberg tossed the first shutout in Rangers history, blanking the Angels on four hits.
This article was published in "The Team that Couldn't Hit: The 1972 Texas Rangers" (SABR, 2019), edited by Steve West and Bill Nowlin. To read more articles from this book at the SABR Games Project, click here.
Notes
1 Author's interview with Pete Broberg on June 29, 2015.
2 Ibid.
3 Leo Noonan, "Gates Creaking at Anaheim Stadium," Los Angeles Herald Examiner, April 17, 1972: D2.
4 Author's interview with Pete Broberg on June 29, 2015.
5 Ross Newhan, "Broberg Too Slick for Angels, 5-1," Los Angeles Times, April 17, 1972: Part 3, 1.
6 Merle Heryford, "Rangers, Broberg Jail Angels, 5-1. Texas Wins No. 1 With Quick Start," Dallas Morning News, April 17, 1972: B1.
7 Ibid.
8 Noonan.
9 Heryford.
10 Ibid.
11 Newhan.
12 Noonan.
13 Newhan.
Additional Stats
Texas Rangers 5
California Angels 1
---
Anahiem Stadium
Anahiem, CA
Box Score + PBP:
Corrections? Additions?
If you can help us improve this game story, contact us.
Tags
https://sabr.org/sites/default/files/BrobergPete.jpeg
600
800
admin
/wp-content/uploads/2020/02/sabr_logo.png
admin
2019-11-07 16:35:29
2020-04-17 10:22:25
April 16, 1972: Pete Broberg's eight strong innings give Texas Rangers first win in club history