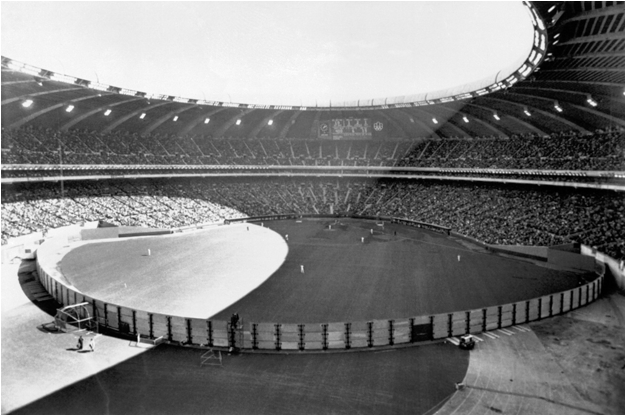 April 16, 1977: Montreal Expos earn first win in Olympic Stadium
---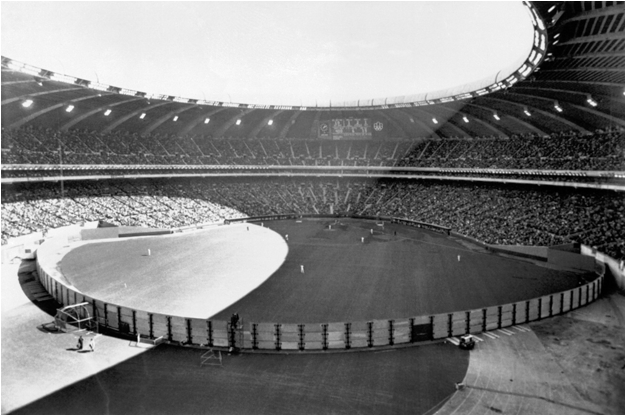 Despite suffering through a miserable 55-107 campaign the prior year, the 1977 Montreal Expos approached the coming season with a new sense of optimism. Most significantly, the team was finally slated to move into its new ballpark, the massive Olympic Stadium, after spending the first eight years of their existence in tiny Jarry Park, capacity 28,456.
In addition, the Expos had hired a new manager in Dick Williams, a fiery leader who had already won one pennant with the Boston Red Sox (1967) and two World Series with the Oakland Athletics (1972 and 1973). On the field, the Expos had significantly bolstered their infield by luring free-agent second baseman Dave Cash away from the NL East champion Philadelphia Phillies and trading for veteran first baseman Tony Perez, a key member of the Cincinnati's Big Red Machine of 1975-76. Finally, the team boasted budding stars in catcher Gary Carter, third baseman Larry Parrish, and outfielders Andre Dawson and Ellis Valentine, all 23 or younger.
The Expos had begun the season with four games on the road, winning two in Philadelphia, followed by two losses in Pittsburgh. On Friday, April 15, the Expos were welcomed home by a sellout crowd of 57,592 for their first game in Olympic Stadium, but lost 7-2 to the Phillies and their ace, former Cy Young Award winner Steve Carlton.
On Saturday, April 16, a much smaller crowd of 18,361 gathered to watch the second game of the series, which featured a pitching matchup of the Phillies' 23-year old righty Larry Christenson, a 13-game winner in 1976, vs. the Expos' 24-year-old rookie southpaw Gerry Hannahs, who had won two games as a late-season call-up the prior year. Each pitcher was making his second start of the year, with Christenson having taken a no-decision on April 10 against the Expos at Veterans Stadium in Philadelphia despite giving up eight hits and four runs in only three innings, and Hannahs likewise receiving no decision on April 12 despite a solid five-hit, one-run outing in 7⅓ innings vs. the Pirates at Pittsburgh's Three Rivers Stadium.
The game would end up being a tightly contested affair, with a significant role played by Expos right fielder Ellis Valentine, if only by reputation. The night before, Valentine had distinguished himself by hitting the first home run at Olympic Stadium (off Steve Carlton), but it was his cannon arm that had the National League taking notice. Despite his having had less than one season as a full-time major leaguer (Valentine played 12 games in 1975 and 94 in 1976), Valentine's throwing arm had already caused teams to rethink whether to attempt to take the extra base on the young phenom. Manager Williams had already noted that teams "don't take chances against him,"1 while new teammate Dave Cash remarked that Valentine had "without a doubt, as strong as arm as anybody I've seen."2
The Phillies struck first in the opening frame. Leadoff batter Jerry Martin drew a walk and one out later, Garry Maddox laced a triple to center to drive in the first run. Cleanup hitter Greg Luzinski lifted a fly ball to Valentine in medium right field, but Phillies third-base coach Billy DeMars, well aware of the right fielder's defensive skills, elected to hold Maddox at third.3 After Mike Schmidt walked, Hannahs got out of the inning by striking out catcher Bob Boone. The Expos answered right back in the bottom of the inning when Cash led off with a double, and one out later Valentine reached first on an error by Phils shortstop Larry Bowa. Perez and Parrish followed with RBI singles, and the Expos had a 2-1 lead after one inning.
Hannahs sailed through the second inning, but Christenson found himself in more trouble after striking out Andre Dawson and pitcher Hannahs. Cash singled for his second hit of the game, and shortstop Tim Foli lofted a windblown RBI triple to right.4 Christenson was able to escape further damage by retiring Valentine on a flyout, but the Expos had extended their lead to 3-1.
After a scoreless third inning, the Phillies inched closer when slugger Schmidt led off the fourth with a home run. One out later, singles by Davey Johnson and Ted Sizemore put two runners on base with the pitcher's spot due. Manager Danny Ozark pulled Christenson in favor of pinch-hitter Ollie Brown, who was retired on a popout to short. Jerry Martin fouled out to first, leaving the runners stranded.
The Expos put two runners on base with one out in the fourth, but new Phils pitcher Ron Reed induced an inning-ending double play from Dave Cash, keeping the score 3-2. After a scoreless fifth, Hannahs worked around a leadoff walk to Bob Boone, inducing Johnson to hit into a 5-4-3 double play and retiring Sizemore on a grounder to first. In the bottom of the inning, Expos catcher Gary Carter led off with a home run off Reed, restoring the Expos' two-run cushion at 4-2.
The tight game continued into the seventh as Hannahs began to tire. Pinch-hitter Fred Andrews led off with a single and Jerry Martin walked. Bowa bunted the runners to second and third, and Expos manager Williams replaced Hannahs with reliever Joe Kerrigan to face the heart of the Phillies order. After getting two quick strikes on Maddox, Kerrigan uncorked a wild pitch that allowed Andrews to score and advanced Martin to third.5 With the tying run 90 feet away, Kerrigan induced Maddox to fly to right. Once again coach DeMars elected not to test Valentine's arm, anchoring the runner at third base (causing Martin to later lament that he "was wanting to run, but it's not my decision."6) Kerrigan then struck out the dangerous Luzinski to preserve the Expos' narrow lead.
The new Phillies pitcher, Gene Garber, retired the Expos in order in the bottom of the inning, leaving the score 4-3 Expos after seven innings.
Both teams threatened in the eighth inning but did not score, setting the stage for the top of the ninth inning. Expos rookie closer (and native Canadian) Bill Atkinson faced the top of Philadelphia's order. Atkinson struck out Martin, but walked Bowa to put the tying run on base. However, the Phillies' number three and four hitters again failed to deliver, as Maddox grounded into a force at second and Luzinski struck out on a massive cut to end the game. The Expos and their fans celebrated the team's first victory in their new ballpark, with Atkinson earning the save for winning pitcher Gerry Hannahs.
After the game Hannahs lauded the Expos' bullpen, noting that "if I'm undefeated in the majors today, it's because of the relief pitchers. … They deserve credit for this one."7 Both teams acknowledged that Valentine may have won the game for the Expos despite not producing any hits or throwing out a single baserunner. Philadelphia third-base coach DeMars said Valentine's defensive prowess "doesn't show up in the box scores, but it is the kind of thing that makes the difference in a lot of games."8 His counterpart for the Expos, coach Ozzie Virgil, said, "Valentine's arm was the key to that victory."9
Postscript
The Expos' resurgence continued for the remainder of the season, as they finished with a record of 75-87, a 20-game improvement over the previous year. Two years later, in 1979, the club posted a record of 95-65, its first of five consecutive winning seasons. For Gerry Hannahs, major-league success was only fleeting. He made just five more starts for the Expos in 1977, struggling to a 1-5 record and a 4.86 ERA, before being sent down to Triple-A Denver on May 20. Exactly one year later, he was traded to the Dodgers, for whom he appeared in just five games in 1978 and 1979, posting a combined record of 0-2 and an ERA of 4.00 in 18 innings of work. He continued to pitch in Triple-A ball from 1979 through 1981 before retiring from baseball. Hannahs' win in the Expos' first victory at Olympic Stadium would prove to be the last of his major league career.
Related link: Click here to read more stories from SABR's Au jeu/Play Ball: The 50 Greatest Games in the History of the Montreal Expos at the SABR Games Project
Author's note
The author attended the game along with his college fraternity brother (and lifelong Phillies fan) Ted Lapres and will never forget the sight of Olympic Stadium's flimsy plywood outfield fences held up by two-by-fours.
Sources
In addition to the sources cited in the Notes, the author consulted Baseball-Reference.com and Retrosheet.org.
Notes
1 Norm King, "Ellis Valentine," SABR BioProject, https://sabr.org/bioproj/person/8ffcf9c5, November 1, 2016.
2 Frank Dolson, "Valentine's Big Massacre," Philadelphia Inquirer, April 17, 1977: 1-G.
3 Bruce Keidan, "Expos Freeze Phils," Philadelphia Inquirer, April 17, 1977: 1-G.
4 Ibid.
5 Ibid.
6 Ibid.
7 Ian MacDonald, "Hannahs Strong Again as Expos Beat Phils Saturday," Montreal Gazette, April 18, 1977.
8 Keidan.
9 MacDonald.
Additional Stats
Montreal Expos 4
Philadelphia Phillies 3
---
Olympic Stadium
Montreal, QC
Box Score + PBP:
Corrections? Additions?
If you can help us improve this game story, contact us.
Tags
https://sabr.org/sites/default/files/OlympicStadium.PNG
600
800
admin
/wp-content/uploads/2020/02/sabr_logo.png
admin
2018-10-02 11:29:40
2020-04-17 10:23:54
April 16, 1977: Montreal Expos earn first win in Olympic Stadium