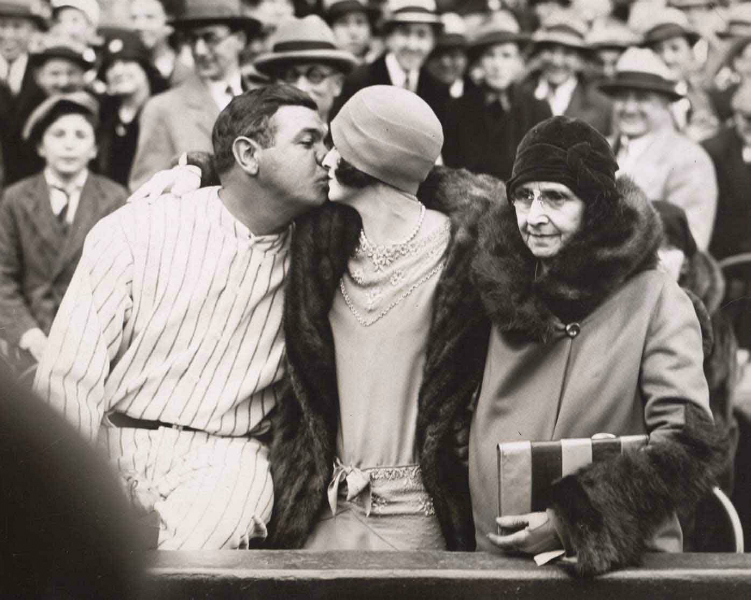 April 18, 1929: Babe Ruth celebrates 'honeymoon' with a home run
---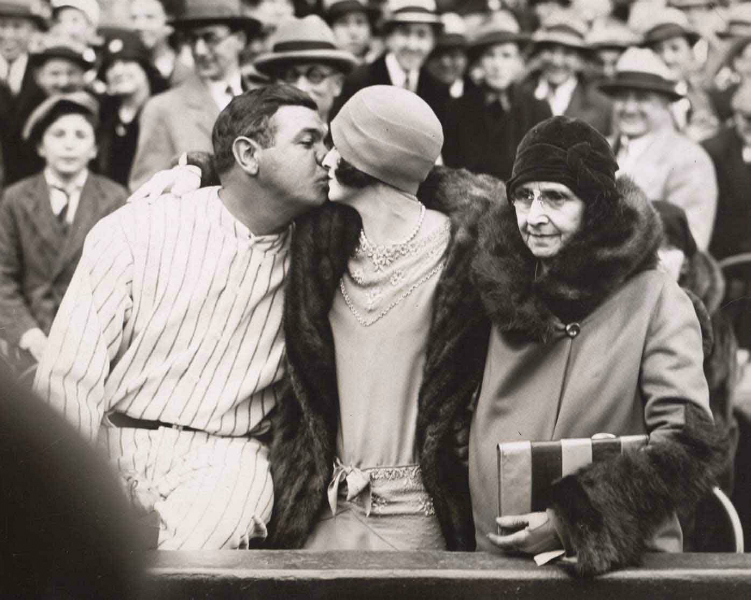 The Babe settled in the batter's box on the port side of home plate, lifted a heavy bat over his left shoulder and waited for Red. The most popular baseball player in the world was standing on the grand stage of Opening Day in front of tens of thousands of fans. Yet, many eyes were on box 173.
Boston Red Sox pitcher Red Ruffing had already retired the first two batters in the first inning and now was facing Babe Ruth, who days earlier had told newspaper reporters, standing out in an early morning Manhattan drizzle, that he planned to blast "a few home runs to start the season properly."1 Who could doubt him? He hit 54 the season before and 60 in 1927.
Ruffing missed the strike zone on a couple of pitches, and got the Babe to swing at a low pitch and foul one into the seats. Two balls, two strikes. The Boston right-hander was a strike away from breezing through the first inning. His next pitch began with promise, but ended in familiar disappointment.
As the pitch soared in, Ruth, using a new batting stance that placed his left foot far back in the batter's box, chopped at the ball onto his left foot,2 unleashing the fury American League pitchers had become accustomed to seeing. The violent sound of the bat colliding with the baseball sent the crowd, many still trickling in on this cold, gray Bronx day, to their feet with cheers. Boston catcher Charlie Berry and home-plate umpire Bill McGowan sprang straight up and watched the ball glide through the frigid air toward left field. Ruth watched as he ran.
The crowd roared as the ball landed in deep in the left-field bleachers, just fair.
As Ruth slowly rounded second base, his eyes found box 173, just beyond third base. The slugger doffed his blue cap "with a great flourish" toward a young woman there named Claire, New York Times reporter John Drebinger tapped into his typewriter.
As the crowd, bundled in winter garments, continued to cheer their hero, Claire, warmed with furs and a tight cap over her dark hair, sprang to her feet, thrust her clenched fists into the air and yelled, "Whoopee!"3 Ruth rounded third, shook hands with Lou Gehrig, tapped his foot on home plate and entered the dugout, shaking his head and laughing. Claire yelled and waved at the Babe.
Sitting with her mother, Claire had a reason beyond a Ruthian clout to display a broad smile. A day earlier, at 5:55 in the morning, Claire and the Babe slipped quietly to St. Gregory's Roman Catholic Church and exchanged wedding vows. Ruth, wearing a double-breasted serge suit, a white shirt, a brown tie, and tan shoes, joined at the altar with Claire. She dazzled in a purple Georgette dress and color-matching form-fitting hat, with gray silk stockings and black shoes.4
Before about 30 worshipers who had gathered early before their daily commitments, Father William Hughes performed the ceremony. Ruth had deceitfully scheduled the wedding for 6:30 A.M., to throw off photographers, but some arrived early so as not to miss the momentous occasion. They got their opportunities when the ceremony ended. The Babe and Claire, along with Father Hughes, posed for a few pictures. The couple walked outside in the rain and posed for more photographs. A group of young wide-eyed boys greeted the newlywed couple.
"Hello, Babe," some of the young admirers said.
"Hello, fellows," their idol replied.5
The Babe shook hands with and promised autographed baseballs to a couple of boys, James McMahon and John O'Shaughnessy, both 16, who served as altar boys at the Mass following the ceremony. Soon after, the wedding party drove away in limousines to a ham-and-egg breakfast and tour for newspapermen of Claire's 11-room apartment, where the couple lived with Claire's mother.6
The Yankees and Red Sox were scheduled to open the season that day at the Bronx ballpark, but rain nixed those plans, just as it had the day before. Finally, on April 18, rain let up, even if the cold didn't, and the two teams commenced the season.
The day began with red-coated ushers directing a handful of fans who entered the ballpark around noon, three hours ahead of Opening Day ceremonies. The festivities included players from both teams and Commissioner Kenesaw Mountain Landis following the Seventh Regiment Band in a march to the center-field flagpole. As the national anthem played, the American flag and a large white, bright red-trimmed flag that read, "Yankees 1928 World Champions" were hoisted up the pole as wind whipped it about.7
Landis, with his cane, fuzzy hat and fur gloves,8 presented the Yankees with diamond-studded watches to commemorate their World Series title. He gave only a smile to the Red Sox players.9
Stepping in for Mayor Jimmy Walker, the president of the New York Board of Aldermen, Joseph McKee, removed his white hat with his left hand and tossed out the ceremonial first pitch from the stands with his right. He wore a warm black overcoat and a broad smile as Yankees owner Jacob Ruppert and Landis stood to his left.10
Fans continued to trickle slowly into the cold ballpark, many defending the cold with coats and mittens. Vendors sold peanuts as they shivered even in their sweaters and white linen coats, and not a single one of them "had the nerve to say anything about ice cold drinks," Noel Busch quipped in the next day's New York Daily News.11 Hot coffee, however, was a popular item.12
Minutes before the game began, the Babe walked over to the wall that separated the field from the third-base box seats. He removed his cap, leaned back and kissed his new bride square on the lips, causing photographers' flashbulbs to pop as the crowd watched in delight. The kiss was inspiration enough for the home run that soon followed, the Daily News wrote.13
After Ruth's home run, the scoreboard read 1-0 Yankees until the top of the third, when the Red Sox were able to crack New York starter George Pipgras. Jack Rothrock singled to right and Pipgras walked Hal Rhyne and Russ Scarritt. Next, with the bases loaded and no outs, Pipgras forced Ira Flagstead into a 5-4-3 double play that scored Rothrock to tie the game at 1-1. Bill Regan followed with a single sharply past Pipgras's head and onto the wet grass in center field to score Ryne. The Red Sox led 2-1.
That score lasted until the bottom of fourth. Ruffing walked Ruth and Gehrig to lead off the inning, creating a stir of anticipation among the anxious fans. (By now the crowd had reached 40,000.) The walks proved to be costly. Standing at the plate was Bob Meusel, who took a Ruffing pitch and sent it screaming down the right-field line for a double. Ruth scored to tie the contest. The Yankees added two more runs when Gehrig and Leo Durocher scored on an error by Red Sox first baseman Phil Todt, who muffed a throw from third baseman Bobby Reeves.
New York's 4-2 lead was cut by one in the top of the sixth when Todt scored on a fly ball by Rothrock. Todt had singled and advanced to second on a walk to Charlie Berry. The bases became loaded after another walk to Elliot Bigelow He was the first batter Fred Heimach faced after replacing Pipgras, who finished the day with three runs given up on only three hits and nine walks.
Gehrig led off the bottom of the sixth with the Yankees clinging to a 4-3 lead. As fans looked on, they could clearly see a large blue number 4 on his back. Ruppert had decided it was time to put numbers on his players. The numerals were the largest money could buy and "still fit on a baseball uniform," Debringer wrote in the Times. "They are clearly discernible to the naked eye."
Ruffing's day was finished for the Red Sox — he was pinch-hit for in the top of the inning — and Milt Gaston now stood atop the mound, starring in at Gehrig. Number 4 cracked a high fly deep into the shivering fans in the right-field bleachers. As he rounded the bases, having no bride or anyone in particular to tip his cap to, he lifted it to the entire crowd, whose raucous cheers carried him home.14
Gaston struggled through the inning. He gave up a single to Tony Lazzeri and walked Durocher and Johnny Grabowski to load the bases. Two batters later, Earle Combs stroked a two-out, two run single to left.
The Yankees had a commanding 7-3 advantage, and Heimach made certain it would stick. The veteran lefty shut down the Red Sox through 3⅔ innings, allowing no runs, no hits, and zero walks while striking out one batter.
The two-time defending champs had their first win of the season, and were clearly ready to battle for a third World Series title. Even the newlyweds were forgoing the traditional post-nuptial, romantic getaway to focus on the journey ahead.
After the wedding ceremony two days earlier, Claire was asked if there would be a honeymoon.
"No," she said. "We're going to play ball all summer and win a pennant."
"That's right," the Babe chimed in. "We'll have our honeymoon on the ballfield."15

Sources
Baseball-Reference.com: baseball-reference.com/boxes/NYA/NYA192904180.shtml.
Retrosheet: retrosheet.org/boxesetc/1929/B04180NYA1929.htm.
Photo caption
Newlyweds Babe and Claire Ruth share a kiss on April 18, 1929, a day after getting married, at Yankee Stadium in New York. (COURTESY OF BABERUTHCENTRAL.COM)
Notes
1 "Babe Ruth and Mrs. Hodgson Married in New York Church," Boston Globe, April 18, 1929: 17.
2 "Babe's New Stance at Bat Proves Worth," Boston Globe, April 19, 1929: 13.
3 "Yanks Wallop Red Sox in Opening Game at Stadium, 7-3," New York Daily News, April 19, 1929: 60.
4 "Babe Ruth Married as Hundred Look On," New York Times," April 18, 1929: 29.
5 Ibid.
6 Ibid.
7 John Drebinger, "40,000 See Yankees Beat Red Sox, 7-3," New York Times, April 19, 1929: 28.
8 Melville E. Webb Jr., "Crowd of 40,000 Sees Sox Beaten," Boston Globe, April 18, 1929: 13.
9 John Drebinger, "40,000 See Yankees Beat Red Sox, 7-3," New York Times, April 19, 1929: 28.
10 Ibid.; Photo, "No. 1 for Bam, Also Yanks," New York Daily News, April 19, 1929: 56.
11 Noel Busch, "Bridegroom Babe's Sock Officially Opens the Season," New York Daily News, April 19, 1929: 56.
12 Marshall Hunt, "Babe's Blow Starts Red Sox on Way to 7-3 Opening Loss," New York Daily News, April 19, 1929: 56.
13 "Yanks Wallop Red Sox."
14 Drebinger.
15 "Babe Ruth and Mrs. Hodgson Married."
Additional Stats
New York Yankees 7
Boston Red Sox 3
---
Yankee Stadium
New York, NY
Box Score + PBP:
Corrections? Additions?
If you can help us improve this game story, contact us.
Tags
https://sabr.org/sites/default/files/Babe-Ruth-Claire-1929.jpg
600
800
admin
/wp-content/uploads/2020/02/sabr_logo.png
admin
2019-03-05 18:35:22
2020-10-26 00:13:27
April 18, 1929: Babe Ruth celebrates 'honeymoon' with a home run