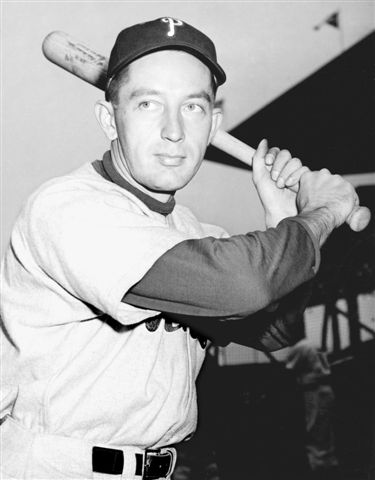 April 18, 1950: From deathbed to first base: Eddie Waitkus returns after near-fatal shooting
---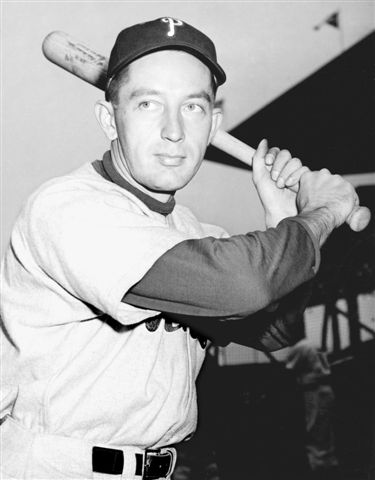 "I didn't know if I'd ever play ball again," Eddie Waitkus understated during spring training in Clearwater, Florida, "not even when I came down here in November. Once I got down here I felt better. I didn't do too much for the first month, just picking up weight. I weighed 140 when I got out of the hospital and 160 when I came down here. Now I'm 175, just about normal."1
"Normal" was a remarkable feat considering where Waitkus had been just 10 months before. His life had hung in the balance. June 14, 1949, had started out as an excellent day. The Phillies were in Chicago to play the Cubs. Eddie scored twice in the Phillies' 9-2 win. He was batting a career-high .306 and the Phillies were legitimate contenders for the pennant for the first time in decades.
Waitkus had a few drinks with his Philly pals after the game, then took a cab back to the Edgewater Beach Hotel. A bellhop handed Waitkus a note from a lady named Ruth Anne Burns. She had an urgent matter to speak with Waitkus about. He didn't know Burns, but the clerk said she was from Portland Street in Boston, where Eddie grew up. He called her room around 11 P.M. She invited him to her room at 11:30 and he sat down on a chair. "I have a surprise for you," she told him. "You are not going to bother me anymore." She pulled out a .22-caliber rifle and shot Waitkus in the abdomen. The shooting is believed to have inspired author Bernard Malamud to write his famous novel The Natural, which was later made into a motion picture with Waitkus as the model for the Roy Hobbs character.
Waitkus slumped to the floor and she called the front desk, confessing what she had done. Her real name was really Ruth Ann Steinhagen, and her trial became one of the earliest sensational stories of a "stalker." She had become obsessed with Waitkus when he played for the Cubs and was devastated when he was traded to the Phillies. "I used to go to all the ballgames just to watch him," she wrote to a psychologist after being ruled insane. "We used to wait for them to come out of the clubhouse after the game, and all the time I was watching him, I was building in my mind the idea of killing him. As time went on, I just became nuttier and nuttier about the guy. I knew I would never get to know him in a normal way, so I kept thinking, I will never get him, and if I can't have him, nobody else can. Then I decided I would kill him."2
Waitkus was taken to Chicago's Masonic Hospital with life-threatening injuries. The bullet had pierced a lung and lodged near his spine. He survived four operations, and the road to recovery began. "I wouldn't want to go through that again," Waitkus said about the rehab. "Six days a week for four months. That's a lot of calisthenics."3
Now Waitkus was back on Opening Day with the Phillies. It was a bright day for him, but a "sticky, gray day and the sun never did break through the heavy haze," wrote Tommy Holmes in the Brooklyn Eagle.4 A crowd of 29,074 arrived at Shibe Park for Opening Day 1950. The city bustled with excitement and "lines of traffic from every direction were jammed and tangled," reported Philadelphia's Evening Bulletin.5 Fans were treated to the playing of the Police and Firemen's Band, and also a performance of "The Fightin' Phils" by the Elliott Lawrence orchestra. The Marine color guard hoisted the American flag during the National Anthem, and wounded World War I veteran Si Rappaport threw out the first pitch from his wheelchair.6
Robin Roberts was making his first Opening Day start for the Phillies after finishing 15-15 in 1949. He was opposed by the Dodgers' Don Newcombe, who was already considered one of the top pitchers in the league after a 17-8 rookie season in 1949.7 A 22-year-old Vin Scully was in the Dodgers radio booth for the very first time, calling the action for the team he would cover over the next 67 years.8
In the bottom of the first, Richie Ashburn singled and scored on Granny Hamner's double. The crowd rose in a standing ovation as Waitkus made his way to the plate. There were no heroics in his first at-bat as he made an out to the shortstop. Del Ennis doubled to left, scoring Hamner, and the Phillies led 2-0. The exciting opening to the game "turned bedecked Shibe Park into a roaring amphitheater of appreciation and expectation," wrote Stan Baumgartner in the Philadelphia Inquirer.9
In the second inning, back-to-back doubles by Mike Goliat and Andy Seminick made the score 3-0 Phillies, and Newcombe was driven from the game. "[Dodgers manager Burt] Shotton might just as well have brought the groundskeeper over from Ebbets Field and started him," wrote Burr.10 Carl Erskine came in to pitch for Brooklyn. A single by Hamner scored Seminick, and then Waitkus got his first milestone hit to prove he really was back. It was a line-drive single to center that sent Hamner to third. A single by Ennis scored Hamner. "Before today's opening battle," wrote Roscoe McGowen in the New York Times, "Manager Burt Shotton of the Dodgers had an upset stomach. Before anybody was out in the Phils' second inning, he must have had a wrecked nervous system."11 Once the dust had settled, the Phillies had a 5-0 lead. As Jackie Robinson came to the plate he asked Seminick,"What do you guys think you're going to do, win the pennant?" "Yessir, we're going to do it this year. You bet."12 It was that kind of miraculous year for the Phillies.
In the third, Pat McGlothin was pitching for the Dodgers. He allowed back-to-back singles by Dick Sisler and Goliat, then balked to send runners to second and third. A fly ball by Roberts scored Sisler, and a single by Hamner scored Goliat. The Phillies pushed their lead to 7-0.
With one out in the fourth, Willie "Puddin' Head" Jones singled and went to second on another balk by McGlothin. Goliat's single scored Jones, and the Phillies led, 8-0. That would be all of their scoring until the bottom of the eighth, when returning hero Waitkus singled off Clem Labine to score Ashburn.
The Dodgers never got a runner to second base until a seventh-inning double by Robinson, who took third on Goliat's muff of the relay throw and scored on Carl Furillo's single. Gil Hodges singled and Roy Campanella reached on an error by Jones to load the bases. The Phillies had an 8-1 advantage but their bullpen got active for the first time, and "Branch Rickey, Dodger boss, began to puff vigorously at his cigar."13 However, pinch-hitter Gene Hermanski bounced back to the box for an inning-ending double play. That was all she wrote. Roberts breezed through the eighth and ninth.
Roberts threw 119 pitches in the complete-game victory, scattering seven hits. "The first game was significant to me not only because it was my first Opening Day start but because I had not yet beat the Dodgers," he said in his autobiography.14 Roberts had been 0-3 against the Dodgers in 1949 with an 8.79 ERA, and 0-5 lifetime. Meanwhile, the Phillies carved out 16 hits, but none of them bigger than those from Eddie Waitkus, who went 3-for-5 with an RBI in his return to the game.
"I was scared to death," Waitkus said after the game. "One of two [hits] were lucky ones, but I'd rather be lucky than good."15
Sources
In addition to the sources cited in the Notes, the author wishes to thank the Newspaper and Microfilm Department of the Free Library of Philadelphia for research assistance.
Notes
1 Jack Hand (Associated Press), "From Death Bed Back to First Base, That's Ed Waitkus' Story," Charlotte (North Carolina) Observer, April 2, 1950: 18-B.
2 Bruce Weber, "Ruth Ann Steinhagen Is Dead at 83; Shot a Ballplayer," New York Times, March 23, 2013: 22.
3 Hand.
4 Tommy Holmes, "The Dodgers Open in Deep Distress," Brooklyn Eagle, April 19, 1950: 21.
5 John Theodore. Baseball's Natural: The Story of Eddie Waitkus (Lincoln: University of Nebraska Press, 2006), 70.
6 Stan Baumgartner, "Phils Rout Dodgers, 9-1, in Opener; A's Bow 8-7," Philadelphia Inquirer, October 1, 1950: 47.
7 Newcombe was voted Rookie of the Year in 1949.
8 The Brooklyn Eagle on April 18, 1950, lists Scully announcing on WMGM with Red Barber and Connie Desmond.
9 Baumgartner: 1.
10 Harold C. Burr, "Daylight Spring Tilts Pay Phils Dividends," Brooklyn Eagle, April 19, 1950: 21.
11 Roscoe McGowen, "Roberts Defeats Brooklyn, 9 to 1," New York Times, April 19, 1950: 39.
12 Robin Roberts and C. Paul Rogers III, The Whiz Kids and the 1950 Pennant (Philadelphia: Temple University Press, 1996), 219.
13 Baumgartner: 47.
14 Roberts and Rogers, 218.
15 Theodore, 1.
Additional Stats
Philadelphia Phillies 9
Brooklyn Dodgers 1
---
Shibe Park
Philadelphia, PA
Box Score + PBP:
Corrections? Additions?
If you can help us improve this game story, contact us.
Tags
http://sabr.org/sites/default/files/images/Waitkus%20Eddie%203806.68%20WT%20k%20NBL.jpg
600
800
sabr
/wp-content/uploads/2020/02/sabr_logo.png
sabr
2020-07-20 21:02:45
2020-07-20 21:02:45
April 18, 1950: From deathbed to first base: Eddie Waitkus returns after near-fatal shooting