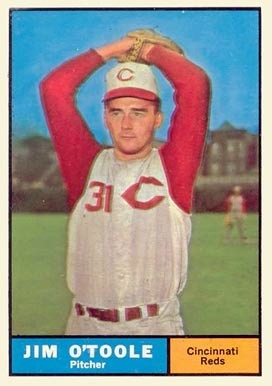 April 18, 1962: O'Toole's pitching, Pinson's production lead Reds to 14-0 rout
---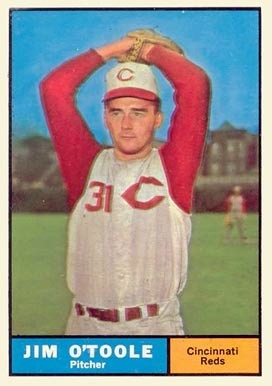 The pitching matchup scheduled for Wednesday, April 18, 1962, certainly was appealing since two teams that had battled for the 1961 National League pennant were to square off at Crosley Field. The probable starters were a pair of "tried and tested" southpaws – Johnny Podres for the Los Angeles Dodgers and Jim O'Toole for the Cincinnati Reds.1 Both had impressive winning percentages during the previous season, combining for a 37-14 won-lost mark. But as injuries happen, a team's decision makers have to ponder a revision to what was planned when physical issues to their hurlers crop up before game action.
Reds manager Fred Hutchinson remained concerned about the fluke injury O'Toole suffered on April 8, the day before the season began. O'Toole cut the middle finger on his pitching hand while pushing a suitcase into his car's trunk. Although the wound did not require stitches, the resulting soreness caused him to be bypassed for his first scheduled start (April 10), in Los Angeles.2 O'Toole's initial starting assignment was held off until April 13 against the San Francisco Giants at Candlestick Park. That night the finger affected his overall performance as he allowed six earned runs on nine hits while walking three and committing a balk. In seven innings, O'Toole struck out six, but gave up two home runs, and was charged with the 7-2 loss.
Dodgers skipper Walter Alston also had a mound dilemma to deal with as he prepared his lineup card. Podres, who lost to the Reds on April 10 in the contest celebrating the opening of Dodger Stadium, encountered left-shoulder problems and would have to go on the shelf for the time being. "There's a big knot in my shoulder near the neck," said Podres. "It hurts at times and I simply can't get loosened up."3 Alston tabbed 19-year-old rookie Joe Moeller for his first major-league start. A communication snafu on the pitching change and the local press's unfamiliarity with the new hurler caused Moeller's name to be incorrectly published as "Ron Miller" and "Moller."4 The tall and lanky right-hander had faced Cincinnati six days earlier in California, netting an ineffective save during a four-inning mop-up role.
Both teams were looking up at the leaders in the expansion-inflated 10-team National League. Los Angeles came into the action in fourth place at 5-3 while Cincinnati, which had lost five of its first six contests, wobbled in with a 3-5 mark for seventh place. O'Toole assured Hutchinson that his finger felt fine, but the fiery mentor was openly blunt about his staff. "The whole thing is the pitching," said Hutchinson. "It has not been any good. But we know we got it and it'll come around."5 With the exception of center fielder Vada Pinson, many Reds regulars were saddled with low batting marks. Slugger Frank Robinson offered some perspective on another slow start by the Reds when he remarked, "I don't remember a Cincinnati club ever starting well and this is my seventh year."6
Although it was sunny and in the 60s during the daytime, the forecast had predicted evening thunderstorms in the Southern Ohio Valley with a low temperature near freezing.7 A small crowd of 6,536 came through the turnstiles for the 7:35 P.M. game. With his finger problem seemingly a nonfactor, O'Toole retired Maury Wills and Jim Gilliam before former Red Lee Walls reached on an infield single. O'Toole then fanned Tommy Davis to end the top of the first.
In the Reds' first at-bat, Moeller's nerves got the best of him as he walked Don Blasingame and Eddie Kasko on a total of 10 pitches. The youngster's tension escalated when he delivered his next offering, a belt-high fastball, to Pinson, who slammed the pitch8 into the Moon Deck9 of the right-field bleachers for his first homer of the season and a 3-0 Cincinnati lead.10 Moeller got out of the inning without further damage.
O'Toole allowed a two-out single to the left-handed-swinging Tim Harkness in the second, but the rookie was left stranded when Norm Sherry popped out. Moeller, determined to stay in the contest, went back to the mound, and Johnny Edwards greeted him with a double. Leo Cardenas singled to center, and Edwards rambled home after center fielder Tommy Davis mishandled the ball. After a sacrifice, Blasingame walked again. Trying to stem the tide, Alston replaced the frazzled Moeller with veteran right-handed reliever Ed Roebuck, who immediately threw a wild pitch to send Cardenas to third. Blasingame stole second on the next delivery and Kasko cracked a line-drive single over second to score two runs, increasing the score to 6-0.11 Roebuck got the next two outs, but the Dodgers were in an early hole.
After O'Toole set Los Angeles down in order in the third, the Reds put up three more runs. Roebuck loaded the bases via a hit batter and two walks. O'Toole followed with his first safety of the year, delivering a run-scoring single to right. Blasingame singled to center to drive in a pair, and Cincinnati looked to add more to the scoreboard when Roebuck uncorked another wild pitch before finally getting the third out.12 With a 9-0 lead, O'Toole continued the mound domination that would see him retire 17 consecutive batters from the last out in the second inning through the first batter of the eighth.
Roebuck settled down and held the Reds to no runs on one hit in the fourth and fifth before being lifted for a pinch-hitter. Rookie right-hander Phil Ortega took the mound for the Dodgers in the sixth, but fared no better than his predecessors as nine Reds came to the plate. Singles by Blasingame and Kasko coupled with another error by Davis put runners on second and third. Pinson, who had been rebuffed in this situation to end the second, came through with a two-run single to right to raise his RBI count for the game to five. Pinson moved to second on a passed ball before Frank Robinson walked. After a force out at second, Jerry Lynch batted for Wally Post and the Reds' "pinch-hitter deluxe" dropped a fly-ball single into left to plate Pinson. Cincinnati showed no signs of letting up with its offensive activity when Edwards walked to load the bases. Ortega fanned Cardenas and got O'Toole to ground out unassisted to first to strand three runners.
With the Reds ahead 12-0, Blasingame opened the bottom of the seventh by slicing a double down the left-field line for his third hit. He scored his fourth run of the night when Frank Robinson joined the hit parade with a rousing two-out double off the scoreboard to make it 13-0.13
With one away in the top of the eighth, the Dodgers' Harkness almost took care of O'Toole's shutout by knocking a line-drive double that banged off the right-field fence for Los Angeles' first baserunner since the second inning. In the bottom of the inning hard-throwing right-hander Stan Williams became the fourth pitcher for Los Angeles. Williams entered with a 24.55 ERA in just 3⅓ innings during two previous outings. Lynch greeted him with a towering drive over the center-field fence for his second home run of the season to make it 14-0.14 Williams put down the Reds with no further scoring and his earned-run average fell to 21.21. Bettors who held Cincinnati in a 13-run pool on this date did not know whom to feel ill will toward – Williams or Lynch.
O'Toole notched his ninth strikeout, allowed another single to Walls, and then closed out the four-hit shutout in 3:04 to even his record at 1-1. It was his seventh career whitewash, but only the second such outing in which he allowed no walks. O'Toole couldn't remember ever having as good stuff with the same pinpoint control.15 His ERA plummeted from 7.71 to a respectable 3.38.
The line score for the Reds read 14 runs, 15 hits, and no errors while the Dodgers had no runs, four hits, and two errors. Pinson enjoyed a career-high five RBIs and two more hits moved his batting average up to .361. The season before, a weak April (.143) probably kept the talented young outfielder from winning the batting crown.16 Blasingame reached base in five of his six plate appearances, while three safeties moved his .118 batting average out of the dumps to .238. Newspaper rumors had just surfaced that Cincinnati was attempting to trade for the St. Louis Cardinals' second baseman, Julian Javier.17
Moeller now 0-1, saw his ERA advance from 6.75 to 15.19 during his 10-batter stint. Despite the short appearance, Alston chose to keep the young hurler in the rotation. The 14-0 humiliation18 was the worst shutout suffered by the Dodgers since July 3, 1949, when they were still in Brooklyn and were overpowered 16-0 by the New York Giants at the Polo Grounds.
This article was published in "Cincinnati's Crosley Field: A Gem in the Queen City" (SABR, 2018), edited by Gregory H. Wolf. To read more articles from this book at the SABR Games Project, click here.
Sources
In addition to the sources cited in the Notes, the author also accessed Retrosheet.org, Baseball-Reference.com, Newspapers.com, SABR.org/bioproj, and The Sporting News archive via Paper of Record.
https://www.baseball-reference.com/boxes/CIN/CIN196204180.shtml
http://www.retrosheet.org/boxesetc/1962/B04180CIN1962.htm
Notes
1 Lou Smith, "O'Toole Faces LA Tonight," Cincinnati Enquirer, April 18, 1962: 21.
2 Earl Lawson, "Red Ravelings," The Sporting News, April 18, 1962: 18.
3 Frank Finch, "Podres Benched by Lame Shoulder," Los Angeles Times, April 19, 1962: 6.
4 Lou Smith, "Reds Explode, Win, 14-0," Cincinnati Enquirer, April 19, 1962: 23.
5 Smith, "O'Toole Faces LA."
6 Ibid.
7 Cincinnati Enquirer, April 18, 1962: 17.
8 Smith, "Reds Explode."
9 Philip J. Lowry, Green Cathedrals (New York: Walker & Company, 2006), 66. The right-field bleachers were called the Sun Deck for day games and the Moon Deck for night games.
10 Smith, "Reds Explode."
11 Ibid.
12 Ibid.
13 Ibid.
14 Ibid.
15 Earl Lawson, "Pinson's Slam-Bang Socks Help Give Boot to Series Nightmare," The Sporting News, May 2, 1962: 20.
16 Ibid.
17 Smith, "Sport Sparks," Cincinnati Enquirer, April 18, 1962: 21.
18 Frank Finch, "O'Toole Humiliates Dodgers, 14-0," Los Angeles Times, April 19, 1962: 5.
Additional Stats
Cincinnati Reds 14
Los Angeles Dodgers 0
---
Crosley Field
Cincinnati, OH
Box Score + PBP:
Corrections? Additions?
If you can help us improve this game story, contact us.
Tags
http://bioproj.sabr.org/bp_ftp/images5/OTooleJim.jpg
600
800
admin
/wp-content/uploads/2020/02/sabr_logo.png
admin
2019-10-07 14:53:27
2020-04-17 10:22:29
April 18, 1962: O'Toole's pitching, Pinson's production lead Reds to 14-0 rout