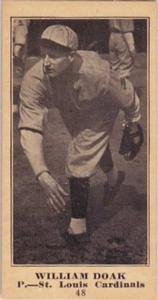 April 20, 1914: Cardinals' Bill Doak strikes out 10 in shutout of Cubs
---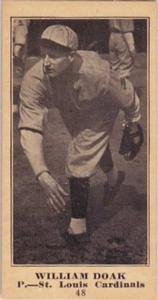 Bill Doak is little remembered. Those who do know his name likely recall seeing it on the palm of a fielder's glove, either in their youth, or more recently in a display of baseball memorabilia. Doak's name graces those old gloves because in 1919, in collaboration with Rawlings Sporting Goods Company, he came up with a revolutionary new design that became a prototype of baseball gloves for years to come.1
Doak's glove design was a significant achievement, but it should not overshadow his considerable baseball talent. He was a fine major-league pitcher from 1912 to 1929, who twice led the National League in earned-run average and once won 20 games.2 He totaled 169 career victories, 25 for Brooklyn and 144 for the St. Louis Cardinals, who in 1912 paid $500 to Akron of the Interstate League to obtain his services.3 As of the end of the 2019 season, Doak ranks among the Cardinals' career leaders in wins (sixth), innings pitched (fifth), complete games (eighth), shutouts (second), earned-run average (second), and strikeouts (seventh).4
One noteworthy performance by Doak occurred on April 20, 1914, when he used "a very effective spitball"5 to strike out 10 Cubs in a 2-0 victory. In fact, his spitball was so good that the Cubs argued with the umpires all afternoon about whether Doak was using some illegal substance on the ball.6 All their arguing was to no avail, and their hometown Chicago Tribune reporter attributed the Cubs' loss to their "crude fielding" and inability to hit "a beautiful spitball,"7 rather than any dishonesty by the Cardinals pitcher. The Tribune reporter thought Doak deserved praise "for the brand of ball he tossed."8
The teams had split the first two games of this four-game series, with St. Louis winning Saturday's game 5-2, and the visiting Cubs prevailing 9-7 on Sunday. For Monday's game, the Cardinals sent Doak to the mound for his first start of the season. Perhaps his one perfect inning of relief against Pittsburgh on April 16 had earned him the starting assignment. The Cubs countered with side-arming Bert Humphries, who was seeing his first action of the year after recording a terrific 16-4 record for Chicago in 1913.
Things did not start well for Doak. The first Chicago batter, Tommy Leach, "pulled a single past third base,"9 and Wilbur Good followed with "a safe swat to right,"10 placing runners on first and second with no one out. They both advanced a base on a sacrifice by Bill Sweeney, but remained stranded on second and third when Doak struck out Heinie Zimmerman and Frank Schulte. That was probably Chicago's best scoring opportunity of the day. After that, Doak's spitball "was almost unhittable,"11 and the Cubs got just one more hit — Jimmy Johnston's seventh inning single.
Doak's performance was certainly not flawless. His control would sometimes fail him. In the third inning with two outs, he hit Good with a pitch, and walked Sweeney, but a force out at second ended the inning.12 In the fourth with one out, Doak walked Vic Saier, who stole second base, and advanced to third on a wild pitch.13 Doak responded by striking out Johnston, and popping-up Roger Bresnahan, ending a scoring threat of his own creation.
Humphries was nearly as effective as Doak. His pitches were "breaking over the plate in swell fashion,"14 and he surrendered just seven scattered singles. As Chicago Tribune writer Keene Gardiner explained, "Had the Cubs played an errorless game the count would have been 0 to 0 at the close of the ninth."15 Instead, Chicago committed five errors, including three that led directly to both St. Louis runs. The two tainted runs were enough for Doak and his St. Louis teammates to claim the win.
The Cardinals scored their first run with the aid of two Chicago errors on one fifth-inning play. Walton Cruise started the inning by singling to right field. Frank Snyder followed with a single right over second base, and Cruise rounded second and headed for third. When center fielder Johnston fumbled the ball, Cruise continued for home.16 Johnston recovered the ball and "made a perfect peg to the plate," but catcher Bresnahan let it get past him, allowing Cruise to score.17
The Cardinals extended their lead to 2-0 in the sixth inning. The rally began when player-manager Miller Huggins dropped a single into center field.18 He attempted to steal second, but Bresnahan's throw beat him there, and Zimmerman slapped down the tag.19 The umpire called Huggins out, but reversed his call when the ball dropped from Zimmerman's glove for an error.20 On the next pitch, Lee Magee singled to right, and Huggins trotted in to score.21
Chicago threatened in the eighth when Doak issued consecutive walks to Sweeney and Zimmerman after two were out, but Schulte flied out to end the inning.22 In the ninth, Johnston reached first on third baseman Cozy Dolan's one-out error,23 but after Bresnahan whizzed a grounder down the third-base line that went just foul,24 Doak struck him out. Pinch-hitter Chief Wilson made the third out, completing the 2-0 victory. This was the only nine-inning game of Doak's career in which he notched 10 strikeouts, although he did match that number in two extra-inning contests.25
Doak's dominant performance in this game launched him to a successful season. His record was an unexpected 19-6, and he led the National League with a 1.72 earned-run average. Those figures reflect a big improvement from his rookie season of 1913, when he was 2-8 with a 3.10 ERA.
In a March 28, 1914, St. Louis Post-Dispatch article, Huggins predicted a "splendid season" for the Cardinals based on better team harmony and "improvement in the pitching staff."26 But Huggins did not include Doak among the six pitchers being counted on to improve their pitching.27 Based on that interview, and Huggins' decision to start five other pitchers before turning to Doak in the team's seventh game of the season, it is fair to conclude that Huggins viewed Doak as merely an occasional starter and reliever when the season began.
If Doak was largely overlooked before the season, by its end, a St. Louis newspaper pegged him as "the apex of Cardinal pitching,"28 and credited him with the National League's best spitball.29 He deserved the praise, since he led the Cardinals in games started, wins, shutouts, earned-run average, and strikeouts.30
Huggins' preseason prediction of a splendid season for St. Louis did prove true. They rose from 99 losses and a last place finish in 1913 to third place in 1914 with an 81-72 record — one of only four winning seasons for the Cardinals during the Deadball Era of 1901-1919.
Sources
baseball-reference.com/boxes/SLN/SLN191404200.shtml
retrosheet.org/boxesetc/1914/B04200SLN1914.htm
Notes
1 Steve Steinberg, "Bill Doak," SABR BioProject, https://sabr.org/bioproj/person/1359e4e2.
2 Doak was 20-12 in 1921 and won ERA titles in 1914 and 1920.
3 Harry F. Pierce, "How Herr Secured Willie Doak," St. Louis Star and Times, October 23, 1913: 11.
4 retrosheet.org/boxesetc/S/XCL_SLN.htm.
5 J.B. Sheridan, "Doak Wins Pitchers' Battle," St. Louis Globe-Democrat, April 21, 1914: 10.
6 Marion F. Parker, "Bad Base Running Costs Cardinals Run in the First," St. Louis Globe-Democrat, April 21, 1914: 10. According to baseball reference.com, "Rules dating back to the 1890s forbid players from discoloring or 'otherwise damaging' the ball." That was generally interpreted to prevent scuffing a ball or using something other than spit. https://baseball-reference.com/bullpen/Spitball.
7 Keene Gardiner, "Slips beat Cubs; St. Louis wins 2-0," Chicago Tribune, April 21, 1914: 15.
8 Gardiner.
9 Gardiner.
10 Gardiner.
11 Sheridan.
12 Gardiner.
13 Parker.
14 Gardiner.
15 Gardiner.
16 Gardiner.
17 Gardiner.
18 Gardiner.
19 Gardiner.
20 Gardiner.
21 Gardiner.
22 Gardiner.
23 Sheridan.
24 Sheridan.
25 https://retrosheet.org/boxesetc/D/PX_doakb101.htm.
26 "Wray's Column," St. Louis Post-Dispatch, March 28, 1914: 8.
27 "Wray's Column." Huggins named pitchers Bill Steele, Slim Sallee, Hank Robinson, Pol Perritt, Casey Hagerman, and Dan Griner as reasons for optimism in 1914.
28 Dent M'Skimming, "Cards and Browns Are Compared by New Star Expert," St. Louis Star and Times, October 2, 1914: 10.
29 "Athletics to Face Leading N.L. Pitcher," St. Louis Star and Times, October 10, 1914: 8. During the 1914 World Series, Boston Braves pitcher Bill James, who won 26 games, was lauded as throwing a spitball "surpassed by the spitter of but one pitcher in the [National] league — Bill Doak."
30 https://retrosheet.org/boxesetc/1914/UPSLN01914.htm.
Additional Stats
St. Louis Cardinals 2
Chicago Cubs 0
---
Robison Field
St. Louis, MO
Box Score + PBP:
Corrections? Additions?
If you can help us improve this game story, contact us.
Tags
https://sabr.org/sites/default/files/DoakBill.jpg
600
800
admin
/wp-content/uploads/2020/02/sabr_logo.png
admin
2020-03-24 18:08:44
2020-05-28 15:48:08
April 20, 1914: Cardinals' Bill Doak strikes out 10 in shutout of Cubs