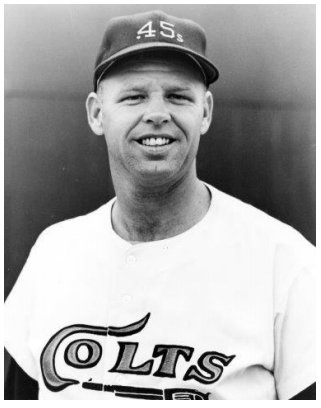 April 23, 1964: Ken Johnson pitches a no-hitter for Houston … and loses the game to Reds
---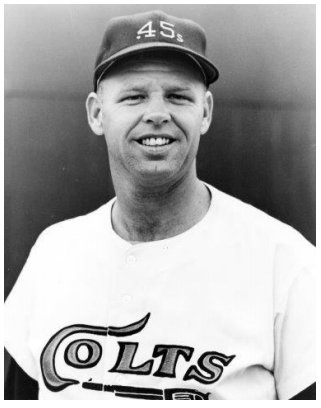 Making baseball history is usually a shining moment or a dream come true.
For the Houston Colt .45s' knuckleball specialist, it was a nightmare.
On Thursday night, April 23, 1964, Ken Johnson pitched a brilliant nine-inning no-hitter against his former team, the pennant-contending Cincinnati Reds — and lost, 1-0. No major-league pitcher had ever met such a frustrating fate, though nine mound artists before him had lost no-hit games in extra innings. "It's a heady feeling to know that you have a niche in history," Johnson said. "So I made history tonight," grinning as he said it. "Heck of a way to get into the books, isn't it?"1
Ten days earlier, Johnson had beaten the Reds on Opening Day in Cincinnati for his sixth straight victory, dating back to 1963 when he was 10th lowest in National League earned-run average (2.65). He had dedicated the game to his fellow pitcher, road roommate, and best friend Jim Umbricht, who died of cancer just five days before.2 Seeking his third win of the season, Johnson pitched a spectacular game before 5,426 fans at makeshift Colt Stadium. He recorded 12 groundball outs, nine strikeouts, and three infield popouts. Only three times did Reds batters reach the outfield. Johnson walked only two batters, both on full counts.3
By the seventh inning, Johnson was aware he had a no-hitter. He asked teammate Don Nottebart, who had pitched the first no-hitter in Colts history against the Philadelphia Phillies 11 months earlier, "How's a guy supposed to feel, Notty? What do you do?" Nottebart replied, "Stay loose and keep going."4 The next inning, Johnson could have won his own game with a two-run homer when he sent left fielder Bob Skinner back to the base of the fence, a 365-foot drive that was caught for the third out.5
The game began with Johnson's strikeout of 1963 National League Rookie of the Year Pete Rose, who became the central figure in this history-making event. Winning pitcher Joe Nuxhall — who almost ruined the no-hitter when he nearly beat out a bunt — led off the ninth with a groundout to third baseman Bob Aspromonte.6 Rose came up next and dropped a bunt on the third-base side of the mound, 15 to 20 feet in front of home plate. Johnson pounced on it, half straightened up and threw wildly to first baseman Pete Runnels and Rose made it to second. In the bottom of the inning, Houston coach Jimmy Adair asked first-base umpire Stan Landes if Rose could have beaten the throw. Landis answered curtly, "I don't have to tell you. If the (official scorer) wants to know, I'll tell him." Adair responded, "Why you chicken blanketyblank," and Landes gave him the heave-ho.7
With Rose on second, Chico Ruiz smashed a line drive off Johnson's shin that left a mark the shape and color of a large plum. Aspromonte fielded the carom and fired to Runnels at first to nip the speedy Ruiz as Rose took third. Needing one out to preserve the no-hitter and shutout, Johnson delivered to Vada Pinson, who hit a routine grounder to second baseman Nellie Fox. The normally surehanded Fox (in his first year with the Colts and 18th in the majors) fumbled the ball, allowing Rose to score as Pinson reached first.
Fox was near tears for making the error that caused Johnson to make history by losing. He approached Johnson in the Houston dressing room immediately afterward. "Ken, I'm sorry I had to mess it up," Fox said. "Don't feel bad about it, Nellie," Johnson replied as he put his arm around Fox's shoulder. "I put the guy on myself. I came up throwing. A good throw would have nailed him."8
Johnson confessed that he could not have continued into extra innings anyway because of the injury suffered on Ruiz's smash. "Even if we had tied it," he said, "I couldn't have gone on."9 Frank Robinson flied out to Jimmy Wynn in left field to end the inning. The Colts had one last gasp in the bottom of the ninth when Runnels reached on Deron Johnson's error at first base with two outs. Landes called Runnels out but home-plate umpire Augie Donatelli overruled Landes, saying Johnson did not have control of the ball when he stepped on the first-base bag. The Reds played the game under protest.10 Bob Lillis came in to run for Runnels but pinch-hitter Johnny Weekly was called out on strikes to end the game.
Johnson got both congratulations and condolences from teammates and fans but did not want sympathy and was not bitter. "What else can I do? I pitched the best game of my life," he said. "I can't feel bad because I lost it. I feel worse for the guys on the club. I guess that sounds funny but it's true."11
Johnson's modesty and class were one of many things unique about this game. Johnson had no-hit the team that gave him a chance to pitch in the 1961 World Series. Both pitchers went the distance in a snappy 1 hour and 56 minutes, Nuxhall pitching a five-hit shutout. Fox, who made the fateful error that decided the game, was the only player on either side to get two hits. Four days later, Johnson appeared on the CBS-TV game show I've Got a Secret. Panelist Henry Morgan, an avid baseball fan and a regular on the show, guessed that Johnson — referred to as "Mr. X" — had pitched a no-hitter and lost.12
Kenneth Travis Johnson spent 18 seasons in professional baseball and pitched for seven major-league clubs with a 91-106 lifetime record. Born in West Palm Beach, Florida, on June 16, 1933, Johnson died on November 21, 2015, at his home in Pineville, Louisiana, from complications of Alzheimer's disease. He was 82 years old.
This article was published in SABR's "No-Hitters" (2017), edited by Bill Nowlin. To read more Games Project stories from this book, click here.
Sources
In addition to the sources cited in the Notes, the author consulted Baseball-Almanac.com, Baseball-Reference.com, and some additional newspapers. Thanks to Lynn Johnson for an interview on December 12, 2013.
Notes
1 Mickey Herskowitz, "A No-Hitter Nobody Could Ever Forget," The Sporting News. May 9, 1964: 5.
2 The Sporting News, April 25, 1964: 22.
3 Ibid; "Colt Spins No-Hitter, Loses," Dallas Morning News. April 24, 1964: Sec. 2, p. 1.4 Murray Chass, "Ken Johnson Makes History in Losing Nine-Inning No-Hitter," Portsmouth (Ohio) Times, April 24, 1964: 18.
5 "Colts' Johnson Loses No-Hit Game, 1-0," Chicago Tribune, April 24, 1964: C1.
6 "Colt Spins No-Hitter, Loses."
7 Herskowitz.
8 "My Fault, Says Colts' Big Loser," Chicago Tribune, April 24, 1964: C1.
9 Herskowitz.
10 "Colt Spins No-Hitter, Loses."
11 Murray Chass.
12 carsonscrafts.com/igas/igas_1964.htm#4-27. I've Got a Secret Episode Guide. Week 620. April 27, 1964. Accessed April 5, 2016.
Additional Stats
Cincinnati Reds 1
Houston Colt .45s 0
---
Colt Stadium
Houston, TX
Box Score + PBP:
Corrections? Additions?
If you can help us improve this game story, contact us.
Tags
https://sabr.org/sites/default/files/Johnson_Ken.png
600
800
admin
/wp-content/uploads/2020/02/sabr_logo.png
admin
2018-10-17 12:46:35
2020-04-17 10:23:52
April 23, 1964: Ken Johnson pitches a no-hitter for Houston … and loses the game to Reds