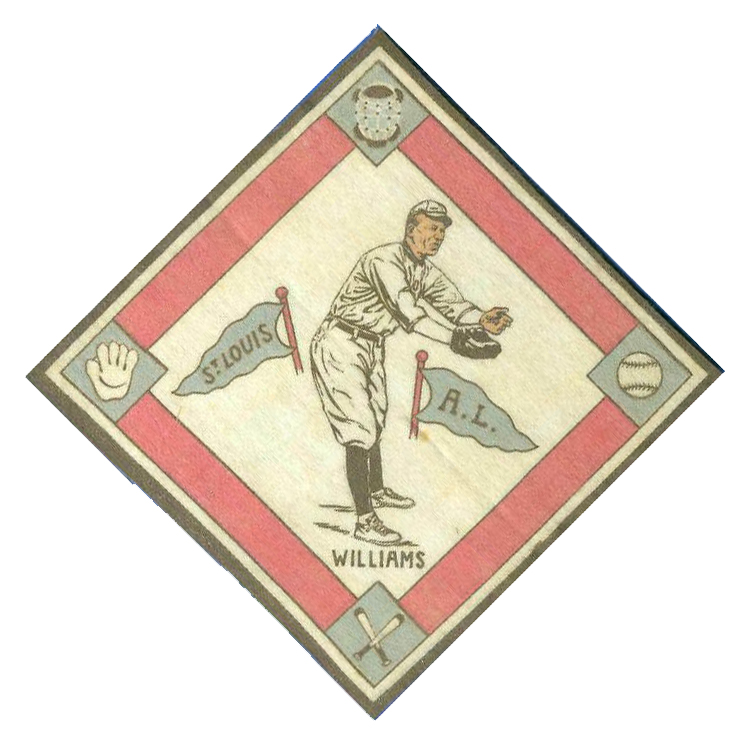 April 24, 1913: Gus Williams hits three triples to power the Browns over the White Sox
---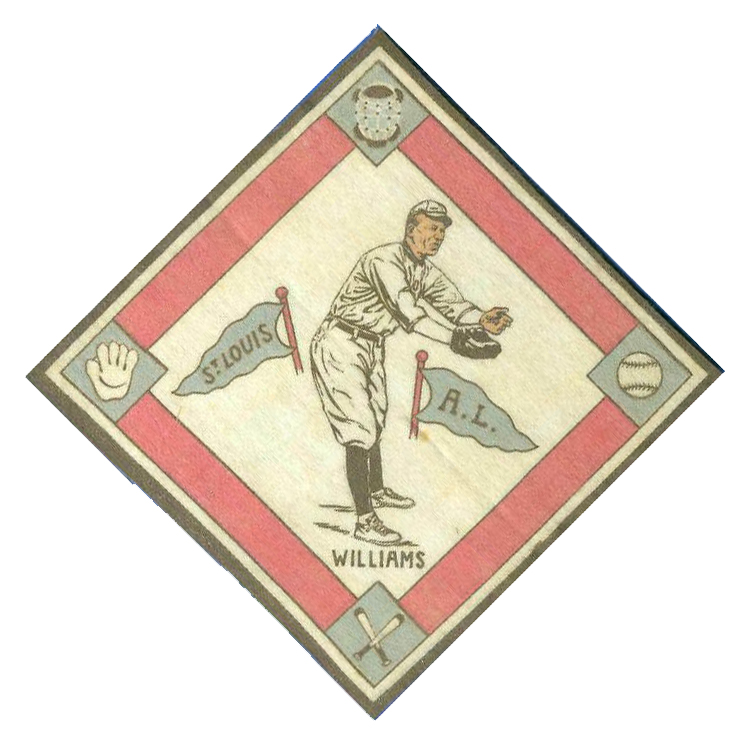 On April 24, 1913, St. Louis Browns outfielder Gus Williams had a batting performance worth remembering. He hit three triples, scored one run, and drove in two more as the Browns beat the White Sox 3-1 at Chicago's Comiskey Park.1 The Browns needed his stellar hitting to overcome third baseman Buck Weaver's offensive and defensive exploits for the White Sox. Weaver drove in Chicago's only run and "turned about four or five plays that were thrillers."2
The Browns of 1913 did not give their fans many opportunities to cheer. They logged their fifth straight losing season, finishing eighth in the eight-team American League with a 57-96 record. Only once, in late June, were the Browns able to put together three consecutive wins.3 They fell below .500 on April 19, and spent most of the summer in seventh place, ahead of only the New York Yankees.4 For the final three weeks of the season, the Browns and Yankees jockeyed between seventh and eighth, with St. Louis settling into last place on the next to last day of the campaign.5
Williams had split the previous two seasons between St. Louis and the minor leagues. He began 1911 as the Browns' left fielder, and in his major-league debut collected three hits, including two doubles, as St. Louis opened the season with a 12-3 win over Cleveland.6 He did not stick with the team, though, playing in just nine games before being sent to Omaha of the Western League.
The following year, Williams played in 57 games for Montgomery of the Southern Association before returning to the Browns on July 27, 1912. He was installed as the right fielder and appeared in 64 games.7 Williams played well for St. Louis, hitting .292 with 13 doubles, 7 triples, 2 home runs, and 18 stolen bases.8 The left-handed-hitting Williams was again in the Browns' starting lineup on Opening Day 1913.9
By April 24, when the Browns arrived in Chicago for the second series of the young season between the teams, their record was 5-8. The White Sox, who entered the contest with a 7-6 record, had won three of four games played earlier in April at Sportsman's Park, the home field of the Browns.
Even though Williams had started all 13 previous games for the Browns, manager George Stovall wavered on his lineup selection. The St. Louis Post-Dispatch reported that Stovall "was on the verge" of benching Williams because of recent poor hitting.10 According to the Chicago Tribune, there was doubt before the game whether Williams or Ernie Walker would play right field.11 In the end, Stovall made a great decision by sending Williams to his usual spot in right field, and slotting him third in the batting order.
In this, the first game of a three-game series, pitcher Eddie Cicotte of Chicago was matched against the Browns' "tall and speedy righthander" Roy Mitchell.12 Neither Cicotte nor Mitchell surrendered a run through the first six innings, even though there was plenty of action on the base paths. In the first inning Weaver grabbed a hard smash and threw a Browns runner out at home plate.13 In the third inning, Cicotte was out at home attempting to score while his White Sox teammate Morrie Rath was in a rundown.14 Later, speedy Jimmy Austin became the second runner thrown out at home by Weaver, who went far into left field to take a relay throw, then "pegged it to the plate perfectly" to nail Austin and prevent a Browns run.15 Williams had hit his first triple in the fourth inning,16 a slash to left landing midway between the outfielders,17 but his teammates failed to bring him home.
In the seventh, the Browns finally crossed home plate. Burt Shotton walked and was sacrificed to second base.18 Williams drove him in with his second triple, this one to the right-field corner, to give St. Louis a 1-0 lead.19
Chicago tied the game 1-1 in their half of the inning. With one out, Walter Mattick "dropped a single" over second baseman Del Pratt's head.20 He moved to second on a hit-and-run groundout back to the pitcher, and scored on Weaver's clean single to right.21
With one out in the eighth inning, Browns outfielder Jonathan Johnston singled to right field.22 Williams followed with a hard-hit ball to left field "just inside the third base line."23 Johnston scored on the play to put the Browns ahead, and Williams made it to third base with his third consecutive triple.24 Next, Pratt hit a long sacrifice fly to right field, bringing Williams home with the Browns' third run of the game.25
The White Sox threatened in the ninth. They put runners on first and third with no outs,26 but their rally fizzled. A popup to the shortstop, a strikeout, and a roller to Pratt, who stepped on second for the force out, ended the game.27 St. Louis celebrated a 3-1 victory.
Both Cicotte and Mitchell pitched nine full innings. They each surrendered 10 hits, but Mitchell gave the White Sox nothing but singles, while the Browns could count four triples and a double among their hits off Cicotte.28 It was Cicotte's first loss of the season, and Mitchell's first win.29 Cicotte would have the better of it over the course of the season, however, finishing 18-11 compared with Mitchell's 13-16.
For the season Williams tallied 16 triples, enough to match Ty Cobb for the fourth highest total in the American League.30 His three triples in one game is still the record for the St. Louis Browns/Baltimore Orioles franchise, although his feat was equaled by Baby Doll Jacobson in 1922 and Al Bumbry in 1973.31 Williams spent his entire major-league career – 410 games – with the Browns from 1911 to 1915 and totaled 31 triples.
Sources
baseball-reference.com/boxes/CHA/CHA191304240.shtml
retrosheet.org/boxesetc/1913/B04240CHA1913.htm
Notes
1 retrosheet.org/boxesetc/1913/B04240CHA1913.htm.
2 Sam Weller, "Williams Swats Sox to Defeat," Chicago Tribune, April 25, 1913: 13.
3 retrosheet.org/boxesetc/1913/VSLA01913.htm.
4 Ibid.
5 retrosheet.org/boxesetc/1913/10041913.htm.
6 retrosheet.org/boxesetc/1911/B04120SLA1911.htm.
7 retrosheet.org/boxesetc/1912/USLA01912.htm.
8 retrosheet.org/boxesetc/1912/USLA01912.htm.
9 retrosheet.org/boxesetc/1913/B04100SLA1913.htm.
10 Clarence F. Lloyd, "Two More Hopes 'Make Good' for Manager Stovall," St. Louis Post-Dispatch, April 25, 1913: 19.
11 Weller.
12 Ibid.
13 Ibid.
14 Ibid.
15 Ibid.
16 Ibid.
17 Lloyd.
18 Ibid.
19 Ibid.
20 Ibid.
21 Ibid.
22 Ibid.
23 Ibid.
24 Ibid.
25 Ibid.
26 Weller.
27 Lloyd.
28 www.retrosheet.org/boxesetc/1913/B04240CHA1913.htm.
29 retrosheet.org/boxesetc/1913/B04240CHA1913.htm.
30 Cobb's teammate Sam Crawford led the league with 23 triples.
31 retrosheet.org/boxesetc/B/XF_BAL.htm.
Additional Stats
St. Louis Browns 3
Chicago White Sox 1
---
Comiskey Park
Chicago, IL
Box Score + PBP:
Corrections? Additions?
If you can help us improve this game story, contact us.
Tags
https://sabr.org/sites/default/files/WilliamsGus_0.jpg
600
800
admin
/wp-content/uploads/2020/02/sabr_logo.png
admin
2019-10-07 13:40:55
2020-04-17 10:22:30
April 24, 1913: Gus Williams hits three triples to power the Browns over the White Sox