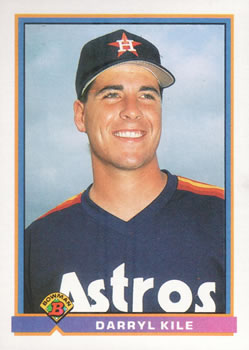 April 24, 1991: Close but no no-no for Kile in debut; Astros squeeze past Reds in 13
---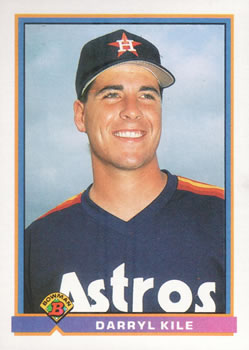 "I can't be concerned with the fans," Astros manager Art Howe said after a 1-0 victory in extra innings over the Cincinnati Reds. "I have to worry about [Darryl] Kile's arm."1 Howe had received an earful from the 10,869 in the Astrodome when public-address announcer J. Fred Duckett told them Kile had been lifted for a reliever. The issue was the circumstances under which Howe decided to remove Kile — in the seventh inning of a potential no-hitter, a game that the Astros eventually won, 1-0, in extra innings.
To top it off, April 24, 1991, was the 22-year-old Kile's first major-league start. A year earlier he had been seen as a can't-miss prospect in the Astros' system, lumped together with Steve Avery and Andy Benes "as the best pitching prospects in the minors in 1989."2 But after a season at Triple-A Tucson, where he went 5-10 with a 6.64 ERA,3 Kile's future was somewhat suspect.
The Reds entered the game as defending World Series champions with a 91-71 regular-season record in 1990, but were off to a modest 7-6 start in the early days of the 1991 season. The Astros, in contrast, were coming off a 75-87 season in 1990, and were off to a similarly uninspiring 6-8 start.
Kile cruised through the first three innings with the only blemish on his pitching line a leadoff walk in the second inning to Paul O'Neill. He opened the fourth with a walk as well, to the number-two hitter Herm Winningham, but stranded Winningham on base. Kile went through the fifth and the sixth innings setting down Cincinnati in order, striking out Winningham to end the sixth with his 65th pitch of the game.
Meanwhile, Reds hurler Jack Armstrong, who was 1-1 with an 8.00 ERA going into the game, matched Kile almost pitch for pitch, leaving two on in the first and then cruising through the second, third, and fourth in order. In the fifth the Astros' Tuffy Rhodes reached on a one-out single, but Armstrong escaped the inning on a fielder's choice and a strikeout.
As the seventh inning approached, Howe was faced with his decision. While Kile had thrown just 65 pitches through six innings, he had his longest outing of his rookie season (three innings) just four days earlier, on April 20. (He had, however, thrown 41 pitches, while giving seven earned runs in 1⅓ innings a week earlier.) After the game Howe acknowledged that he faced a tough choice: "It was a no-hitter! I thought and thought about it. But my No. 1 concern was that young man's arm. He was so pumped up, he could have gone out there and had something bad happen, because he hasn't pitched this long before."4
For his part, Kile didn't complain. "I probably could have thrown just one more inning, anyway," he said. "I would have liked to try, but the main thing was to win the game."5
Howe did concede that Kile "still looked strong when I took him out. But I didn't want to wait until he didn't look strong."6
Howe elected to go with lefty Al Osuna to start the seventh against the heart of the Reds' lineup, which consisted of Barry Larkin (a 1990 All-Star with splits of .301/.358/.396), O'Neill (.270/.339/.421 in 1990), and Hal Morris (.340/.381/.498 in 1990). While Larkin was a right-handed batter, the other two were lefties. Osuna, making his eighth appearance of the young season and entering the game with a 1.69 ERA, set the Reds down in order.
Armstrong came out to pitch the bottom of the seventh, and after one-out singles by Luis Gonzalez and Jeff Bagwell, he snuffed out the rally with a 6-4-3 double play pitch. Osuna returned to the mound for the eighth and continued his early-season mastery by again retiring Cincinnati in order.
Mark McLemore led off the bottom of the eighth with a walk but Reds manager Lou Piniella continued to stand by Armstrong. Switch-hitter Dave Rohde hit for Osuna and advanced McLemore to scoring position with a bunt, but Armstrong justified Piniella's confidence by striking out Eric Yelding looking and getting Steve Finley to fly out to center.
Art Howe sent Curt Schilling out to start the ninth. Like Kile, Schilling was considered a top young right-handed prospect. Houston had acquired him in the offseason in a trade that sent first baseman Glenn Davis to Baltimore. Davis, a former first-round pick, had been a cornerstone of the franchise in the 1980s, hitting 30 or more home runs three times from 1986 to 1989, but in 1990 he was injured and played in only 93 games. In exchange for Davis, the Astros had received a package of Schilling, right-handed starter Pete Harnisch, and center fielder Finley.
With the pitcher's spot due to lead off the top of the ninth, Piniella sent former Astro Bill Doran to the plate to pinch-hit for pitcher Armstrong. On a 2-and-1 count, Schilling gave up the Reds' first hit, ending the possibility of the first NL multiple-pitcher no-hitter since 1956.7 Doran advanced to third on a wild pitch with two outs, but Schilling got Larkin swinging to end the threat.
In the bottom of the 11th Casey Candaele walked. Eric Yelding bunted and the throw to first by Reds pitcher Don Carman hit Yelding in the foot and bounded into right field. Even as Candaele scampered around the bases, home-plate umpire Terry Tata called Yelding out for interference — he had been running inside the baseline. That sent Candaele back to first base. Yelding was still furious after the game ended, telling his teammates, "Have a good year. I'm out of here."8 In the top of the 12th, Winningham led off with a bunt single. Larkin, who was described as "the best offensive shortstop" in the NL,9 sacrificed the Winningham to second, but the threat was extinguished when, after an intentional walk, the Astros' Dwayne Henry induced successive fly balls to end the inning.
Finally, in the bottom of the 13th, the Astros broke through against Reds reliever Scott Scudder. Rafael Ramirez singled to left with one out. After a walk to catcher Craig Biggio, Ken Caminiti hit a grounder to short but the Reds could get only the out at second. Ken Oberkfell batted for pitcher Henry and looped a ball that caromed off the outstretched glove of second baseman Mariano Duncan, allowing Ramirez to score and ending the evening with a 1-0 Astros victory.10
This article appears in "Dome Sweet Dome: History and Highlights from 35 Years of the Houston Astrodome" (SABR, 2017), edited by Gregory H. Wolf. To read more articles from this book at the SABR Games Project, click here.
Notes
1 Terry Blount, "Astros Disarm Reds in 13 Innings; No-Hit Bid Ends in Ninth," Houston Chronicle, April 25, 1991.
2 Bill James, The Baseball Book 1990 (New York: Villard Books, 1990), 299. (Kile's name was surrounded by stars, indicating a highly-touted prospect.)
3 Bill James, The Baseball Book 1991 (New York: Villard Books, 1991), 91.
4 Blount.
5 Blount.
6 Blount.
7 Reds pitchers Johnny Klippstein, Hersh Freeman, and Joe Black combined for a no-hitter against the Milwaukee Braves in 1956. Mark Langston and Mike Witt of California had the most recent (as of 2016) combined AL no-hitter, against the Seattle Mariners in 1990.
8 Blount.
9 James (1990), 301.
10 Blount.
Additional Stats
Houston Astros 1
Cincinnati Reds 0
13 innings
---
Astrodome
Houston, TX
Box Score + PBP:
Corrections? Additions?
If you can help us improve this game story, contact us.
Tags
https://sabr.org/sites/default/files/KileDarryl-1991.jpg
600
800
admin
/wp-content/uploads/2020/02/sabr_logo.png
admin
2018-09-25 12:39:15
2020-04-17 10:23:55
April 24, 1991: Close but no no-no for Kile in debut; Astros squeeze past Reds in 13