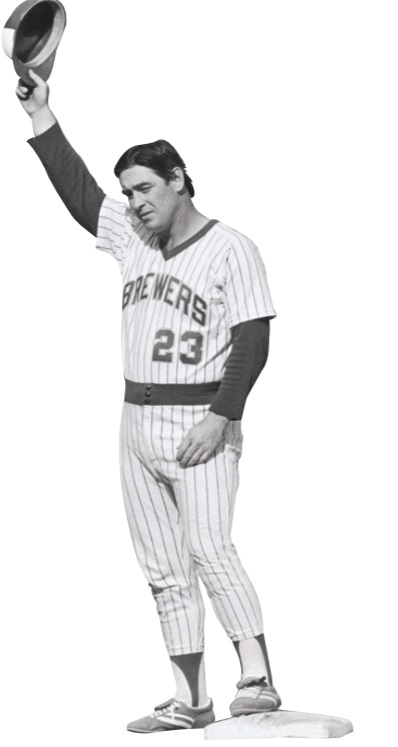 April 25, 1985: Brewers score last 10 runs of game, win on Ted Simmons' grand slam
---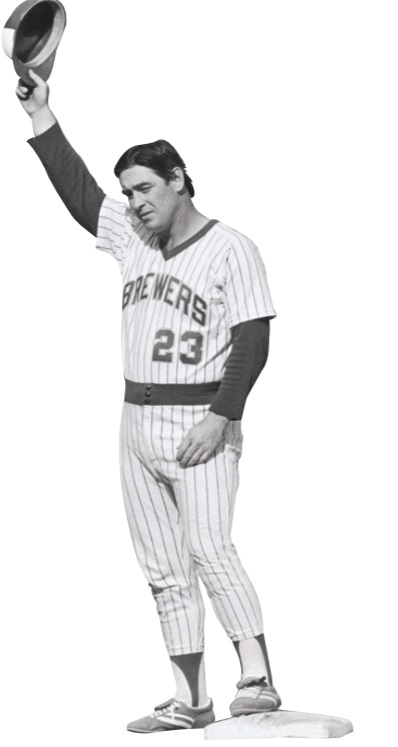 After winning the American League pennant in 1982, the Milwaukee Brewers slipped to fifth place in 1983 and last place in 1984. Coming off a 94-loss season in 1984, the Brewers opened the 1985 season with seven victories in their first 13 games, and game 14 of the 1985 season let the Brewers and Brewers fans feel, at least for one night, as though it was 1982 again.
Trailing the defending World Series champion Detroit Tigers, 7-1, after seven innings, the Brewers rallied with five runs in each of the last two innings for a stunning 11-7 victory. Making the come-from-behind victory more remarkable was that the Brewers' five runs in the ninth inning came after Tigers reliever Bill Scherrer had retired the first two hitters in the inning. "We scored five runs in the eighth," said Brewers first baseman Ted Simmons. "It would have been too much for that to happen again."1
But Simmons and Paul Molitor made it happen again in the ninth inning. With two outs, Molitor, who had delivered a crucial two-run double in the eighth inning, drilled Scherrer's first pitch to him into the center-field seats for a solo home run to tie the game, 7-7. For Molitor, who had been limited to just 13 games in 1984 because of injuries, it was his first home run since 1983. "There were two out," Simmons said. "We were history. Paulie snatched it back."
Molitor said, "It's hard to stay up when you're down 7-1. Other than [hitting coach] Frank Howard, not a lot of people were talking in the dugout. I wasn't thinking home run, by any means. I haven't hit a home run since 1983. I just try to keep it going any way I can."
Robin Yount and Brian Giles kept the ninth inning going with singles. Scherrer got two strikes on the next batter, Ben Oglivie, who had doubled in a run in the eighth inning, then hit him with a pitch. Simmons, who was 2-for-4 with an RBI so far, was the Brewers' next hitter. He drove Scherrer's pitch over the right field wall for a game-winning grand slam. "I was just looking for a fastball," Simmons said. "He (Scherrer) started everybody with that curveball. I expected that when I came to the plate but he shook off the sign. When he did that I knew it was going to be a fastball, because if there's anybody they're going to throw a hook to, it's me."
Simmons's first grand slam as a Brewer set off a celebration among his teammates and the fans — from the announced crowd of 9,619 — who had stayed. Before Simmons reached first base, his teammates sprinted from the dugout to greet him at home plate. "That's the kind of emotion I remember from '82," Simmons said. "This is the kind of thing you need to bring it back. This is what I remember from '82."
The Brewers' five-run rally in the eighth inning came off Tigers starter Milt Wilcox and reliever Willie Hernandez. Wilcox faced three hitters before Hernandez, the 1984 AL Cy Young Award winner, relieved. Hernandez, who was 9-3 with 32 saves in 1984, allowed two runs.
Milwaukee's victory knocked Detroit out of first place for the first time since 1983 and left the Brewers (8-6) and Tigers (8-6) tied for second place in the AL East, a half-game behind first-place Baltimore. The Tigers had won 107 consecutive games in which they led after eight innings. The streak included the entire 1984 regular season and postseason and the first 13 games of the 1985 season. "We were due one," Tigers manager Sparky Anderson said.
The heroics by Simmons prompted a request for a curtain call from the fans. The Milwaukee Journal described the situation, "The grand slam that streaked off Simmons' bat in the ninth inning created a din that hadn't been heard in County Stadium since the World Series in 1982, a delirious roar that was a total stranger during the last-place stumble of 1984. Simba! Simba! Simba!" At first, Simmons (Simba) didn't realize the fans wanted a curtain call. "I didn't know what was going on," Simmons said. "I finally got the drift. It was nice."
Brewers manager George Bamberger said, "I wonder how many people turned their radios off — around the seventh inning?"
The Tigers had built their 7-1 lead on the strength of shortstop Alan Trammell's bat. Trammell had three hits — two triples and a two-run home run — and four RBIs.
The euphoria from the victory didn't last. The Brewers lost their next five games (and 14 of their next 18) and finished the year in sixth place in the AL East with a 71-90 record — 28 games behind the first-place Toronto Blue Jays (99-62).
This article appears in "From the Braves to the Brewers: Great Games and Exciting History at Milwaukee's County Stadium" (SABR, 2016), edited by Gregory H. Wolf. To read more stories from this book at the SABR Games Project, click here.
Notes
1 All quotations in this article are from the Milwaukee Journal, April 26, 1985.
Additional Stats
Milwaukee Brewers 11
Detroit Tigers 7
---
County Stadium
Milwaukee, WI
Box Score + PBP:
Corrections? Additions?
If you can help us improve this game story, contact us.
Tags
https://sabr.org/sites/default/files/Ted%20Simmons.jpg
600
800
admin
/wp-content/uploads/2020/02/sabr_logo.png
admin
2018-04-13 13:48:07
2020-04-17 10:24:49
April 25, 1985: Brewers score last 10 runs of game, win on Ted Simmons' grand slam