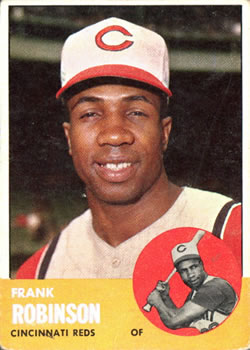 April 26, 1959: Redlegs win seesaw contest with walk-off over Braves' Spahn
---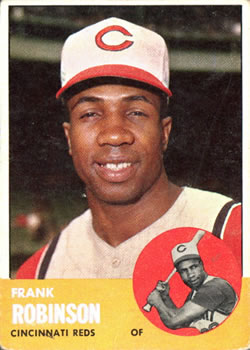 On a late-April Sunday afternoon at Crosley Field, the Cincinnati Redlegs hosted the Milwaukee Braves in a slugfest. Cincinnati battled from behind three times to defeat the defending National League pennant winners. A wild and loud crowd of 14,925 braved a chance of rain to cheer the Redlegs to victory. The seesaw game ended on Frank Robinson's sacrifice fly in the bottom of the ninth, which secured a walk-off 11-10 victory for Bob Purkey and the Reds over Warren Spahn and the Braves. The loss knocked Milwaukee into second place in the National League, a half-game behind the Los Angeles Dodgers.
Joe Nuxhall and Lew Burdette started for the Redlegs and Braves respectively. Managers Mayo Smith of the Redlegs and Fred Haney of the Braves tried to keep early-season pitch counts down, so they kept a short leash on their pitchers. First-place Milwaukee had won seven of their first 10 games coming into the contest, while the Redlegs were in fifth place with a record of 6-6.
The first three batters in the game, Jim Pisoni, Eddie Mathews, and Hank Aaron, reached base on an error and two singles, and Milwaukee took a quick 1-0 lead. Jerry Lynch tripled for the Redlegs in the first but was stranded. Pisoni singled to start the Milwaukee third inning and he scored when Mathews tripled. Aaron then drove in his second run of the game with a sacrifice fly to center. Nuxhall walked Joe Adcock and Wes Covington, and with the score 3-0, manager Smith brought in Willard Schmidt, who got Del Crandall to hit into an inning-ending double play.
The Redlegs then "roughed up Lew Burdette and two successors in the third,"1 pushing across six runs on six hits. Roy McMillan singled to begin the assault, and Burdette hit Schmidt with a pitch. Two runs scored on groundouts and Robinson drove one in with a single. With the score tied and runners on first and third, Burdette was pulled for Bob Hartman, making his major-league debut. After giving up a walk and two run-scoring singles, putting the Redlegs ahead 6-3, Hartman was pulled for Bob Rush. Rush plunked Schmidt, who became the first batter to ever be hit by a pitch twice in one inning. Johnny Temple's grounder ended the inning. The Redlegs had sent 12 batters to the plate and turned a 3-0 deficit into a 6-3 lead.
In the Braves' half of the fourth inning, Johnny Logan lined a shot right back up the middle, and the ball struck Schmidt in his pitching hand. So, in about a half an inning, Schmidt had been hit three times! He could not continue, and Orlando Peña came in to pitch, facing only two batters (a walk and a two-run triple by pinch-hitter Bill Bruton). Hal Jeffcoat relieved Peña and got two groundouts, but the second brought in a run, and then Hank Aaron blasted a home run, driving "his fourth homer over the laundry."2 The Braves had recaptured the lead, 7-6.
In the Cincinnati fifth, Bob Buhl, now on for Milwaukee, took his turn to be victimized. An error by Braves first baseman Adcock, a walk, and RBI singles by Johnny Temple and Vada Pinson brought in two unearned runs and Cincinnati had again overcome a deficit, leading 8-7.
Milwaukee added a tally in the sixth off Tom Acker, as Mathews singled, Aaron doubled, and Adcock grounded out, scoring Mathews. In the top of the seventh, Acker was replaced by Bob Mabe, Cincinnati's sixth pitcher of the game, after giving up a single and a walk. Bruton doubled to right off Mabe and Frank Torre singled, and just like that, Mabe was walking to the dugout. Pitcher number 7, Jim O'Toole, got Mathews to line into an inning-ending double play. The Braves now led, 10-8.
Bob Trowbridge, the fifth Braves pitcher (and fourth "Bob" on the mound for his team), didn't last long in the bottom of the seventh. Don Newcombe, Temple, and Pinson hit consecutive singles, and it was 10-9 Braves. Warren Spahn came inn to pitch with no outs, a run already home, and runners at first and second. Spahn struck out the side, showing his usual dominance as the "ancient nemesis"3 of Cincinnati. However, he gave up a leadoff homer to Frank Thomas to start the eighth inning, and the game was tied again. Thomas's hit was "a towering poke that landed on the roof of the laundry."4
The Redlegs' eighth pitcher, Bob Purkey, held the Braves scoreless in the eighth and ninth innings. To start the bottom of the ninth, Temple smacked a double off Spahn. (Temple's three-run home run had helped to defeat Spahn on the previous day.) Pinson followed with a bunt single, putting runners on the corners with no outs. Pinch-hitter Del Ennis was given an intentional pass. With no outs and the bases loaded, Robinson came up and drove a Spahn offering to center field deep enough for Temple to tag up and score the winning run. The Redlegs had prevailed, 11-10.
The Redlegs outhit the Braves, 18 to 15. A total of 38 players got their names in the box score, and as a group, they took 95 sets of hacks against 14 pitchers. The nine-inning game lasted 3 hours 35 minutes. For the Braves, Mathews, Aaron, and Bruton each had three hits, and they trio knocked in eight of the team's 10 runs. For the Redlegs, Temple had four safeties, and Pinson and Robinson each had three. Robinson's second RBI of the game was the game-winner.
Purkey, normally a starter for Cincinnati, earned the victory with his relief role.5 Purkey and Spahn had been the starters the day before. Cincinnati's use of eight pitchers in a game set a record, since broken many times.
This was the first time in three years that a Cincinnati team had beaten the Braves in back-to-back games. The Associated Press wrote that it was "the first time in years they had defeated Warren Spahn two days in a row."6 Cincinnati had beaten Spahn and the Braves 7-6 the day before.7 That victory was only the 16th time in 13 years (against 51 losses) that Cincinnati had beaten Spahn, the winningest left-hander in baseball history.8
In his career, Spahn was 62-29 (.681) against Cincinnati, with a 2.94 earned-run average. This was his second-best winning percentage against any team.9 This game was Spahn's first of four relief appearances in 1959 and his only relief appearance against the Redlegs. For the season, he was 3-5 in eight games (seven starts) against Cincinnati.
This article was published in "Cincinnati's Crosley Field: A Gem in the Queen City" (SABR, 2018), edited by Gregory H. Wolf. To read more articles from this book at the SABR Games Project, click here.
Sources
In addition to the sources mentioned in the notes, the author consulted Baseball-Reference.com, mlb.com, and retrosheet.org.
Notes
1 Associated Press, "Reds Turn Back Braves Twice in Row for First Time Since 1956," New York Times, April 27, 1959: 32.
2 Lou Smith, "Reds Rip Braves, 11-10; Spahn Again Gets Loss," Cincinnati Enquirer, April 27, 1959: 43.
3 Ibid.
4 Ibid.
5 According to Retrosheet, Purkey made 38 appearances in 1959, with 33 of them as starts. He had started the game the previous day but had lasted only two innings, facing 13 batters and allowing three runs on six hits and a walk.
6 Associated Press, "Reds Turn Back Braves Twice in Row for First Time Since 1956," New York Times, April 27, 1959: 32.
7 Thirteen days later, on May 9, 1959, Spahn faced Purkey and the Redlegs again, at County Stadium in Milwaukee. He pitched eight innings and took a third consecutive loss to Cincinnati, 3-0. (Purkey earned his fourth victory of the season.) On July 22, again at County Stadium, Spahn pitched a complete game, breaking the losing streak, as the Braves defeated the Redlegs, 5-4.
8 "This Way Out, Spahnie," Cincinnati Enquirer, April 26, 1959: 1.
9 Spahn was 48-19 (.716) against the Chicago Cubs with a 2.90 ERA and was 64-41 (.609) with a 3.00 ERA against the St. Louis Cardinals.
Additional Stats
Cincinnati Reds 11
Milwaukee Braves 10
---
Crosley Field
Cincinnati, OH
Box Score + PBP:
Corrections? Additions?
If you can help us improve this game story, contact us.
Tags
https://sabr.org/sites/default/files/RobinsonFrank-CIN.jpg
600
800
admin
/wp-content/uploads/2020/02/sabr_logo.png
admin
2019-10-02 14:48:50
2020-04-17 10:22:30
April 26, 1959: Redlegs win seesaw contest with walk-off over Braves' Spahn