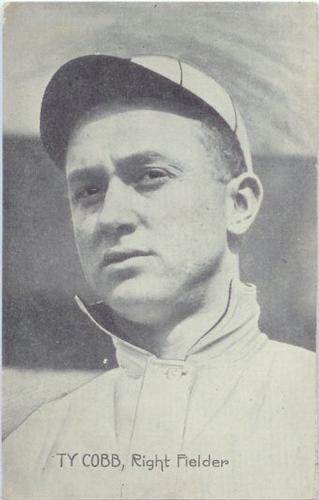 April 29, 1913: Ty Cobb's holdout ends
---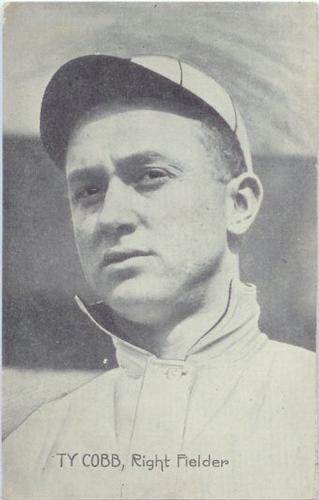 Baseball fans were reading a lot about Ty Cobb in the early months of 1913: The war of words between Cobb and Tigers President Frank J. Navin was exploding into sports-page headlines. In January the Tigers had sent Cobb a $9,000 employment contract,1 which was the same salary he had received each of the prior three seasons.2 Cobb returned it unsigned, demanding $15,000.3
Navin's position on Cobb's contract was reported in the February 1 edition of The Sporting Life:
"I admit that Cobb is the greatest ball player that ever lived, and is the biggest individual asset the Detroit Club possesses, but we will be firm in resisting Cobb's efforts to hold us up for a big increase in salary. Cobb is now drawing a large salary, as base ball salaries go, and if he cannot see his way clear to signing at our terms, we will have to get along without him."4
Cobb and the Tigers were far apart, and remained far apart throughout spring training and the first three weeks of the season.
Navin could not deny Cobb's greatness. In 1909 Cobb had won the Triple Crown, leading the American League in batting average, home runs, and runs batted in. His 1911 season was better. He led the league in batting (.419), hits, runs, doubles, triples, stolen bases, runs batted in, and slugging. His performance is often cited as one of the greatest single seasons by any batter.5 He was nearly as good in 1912, hitting a league-best .409, topping the league in hits and slugging, and placing among the top four players in runs, triples, home runs, on-base percentage, and stolen bases.6
While awaiting a contract to his liking, Cobb formed a semipro team, which played games in Georgia, South Carolina, and Alabama.7 The Atlanta Constitution interviewed Cobb when his team played there in March. He told their reporter to expect to find him in center field for Detroit on Opening Day.8 He cautioned, however, that a ballplayer has just a short time to earn income, so "it behooves him to get every cent he can."9 Cobb admitted that he might hold "exaggerated ideas of my own worth," but ultimately, he expected Navin to treat him fairly.10
On the eve of the 1913 season, the Detroit Free Press reported Cobb had disbanded his traveling team, and speculated that he might join the Tigers for the opener against the St. Louis Browns.11 Detroit manager Hughie Jennings was less sanguine. Jennings did not expect to hear from Cobb, "much less that he will be in the lineup against St. Louis."12
In the same article, Navin contradicted other reports, claiming he offered Cobb a substantial raise.13 He accused Cobb of treating Detroit unfairly by missing exhibition games, which caused the club to lose "a great deal of gate money." Navin was unyielding. "The Detroit Club's ultimatum has been made," he said. If necessary, the team would play without Cobb.
Cobb was not in St. Louis for the opener on April 10. Instead, he released a statement from his Augusta, Georgia, home expressing surprise that Navin "would make no further inducements" to secure his services. Cobb denied that Navin had offered him a pay increase. "I have informed the Detroit ball club what my proposition is," he said. "I have never received a proposition from the club." Cobb vowed loyalty to Detroit, but conceded it might be best for everyone "if I am traded to another club."14
After the season began, Cobb remained in Georgia, and Navin continued breathing fire. Navin denied that Cobb's salary demand was justified, citing a drop of $40,000 in Detroit's road gate receipts in 1912 compared to 1911 despite Cobb's great play. Navin claimed fans want to watch a winning team, not a star player. If Cobb persisted in asking for $15,000, Navin declared, "It is a waste of time."15
Suddenly things changed. Cobb was scheduled to arrive in Detroit on Thursday, April 24, for talks with Navin the following morning.16 The meeting had been arranged by stage actor Vaughn Glaser,17 who was appearing at Detroit's Lyceum Theater.18 Glaser was from Georgia, Cobb's friend, and "one of the most ardent baseball fans in the country." After talking by phone with Cobb, Glaser convinced Navin to invite his star player to Detroit — an invitation Cobb had demanded.
Responding to Navin's overture, Cobb boarded a train to Detroit. Glaser met Cobb at the depot on Thursday19 and drove him to Navin's office on Friday. Cobb and Navin greeted each other cordially. It took just one hour to ratify a contract making Cobb the best-paid ballplayer. His salary was not revealed, but the Free Press believed it to be $11,000, a sum exceeding Honus Wagner's record $10,000 salary.20 Cobb's actual salary was $12,000.21
After signing, Cobb visited with his teammates before their Friday afternoon game.22 Detroit lost to Cleveland that day, as it had on Thursday.23 Cobb planned to practice with the team Saturday morning and play that afternoon, if reinstated by the National Commission. Baseball's governing body had suspended him for not reporting to Detroit before its first game.24
But when Saturday arrived, so did rain. As the Free Press quipped, "It certainly is tough on Navin to have Old Sol go on strike just when the trouble with Ty Cobb has been adjusted."25 Cleveland left Detroit after three consecutive rainouts kept everybody off the diamond. Finally, on April 29, when the Tigers took the field against visiting Chicago, Cobb ran to center field. He was playing by special permission of the National Commission pending formal reinstatement.26
The first three White Sox batters of the game reached base, and two of them scored.27 Detroit fans greeted Cobb with an ovation when he came to bat in the bottom of the first inning, but he failed to get a hit. In the third, Cobb singled home a run as the Tigers tied the game at 2-2.
The Sox scored one in the fourth and another in the sixth to lead 4-2, but in the eighth, Detroit evened the score when a wild pitch from Chicago's Reb Russell scored one run, and a fly ball by Bobby Veach another. Detroit might have scored more runs that inning, but Cobb "rolled weakly to the pitcher" with two runners on base.
In the 11th Detroit did not score even though Cobb drew a walk and showed off his speed and baserunning bravado by going from first to third on a grounder to shortstop.28 The White Sox scored twice in the 12th inning on three singles and a walk to go ahead 6-4. Detroit scored once in its half of the inning, but lost 6-5, spoiling Cobb's season debut.
Cobb had performed well, especially considering he had not played since an April 9 game with his semipro team.29 He drove in a run, and displayed his daring baserunning. The fans' first-inning ovation signaled that they held no ill will.
When the 26-year-old Cobb signed his new contract, he was emphatic: "I am all through with this holdout business."30 He called the lengthy contract dispute "simply a business matter," and pledged to play his best.31 That he did.
Sources
retrosheet.org/boxesetc/1913/B04290DET1913.htm
baseball-reference.com/boxes/DET/DET191304290.shtml
Notes
1 E.A. Batchelor, "Ty Cobb Here for Talk with Navin on Salary Hitch," Detroit Free Press, April 25, 1913: 12.
2 baseball-reference.com/players/c/cobbty01.shtml#all_br-salaries.
3 Batchelor.
4 "Ty Cobb Chided," Sporting Life, February 1, 1913: 11.
5 See, e.g., Sam Quentin, "Top 10 Dominant Seasons in MLB History," The Richest.com, May 7, 2014 therichest.com/baseball-sports/top-10-best-offensive-seasons-in-mlb-history/. Accessed October 16, 2019.
6 https://retrosheet.org/boxesetc/1912/YL_1912.htm.
7 "Cobb Ready to Discuss His Salary," Detroit Free Press, April 11, 1913: 12.
8 Dick Jemison, "Will Be with Detroit Club when Season Opens, Says Ty; Plays at Ponce Park Today," Atlanta Constitution, March 28, 1913: 10.
9 Jemison.
10 Jemison.
11 E.A. Batchelor, "Neither Jennings nor Navin Has Heard from Ty Cobb," Detroit Free Press, April 10, 1913: 12.
12 Batchelor, "Neither Jennings nor Navin has Heard from Ty Cobb."
13 Batchelor, "Neither Jennings nor Navin has Heard from Ty Cobb."
14 "Cobb Ready to Discuss his Salary."
15 "Has Aroused Navin's Ire," Detroit Free Press, April 14, 1913: 8.
16 "Ty Cobb Expected to Reach Detroit Thursday Morning," Detroit Free Press, April 24, 1913: 10.
17 Glaser later appeared in 21 feature films, including The Pride of the Yankees, in 1943. tcm.com/tcmdb/person/72051%7C150276/Vaughan-Glaser/. Accessed November 27, 2019.
18 Batchelor, "Ty Cobb Here for Talk with Navin on Salary Hitch."
19 "Ty Cobb Here for Talk with Navin on Salary Hitch."
20 "Georgia Star and Magnate Come to Amicable Terms."
21 According to Baseball-Reference.com, the salary was $12,000, but was reduced to $11,333 because of games missed during his holdout. https://baseball-reference.com/players/c/cobbty01.shtml.
22 "Georgia Star and Magnate Come to Amicable Terms."
23 https://retrosheet.org/boxesetc/1913/04251913.htm
24 "Georgia Star and Magnate come to Amicable Terms."
25 E.A. Batchelor, "Last Contest with Naps Is Postponed; Sox Here Tuesday," Detroit Free Press, April 29, 1913: 10.
26 "Will Take Action on Cobb Case Thursday," Detroit Free Press, May 1, 1913: 12.
27 "Ty Cobb's Batting Weak Against Sox," New York Times, April 30, 1913: 9.
28 Details of the game from the New York Times.
29 Batchelor, "Ty Cobb here for Talk on Salary Hitch."
30 "Georgia Star and Magnate Come to Amicable Terms."
31 "Georgia Star and Magnate Come to Amicable Terms."
Additional Stats
Chicago White Sox 6
Detroit Tigers 5
12 innings
---
Navin Field
Detroit, MI
Box Score + PBP:
Corrections? Additions?
If you can help us improve this game story, contact us.
Tags
https://sabr.org/sites/default/files/Cobb-Ty-1909.jpg
600
800
admin
/wp-content/uploads/2020/02/sabr_logo.png
admin
2020-02-20 11:45:41
2020-04-17 10:22:18
April 29, 1913: Ty Cobb's holdout ends