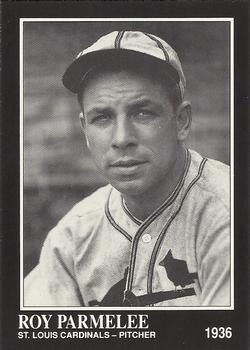 April 29, 1936: Parmelee bests Hubbell in epic 17-inning duel
---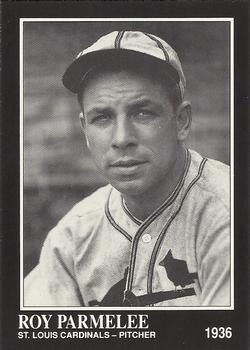 "There is a new heroic figure in the Cardinals picture," gushed St. Louis sportswriter J. Roy Stockton after Roy "Tarzan" Parmelee emerged victorious in an epic 17-inning pitchers' duel with Carl Hubbell to defeat the New York Giants, 2-1.1 Parmelee, who finished with a six-hitter, "gave a masterful demonstration of his skill," opined John Drebinger of the New York Times.2
The Giants and Cardinals began the 1936 campaign as likely challengers to dethrone the reigning pennant-winning Chicago Cubs. The runner-up Redbirds, led by feisty player-manager Frankie Frisch, who had guided the Gas House Gang to their last title two years earlier, had won 96 games in 1935, but started slowly in '36. They were in sixth place (4-5), three games behind the Giants (8-3). Since taking over for the legendary John "Little Napoleon" McGraw during the 1932 season, player-manager Bill Terry had skippered the Giants to at least 90 wins in his first three full seasons and to a World Series title in 1933.
The first game of the three-game series, scheduled for Tuesday, April 28, was billed as a match-up between right-handers Parmelee, whom the Cardinals had acquired from the Giants in the offseason in exchange for infielder Burgess Whitehead; and Hal Schumacher, winner of 61 games in the last three seasons.3 When the game was postponed by rain, Terry gave the start to Hubbell, the league's best hurler. Known for his screwball, the 32-year-old southpaw had amassed a record of 146-88, including wins in his two starts thus far in '36. He had won 23, 21, and 23 games respectively in the last three seasons, and was named NL MVP in 1933. That year he tossed an 18-inning complete game to defeat the Cardinals, 1-0, in the Polo Grounds. As fate would have it, his former teammate would exact revenge on behalf of the Cardinals. Parmelee, with a career record of 41-31 in parts of eight seasons, relied on a more standard repertoire of heaters and curves. "His powerful arm can throw a ball with a swiftness that would do credit to the greatest speed pitcher of the game," opined F.C. Lane in Baseball Magazine.4
A modest crowd of about 3,500 was at Sportsman's Park on a Wednesday afternoon to witness what the Post-Dispatch subsequently described as "the most brilliantly played game in years."5 The Great Depression had hit hard in the Gateway City, where unemployment had hovered around 30 percent since 1930. Attendance at the ballpark sank to an average of 3,327 in 1933, rising to 5,819 three years later.
After Parmelee yielded a two-out hit to Mel Ott in the first, a seemingly unimportant event in the bottom half of the frame foreshadowed the final play of the game. Future Hall of Famer Travis "Stonewall" Jackson fumbled Pepper Martin's two-out grounder to third for an error. The 32-year-old Jackson, a career shortstop, had been moved to third base the previous year after the team acquired Dick Bartell. Martin moved to second on Medwick's single before Johnny Mize grounded back to Hubbell. St. Louis waited 11 innings for another good scoring opportunity.
Parmelee and Hubbell mowed down the opposition for 11 scoreless innings. The crowd was "on edge as one thrill followed another," according to Stockton.6 In the tense environment, the Cardinals' bench jockeys, led by Martin, Frisch, and Leo "The Lip" Durocher, harassed their counterparts mercilessly. The Gas House Gang "used to be nervy, noisy and noisesome," wrote Harold Parrott of the Brooklyn Eagle, "but now they're twice as bad. Jibes, some laughable, some mean, some of fighting pitch, spewed out of the mouth of the Cardinal dugout."7
The Giants caught a break in the 12th. After Whitehead drew a walk, Terry played small ball for a run. On his manager's orders, Ott, who eventually led the NL in round-trippers in 1936 for the third of six times, sacrificed Whitehead to second. Cleanup hitter Hank Leiber, coming off an impressive campaign (.331-22-107), belted a single to drive in Whitehead for the first run of the game. "The Cardinals bristled with resentment," exclaimed the Post-Dispatch.8 In what seems like an apocryphal story, Durocher, the Redbirds' combative shortstop, came to the mound to console Parmelee. "It's just one run," yelled the Lip. "Bear down on the next two hitters and we'll get that one back."9 Parmelee retired Sam Leslie and Travis Jackson to end the frame.
Joe "Ducky" Medwick, who entered the game leading the majors with a .452 batting average, started the Cardinals' rally in the 12th with a one-out single to center. Mize followed with a tricky fly to short right field. Seemingly intent on making a shoestring catch, Ott charged the ball, but "decided to play it safe," and let it hit the ground.10 The ball took a peculiar bounce, hitting him in the chest and rolling away, enabling Medwick to reach third and Mize second. Hubbell met with his infielders, then gave Spud Davis a free pass to fill the bases. Speedy rookie Stu Martin replaced Mize as a pinch-runner representing the winning run. Charley Gelbert lined a single to right, driving in Medwick, but Ott made a perfect throw home to nail Martin, who "was out by such a wide margin he didn't even bother to slide," wrote Stockton, adding that some veteran members of the Gas House Gang were irritated by Martin's failure to take out the catcher, Gus Mancuso.11
Described as a "broad-shouldered, stout-hearted but mild-mannered and modest right-hander,"12 Parmelee worked around a leadoff single to Jo-Jo Moore in the 14th, the only hit he surrendered in the last five innings of the game, and a walk to Mancuso to lead off the 16th. The next batter in both cases missed a bunt on a fastball, resulting in Moore getting picked off first and Mancuso being thrown out easily at second.13 "Parmelee's speed was too much for the Giants," wrote the Post-Dispatch.14
Weakening in the 16th, Hubbell yielded consecutive two-out singles to Frisch and Martin, and then loaded the bases with an intentional pass to Medwick. Ripper Collins, who had replaced Mize at first base, was next. He was a dangerous hitter but was batting a paltry .182 entering the game. His weak grounder forced Medwick at second and ended the inning.
With "shadows stretching from the grandstand to the bleachers," the umpires met after the 16th inning to determine if they should call the game, effectively ending it as a tie, a normal though rare occurrence in the days before stadium lights.15 (Lights were installed at Sportsman's Park in 1940.) The umpires informed the managers that the 17th would be the final frame regardless of the outcome.16
After Parmelee put yet another zero on the scoreboard, the Cardinals had one last shot. Slow-footed catcher Spud Davis lined a leadoff double down the right-field line, and was replaced by pinch-runner Lynn King. Hubbell met with his infielders again to discuss strategy. Possessing the era's best control, "King Carl" issued yet another free pass, to Gelbert, to play for a twin killing. After Durocher lined out to center field, Parmelee followed with what sportswriters universally considered a routine double-play ball, but sure-handed All-Star shortstop Bartell fumbled it, filling the bases. Terry Moore, who had been on fire, batting. 421 entering the game, hit a chopper to Jackson at third. On what appeared to be another routine play, Jackson threw wildly toward home, drawing Mancuso off the plate, as King slid across with the winning run after 3 hours and 41minutes.
"Apparently beaten at one stage of the 17-inning diamond struggle," chimed the Post-Dispatch, Parmelee "deserved the victory."17 In the game of his life, Parmelee hurled the longest complete-game victory in Cardinals history, and tied Dizzy Dean for the most innings pitched in a game (records Parmelee still held as of 2016). Parmelee struck out nine, walked four, and yielded only six hits, never more than one in an inning. In a heartbreaking loss, Hubbell surrendered 11 safeties and fanned six. Only twice since Parmelee's and Hubbell's grueling gems have two pitchers come close to hurling complete games as long in the same contest. Jack Harshman beat Al Aber on August 13, 1954, and Juan Marichal defeated Warren Spahn on July 2, 1963, each game by a score of 1-0 in 16 innings.18
As exciting as the Cardinals' victory was, it was pushed from the front page of the St. Louis Post-Dispatch by the death of Harry Hoffmann, a local bartending legend, longtime fan, and friend of team owner Sam Breadon. Hoffmann suffered a heart attack at the game and died minutes before the Cardinals won.19
Inspired by Parmelee's performance, St. Louis sportswriter L.C. Davis composed the following verse:
"One to Parmelee"
There was a young man named Leroy
Who was once in the Giants employ;
Though he postponed the winning
Till the seventeenth inning
To the Cardinal fans he brought joy.20
This article appears in "Sportsman's Park in St. Louis: Home of the Browns and Cardinals at Grand and Dodier" (SABR, 2017), edited by Gregory H. Wolf. Click here to read more articles from this book online.
Sources
In addition to the sources cited in the Notes, the author also accessed Retrosheet.org, Baseball-Reference.com, the SABR Minor Leagues Database, accessed online at Baseball-Reference.com, SABR.org, and The Sporting News archive via Paper of Record.
Notes
1 J. Roy Stockton, "Parmelee Emerges as Pitching Hero in 17-Inning Victory," St. Louis Post-Dispatch, April 30, 1936: 2B.
2 John Drebinger, "Cardinals Defeat Giants in 17th, 2-1," New York Times, April 30, 1936: 23.
3 J. Roy Stockton, "Cardinals' Game Rained Out; Athletics 4, Browns 2," St. Louis Post-Dispatch, April 28, 1936: 1B.
4 F.C. Lane in Baseball Magazine, June 1934, quoted in Bill James and Rob Neyer, The Neyer/James Guide to Pitchers (New York: Fireside, 2004), 335.
5 The St. Louis Post-Dispatch estimated the attendance at 3,500; the New York Times gave a figure of 4,500.
6 "Parmelee Emerges as Pitching Hero in 17-Inning Victory."
7 Harold Parrott, "Giants in Misery While in Missouri," Brooklyn Daily Eagle, April 30, 1936: 20.
8 "Parmelee Emerges as Pitching Hero in 17-Inning Victory."
9 Ibid.
10 Ibid.
11 Ibid.
12 Ibid.
13 "Red Bird Notes," St. Louis Post-Dispatch, April 30, 1936: 2B.
14 Ibid.
15 In the days before stadium lights, ties were rare, yet expected. From 1931 to 1936, the Cardinals had five tied games; the Giants had eight, including four in 1933 and three in 1935.
16 "Parmelee Emerges as Pitching Hero in 17-Inning Victory."
17 Ibid.
18 Jack Harshman of the Chicago White Sox hurled a nine-hit shutout to beat the Detroit Tigers and Al Aber on August 13, 1954, at Comiskey Park. Minnie Miñoso's one-out triple won the game. In a storied contest, San Francisco's Juan Marichal limited the Milwaukee Braves to eight hits over 16 innings on July 2, 1963. Warren Spahn, then 42 years old, surrendered a one-out home run to Willie Mays for the only run of the game.
19 "Harry Hoffmann, 'The Count,' Dies at Ball Game," St. Louis Post-Dispatch, April 30, 1936: 1A.
20 L.C. Davis, "Spot Salad," St. Louis Post-Dispatch, May 1, 1936: 2C.
Additional Stats
St Louis Cardinals 2
New York Giants 1
17 innings
---
Sportsman's Park
St. Louis, MO
Box Score + PBP:
Corrections? Additions?
If you can help us improve this game story, contact us.
Tags
https://sabr.org/sites/default/files/ParmeleeRoy-STL.jpg
600
800
admin
/wp-content/uploads/2020/02/sabr_logo.png
admin
2018-11-08 13:25:34
2020-04-17 10:23:48
April 29, 1936: Parmelee bests Hubbell in epic 17-inning duel