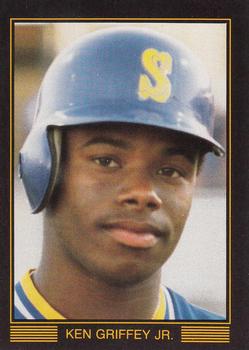 April 3, 1989: Ken Griffey Jr. makes major-league debut for Mariners
---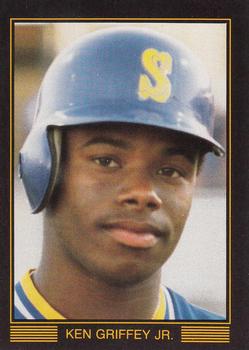 The Seattle Mariners' Opening Day 1989 turned out to be a special one for a kid from Cincinnati. This was no ordinary Mariners Opening Day. It was the debut of Ken Griffey Jr. and over 46,000 fans in Oakland were in attendance to witness the beginning of a Hall of Fame career.
Junior Griffey started the night off in high fashion with a double in his first major-league at-bat. The Mariners' leadoff man, second baseman Harold Reynolds, had flied out to center to start the game. Griffey had not yet taken on his customary third place in the batting order yet; Mariners manager Jim Lefebvre (working his first game as a major-league manager) had slotted him second and in center field for his debut. The ball Griffey hit off Oakland ace Dave Stewart was a bomb to left-center field that just barely missed leaving the Coliseum. But the Mariners couldn't get Griffey home with first baseman Alvin Davis flying to right and cleanup man Darnell Coles grounding out to end the top half of the first.
Before the game was over, Coles twice missed home runs — both times by a matter of inches — which might have made all the difference in the game.
Mariners ace Mark Langston had a rough first inning. He gave up a double to Oakland leadoff man Tony Phillips and hit center fielder Dave Henderson with a pitch. Third baseman Carney Lansford flied out to center, advancing Phillips to third base. Cleanup batter Mark McGwire blasted a ball to Griffey in center field and Phillips scored. Catcher Terry Steinbachwalked but Dave Parker flied out to Coles in right field to end the inning with the A's leading 1-0.
The Mariners went 1-2-3 in the second with a popout and two fly outs.
In the bottom of the second, after the A's Glenn Hubbard grounded out to lead off, Stan Javier singled to center and stole second. He was stranded as shortstop Walt Weiss and left fielder Tony Phillips both grounded out.
Dave Stewart continued to make quick work of the Mariners, getting three fly-ball outs in the third: Edgar Martinez flying to right field, Omar Vizquel in his major-league debut flying out to center field, and Harold Reynolds flied out to left.
In the Oakland third, Dave Henderson flied out to center. Carney Lansford followed with a single to center and took second on an error by shortstop Vizquel. McGwire followed with a homer to left to put the A's up 3-0. Steinbach flied to left and Parker grounded out to second.
In the top of the fourth, the Mariners once again went 1-2-3 against Stewart. Griffey and Davis flying out to left and right respectively and Coles striking out. The A's did the same in the bottom of the inning: Hubbard flied to center, Javier struck out looking, and Weiss grounded to third.
The Mariners broke the ice in the fifth. DH Jeffrey Leonard beat out a grounder to third and Greg Briley walked. Leonard took third as catcher Dave Valle grounded into a double play, and scored on a single to right by Martinez. Vizquel's fielder's-choice grounder to shortstop ended the rally. In the home half, Henderson singled to center but the inning ended when Lansford grounded into a double play.
Seattle got another run in the sixth. With one out, Griffey walked and Davis reached on an error by A's second baseman Hubbard. A single to center by Darnell Coles scored Griffey. Before getting his hit, Coles just missed a three-run home run when his drive left the park just outside the left-field foul pole. Three Mariners all said the same five words after the game: "I thought it was gone."1
Gene Nelson took over for Stewart and struck out Leonard and Briley to end the inning with the score 3-2, A's.
Langston yielded a single to McGwire in the Oakland sixth, but got Steinbach on a fly to center, Parker on a fielder's-choice grounder to shortstop, forcing out McGwire, and Hubbard on a foul pop to first.
Catcher Valle started the Mariners seventh with a single to left, but Martinez lined out to center field, Vizquel flied to right , and Reynolds hit a force-play grounder to second. The A's went 1-2-3 in the bottom of the inning.
Oakland reliever Rick Honeycutt took over in the eighth. He got Griffey to fly out to center and struck out Davis. Oakland manager Tony LaRussa then summoned closer Dennis Eckersley, who struck out Darnell Coles.
Langston, still pitching for Mariners, got another 1-2-3 inning in the eighth. Eckersley did the same in the top of the ninth, getting a groundout and two fly outs to finish the game. Referring to his bullpen, LaRussa said, "With that group, I'm the envy of every manager in baseball."2
The Mariners started four rookies in the game: Edgar Martinez, Ken Griffey Jr., Omar Vizquel, and Greg Briley. Vizquel stood out with his fielding at shortstop.
Mark Langston took the loss though he gave up only six hits and retired the last nine batters he faced. It was the second year in a row that he had lost the Opening Day game for the Mariners. He was traded later in the 1989 season to the Montreal Expos for Randy Johnson, Brian Holman, and Gene Harris. Mike Campbell was later sent to Montreal as a player to be named later in the deal.
Eckersley got the save — just as he had in the 1988 opener, saving a game for the same winner, Dave Stewart.
McGwire drove in all three Oakland runs. Seattle manager Jim Lefebvre said, "Langston made one mistake and McGwire hit it out." He was sanguine about the loss, however: "When you play good and lose, you don't have to put your head down."3
McGwire was playing without the A's other "Bash Brother" in the lineup. Jose Canseco was out with a left wrist injury. McGwire claimed not to be feeling additional pressure on himself as a result. "I can't put that pressure on me. … There's a lot of guys that have to contribute."4
Tony LaRussa, who had led the A's to the World Series in 1988 (the Dodgers won the Series in five games), commented, "I don't want to hear about last year. That's over. This is 1989. We got all we needed of 1988 in the pregame ceremonies."5
The 19-year-old Ken Griffey Jr. finished his rookie campaign with a .264 batting average, 16 home runs, and 61 RBIs, and finished third in the American League Rookie of the Year voting.
The A's went on to rule the American League and all of baseball in 1989, winning the World Series in a four-game sweep over the San Francisco Giants.
The Mariners finished the season 73-89 (.451), in sixth place in the American League West.
Sources
In addition to the sources cited in the Notes, the author consulted Retrosheet.org, Baseball-Reference.com, and the Spokane Spokesman Review of April 4, 1989.
https://www.baseball-reference.com/boxes/OAK/OAK198904030.shtml
https://www.retrosheet.org/boxesetc/1989/B04030OAK1989.htm
Notes
1 Bob Finnigan, "Mariners Fall Just Short in a Game of Inches," Seattle Times, April 4, 1989: F9. Coles, Lefebvre, and Langston were all quoted in Finnigan's story using the same five words.
3 Associated Press, "McGwire Homers in A's Victory," Yuba-Sutter (California) Appeal-Democrat, April 4, 1989: C-1.
4 "McGwire Homers in A's Victory."
5 David Bush, "Giants, A's Take the Openers," San Francisco Chronicle, April 4, 1989: D1.
Additional Stats
Oakland Athletics 3
Seattle Mariners 2
---
Oakland-Alameda County Colliseum
Oakland, CA
Box Score + PBP:
Corrections? Additions?
If you can help us improve this game story, contact us.
Tags
https://sabr.org/sites/default/files/Griffey-Ken-Jr-1989.jpg
600
800
sabr
/wp-content/uploads/2020/02/sabr_logo.png
sabr
2020-03-31 17:21:32
2020-06-22 17:40:38
April 3, 1989: Ken Griffey Jr. makes major-league debut for Mariners