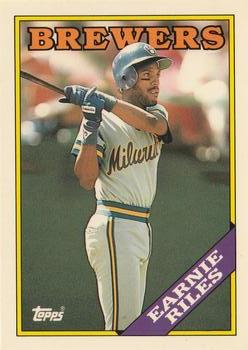 April 4, 1988: Brewers blast Baltimore on Opening Day
---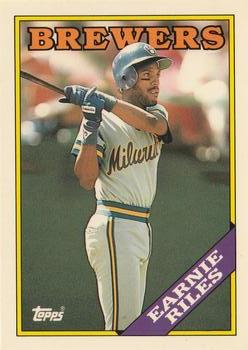 After posting a 91-71 record in the 1987 season (a 14-game improvement over 1986), Milwaukee Brewers manager Tom Trebelhorn was very optimistic about 1988. "I think we're going to pitch better," he said. "I think we'll contain the opposition better. The maturity of our young pitchers from a year ago, plus our bullpen depth, gives us a better staff. Teddy (Higuera) has to set the tone for the pitching staff and pitch like he did in the second half of last year." (11-3, 2.71 ERA)1
On April 4, 1988, in front of 52,395 at Memorial Stadium, the Orioles' largest crowd ever, the Brewers had the pitching, hitting, defense, and baserunning working well, posting a 12-0 whitewashing of the Orioles. Brewers third baseman Ernest Riles, who went 3-for-5 with two runs batted in, agreed: "It was almost a perfect game for us. You couldn't ask for any more than that. I'd like to have about 99 more of them."2
The Brewers got three hits off Orioles starter Mike Boddicker in the first three innings: a one-out single by Robin Yount in the first, a two-out single by Glenn Braggs in the second, and a one-out single to center by Dale Sveum in the third. Paul Molitor followed Sveum's hit with a walk, but the inning ended when Yount grounded into a double play.
The Orioles had no hits in the first inning but threatened in the second. Fred Lynn led off with a double, but Higuera bore down and struck out Larry Sheets, then retired the next two batters, Rick Schu and Terry Kennedy, on infield grounders.
Milwaukee scored two runs in the top of the fourth inning. B.J. Surhoff led with a single and took second when Greg Brock was hit by a pitch. Rob Deer's double scored Surhoff and sent Brock to third. Braggs flied out to Orioles right fielder Joe Orsulak, who threw a perfect strike to home and got Brock. Deer advanced to third base on the play and scored on a single by Riles.
Trebelhorn talked about the significance of Riles's hit after the game. He said, "Ernie Riles probably had the biggest hit of the day with the two-out single after they made the defensive play."3 Riles agreed, adding, "I figured that was a pretty big hit too. When they threw the guy out at the plate, that gave them momentum. Then I got the hit and it goes right back our way. That kind of let the air out of their balloon."4
The Brewers added two more runs in the fifth. Sveum and Molitor led off with singles and Yount's sacrifice moved them up. Surhoff's fly to left field scored Sveum with Molitor advancing to third. After Brock was given an intentional walk, Molitor scored on a double steal. The inning ended when Deer was called out on strikes.
Mike Boddicker's tough afternoon continued in the sixth inning. He didn't surrender any runs but he had to leave the game after a one-out single up the middle hit his ankle. Baltimore brought in Ozzie Peraza, who was making his major-league debut, and he retired the side.
The Brewers added two runs in the seventh. Molitor led off the inning with a walk and stole second base. After Yount struck out, Molitor stole third. Surhoff reached base on an error by catcher Kennedy on an attempted squeeze play. He took second on a wild pitch. A walk to Brock loaded the bases. After Deer struck out, Braggs reached on a grounder to first, avoiding a tag by Peraza. Molitor and Surhoff both scored, giving the Brewers a 6-0 lead. The inning ended when Riles flied out to right.
After the game Molitor talked about the stolen bases. "It's basically mathematics," he said. "Some guys are quick to the plate; some guys are slower. (Peraza) was taking a long time to deliver the ball. We took advantage of it. You have to do those things to manufacture runs."5 Molitor elaborated further on baserunning: "I've always said baserunning is one of the most enjoyable parts of the game for myself. There are going to be times when you're not swinging the bat well, either individually or as a club. You still have to be aggressive."6
Of his infield hit, Braggs commented, "I saw the pitcher got a late jump, so I dived away from him at the bag so he couldn't tag me. We're going to hit some balls over the fences, but we can also create some havoc on the bases. That's what we did today. It puts pressure on the other team."7
Higuera set down the Orioles in order in the bottom of the seventh, and the Brewers followed with a six-run eighth inning, giving them a 12-0 advantage.
Jim Gantner led off the inning with a single to left field, and pinch-runner Steve Kiefer appeared to be picked off, but made it to second on Peraza's wild throw. The Brewers' Sveum followed with a home run, which made the score 8-0 and ended Peraza's outing.
Dave Schmidt came in for the Orioles and retired Molitor on a groundout. It was the only out he got a nightmare performance. He walked Yount, who went to third on Surhoff's single. Brock followed with a single, driving in Yount, and Deer doubled, scoring Surhoff. Brock scored from third on a wild pitch by Schmidt. Next Braggs was hit by a pitch and Riles singled, driving Deer home. Doug Sisk came in for Schmidt, and he retired Steve Kiefer and Sveum to end the inning.
It would have been great for Higuera to pitch a complete game for a shutout on Opening Day, but it was not to be. Trebelhorn took him out after the Brewers' big inning. "That one inning was just so bloody long coming out of spring training that I felt it was kind of silly sending him back out there," the manager said. "If there had been the normal progression of time between innings, I think he could have completed the game."8 Teammate Juan Nieves agreed with the skipper's call, adding, "He had to sit around for 22 minutes and that's not too healthy in the beginning of the year. It's a long year and a long career."9
Mark Clear pitched the eighth inning for Milwaukee. He was hit on the back of the right arm by Terry Kennedy's leadoff hit. Clear stayed in and finished the inning. Dan Plesac worked a three-up-three-down ninth inning.
Higuera was pleased with his outing. "I was able to throw my three pitches over for strikes at any time. I felt great all game, right from the beginning. We scored a lot of runs, and my control was great. It is a combination of the two that wins ballgames."10 Teammate Plesac said of Higuera, "In my opinion, he's the best pitcher in the league. He may not have the overpowering stuff of a Roger Clemens, but as far as his ability to mix his pitches and keep hitters off-balance, he's the best."11
It was the first regular-season game Molitor played after his mother, Kathy, died of a heart attack near the end of spring training. "What happened to my mom, I hope I can use that as a motivating factor. … [S]he inspired me when she was here, and I'm sure she's going to do that for me where she is now. I'll keep her in my mind always."12
Brewers outfielder Mike Felder, who didn't play because of a pulled hamstring, lamented, "I was hurting watching that game. That was my kind of game. Stolen bases. Scoring from second on an infield hit. Diving into first base."13
The Brewers 12-run triumph was the major leagues' second-largest margin of victory in a shutout on Opening Day.14 This had happened twice before; the Brewers were on the short end of one of those games, losing 12-0 to the California Angels in the 1970 season opener, their first game as the American League Milwaukee Brewers.
Sources
In addition to the sources cited in the Notes, the author also consulted the following:
1988 Milwaukee Brewers yearbook.
Retrosheet.org.
https://www.baseball-reference.com/boxes/BAL/BAL198804040.shtml
https://www.retrosheet.org/boxesetc/1988/B04040BAL1988.htm
Notes
1 Tom Haudricourt, "Brewers Have a Tough Act to Follow," Milwaukee Sentinel, April 4, 1988: 2-1.
2 Haudricourt. "Brewers Open with 12-0 victory," Milwaukee Sentinel, April 5, 1988: 2-1.
3 Tom Flaherty, "Brewers Are Off and Running Past Orioles," Milwaukee Journal, April 5, 1988, C-2.
4 Flaherty.
5 Haudricourt. "Brewers Take Their Cue from Molitor," Milwaukee Sentinel, April 5, 1988: 2-1.
6 Flaherty.
7 Haudricourt. "Brewers Open with 12-0 Victory."
8 Bud Lea, "For Openers, Brewers Were Awesome," Milwaukee Sentinel, April 5, 1988: 2-3.
9 Lea.
10 Lea.
11 Flaherty.
12 "Nieves, Riles are a Cut Above," Milwaukee Journal, April 5, 1988: C-2.
13 Flaherty.
14 The Pittsburgh Pirates achieved the largest margin with a 14-0 shutout of the Cincinnati Reds on April 12, 1911.
Additional Stats
Milwaukee Brewers 12
Baltimore Orioles 0
---
Memorial Stadium
Baltimore, MD
Box Score + PBP:
Corrections? Additions?
If you can help us improve this game story, contact us.
Tags
https://sabr.org/sites/default/files/Riles-Ernest.jpg
600
800
admin
/wp-content/uploads/2020/02/sabr_logo.png
admin
2020-03-19 22:49:55
2020-06-23 17:23:51
April 4, 1988: Brewers blast Baltimore on Opening Day