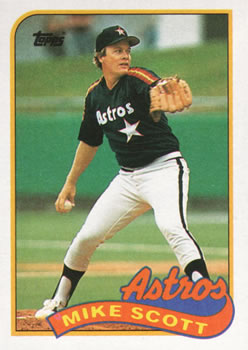 April 4, 1989: Astros, Mike Scott win season opener over Braves at the Dome
---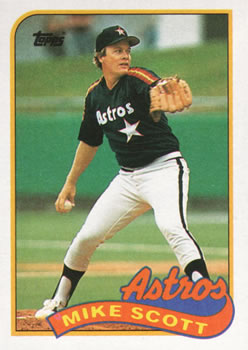 The baseball season is long and grinding. In 1989, every team faced a 162-game schedule crammed into 182 days. What can we expect from any season? The physical endurance of players is certain to be tested. The emotions of fans will surely be moved like a rollercoaster. The patience of teams, particularly those with losing records, will be challenged. As any season begins, there is one day that serves as a marker for what lies ahead for each team: Opening Day.
New York Times columnist and author George Vecsey put it directly that very year. "There is no sports event like Opening Day of baseball, the sense of beating back the forces of darkness and the National Football League."1 Hall of Fame pitcher Early Wynn was always willing to frankly assess any baseball subject.2 "An opener is not like any other game. There's that little extra excitement, a faster beating of the heart. You have anxiety to get off to a good start, for yourself and for your team. You know that when you win the first one, you can't lose 'em all."3
On this day, the Houston Astros and the Atlanta Braves were opening the 25th season of baseball at the Astrodome. At its opening in 1965 as the first covered baseball park, the Astrodome was dubbed the "Eighth Wonder of the World."4 Its semitransparent skylight panels illuminated the playing field but those became a problem for fielders tracking fly balls so they were painted during the first season. The natural grass on the playing field could not survive without that light, resulting in a new first in the 1966 season. The Astros and Dodgers played the first game ever on artificial turf.5
For the Astros, the Opening Day start went to Mike Scott for the third consecutive year. The 1986 NL Cy Young Award winner6 was buoyed by the two-year contract extension he signed the day before. The extension was worth as much as $4.75 million, making Scott one of the highest-paid pitchers in baseball.7 For Zane Smith, it was his first Opening Day start.
Typically, starting pitchers are not expected to be at their sharpest on Opening Day. Mike Scott got four Braves on swinging strikeouts over the first three shutout innings, but walked three. Zane Smith was not so fortunate. Glenn Davis opened the second inning with a 425-foot home run to deep left-center.8 Kevin Bass and Ken Caminiti singled and each advanced on a one-out groundout. An Opening Day surprise struck early. Mike Scott lined a single to right, scoring two runs for a 3-0 lead. Art Howe, making his managerial debut, had pondered the 1988 statistic that pitchers were 0-for-80 with two outs and runners in scoring position. "I told the pitchers all spring how much it could help our offense."9
Smith's day grew worse in the third inning. Two singles and a walk loaded the bases with no outs. A grounder to third baseman Ron Gant forced Rafael Ramirez at home, but a passed ball by Jody Davis scored a run. A walk to Bill Doran and a pop-fly error by second baseman Jeff Blauser finished Zane Smith's evening. Jose Alvarez replaced Smith, allowed the second unearned run of the half-inning on a ground ball out, and the Astros led 6-0 after three innings.
As Mike Scott took the mound in the fourth inning, his pitch count was mounting. He threw 61 pitches in the first three innings, including five three-ball counts. In the fourth, Gant hit a two-out solo home run to deep left-center on a full count. In the fifth inning, Scott was hit harder, but held on. Blauser opened with a single before pinch-hitter Dion James lined out to second baseman Bill Doran and Lonnie Smith took center fielder Gerald Young to the warning track for the second out. However, Tommy Gregg's double to right scored Blauser before Doran snagged another liner off the bat of Gerald Perry and the Astros led, 6-2.
Mike Scott struck out the side in the sixth inning but walked Gant and yielded a line-drive single to right by Andres Thomas. Scott's pitch count was now at 112 as he came out to pitch the seventh inning. Two fly-ball outs preceded Gregg's homer, cutting the Astros' lead to 6-3. After Perry grounded out to first on Scott's next pitch, his 121st of the game to close out the half-inning, the pitcher's opening night was over. Relief pitcher Larry Anderson was credited with a hold against the Braves with a three-up, three-down eighth inning.
Meanwhile, the Astros' bats had been relatively quiet since the third inning, facing three Atlanta relievers, Jose Alvarez, Jim Acker, and Mark Eichhorn. That changed in the bottom of the eighth inning and Eichhorn bore the entire brunt of the Astros' offense. Terry Puhl opened with a pinch-hit bunt single and was sacrificed to second base by Gerald Young. Puhl scored on Billy Hatcher's single to left and Hatcher advanced to third when Davis hit a ground-rule double to deep right-center for a 7-3 Astros lead. Eichhorn intentionally walked Bass to load the bases. Any intended strategy failed when Craig Reynolds' pinch-hit single scored two more runs. Ken Caminiti ended the inning's scoring with an RBI single to right for a 10-3 Astros lead.
Relief pitcher Dave Smith pitched the ninth in a non-save situation, retiring the Braves while yielding a single and a walk, and Scott had his third straight Opening Day victory, all at the Astrodome. On April 6, 1987, Scott had pitched seven innings in a 4-3 win over the Los Angeles Dodgers. On April 5, 1988, he had pitched eight innings in a 6-3 victory over the San Diego Padres. In both games, Dave Smith recorded the save for the Astros.
Opening Day can serve as a season's marker in many different ways. In 1989, it erased the bad memories of spring training in which the Astros lost 14 of their final 17 games.10 Scott had observed, "We can score runs. We've got good hitters. We didn't have a good spring, but so what? It didn't count. This counts."11 Scott went on to become a 20-game winner for the only time in his career in 1989. His 20-10, 3.10 ERA record put him second to the San Diego Padres' Mark Davis (4-3, 1.85 ERA, 44 saves) for the National League Cy Young Award, which Scott had won in 1986.
This Opening Day produced drama and outstanding performances elsewhere. In Montreal, Tim Raines' bases-loaded walk scored the winning run in the Expos' come-from-behind, walk-off victory over the Pittsburgh Pirates, 6-5. Mike Scott's gritty pitching was matched in Arlington, Texas, as Charlie Hough and Jack Morris dueled with complete-game performances. Hough prevailed on a five-hit shutout as the Texas Rangers beat the Detroit Tigers, 4-0.
This Opening Day also teased Astros' fans whose team managed to score 10 runs, more than any other major-league team did in their season's debut. After the opening victory, the Astros lost the next two of the three-game series with the Braves and managed a rather slow start, finally climbing back to a .500 record (20-20) in mid-May. By early June, they had climbed into a first-place tie with San Francisco and Cincinnati in the National League West Division. They managed to hang around second place in the NL West for a good part of the season until finally finishing in third place, six games behind the division-leading Giants with an 86-76 record.
New Yorker essayist Roger Angell reflected on the "psychic and profound" meaning that Opening Day holds for all baseball fans: "Fans throng to their home parks in very large numbers for these chilly inaugurals, because Opening Day represents so much to them. It is a ceremony of renewal and welcome – a celebration of the simultaneous return of springtime and baseball time, a brief moment of pure hope, and a noisy, cheerful restoration of the bonds of loyalty and affection that bind the fans to their home club, and vice versa."12 That is Opening Day!
Author's note
For a chemical engineer, a trip to Houston and a view from the air of the Astrodome was a regular occurrence. On this night, the author checked two off his to-do list, Opening Day and a ballgame at the Astrodome.
Sources
baseball-reference.com/boxes/HOU/HOU198904040.shtml
retrosheet.org/boxesetc/1989/B04040HOU1989.htm
Notes
1 George Vecsey, A Year in the Sun (New York: Crown Publishing, 1989), 133.
2 David Fleitz, "Early Wynn," SABR Baseball Biography Projects, sabr.org/bioproj/person/6d0d8788: "Beginning in 1955, Wynn produced a regular column for the Cleveland News, titled 'The Wynn Mill,' and donated the money he earned from the effort to the Elks Club in Nokomis [Florida]. Though he had dropped out of high school, Early wrote without the assistance of a ghostwriter. …"
3 Baseball Almanac, "Opening Day," baseball-almanac.com/opening_day/opening_day.shtml, accessed December 23, 2017.
4 Josh Leventhal, Take Me Out to the Ballpark (New York: Black Dog & Leventhal Publishers, 2000), 111. The Seven Wonders of the Modern World: (1) Mayan City, Chichen Itza, Mexico; (2) Statue of Christ Redeemer, Brazil; (3) Great Wall, China; (4) Machu Picchu, Peru; (5) Ancient City of Petra, Jordan; (6) Roman Colosseum, Italy; (7) Taj Mahal, India.
5 Ibid.
6 Scott's award-winning 1986 season was marked by All-Star selection and an 18-10, 2.22 ERA record. His durability was highlighted by league-leading stats, 275⅓ innings pitched and 306 strikeouts.
7 Neil Hohlfeld, "An Extension for Scott," The Sporting News, April 17, 1989: 20.
8 Neil Hohlfeld, "Astros Bring in Season With Bang, Scott's Arm, Bat Set Pace in 10-3 Romp," Houston Chronicle, April 5, 1989.
9 Ibid.
10 Ibid.
11 Ibid.
12 Paul Dickson, The Dickson Baseball Dictionary, 3rd Edition (New York: WW Norton & Company, 2009), 604 (from Roger Angell, "On the Magic of Opening Day," New York Times, April 3, 1983).
Additional Stats
Houston Astros 10
Atlanta Braves 3
---
Astrodome
Houston, TX
Box Score + PBP:
Corrections? Additions?
If you can help us improve this game story, contact us.
Tags
https://sabr.org/sites/default/files/ScottMike_0.jpg
600
800
admin
/wp-content/uploads/2020/02/sabr_logo.png
admin
2018-02-15 15:37:11
2020-04-17 10:24:55
April 4, 1989: Astros, Mike Scott win season opener over Braves at the Dome