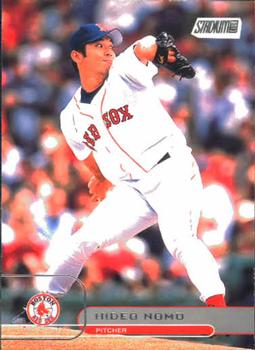 April 4, 2001: Hideo Nomo joins elite company with no-hitters in both leagues
---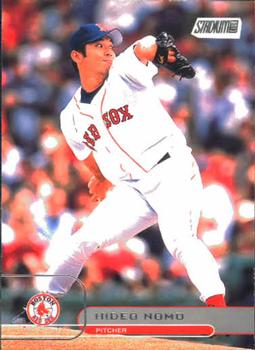 In his first start with the Boston Red Sox, Hideo Nomo pitched a no-hitter, defeating the Baltimore Orioles, 3-0, at Camden Yards. In doing so, he joined Cy Young, Jim Bunning, and Nolan Ryan as the only pitchers in major-league history to throw no-hitters in both the American and National Leagues.1 (Randy Johnson joined the group with his perfect game in 2004.2) Of the five members in this elite club, Nomo is the only one not enshrined in Cooperstown. (See the full list below.)
After pitching six full seasons in the major leagues, Nomo signed a one-year, $4.5 million contract with Boston in December 2001.3 "I'm going with the Red Sox because they have a strong chance to go to the World Series," Nomo said.4 Individual awards and accomplishments are nice, but his ultimate goal had always been to win the World Series.5
In his first two seasons with the Los Angeles Dodgers, Nomo recorded a 29-17 record and .630 winning percentage. However, in his final three seasons he was 16-19 (.457). His struggles were due primarily to a lack of command caused by injuries. The Dodgers traded Nomo in midseason 1998 to the New York Mets. Afterward, he had one-year stints with Milwaukee and Detroit, where he finished with a combined 20-20 record.6
The Boston pitching staff included past and future All-Stars Pedro Martinez, Tim Wakefield, David Cone, Bret Saberhagen, and Derek Lowe.7 The signing of the 32-year-old righty not only gave the Red Sox another weapon in their arsenal, it also gave them the distinction of becoming the first major-league team with two Japanese-born pitchers on their roster. For Japanese teammate Tomo Ohka, it was a dream come true. He was 14 years old when Nomo earned MVP honors as a rookie in the Japanese Pacific League in 1990. Nomo was Ohka's childhood hero. He admired Nomo for his accomplishments on the mound and for his role as a pioneer for other Japanese players entering the major leagues.
Despite a rocky 2001 spring training, where he had an 0-3 record and a double-digit ERA, injuries to Cone and Saberhagen allowed Nomo to secure the number-two spot in the rotation behind Martinez.8
The Red Sox opened the season with three games against the Orioles in Baltimore. Boston manager Jimy Williams told the press, "You never know when you're going to see a special game. You really don't. That's why I like baseball."9 The Orioles won walk-off 2-1 victories in the first and third games of the series. But the middle game of the season-opening series belonged to Boston, courtesy of Nomo.
Nomo's first no-hitter, in Denver in 1996, was in a game whose start was delayed by rain. His start in Baltimore was also delayed, for 45 minutes, because of a power outage that hit in the bottom of the first inning.10 Entering the game the Baltimore lineup was 8-for-51 (.157) against Nomo. David Segui, 5-for-13 (.387) with two home runs, was the only Orioles hitter with any success against him.
Also working in Nomo's favor that night was the presence of home-plate umpire Eric Cooper. During the offseason the major leagues had decided to expand the strike zone vertically, and at times Cooper appeared to be struggling with his interpretation of the new rules. A few questionable called third strikes might have created doubt in the heads of Orioles hitters, perhaps forcing them to chase pitches normally outside their comfort zone.11
In traditional Nomo fashion, he started off slow on the mound and gained strength as the game progressed. In the first inning, three of four Orioles hitters made solid contact. The number-three hitter, Nomo's old Dodgers teammate Delino DeShields, reached base on a walk.
In the second inning, Melvin Mora blasted a fly ball to the center-field warning track that found Carl Everett's glove. Cal Ripken reached first on an error by third baseman Shea Hillenbrand and advanced to second on a Nomo splitter that was too hot for catcher Jason Varitek to handle. (It was ruled a wild pitch.) Baltimore's rally ended when Brook Fordyce became the first of Nomo's 11 strikeout victims.
Nomo's no-hit bid was threatened again by Brady Anderson's warning-track fly to right field in the third inning, a hot fielder's-choice grounder to second by Segui in the fourth, and a laser hit by Ripken to right field for an out in the fifth.
In the sixth inning Nomo started to dominate. The righty had great command of his fastball, forkball, and splitter, and gave the Orioles nothing to hit down the middle of the plate. By peppering the corners and changing speeds, Nomo struck out eight batters from the sixth through the eighth. Baltimore outfielder Jerry Hairston was fooled all night, striking out three times. All but two Orioles (Ripken and Chris Richard) struck out at least once.
In the bottom of the ninth inning, the only thing standing between Nomo and his second no-hitter were Anderson, Mike Bordick, and DeShields. "As I was going into the ninth inning, I was not nervous," Nomo said after the game.12 Perhaps that was because he knew the stats were in his favor. Up to this point the last three Orioles batters were a combined 2-for-31 (.065) against Nomo.
Anderson (0-11 vs. Nomo) grounded back to Nomo. Knowing that Bordick (1-8) was a notorious fastball hitter, Nomo pitched away from the right-handed hitter. On a 2-and-1 count, Bordick slapped an outside pitch toward no-man's land behind second base in shallow center field. Second baseman Mike Lansing, a late-inning defensive replacement, chased the ball down and snagged it out of the air. The play saved the no-hitter and generated a semi-emotional glove slap from the stoic Nomo. For the final out, DeShields (1-12) hit a shallow fly to left field, where Troy O'Leary tucked it away easily.
While this was Nomo's second no-hitter, the achievement represented many firsts. The crowd of 35,602 applauded Nomo for giving them the first no-hitter at Camden Yards (and, as of 2016, the only one).
His feat also marked the earliest calendar date (April 4) on which a no-hitter had been pitched. Bob Feller threw a no-hitter on Opening Day in 1940, but that occurred on April 16.
For Varitek, Nomo's no-hitter was the first of four he would catch during his career. It was the 15th by a Red Sox pitcher.
After the game, Nomo said, "Today was my first time throwing for the Boston Red Sox, and I am obviously very happy with my performance."13
Nomo finished the season with a 13-10 record, leading the American League in strikeouts (220) and strikeouts per nine innings pitched (10.00). He also led the league in walks (96, one more than Cleveland's C.C. Sabathia).
Nomo pitched two one-hit games for Boston in 2001. He carried a no-hitter into the seventh inning against the Minnesota Twins, eventually winning 2-0 and allowing one hit and five walks, while striking out eight. Nomo vowed to pitching coach Joe Kerrigan that he would walk fewer hitters, and made good on his promise with a one-hit shutout against the Toronto Blue Jays in which he struck out 14 and walked none.14
As of 2016, the only other pitchers to throw no-hitters in both the American and National Leagues are:
Cy Young (1897 NL; 1904, '08 AL) inducted into Hall of Fame: 1937
Jim Bunning (1958 AL; 1964 NL); inducted into Hall of Fame: 1996
Nolan Ryan (1973, '74, '75, '89, '90 AL; 1981 NL); inducted into Hall of Fame: 1999
Hideo Nomo (1996 NL; 2001 AL); inducted into Japanese Hall of Fame: 2014
Randy Johnson (1990 AL; 2004 NL); inducted into Hall of Fame: 2015
This article was published in SABR's "No-Hitters" (2017), edited by Bill Nowlin. To read more Games Project stories from this book, click here.
Sources
In addition to the sources cited in the Notes, the author relied on Baseball-Reference.com, baseball-almanac.com, and video of the game, at MLB Classics, "9/4/01: Nomo's Second No-No," accessed November 27, 2016.* See also BaseballPilgrimages.com, "No-Hitters Thrown in Current Major League Ballparks," accessed November 28, 2016.
*YouTube has listed the wrong date for the game, but the link still works as of February 2017.
Notes
1 Murray Chass, "Baseball; Nomo Hurls a No-Hitter in His Red Sox Debut," New York Times, April 5, 2001.
2 FoxSports.com, "12 Years Ago, Randy Johnson Made MLB History with This Perfect Game," https://foxsports.com/mlb/story/arizona-diamondbacks-atlanta-braves-randy-johnson-perfect-game-12-years-ago-051816, accessed November 28, 2016.
3 David Heuschkel, "Nomo Ready to Leave Sox," Hartford Courant, December 6, 2001.
4 Sean McAdam, "Red Sox Acquire Hideo Nomo," Providence Journal, December 15, 2000.
5 Lawrence Rocca, "Nomomania Revisted – Baseball: The International Popularity of the Dodgers' Right-Hander Is Already on the Rise," Orange County Register (Santa Ana, California), February 19, 1996.
6 Baseball-Reference.com, "Hideo Nomo," https://baseball-reference.com/players/n/nomohi01.shtml, accessed November 28, 2016.
7 Baseball-Reference.com, "2001 Boston Red Sox Roster," https://baseball-reference.com/teams/BOS/2001.shtml, accessed November 28, 2016.
8 Video: MLB Classics. "9/4/01: Nomo's Second No-No," https://youtube.com/watch?v=qfwNcsSPzCY, accessed November 28, 2016.
9 Phil O'Neill, "Japanese Blitz Will Sack Nomo / No-Hitter Will Attract Extra Media," Worcester (Massachusetts) Telegram & Gazette, April 6, 2001.
10 Ibid.
11 Joe Capozzi, "Discomfort Zone," Palm Beach Post, March 1, 2001.
12 "Second No-No for Nomo, This One Against O's," New York Daily News, April 5, 2001.
13 Ibid.
14 David Kamerman, "Hideo Nomo Spins 1-Hit Gem for Red Sox," Boston Globe, May 26, 2001.
Additional Stats
Boston Red Sox 3
Baltimore Orioles 0
---
Camden Yards
Baltimore, MD
Box Score + PBP:
Corrections? Additions?
If you can help us improve this game story, contact us.
Tags
https://sabr.org/sites/default/files/NomoHideo-BOS.jpg
600
800
admin
/wp-content/uploads/2020/02/sabr_logo.png
admin
2018-10-23 14:11:35
2021-10-28 01:20:53
April 4, 2001: Hideo Nomo joins elite company with no-hitters in both leagues