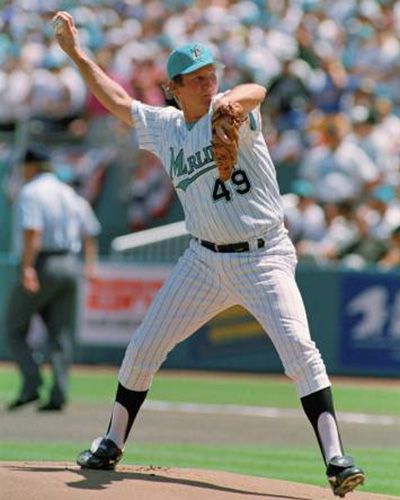 April 5, 1993: Florida Marlins victorious in franchise debut behind Charlie Hough
---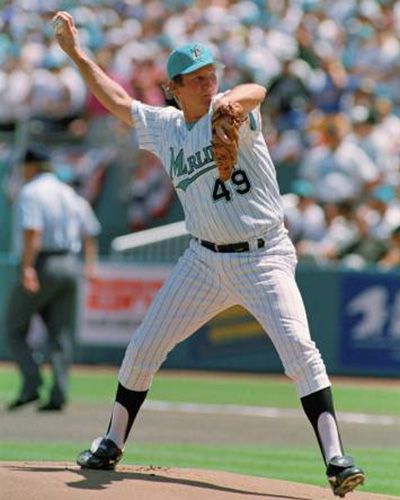 On June 10, 1991, Major League Baseball awarded one of the two National League expansion franchises, set to begin play at the start of the 1993 season, to South Florida businessman H. Wayne Huizenga. Part-owner of the NFL's Miami Dolphins, Huizenga paid the $95 million expansion fee but looked at ownership of the Florida Marlins as nothing more than a "diversification of his portfolio."1
While Huizenga was a shrewd businessman, Carl Barger was a tireless worker and a passionate baseball man. Barger was a key figure in putting together the public/private coalition that purchased the Pittsburgh Pirates after the death of their owner in 1985. Because there were threats that the Pirates would be sold and possibly relocated, Barger's role in saving the franchise made him a hero in Pittsburgh. Barger's actions in Pittsburgh led his longtime friend Huizenga to name him president of the expansion Marlins and to charge him with building a team that would be competitive as quickly as possible.2
Sadly, Barger never saw the fruits of his labor. On December 9, 1992, while at the MLB Winter Meetings in Louisville, he collapsed after suffering a ruptured abdominal aortic aneurysm and never regained consciousness. He was only 62 years old. A deeply saddened Huizenga spoke of a "profound sense of sorrow" at losing "a friend and business associate for more than 20 years."3
Early in the morning of April 5, 1993, severe storms blew through South Florida, producing driving rain and wind gusts of 60-70 mph, putting the debut of the National League's newest franchise in jeopardy. Marlins general manager Dave Dombrowski remembered, "The first emotion I had that morning was when I woke up it was raining, and I thought, 'Not today. Let's not have rain today.'"4 But as Marlins radio broadcaster Dave O'Brien recalled, "The clouds finally broke an hour or so before the first pitch. And this brilliant, cleansing sunshine was drying up everything. It was such a perfect metaphor for the season to come for the Marlins to see those clouds break open. It was almost as if Carl Barger was indeed looking over the whole proceeding of the day."5
After the pregame ceremonies, which included Barger's childhood idol Joe DiMaggio throwing out the first pitch and the retirement of number 5 (DiMaggio's uniform number) to honor Barger, 45-year-old Hialeah resident Charlie Hough took the mound at Joe Robbie Stadium. His warm-up tosses completed, the knuckleballer bent over at the waist and placed his hands on his knees, as if bracing himself for the emotion of the moment. As Dodgers leadoff hitter Jose Offerman settled into the batter's box, Hough rocked back and delivered the first pitch in Florida Marlins history, a dancing knuckleball that caught the inside corner for strike one. The capacity crowd of 42,334 erupted, but the 24-year veteran hurler maintained his calm.
"Every first game as a pitcher that you get into, you're going to be a little bit nervous. But this particular one I felt so comfortable here that I just felt like I was pitching in my backyard," Hough proclaimed.6
Offerman fouled off the second pitch of the at-bat and was then punched out by home-plate umpire Frank Pulli on an 0-and-2 knuckler that Marlins third baseman Dave Magadan would later describe as "a foot outside and a foot off the dirt."7 Hough retired pesky Dodgers center fielder Brett Butler on strikes for the second out before getting slugger Darryl Strawberry to ground weakly back to him on a 2-and-2 knuckler, ending the top of the first inning.
Opposing Hough and the Marlins was 1988 Cy Young Award winner Orel Hershiser. Coming off a disappointing 1992 season in which he lost 15 games for the last-place Dodgers, the right-hander looked to get the 1993 campaign started on a positive note against the expansion team. Leading off in the bottom half of the first was Scott Pose, who won the Marlins' starting center-field job by hitting .397 during spring training. The speedy Pose chopped a 2-and-1 pitch to Dodgers second baseman Jody Reed, who hurried his throw to first, resulting in a throwing error. Hershiser then left a fastball over the middle of the plate that Bret Barberie roped into center field for the first base hit in Marlins history. But the gritty Hershiser buckled down, striking out right fielder Junior Felix and first baseman Orestes Destrade before inducing a grounder to shortstop by third baseman Dave Magadan to end the inning.
After Hough wiggled out of trouble in the top of the second inning, the Marlins continued their offensive attack on Hershiser in the bottom half. Catcher Benito Santiago smashed a first-pitch fastball that Dodgers third baseman Tim Wallach couldn't handle, resulting in a leadoff single. Jeff Conine followed with another base hit, this time a grounder that bounced under diving Dodgers first baseman Eric Karros. With runners on first and second, Marlins shortstop Walt Weiss laced a one-strike Hershiser curveball down the right-field line for a triple, plating the first two runs in franchise history. Hough strode to the plate for his first at-bat since 1980, looking to push across another run, but struck out swinging. Scott Pose slapped the Marlins' fifth hit of the game past the drawn-in infield, giving Florida a 3-0 advantage. Then Hershiser caught a break: Barberie's sinking liner was snared by left fielder Eric Davis for the second out and was turned into a double play when Pose, attempting to steal second, could not make it back to first ahead of Davis's strong throw.
The Marlins added a run in the bottom of third on a sharp single by Santiago, scoring Destrade to make it 4-0. Meanwhile, Hough continued his dominance of the Dodgers, collecting four strikeouts through his first four shutout innings. In the top of the fifth, the Los Angeles offense showed signs of life as Karros, leading off, smashed a double over the head of Marlins center fielder Pose. After catcher Mike Piazza flied out to deep right field, permitting Karros to advance to third, Jody Reed brought home the first Dodgers run of the year with a hard single to left. With Reed on first and one away, Hershiser laid down a perfectly executed bunt up the first-base line. Destrade was slow getting to the ball and by the time he fielded it, Hershiser had slipped past the tag, arriving safely at first. Offerman followed with an RBI single through the right side of the infield that scored Reed just ahead of the tag from Santiago. Hough then retired Butler and Strawberry on lineouts to preserve the Marlins' 4-2 lead.
After a 1-2-3 bottom of the fifth, Marlins manager Rene Lachemann decided to stick with his ageless starter for one more inning. Hough coaxed a quick pop fly off the bat of Eric Davis for the first out. With one down, Tim Wallach belted a 2-and-2 knuckleball deep to left field for a home run, bringing the Dodgers to within one run at 4-3. "It was a badly thrown pitch," Hough said, "but he didn't have to hit it that far."8 Hough retired the next two Dodger batters and ended his day yielding three runs in six innings. "I ran out of gas," Hough said after the game. "I am old."9
The Dodgers got no closer, however, as in the bottom of the sixth inning Hershiser gave up back-to-back singles to Conine (his third of four hits in the game) and Weiss before giving way to reliever Roger McDowell. McDowell surrendered the fifth Marlins run when his throw to second on a comebacker by Pose was off target, allowing Conine to scamper home. The Marlins tacked on another run in the bottom of the seventh to make it 6-3, and closed the door on the Dodgers when closer Bryan Harvey pitched the ninth and earned his first save.
After the emotional win in their franchise opener, the Florida Marlins had a perfect record of 1-0. The Dodgers fell to 7,506-6,849.10
Sources
In addition to the sources cited in the Notes, the author also used the Baseball-Reference.com and viewed the original television broadcast for box-score, player, team, and season pages, pitching and batting game logs, and other pertinent material.
baseball-reference.com/boxes/FLO/FLO199304050.shtml
retrosheet.org/boxesetc/1993/B04050FLO1993.htm
Notes
1 "Florida Marlins Team History," sportsteamhistory.com/florida-marlins.
2 Robert McG. Thomas Jr., "Carl Barger, 62, Team President With Pirates and Florida Marlins," New York Times, December 10, 1992. <nytimes.com/1992/12/10/us/carl-barger-62-team-president-with-pirates-and-florida-marlins.html.
3 Ibid.
4 "A Great Beginning," Major League Baseball Home Video, 1993. youtube.com/watch?v=b1t2ik0pJRE&feature=youtu.be.
5 "A Great Beginning."
6 Craig Davis, "Charlie Hough Recalls Marlins Magical Debut, Hopes They Can Revive Support," South Florida Sun-Sentinel, February 6, 2018. sun-sentinel.com/sports/miami-marlins/fl-sp-marlins-news-sidebar-20180206-story.html.
7 "The Florida Marlins First Game," Misc Baseball. miscbaseball.wordpress.com/2010/05/07/the-florida-marlins-first-game/.
8 "The Florida Marlins First Game."
9 Tim Kurkjian, "Florida's Aflutter," Sports Illustrated, April 12, 1993. si.com/vault/1993/04/12/128383/floridas-aflutter-old-knuckleballer-charlie-hough-showed-the-new-marlins-and-their-boisterous-fans-how-to-win-on-the-first-opening-day-in-the-sunshine-state
10 Ibid.
Additional Stats
Florida Marlins 6
Los Angeles Dodgers 3
---
Joe Robbie Stadium
Miami, FL
Box Score + PBP:
Corrections? Additions?
If you can help us improve this game story, contact us.
Tags
https://sabr.org/sites/default/files/Hough-Charlie-FLA.jpg
600
800
admin
/wp-content/uploads/2020/02/sabr_logo.png
admin
2019-04-23 11:42:50
2020-04-17 10:23:36
April 5, 1993: Florida Marlins victorious in franchise debut behind Charlie Hough