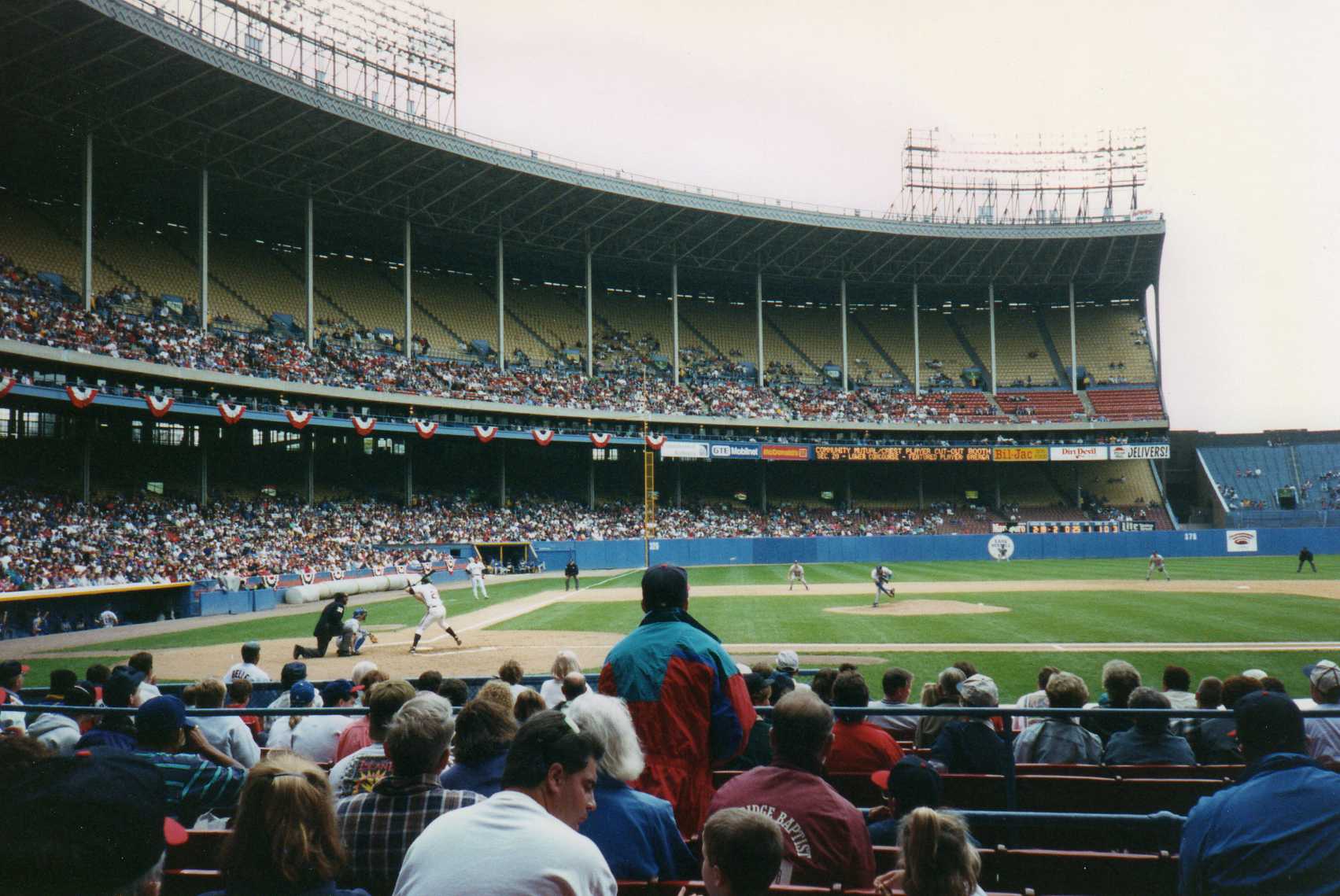 April 5, 1993: Yankees sail past Indians 9-1 on final Opening Day at Cleveland Stadium
---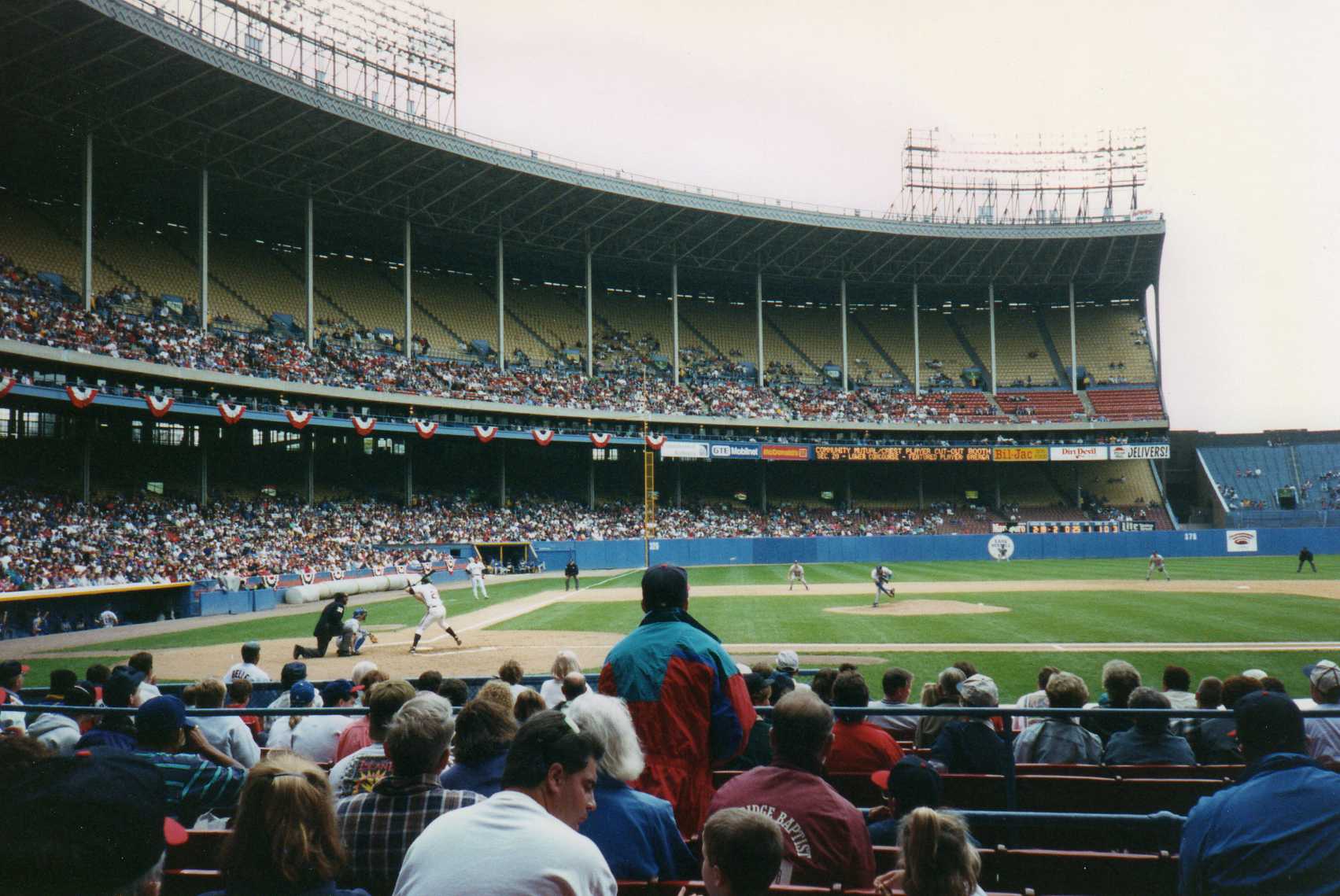 April 5, 1993, was bound to be an emotional day for fans. It was the final Opening Day at Cleveland Stadium. After many decades of calling the mammoth stadium home, the Tribe was moving across downtown to the Gateway District. There, a new open-air stadium was awaiting them for the 1994 season. Many memories for fans were of the sentimental variety: their first ballgame, a first date, a family outing. But that is what makes memories special; they are exclusive to the people who hold them. On this day, unfortunately, not many folks were reminiscing about past winning seasons. Two World Series appearances, the last in 1954, left the remnants of winning baseball to history books and microfilm.
Still, there was a twist to the plot on that cold April day. A capacity crowd of 73,290 braved the 36-degree weather to settle in for the pregame activities. Bob Feller threw out the ceremonial first pitch. The Indians and their guests, the New York Yankees, were introduced to the crowd as they took their place on the respective baselines.
But another part of the Opening Day ceremony left many somber and melancholy. Just two weeks earlier, on March 22, relief pitchers Steve Olin and Tim Crews were killed in a boating accident in Little Lake Nellie near the team's spring-training headquarters in Winter Haven, Florida. Bob Ojeda was the third person in the 18-foot bass boat.
Crews, Ojeda, and Olin circled around the lake. A neighbor's dock, which extended more than 50 yards, sat on the far side of the lake. As Crews accelerated, the front of the boat rose up, blocking their vision. When the boat planed out, it was under the dock. It was too late. The accident occurred in three feet of water. "We heard this loud thump and a crash," said Cleveland conditioning coach Fernando Montes. "And it was silence, utter silence. I knew without any hesitation that Steve Olin had passed."1
The widows, Patti Olin and Laura Crews, and their families were presented with their husbands' jerseys. General manager John Hart and manager Mike Hargrove, as well as Indians relief pitchers Kevin Wickander, Derek Lilliquist, Eric Plunk, and Ted Power took part in the ceremony at home plate. After a moment of silence, the four relievers gave a "thumbs up" to the heavens before heading out to the bullpen.
"I didn't know it would be that emotional," said Wickander, who broke down in Patti's arms.Wickander and Olin were good friends; Olin served as best man at Wick's wedding. But his locker, right next to Wickander's in the clubhouse, would remain empty for the entire season. "He had the heart of a lion, the guts of a burglar," said Hart. "He courageously threw that fringe stuff up there and got people out."2
"I'll remember it for the rest of my life," said Yankees third baseman Wade Boggs. "The ceremonies before the game set the tone. As far as I was concerned, it choked me up. It was sort of like, well, now you've got to go out and play. It leaves a lump in your throat. Tears are running down your cheeks, and I didn't even know the guys. … It hit that hard. So I can imagine how their families and friends must feel.
"Just standing at home plate, watching the wives walk up there, it was tough. This is one I'll remember. It was just an emotional day for everyone."3
Yankees skipper Buck Showalter named southpaw Jimmy Key as his Opening Day starter. Key, signed as a free agent by the Yankees on December 10, 1992, pitched nine seasons for the Toronto Blue Jays. He compiled a record of 116-81 with a 3.42 ERA. He totaled 944 strikeouts against 404 walks with the Jays. But Key was not the only new face in the Yankees clubhouse. Paul O'Neill and Jim Abbott came over in trades with Cincinnati and California, respectively. Boggs and Spike Owen were signed as free agents. The Yankees were in a bit of a postseason drought; they had not made a playoff appearance since 1981.
Hargrove tabbed right-hander Charles Nagy as his starter. Nagy was beginning his fourth season with the Indians. He was the leader of the staff in 1992, posting a 17-10 record and a 2.96 ERA.
After a scoreless first inning, Danny Tartabull led off the second frame with a home run to give the visitors a 1-0 lead. The Tribe evened matters up in the bottom of the third. Carlos Martinez led off with a double to center field and moved to third base on a single by Glenallen Hill. Martinez scored on a sacrifice line drive to left field off the bat of Sandy Alomar Jr.
The Yankees were leading 2-1 when they scored five times in the top of the sixth inning to take a commanding 7-1 lead. Don Mattingly and O'Neill singled and strolled home on a three-run homer over the right-field fence by Matt Nokes. The parade to the batter's box continued when Owen singled and moved to second on a bunt single by Pat Kelly. Bernie Williams got aboard on an infield hit to load the bases. That was all for Nagy; Wickander replaced him in the middle of the diamond.
Boggs, a five-time batting champion, greeted Wickander with a single to center to plate Owen and Kelly. The Yankees tacked on two more in the eighth on a Pat Kelly two-run homer and won their season opener, 9-1.
Key, who raised his record to 4-0 in Opening Day starts thus far in his career, was having little trouble neutralizing the Indians bats. He pitched eight innings, gave up three hits, whiffed three and threw an efficient 71 pitches. "They jumped on some first pitches," said Key. "They hit four balls good that inning, and I was fortunate a couple of them were at people. After that, I tried not to get as much of the plate on the first one. They kept swinging at balls that maybe weren't strikes. They were good pitches, but not strikes."4
Conversely, the Yankee attack pounded out 16 hits, with Tartabull, Owen, and Kelly each collecting three.
"Opening Day is something you want to get out of the way, but you want to do it in a positive way," said Alomar. "We had to honor Crews and Olin. Their families deserved it. I just wish we could have won."5
Key's former team, the Blue Jays, repeated as champions of the American League East in 1993. They also won their second consecutive World Series. The Yankees finished in second place. For the second year in a row the Indians posted a 76-86 record.
The 1993 season was one to leave behind with the other losing seasons at the old ballpark. Perhaps the grass would be greener and the wins a bit more plentiful in their new home the next season.
Sources
The author accessed Baseball-Reference.com (baseball-reference.com/boxes/CLE/CLE199304050.shtml) for box scores/play-by-play information and other data, as well as retrosheet.org/boxesetc/1993/B04050CLE1993.htm.
Notes
1 Outside the Lines, Indians Boating Tragedy, ESPN, March 18, 2003.
2 Bud Shaw, "A Moonless Evening, a Quiet Lake, a Tragedy; Recounting the 1993 Deaths of Indians Pitchers Steve Olin and Tim Crews," Cleveland.com, March 22, 2011. Accessed August 31, 2018.
3 Joe Maxse, "Special Impact for Three Yanks, Boggs, Key, Kelly Make Mark". Cleveland Plain Dealer, April 6, 1993: 8E.
4 Ibid.
5 Paul Hoynes, "Key Spoils Indians Opener; 73,290 See Yankees Win, 9-1,"Cleveland Plain Dealer, April 6, 1993: 1E.
Additional Stats
New York Yankees 9
Cleveland Indians 1
---
Cleveland Stadium
Cleveland, OH
Box Score + PBP:
Corrections? Additions?
If you can help us improve this game story, contact us.
Tags
https://sabr.org/sites/default/files/1993-Cleveland-Municipal-Stadium.jpg
600
800
admin
/wp-content/uploads/2020/02/sabr_logo.png
admin
2018-10-16 14:47:08
2020-04-17 10:23:53
April 5, 1993: Yankees sail past Indians 9-1 on final Opening Day at Cleveland Stadium