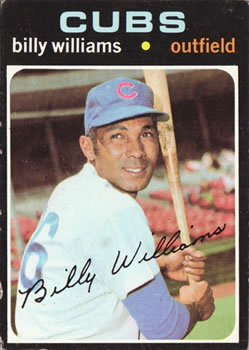 April 6, 1971: Billy Williams's homer in 10th breaks up pitchers' duel on Opening Day
---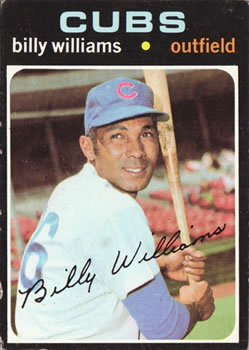 After the Chicago Cubs finished second in their division in 1969 and 1970, their fans were optimistic as the 1971 season began. Noting that Cubs beat writer George Langford had picked the team to win the NL East Division, the Chicago Tribune mused, "It takes a lot more than hope to bring home a winner, but all the portents are present. 'Is this the year?' We think we heard a small voice deep inside the oracle answer, 'you can bet it is.'"1 Years later, blogger Al Yellon wrote, "Guys like Ron Santo, Billy Williams and Fergie Jenkins [all future Hall of Fame players] were still in their primes of their careers, and hopes were high as the Cubs took the field at Wrigley on April 6 to open the season against the Cardinals."2
Williams, one of nine eventual Hall of Famers in the game, didn't let them down either.3 To this day, his game-winning home run in the 10th inning off Bob Gibson on Opening Day in 1971 ranks as one of the most memorable moments in Chicago Cubs history. Years later Williams called that decisive blow in front of 41,121 fans (39,079 paid) at Wrigley Field the biggest hit of his 18-year major-league career. "Any time you hit a game-winning home run it's a big thrill," he said.4
Of all hitters with at least 20 plate appearances, Billy "Sweet Swinging" Williams had the most at-bats (174), homers (10), RBIs (31), walks (24), and intentional walks (10) off the Cardinals' two-time Cy Young Award winner. Only Ron Fairly had more hits against Gibson: 48 compared with Williams's 45.5
For nine innings that day, Jenkins and Gibson went toe to toe; each gave up only one run up to that point. The Cubs scored first when Johnny Callison drove in Santo with a double down the right-field line with one out in the fourth inning. The Cubs missed a scoring opportunity earlier in the inning when Williams was thrown out at the plate as Cardinals third baseman Joe Torre decided to throw home instead of to second to start a potential double play with Santo on first.
The Cardinals tied the score in the seventh when Torre homered on a 1-and-2 pitch after Ted Sizemore struck out and former Cub Lou Brock grounded out. Each team went down quietly in the ninth inning. Jenkins induced Gibson to ground out shortstop to first, Matty Alou to do the same, and Sizemore to strike out. "[Don] Kessinger came in even with the mound to throw out a man who can really fly," Cubs skipper Leo Durocher said afterward, referring to Alou's bunt-for-base-hit attempt. "It was as good a play as I have ever seen a shortstop make."6
Then in the bottom of the ninth, Gibson struck out Ken Rudolph, who had replaced the injured Randy Hundley behind the plate; got Jenkins looking on the third strike; and made Kessinger fly out to center. The Cardinals went down in order in the 10th inning, too. Brock grounded out pitcher to first. Torre grounded out third to first, and Jose Cardenal, who was traded to the Cubs after the season for Jim Colborn, Brock Davis, and Earl Stephenson, flied out to center.
Then in the home half of the 10th, Glenn Beckert grounded out short to first, setting up Williams's blast halfway up into the right-field bleachers. "I wasn't remembering that I was 0-for-19 at the start of last season. I was just surprised that I got a fast ball right down the middle, which you seldom see from Gibson, and I laid into it," Williams said afterward.7 The Whistler, Alabama, native also had a single off Gibson in the fourth inning. "I wasn't tired. I just tried for a low fast ball away from Williams because you know he's the man trying to end the game," Gibson, the game's highest-paid pitcher at the time, reflected in a nearly empty Cardinals dressing room.8
Jenkins faced only 32 batters and allowed just two other hits besides Torre's homer: Ted Simmons's single in the third and Sizemore's single in the fourth. The Canadian struck out seven and didn't walk a batter. On the other hand, Gibson, who faced 39 batters, gave up seven hits, struck out five, and issued four walks. Despite going into extra innings, the game lasted only 1 hour and 58 minutes. "I'll say one thing about those two big guys [Jenkins and Gibson]," Durocher marveled. "They pitch like hell against each other. They really go at each other."9
The game marked Gibson's first Opening Day loss after seven straight wins or no-decisions. "Darn it, that Jenkins is a great pitcher, too," Cardinals manager Red Schoendienst said."10
In calling the game perhaps "the consummate Jenkins-Gibson matchup," authors George Castle and Jim Rygelski said of the pitching aces' styles: "The pace of the game was the snappiest possible; two-hour games, or less, were the norm. Jenkins used to run to and from the mound. Gibson pitched, got the ball back, and was ready to go again. No dawdling. There were a minimum of walks and a maximum of 1-and-2 counts. If a batter made hard contact, he was fortunate.11
"Almost all their matchups were close, low-scoring affairs," Castle and Rygelski added. "And if the truth be known, each hurler did not go into the game relishing the duel. They knew that [they] had [to] bring their best stuff and maximum concentration level to the mound."12
In head-to-head competition, Jenkins had a 5-3 record against Gibson. In 65⅔ innings against the Cardinals star, Jenkins allowed only 48 hits and 15 runs while striking out 53 and walking just 12. Meanwhile, Gibson pitched 68⅔ innings against Jenkins, giving up 52 hits and 21 runs while fanning 52 Cubs and walking 19.13
Williams was Jenkins's best friend on the Cubs, and the pair fished and hunted together. "I admired Billy for his capabilities," Jenkins said. "He was such a good hitter, but he was kind of in the shadow of Ernie [Banks]. He handled it well. Billy had the best swing of anybody I ever saw."14
Jenkins won the Cy Young Award in 1971, finishing 24-13 with a 2.77 ERA, beating out Tom Seaver and Al Downing. (Gibson finished fifth.) Jenkins completed 30 of 39 starts and led the NL in wins, starts, complete games, innings pitched (325), batters faced (1,299), and home runs allowed (29). He struck out 263 batters and walked only 37 with six intentional. Gibson finished the '71 season with a 16-13 record and a 3.04 ERA with 185 strikeouts and 76 bases on balls. He completed 20 of 31 starts, pitched 245⅔ innings, and tossed five shutouts. Williams hit .301 that season with 28 home runs and 93 RBIs. He struck out only 44 times in 594 at-bats and had an .888 OPS.
For the 41,000-plus fans at Wrigley Field that day, it's unlikely they'll forget the drama that unfolded in less than two hours in sub-40-degree weather. "I wound up hitting 11 [sic] career homers off Gibson, including a couple of game-winners. That was unheard of against him," Williams said. "It was a case of me being an aggressive hitter and Bob [Gibson] being an aggressive pitcher."15
Sources
In addition to https://baseball-reference.com/boxes/CHN/CHN197104060.shtml and https://retrosheet.org/boxesetc/1971/B04060CHN1971.htm, the author used Newspaperarchive.com.
Notes
1 "Is This the year?" Chicago Tribune, April 6, 1971: 12.
2 Al Yellon, "A Day in Wrigley Field History: April 6, 1971," bleedcubbieblue.com/2014/1/5/5269982/wrigley-field-history-april-6-1971, accessed March 20, 2020.
3 Left fielder Williams was inducted into the National Baseball Hall of Fame in 1987. Other Cubs inductees were pitcher Ferguson Jenkins, 1991; manager Leo Durocher, 1994; and third baseman Ron Santo, 2012. Cardinals Hall of Fame inductees were Gibson, 1981; left fielder Lou Brock, 1985; manager Red Schoendienst as a second baseman, 1989; third baseman Joe Torre as a manager, 2014; and catcher Ted Simmons, 2020. Mr. Cub Ernie Banks, who was inducted into the Hall of Fame in 1977 as a shortstop, was not in the starting lineup on April 6, 1971, for the first time since 1953 because he had been put on the disabled list with arthritic knees.
4 Rick Phalen, Our Chicago Cubs Inside the History and the Mystery of Baseball's Favorite Franchise (South Bend, Indiana: Diamond Communications Inc., 1992), 167-168.
5 "Who's Your Daddy? — Bob Gibson Edition," baseballroundtable.com/whos-your-daddy-bob-gibson-edition/, accessed March 25, 2020.
6 Jerry Liska, "Williams Was Surprised to Get Gibby's Fast Ball," Mount Vernon (Illinois) Register News, April 7, 1971: 18.
7 Liska.
8 Liska.
9 Liska.
10 George Castle and Jim Rygelski, The I-55 Series: Cubs vs. Cardinals (Champaign, Illinois: Sports Publishing Inc., 1999), 149.
11 Castle and Rygelski, 139.
12 Castle and Rygelski, 140.
13 Castle and Rygelski, 150.
14 Fergie Jenkins and Lew Freedman, Fergie: My Life from the Cubs to Cooperstown (Chicago: Triumph Books, 2009), 110-111.
15 Billy Williams and Fred Mitchell, Billy Williams: My Sweet-Swinging Lifetime with the Cubs (Chicago: Triumph Books, 2008), 135-136.
Additional Stats
Chicago Cubs 2
St. Louis Cardinals 1
10 innings
---
Wrigley Field
Chicago, IL
Box Score + PBP:
Corrections? Additions?
If you can help us improve this game story, contact us.
Tags
https://sabr.org/sites/default/files/Williams-Billy-1971.jpg
600
800
admin
/wp-content/uploads/2020/02/sabr_logo.png
admin
2020-05-12 12:29:28
2020-05-28 15:32:47
April 6, 1971: Billy Williams's homer in 10th breaks up pitchers' duel on Opening Day