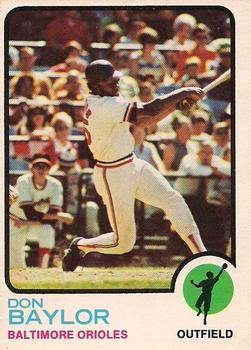 April 6, 1973: Don Baylor whacks 4 extra-base hits to lead Orioles' Opening Day rout
---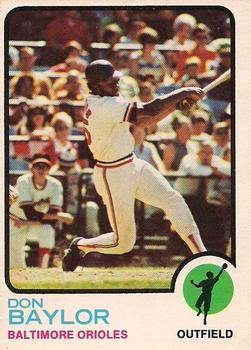 The Orioles' most one-sided Opening Day victory in Baltimore came in 1973. Aging stars Brooks Robinson and Dave McNally had a lot to do with it, but the brightest star of the day was 23-year-old left fielder Don Baylor. On the day the American League ushered in the designated-hitter era, Baylor — a future outstanding DH — notched 11 total bases, still a team record for the first game of the season.
Baylor appeared on the cover of The Sporting News in 1972 along with Bobby Grich and Terry Crowley as the "High Flying Trio of Young Orioles." Baltimore had so much confidence in the young slugger that they'd dealt away the great Frank Robinson to make room for him. Baylor slumped deeply, however, as a sputtering Baltimore offense caused the team to slip from three straight pennants to third place. Anxious to improve, Baylor returned to the Puerto Rican winter league to learn more playing for Robinson's Santurce Crabbers. With a lighter bat and a new stance slightly farther off the plate, Baylor crushed the ball so consistently in spring training that Earl Weaver predicted, "People are going to be calling him 'Frank.'"1
Baylor, Grich, and Crowley all made their first Opening Day starts on April 6, 1973, to that point the earliest opener for the modern Orioles as they commenced their 20th season.2 Only 12,000 advance tickets had been sold when the team worked out at muddy Memorial Stadium the day before the game, but the front office hoped a promising forecast after a rainy spring would attract a sizable walkup crowd to the Friday afternoon opener and get attendance over 20,000. Clear, sunny skies and a 61-degree temperature helped coax 26,543 fans into the ballpark. While that meant nearly half the seats in Memorial Stadium remained empty, only three larger crowds came there to watch the Orioles all season.
The Zim Zemarel Orchestra and US Army Marching Band entertained the early arrivals. Shortly after Maryland Governor Marvin Mandel threw out the ceremonial ball, home-plate umpire Red Flaherty hollered, "Play ball!" and all eyes turned to Dave McNally, the southpaw making his fifth and final Opening Day start for the team. The Brewers' Dave May, a former Oriole who'd appropriately spent his offseason working for a brewery in Milwaukee, led off for the visitors. The Brewers, in their fourth season and hoping to avoid 90 losses for the first time, managed only a harmless single in the opening inning.
Milwaukee manager Del Crandall wanted Bill Parsons to pitch the season opener, but his shoulder was sore. The second choice, Jerry Bell, couldn't go because his infant daughter accidentally scratched his cornea. So while Baltimore's McNally was a four-time 20-game winner, Crandall gave the ball to a guy with 19 career starts: converted reliever Jim Colborn. Colborn's claim to fame was sharing an alma mater (Whittier College) with President Richard M. Nixon, who had been re-elected to a second term during the offseason.
Colborn retired the first two batters, but Baltimore's Boog Powell wound up in scoring position after his sinking line drive to right field was misplayed for a two-base error. "I was scared to death when I went out there to start the game," confessed Milwaukee right fielder Gorman Thomas, who was making his big-league debut. "I didn't know what to do. I didn't see the ball too good on that play. I lost it for a minute in the light standards, it was moving almost like a knuckle ball."3
Powell scored when Brewers shortstop Rick Auerbach made a wild throw after fielding a grounder on the next play. After Don Baylor doubled to left to keep the inning going, up stepped Baltimore's beloved Brooks Robinson, starting his 17th straight Opening Day. Robinson looked old at the plate in 1972, when he failed to homer until June and saw his season total decline from 20 to 8. For his first swings of 1973, Robinson borrowed a bat from rookie teammate Enos Cabell. When Colborn, the Brewers' player representative, delivered a waist-high fastball over the inside part of the plate, Robinson — the Orioles' player rep — clubbed it 390 feet into the left-field bleachers to make it 4-0, Orioles.
Both teams debuted their first designated hitters in the second inning, about 30 minutes after Ron Blomberg of the Yankees made history pioneering the position in Boston. Milwaukee's "Downtown" Ollie Brown, batting sixth, had ironically pitched for a season in the Midwest League, starting 21 games and hurling a no-hitter. He grounded out and finished the day hitless in three tries. Baltimore's Terry Crowley, batting eighth, popped out in his first chance, but he'd make two kinds of history before the day was over, as illustrated by his wise-cracking teammate Merv Rettenmund. "Terry has a chance to do two things on Opening Day that Joe DiMaggio never did," quipped Rettenmund. "Crowley can get a base hit as a designated hitter and also get a hit swinging from the number-eight spot."4
Baltimore added a run in the third after cleanup-hitting catcher Earl Williams reached on an error for the second straight time. Third baseman Don Money, starting his first of nine openers for Milwaukee, flubbed his first grounder after breaking records for his defensive prowess with the 1972 Phillies before an offseason trade. Baylor made the Brewers pay immediately, driving a triple through the wind blowing in from right field to make it 5-0, Orioles. All of the runs were unearned.
McNally looked fully recovered from the shoulder soreness that plagued him the previous year. He stranded Thomas at third after the rookie's two-out triple off the fence in the fifth. After the Brewers put runners at second and third with one out an inning later, Baltimore's Paul Blair raced in from shallow center field to snag the second out, and McNally got George "Boomer" Scott on a broken-bat, inning-ending comebacker to preserve his shutout.
By then the lead was 6-0. After Williams doubled just inside the left-field line for his first Orioles hit, Baylor — that man again — ripped his third hit of the game, over the third-base bag. No Baltimore player before him had ever doubled twice on Opening Day.
The lead increased an inning later after Crowley delivered the first Orioles hit by a designated hitter. With the bases loaded two batters later, Rettenmund singled home two more runs against reliever Bill Champion.
Champion was still on the mound in the seventh when Baylor became the first Oriole ever to record four hits on Opening Day by clubbing a 400-foot homer to left-center. (Baylor would get four more hits on Opening Day 1975 in Detroit.) "I've gotten four hits in a game before. But I never got four in a major-league game before. And the four hits I got in the minors weren't all for extra bases either," Baylor said. "That is the first time I ever got four extra-base hits in a single game — anywhere."5
Baylor missed the cycle only because he hit the ball too hard. With two doubles, a triple, and a home run, he needed only a single. His 11 total bases as of 2020 remained an Opening Day record for Baltimore players. "I'm not even going to watch that guy hit from now on," McNally joked in the postgame locker room. "It's downright demoralizing for a pitcher to watch anybody hit the ball like that."6
Brooks Robinson followed by walloping another inside, belt-high fastball over the fence, marking the first time the Orioles hit back-to-back homers in a season opener (Luis Matos and Melvin Mora joined the club in 2006). Robinson also became the first Baltimore player to hit two home runs on Opening Day. The second homer also fulfilled his spring-training prediction that he'd collect the two hits he needed for 2,400 in his career in the season's first game.
McNally completed a three-hit shutout without walking a single batter. Two hours and 13 minutes after it started, the game ended with George Scott grounding into a 6-4-3 double play. "Right now I like the designated hitter rule," insisted McNally, who'd hit nine home runs of his own — plus two more in the World Series — before 1973. "I don't miss hitting. Not today."7
"There are other ways of winning ballgames, but that's one way I especially like," remarked Weaver.8
In the next morning's Baltimore Sun, columnist Bob Maisel summed it up this way: "There was no bad news."9
Sources
In addition to the sources cited in the Notes, the author consulted Baseball-Reference.com and Retrosheet.org.
https://www.baseball-reference.com/boxes/BAL/BAL197304060.shtml
https://www.retrosheet.org/boxesetc/1973/B04060BAL1973.htm
Notes
1 Lou Hatter, "Orioles Dust Off F. Robby Pattern for Basher Baylor," The Sporting News, April 28, 1973: 20.
2 The city's NBA franchise played its final home game as the Baltimore Bullets later that night, just 10 weeks after the Baltimore Colts of the NFL ended an era by trading away Johnny Unitas. Two years earlier, Baltimore simultaneously boasted the champions of the World Series and Super Bowl, plus an NBA finalist. The 1973 Orioles were under .500 in early June, while the surprising Brewers briefly surged atop the AL East. By mid-July, Don Baylor's batting average sank to .219, but he batted .366 the rest of the way to drive the resurgent Orioles back into the playoffs with the league's best regular-season record. Jim Palmer won the first of his three Cy Young Awards, and Al Bumbry earned Rookie of the Year honors, but it was an atypical ballclub for a franchise noted for pitching, defense, and three-run homers. The 1973 Orioles were the only Orioles team ever to lead the league in triples and –led by Baylor's 32 stolen bases — the only Weaver-managed club to pace the circuit in steals.
3 Tom Flaherty, "Brewers Opener an Inglorious Beginning," Milwaukee Journal, April 7, 1973: 13.
4 Lou Hatter "Weaver, Hunter Confident Orioles Can Regain Top Form," Baltimore Sun, April 6, 1973: C5.
5 Jim Elliot, "Oriole Heroes Lauded," Baltimore Sun,April 7, 1973: B6.
6 Lou Hatter, "Orioles Dust Off F. Robby Pattern for Basher Baylor."
7 Jim Elliot, "Oriole Heroes Lauded."
8 Jim Elliot, "Oriole Heroes Lauded."
9 Bob Maisel, "The Morning After," Baltimore Sun, April 7, 1973: B1.
Additional Stats
Baltimore Orioles 10
Milwaukee Brewers 0
---
Memorial Stadium
Baltimore, MD
Box Score + PBP:
Corrections? Additions?
If you can help us improve this game story, contact us.
Tags
https://sabr.org/sites/default/files/Baylor-Don-1973.jpg
600
800
admin
/wp-content/uploads/2020/02/sabr_logo.png
admin
2020-03-04 16:52:16
2021-10-28 01:14:55
April 6, 1973: Don Baylor whacks 4 extra-base hits to lead Orioles' Opening Day rout