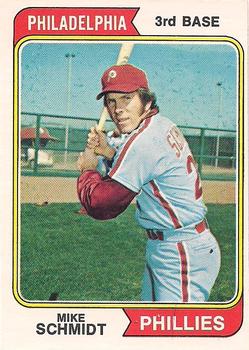 April 6, 1974: Mike Schmidt's Opening Day homer lifts Carlton, Phillies over Seaver, Mets
---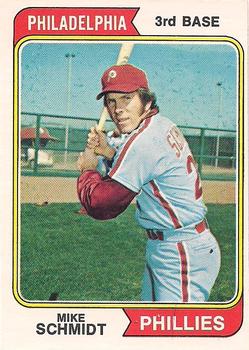 On a chilly Saturday afternoon at Veterans Stadium in Philadelphia,1 a crowd of 40,222 was on hand to see what would be the second of three consecutive season openers for each team in which future Hall of Famers Tom Seaver of the Mets and Steve Carlton of the Phillies (or "Tom Terrific" and "Super Steve," as they were called in the headlines) faced each other.2
Before this the last time the two matched up was April 6, 1973, at Shea Stadium, the Mets' ballpark. Carlton was coming off a year in which he earned the National League Cy Young Award, the first of four he received during his career.3However, that day Seaver led the Mets to a 3-0 victory, scattering five hits over 7⅔ innings with Tug McGraw retiring the remaining four batters for the save. Carlton also surrendered only five hits over seven innings — but two of them were home runs by Cleon Jones.
It was the first of 19 wins Seaver compiled on his way to the second of the three National League Cy Young Awards he received over the course of his career.4 This keyed a meteoric season for the Mets who, behind the rallying cry of "Ya gotta believe" originated by McGraw, won the National League East with a record of just 82-79 then startled the baseball world, first defeating the "Big Red Machine" Cincinnati Reds in the National League Championship Series, then taking the Oakland A's to a seventh game before losing the World Series.5
While the Mets featured the most recent Cy Young Award winner as their 1974 Opening Day starter, the Phillies featured a 20-game loser, Carlton having plummeted to a record of 13-20 in 1973. Paralleling that was the Phillies' overall performance for the season, slipping below the .500 mark on May 1, then spending the last month of the season in last place.
Starting his third year as manager, the Mets' Yogi Berra6 put out the starting lineup that started every game of the 1973 World Series exception Game One, when Willie Mays started in center field. The starting lineup that Danny Ozark, beginning his second year as Phillies manager,7 put on the field featured several changes from the lineup that opened the previous season, the most notable being the presence of highly-touted prospect Mike Schmidt, beginning his second full season, starting at third base and veteran Dave Cash, acquired in the offseason from Pittsburgh, at second base.
Before the game got officially underway, Human Cannonball Hugo Zacchini, carrying the first ball,8 was shot out of a 23-foot cannon situated behind second base, traveled 150 feet in the air, and landed in a safety net at home plate.9
Third baseman Wayne Garrett led off the Mets first with an infield single, advanced to third on a single to right field by second baseman Felix Millan, and scored when right fielder Rusty Staub grounded into a double play. In the bottom of the inning, shortstop Larry Bowa singled to right, stole second, then scored easily on center fielder Del Unser's single to left field that Cleon Jones bobbled for an error, allowing Unser to end up on second, where he remained as Seaver retired the next two batters.
The Mets again took the lead in the third when shortstop Bud Harrelson singled to right, advanced to second on a sacrifice by Seaver, and scored on a single to left field by Millan. The Mets' lead expanded to two runs in the fourth inning when center fielder Don Hahn doubled to center and scored on Harrelson's double to left field, the second of his team-leading three hits in the game. With Carlton having surrendered three runs on seven hits and two walks, Ozark lifted him for a pinch-hitter in the bottom of the fifth and brought in left-hander Mike Wallace, who held the Mets scoreless in the sixth.
In the bottom of the sixth, Bowa led off with a single to center field. Unser again followed Bowa's hit with a single to left, Bowa scoring this time because Jones overran the ball for another error. Greg Luzinski doubled to right, driving in Unser and tying the game at 3-3.
The tie did not last long. After Wallace walked Millan to start the seventh, Staub hit a bouncer to first baseman Willie Montanez, whose throw to second was late, Staub being ruled safe on a fielder's choice. Ozark brought in Ron Diorio, who got Jones to hit a grounder to Bowa, with Staub being forced at second. With Jones at first and Millan at third, Ozark brought in lefty Mac Scarce to pitch to left-handed-hitting John Milner.
Scarce got Milner to hit a slow roller to Mike Schmidt at third; Millan unwisely chose to break for home. Schmidt said of Millan's choice to go home, "Nine times out of 10 I'm not going to get a double play on a ball hit that slowly. But I am going to get the guy at the plate."10 Millan, realizing that indeed Schmidt had him cold, stopped halfway down the line. Millan broke for home when he saw that catcher Bob Boone, thinking Schmidt would go for the double play, had moved up the first-base line to back up first base, leaving the plate unoccupied. After Boone received Schmidt's throw, he lost a footrace to the plate with Millan. The inning ended when Jerry Grote grounded into a double play, but with the Mets now leading 4-3.
Berra pulled Seaver for a pinch-hitter in the top of the eighth and brought in McGraw, employing the same formula that was successful for the Mets in the 1973 opener. After Scarce retired the Mets in order in the top of the eighth inning, McGraw did the same in the bottom of the inning, making Berra's strategy look good at that point.
The Mets half of the ninth inning was interrupted when what Augie Borgi of the New York Daily News described as "the world's fattest streaker"11 briefly ran around until subdued. With peace restored, Scarce pitched a scoreless ninth.
As the Phillies came to bat in the ninth, Ozark walked along the bench and said, "If we get somebody on Schmidtie's going to jerk one."12 After pinch-hitter Tony Taylor led off the inning with a single, Boone bunted pinch-runner Bill Grabarkewitz to second. Schmidt, batting in the eight slot, was 0-for-3. (He had concluded the previous season by going 0-for-26.) After taking a screwball, Schmidt got the pitch he was looking for, which he described as "a low fastball, down and in the strike zone, where I like it."13 Philadelphia Inquirer columnist Frank Dolson described what happened next: "The quick hands reacted: The power in Mike Schmidt's bat exploded. It was one of those towering shots that seemed to hang up there for hours.14 Schmidt's home run over the left-field fence was the first of 36 he hit that season, leading both leagues.15
Losing pitcher McGraw also had been happy with the pitch, stating after the game that the fastball was "(inside) where I wanted it."16 Scarce picked up the win, with 2⅔ hitless innings pitched.
Behind a rallying cry of "Yes we can," initiated by Cash,17 and especially behind Schmidt's breakout season (36 .282, 36 home runs, 116 RBIs), over the first four months of the season Phillies spent 62 days in first place.18 From August 3 on, the team faded to a third-place finish with a record of 80-82, eight games out of first place. The Phillies were still one year away from maturing into the team that posted nine consecutive winning seasons, six postseason appearances, two pennants and a World Series championship.
The Mets finished in fifth place with a record of 71-91, 17 games out of first. Over the next nine seasons, they posted winning records only twice, finishing last or next to last in each of the other seven seasons.
On December 3, 1974, the Mets sent McGraw, Hahn, and outfielder Dave Schneck to the Phillies for Unser, Scarce, and catcher John Stearns. When the two teams met in the April 8, 1975, season opener at Shea Stadium, Unser was in center field for the Mets while Scarce and Stearns were reserves. Although Hahn appeared for the Phillies that day as a defensive replacement, he was gone by the end of May. Schneck never played for them. On the disabled list that day, McGraw — when activated — was a vital cog in the Phillies bullpen over the next several seasons,19 with his late-season performance in 1980 being a key element in that season's World Series championship.20
Sources
In addition to the sources cited in the Notes, the author consulted Retrosheet.org and Baseball-Reference.com.
https://www.baseball-reference.com/boxes/PHI/PHI197404060.shtml
https://www.retrosheet.org/boxesetc/1974/B04060PHI1974.htm
Notes
1 Beginning its fourth year of use, Veterans Stadium was still a few years from being termed, along with the other similarly designed stadiums of the time, "giant concrete donuts." See Paul Goldberger, Ballpark, Baseball in the American City (New York: Knopf, 2019), cited in Michael Lindgren, "America's Ballpark Architecture: The Hits, the Misses and the Home Runs," Washington Post, June 9, 2019: B7.
2 The two also squared off in openers for the 1981 season when Seaver played for Cincinnati, and the 1983 season after Seaver had returned to the Mets. In these five games, Seaver's record was 2-0 with three no-decisions, while Carlton's was 0-3 with two no-decisions. Carlton and Seaver faced each other 16 times over the course of their careers, the first time being in 1970 when Carlton was with St. Louis and Seaver with the Mets, seven occurring between 1972 and June 15, 1977, prior to Seaver being traded to Cincinnati, eight during the time he was with the Reds, and then one in 1983 after Seaver returned to the Mets. Seaver's record in these games was 11-3 with three no-decisions, while Carlton's was 3-12 with two no-decisions.
3 Carlton's 1972 record was 27-10, compiled while pitching for a team that won 59 games, and he led the league with a 1.97 ERA and 310 strikeouts. He also won Cy Young Awards in 1977, 1980, and 1982.
4 Seaver posted a record of 19-10 while leading the league with an ERA of 2.08 and 251 strikeouts. He previously won the Cy Young Award in 1969 and would receive the award for a third time in 1975.
5 The Mets went into Game Six leading three games to two.
6 Inducted as a player into the Baseball Hall of Fame in 1972, Berra, whose Yankees won a pennant in 1964, the only year he managed there, had the distinction at that time of managing pennant winners in two of his three years of managing.
7 Before coming to the Phillies, Ozark spent 26 years in the Dodgers system, first as a player, then a manager in the minor leagues, followed by serving eight years as a coach for the Dodgers.
8 Marty Gradal, "Team at Vet Doesn't Look Like the Old Phils," Lancaster (Pennsylvania) Daily Intelligencer, April 6, 1974: 8. See also, "Cannon to Shoot Great Zacchini and Ball to Plate," Philadelphia Inquirer, April 6, 1974: 20, relating how The Human Cannonball was preceded in two Vet Stadium openers by "Kiteman," who was supposed go down a chute in center field, then land at home plate with the ball. In the 1972 opener, Kiteman didn't make it past the bleachers, and in 1973 he ended up well short of the plate, thus paving the way for the 1974 debut of The Human Cannonball.
9 Augie Borgi, "Phils Top Mets, 5-4 on Schmidt HR in 9th," New York Daily News, April 7, 1974: 115.
10 Bruce Kieden, "Schmidt's 2-Run HR in 9th Lifts Phillies Past Mets, 5-4," Philadelphia Inquirer, April 7, 1974: 89.
11 Augie Borgi, "Phils Top Mets, 5-4 on Schmidt HR in 9th."
12 Frank Dolson, "Phils Hot on Scent of Something Big," Philadelphia Inquirer, April 7, 1974: 89.
13 Frank Dolson, "Phils Hot on Scent of Something Big."
14 Frank Dolson, "Phils Hot on Scent of Something Big."
15 Had it been hit 14 years and a couple of months later, the game account would have been termed it a "Walk-Off Home Run." That term, however, was not used until July of 1988. See Victor Mather, "Tracing the Origins of the Phrase 'Walk Off Home Run,'" New York Times, October 17, 2019, nytimes.com/2017/10/16/sports/baseball/mlb-playoffs-walkoff-home-run.html. This was not the first walk-off home run in future Hall of Famer Schmidt's young career – that was a solo home run off another Hall of Famer, Bob Gibson in a 2-1 Phillies victory on April 22, 1973.
16 Augie Borgi, "Phils Top Mets, 5-4 on Schmidt HR in 9th."
17 Based on the Pointer Sisters' hit song of the day by the same name.
18 Before the 1974 season, the Phillies had not spent experienced the rarefied air of first place since May 9, 1972.
19 In 1975 McGraw had a record of 9-6 with 14 saves and a 2.98 ERA. As noted by Matthew Silverman in McGraw's SABR biography, "The first day he ever pitched at Shea wearing a road uniform came on June 29. He wound up throwing seven innings in a twin bill, saving the first game and winning the second. McGraw retired 21 of the 22 Mets he faced in the doubleheader sweep. In a decade as a Phillie, he was especially overpowering against his former club. His 22 saves against the Mets were more than he had against any team, quite a feat given that his first nine seasons were spent with New York. His 2.39 ERA against the Mets was also his best mark against any team as a Phillie."
20 The Phillies posting of the words "Ya Gotta Believe" on the wall of a hallway at their spring complex in Clearwater, Florida next to a large photo of McGraw reportedly "sparked a playful feud" between the Phillies and the Mets. See Tyler Kepner, "Tug McGraw's '73 Mets Rallying Cry? It's Now on a Phillies Wall," New York Times, February 14, 2017, nyti.ms/2lMMaky.
Additional Stats
Philadelphia Phillies 5
New York Mets 4
---
Veterans Stadium
Philadelphia, PA
Box Score + PBP:
Corrections? Additions?
If you can help us improve this game story, contact us.
Tags
https://sabr.org/sites/default/files/SchmidtMike-1974.jpg
600
800
sabr
/wp-content/uploads/2020/02/sabr_logo.png
sabr
2020-03-31 12:02:57
2020-05-28 15:45:02
April 6, 1974: Mike Schmidt's Opening Day homer lifts Carlton, Phillies over Seaver, Mets