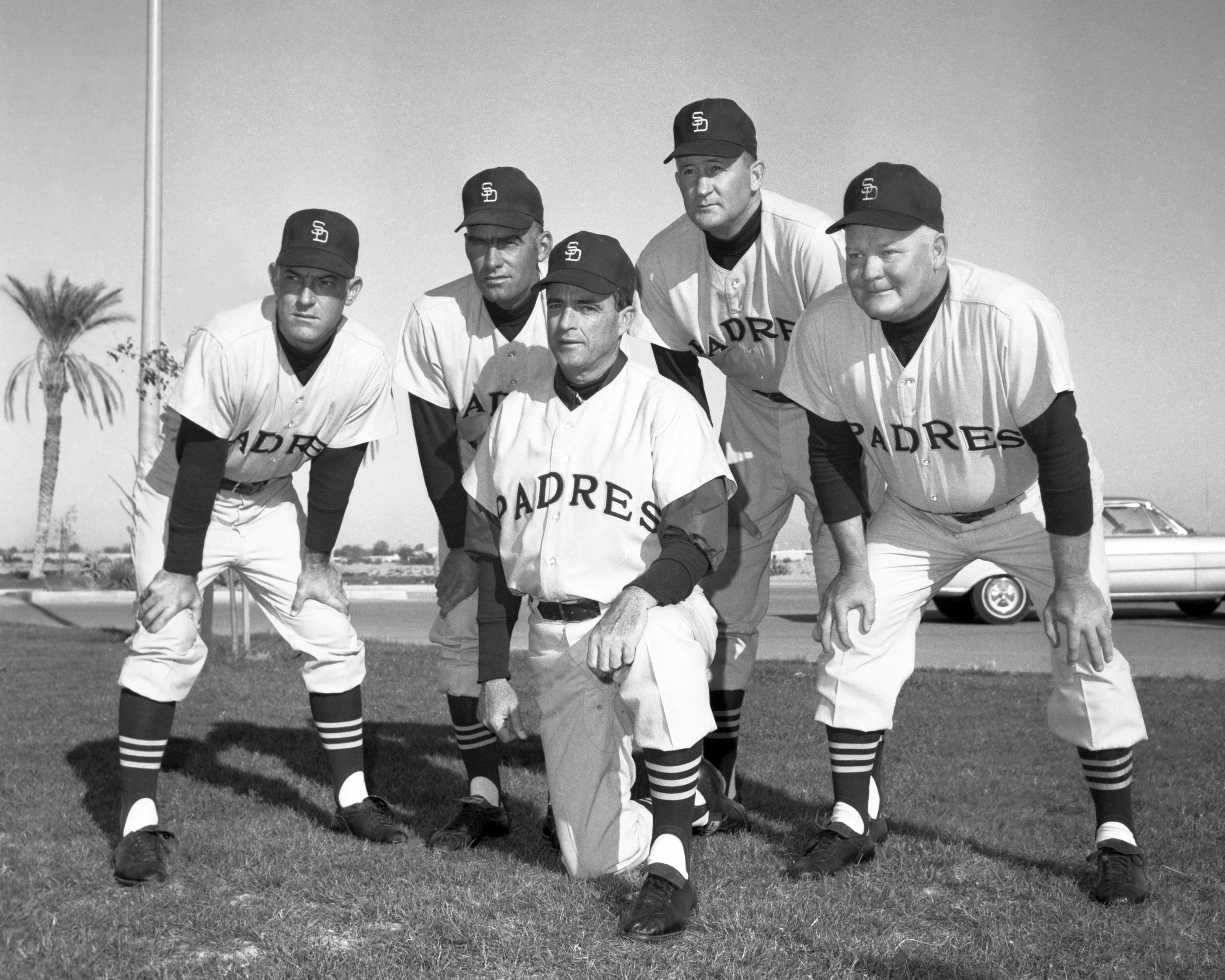 April 8, 1969: San Diego Padres win inaugural major-league game
---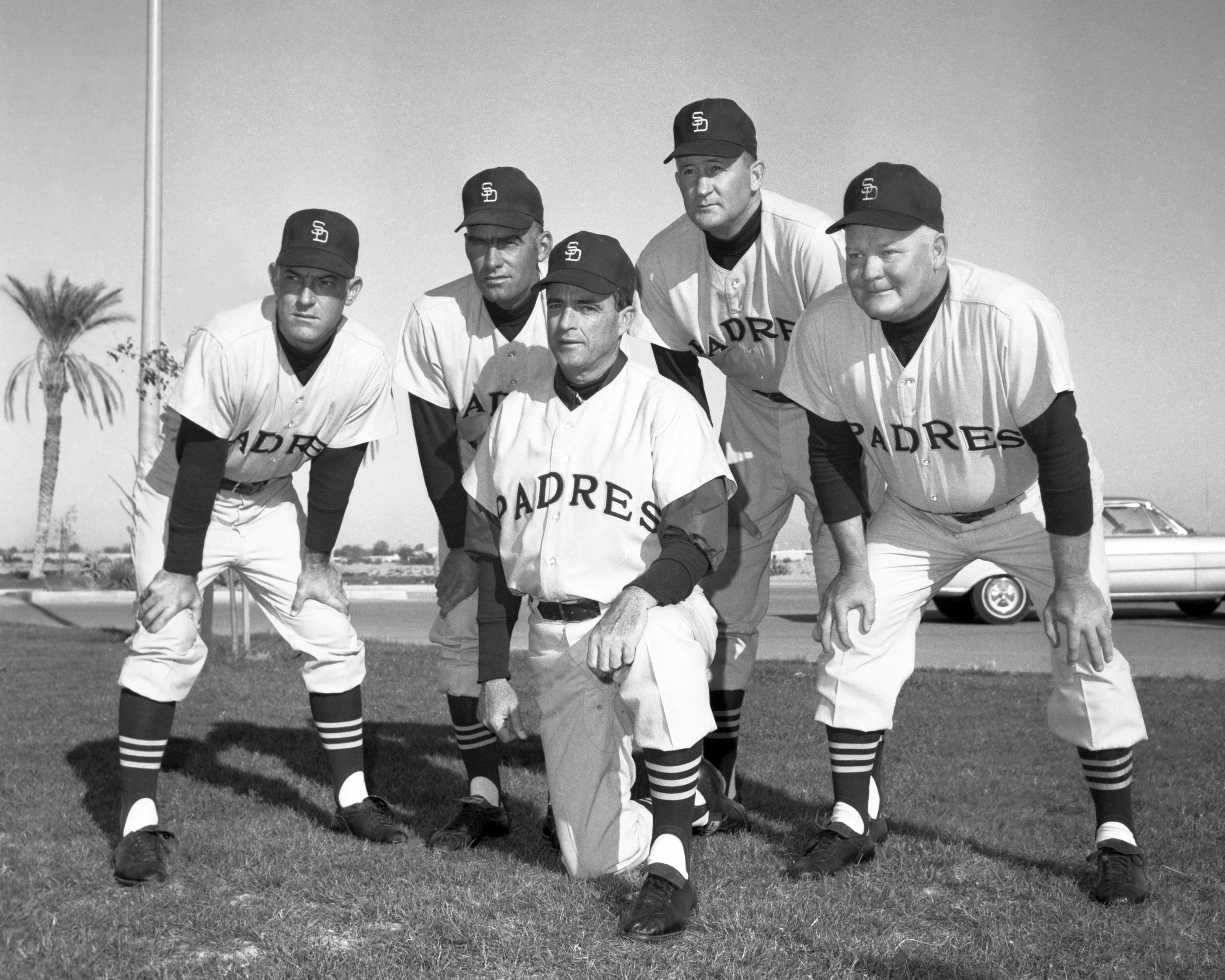 The 1969 Padres coaches gather around manager Preston Gomez during spring training in Yuma, Arizona. Left to right are coaches Sparky Anderson, Wally Moon, Roger Craig, and Whitey Wietelmann. (Courtesy of Tom Larwin)
San Diegans rejoiced in May 1968 when the National League announced the awarding of expansion teams to Montreal and San Diego, beating out Buffalo, Milwaukee, and Dallas, after a 10-hour owners meeting with 18 ballots. Montreal was the first choice, and Buffalo initially had votes from eight of the 10 owners. However, the two West Coast owners, Walter O'Malley and Horace Stoneham, held out and eventually persuaded the others to go with San Diego. Less than a year later, the Padres were playing their first game, debuting at home in recently built San Diego Stadium, hosting the Houston Astros.
E.J. "Buzzie" Bavasi left the Dodgers to partner with San Diego businessman and financier C. Arnholt Smith to secure the franchise. Smith became two-thirds owner and supplied the bulk of the capital, with Bavasi owning the other third, serving as president, and providing the experience. Smith had owned the Pacific Coast League Padres and, although at the time he was known for his banking and financial empire, he also preferred to stay out of the spotlight, and was something of a mystery man to all but his closest friends.1 Eddie Leishman, general manager of the PCL Padres, became GM of the new team as well.
The roster was filled primarily through an expansion draft, during which each team received 30 players from the existing clubs. Winning the coin toss, the Padres selected right fielder Ollie Brown as the first choice. Montreal went after several veterans, but Bavasi's plan was to draft plenty of young talent with a sprinkling of experienced players, and therefore he expected some possible lean seasons at the start. Only six players who appeared in a game for San Diego that first season were over 30 – Tony Gonzalez, Chris Cannizzaro, Roberto Pena, Johnny Podres, Jack Baldschun, and Al McBean.
The Opening Day outfield consisted of Brown, 13th pick Larry Stahl, and nine-year veteran Gonzalez, a career .293 hitter at the time who had hit .339 just two years earlier, and was chosen a surprisingly late 19th from the Phillies. The starting infielders were Bill Davis, Pena, Rafael Robles, and Ed Spiezio. Davis was a 26-year-old, 6-foot-7 slugging first baseman, acquired from Cleveland in a trade for shortstop and 1965 MVP Zoilo Versalles, the Padres' 10th pick. Pena, drafted 24th as a shortstop, moved to second base so Robles, a rookie picked 26th, could play shortstop. Robles wound up playing only six games for the Padres in 1969 and 47 for his career. Spiezio, acquired from St. Louis along with three others for second pick Dave Giusti, started at third base. Catcher Chris Cannizzaro had still been a Pirate just two weeks before Opening Day. The starting pitcher was third pick Dick Selma.
Clarence Gaston, the name he was known by at the time and the final draftee, was due to start in center field, but came up with an infection from too many foul balls off his left foot.
The Padres were confident they had an excellent outfield of Brown, Gaston, and Gonzalez, with Al Ferrara (drafted 15th) as a fourth outfielder needing to get playing time. Bavasi said he would not trade his outfield corps for the entire Dodgers picket line of Ron Fairly, Willie Davis, Andy Kosco, Len Gabrielson, and Willie Crawford.2
Padres manager Preston Gomez, who had been a coach with the Dodgers, proclaimed that his team would hit better than the Dodgers.3
On Tuesday evening, April 8, 1969, as fans and sportswriters gathered for the first major-league game in San Diego, optimism was in the air. The club expected 35,000, but only 23,370 showed up. The original take on that was that this was a glass half-full. San Diego Union sports editor Jack Murphy wrote, "This was a gala occasion, and a festive crowd came to the stadium on a pleasant spring evening convinced that youth was not wasted on the young. This is the youngest, rawest team in baseball – a team with a high potential for excitement. It just might be the perfect team for San Diego."4
Houston manager Harry Walker called San Diego "another happy city. Another hot spot for baseball." Walker exulted that San Diego's attractive new stadium was one of the finest he'd ever seen.5
Former catcher Ken Retzer was in the stands, and declared that the Padres were better than the original 1961 expansion Senators, on which he played.6
Not everyone saw the Padres in such a positive light. Astros starting pitcher Don Wilson had said a night earlier that he would "enjoy" pitching the opener and told Dick Selma, "You know, don't you, that you are going to lose tomorrow night?"7
At 8:15 P.M., Selma delivered a first-pitch strike to Jesus Alou, who eventually singled, stole second, and scored on a single by Doug Rader. In the home half, Rafael Robles, the first Pade batter ever, reached base on an error by Joe Morgan, but was left stranded after stealing second.
The Padres also got a runner into scoring position in the third inning when Cannizzaro walked and was balked to second, but the game reached the fifth still 1-0. Ed Spiezio tied the game with a one-out solo home run over the 17-foot wall in left field, for the team's first homer and first run. It was also the Padres' first hit. Then in the sixth inning, Pena led off by getting hit by a pitch, and Brown doubled him home with one out. Both runs came off Wilson, who went six innings.
Houston threatened in the fourth (a single by Curt Blefary and a passed ball) and fifth (a triple by Alou), but couldn't score, and after that got a runner to second base only once. Selma, a spring-training flop, pitched a masterful 2-1 complete-game victory, allowing five hits and two walks, striking out 12.
San Diego made several outstanding defensive plays, the first of which came right after Rader's RBI single. With two on, Pena made a difficult snag of a blistering liner hit by Blefary. Brown made an exceptional catch of a second-inning foul fly by Johnny Edwards, and in the eighth, with a runner on second, Gonzalez crashed into the concrete wall in left-center to grab a 370-foot drive by Rader.
Selma, by the way, had a perfect day at the plate with two of the team's four hits and a sacrifice bunt.
The Padres' record would reach 3-0 with consecutive 2-0 wins over Houston, behind Podres, allowing two hits in seven innings, and Dick Kelley, allowing one hit in 8⅓ innings, the hit coming in the seventh. Podres had been a candidate to be the Opening Day starter8 although he did not pitch in 1968.
Reality set in soon thereafter, to a lack of both victories and fan interest. The lower-than-expected Opening Night crowd foreshadowed five years of concern about San Diego's ability to support baseball. Attendance figures for games two and three with the Astros were both under 5,000.
San Diego fell to 3-6 before winning again, but interestingly had six winning streaks of at least three games (including one at six) among its lowly 1969 win total of 52.
As for Gomez's prediction that the Padres would outhit the Dodgers, they did out-homer them, 99-97, but hit .225 and scored the fewest runs in the league. The Dodgers outscored them 645-468, and every other team outscored the Padres by more than 100 runs.
Three of the Padres' starting nine in the opener would be gone by mid-June. Selma, Davis, and Gonzalez were traded for younger players. Davis, suffering from an Achilles tendon injury that kept him out of all of 1968, never recovered, and did not play again in the majors after leaving the Padres. His departure was hastened by the development of another young first baseman, Nate Colbert.
Sources
In addition to the sources cited in the Notes, the author consulted Baseball-Reference.com, Retrosheet.org, and the following:
https://www.baseball-reference.com/boxes/SDN/SDN196904080.shtml
https://www.retrosheet.org/boxesetc/1969/B04080SDN1969.htm
Kaegel, Dick. "Sweating, Waiting … As N.L. Debated," The Sporting News, June 8, 1968: 5.
Lang, Jack. "Hill Gems Scarce, Expos, Padres Discover," The Sporting News, October 26, 1968: 11.
Cour, Paul. "Padres Hopes Hinge on Comeback Trio," The Sporting News, April 19, 1969: 22.
Porter, David, and Joe Naiman. The San Diego Padres Encyclopedia (Champaign, Illinois: Sports Publishing LLC), 2002.
Notes
1 Bob Ortman, "Scouts Are No. 1 on Bavasi's Lists of Musts," The Sporting News, June 22, 1968: 9.
2 Paul Cour, "No Poverty in Padres' Picket Line," The Sporting News, March 15, 1969: 9.
3 Paul Cour, "No Poverty in Padres' Picket Line."
4 Jack Murphy, "Happy City, Beautiful Stadium Impress Diamond Veteran Walker," San Diego Union, April 9, 1969: C1.
6 Jerry Magee, "Pad Fans Hopeful, Optimistic, Daring," San Diego Union, April 9, 1969: C1.
7 Phil Collier, "Padres Sparkle in Debut, Selma Beats Astros, 2-1," San Diego Union, April 9, 1969: C1.
8 Paul Cour, "Podres Takes Vows With Padres," The Sporting News, April 5, 1969: 15.
Additional Stats
San Diego Padres 2
Houston Astros 1
---
San Diego Stadium
San Diego, CA
Box Score + PBP:
Corrections? Additions?
If you can help us improve this game story, contact us.
Tags
https://sabr.org/sites/default/files/1969-Padres-coaches.jpg
600
800
sabr
/wp-content/uploads/2020/02/sabr_logo.png
sabr
2020-03-31 11:51:21
2020-09-27 20:48:12
April 8, 1969: San Diego Padres win inaugural major-league game