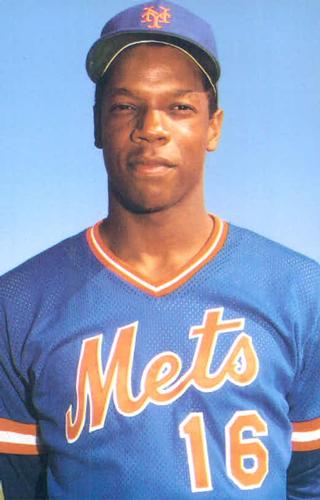 April 8, 1986: Gooden's complete game leads Mets to win on Opening Day
---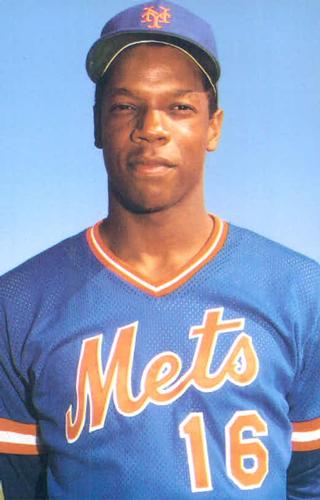 As the 1986 season dawned, the New York Mets occupied the doorstep of greatness. A potent collective of young talent and established stars, the 1984-85 Mets equaled the Tigers and Blue Jays for the major leagues' most regular-season wins over those two seasons, but experienced the postseason as spectators in both years. The 1984 Mets missed the National League East crown when the Cubs maintained their first great wire-to-wire season since World War II; in 1985 the 98-win Mets lost out to the 101-win Cardinals. Speaking to his 1986 team on the first day of spring training, Mets manager Davey Johnson vowed, "We're not going to win, we're going to win big. We're going to dominate. We're going to blow the rest of the division away."1 At that point, however, the Mets' legacy stood indistinguishable from the division's last great also-ran squad, the "Team of the 1980s" Expos, who never attained the promise suggested by back-to-back second-place near-misses in 1979-80.
The new season likewise brimmed with potential significance for the Pittsburgh Pirates — albeit from a divisional rent district far removed from the Mets' penthouse quest. The Pirates danced among the game's elite from 1970 to 1983, with two World Series championships, six National League East titles, and four second-place finishes. Everything had collapsed in 1984 and 1985: back-to-back last-place finishes, sparse crowds at Three Rivers Stadium, a federal drug trial implicating players and support personnel, and rumors of the club's imminent relocation.2 The franchise pursued a reboot over the 1985-86 offseason, with a new local ownership group taking over and of Syd Thrift and Jim Leyland hired as general manager and manager respectively. "We Play Hardball," proclaimed their marketing campaign, promising a scrappy, hustling squad after several years of decay.3
When the Mets and Pirates opened the 1986 season on April 8 at Three Rivers Stadium, New York's 4-2 victory reflected the Mets' championship aspirations and the Pirates' hopes for rebirth.
The audience that night, which included Commissioner Peter V. Ueberroth and a paid crowd of 48,953, the largest for a baseball game in Pittsburgh in almost six years, witnessed a matchup of two of 1985's best starting pitchers. New York's Dwight Gooden had followed a sensational teenage debut season with one of the most magnificent campaigns for any starting pitcher in the 1980s, by yardsticks both known and unknown at the time. Gooden's 24 wins, 268 strikeouts, and 1.53 earned-run average led the major leagues. His season total of 8.9 Wins Above Replacement, as calculated by Fangraphs, ranked second among starting pitchers from 1980 to 1989. The month after the season ended, Dr. K celebrated his 21st birthday and received the National League Cy Young Award, earning first-place votes on all 24 ballots.4
Fifteen years Gooden's senior, Pirates starter Rick Reuschel likewise had a remarkable 1985 season. A constant in the Cubs' rotation from his 1972 debut through his 1981 trade to the Yankees, Reuschel missed all of 1982 and most of 1983 with a rotator cuff injury. A poor 1984 with the Cubs followed, and Reuschel signed a minor-league contract with the Pirates in February 1985, months before his 36th birthday. Rescued from professional oblivion, Reuschel joined the Pirates in May and earned The Sporting News' National League Comeback Player of the Year honors with a 14-8 record and 2.27 ERA.5 Per Fangraphs, Reuschel's 5.2 Wins Above Replacement in 1985 ranked him fifth among National League pitchers, training only Gooden, St. Louis's John Tudor, and Los Angeles' Orel Hershiser and Fernando Valenzuela.
Notwithstanding their 1985 excellence, both starters began 1986 by surrendering first-inning runs on a chilly, 40-degree evening. Lenny Dykstra led off against Reuschel with a five-pitch walk. One out later, Keith Hernandez drove in Dykstra with a one-hop double to the wall in left center. After alertly taking second base on Sam Khalifa's relay throw home, Hernandez scored the Mets' second run on Gary Carter's sacrifice fly.
In the bottom of the first, Pirates leadoff hitter R.J. Reynolds watched Gooden's first two pitches pound Carter's glove for strikes. Gooden attempted a high and inside fastball on the third pitch, but left it over the plate. Reynolds pulled the misplaced pitch into the brown seats in right-center, cutting the Mets' lead to 2-1.6
Gooden and Reuschel settled down after their first-inning struggles, posting a series of scoreless frames through the fifth inning. The Pirates twice threatened to tie the game during this stretch. With two outs in the third, Joe Orsulak grounded a triple down the third-base line. Mets left fielder George Foster appeared to misjudge the carom off the bullpen fence, but Dykstra hustled over from center field and held Orsulak at third. Johnny Ray followed by lining a breaking ball narrowly foul outside the left-field line, before grounding out to Gooden to end the inning. In the fourth, Sid Bream jumped on Gooden's first pitch, lining it down the right-field line for a double. One out later, Tony Peña hit a sharp line drive to Hernandez, who flipped underhanded to shortstop Rafael Santana to double off Bream.
Reuschel limited the Mets to a Gooden single in his four-inning scoreless streak, even dispatching Wally Backman, Hernandez, and Carter in the fifth on just three pitches. The Mets loaded the bases in the third inning on three walks, but Reuschel induced Foster to ground out to end the threat.
Held to two hits through five innings, the Mets broke out of their offensive stupor in the sixth. Darryl Strawberry led off by lining Reuschel's first pitch over a leaping Khalifa. The ball bounced on the artificial turf to the wall in left-center, allowing the Mets' 24-year-old right fielder to reach second with a stand-up double. Foster dropped Reuschel's next pitch in front of Orsulak in right field. When the ball took a high hop off the turf, Strawberry came home for a 3-1 Mets lead.
The Pirates responded by manufacturing a run in the bottom of the sixth. Reynolds started the inning by doubling down the right-field line. Groundballs by Orsulak and Ray brought him home, narrowing the Mets' edge to 3-2.
Leyland made his first pitching change as a major-league manager in the top of the seventh, replacing Reuschel with left-hander Pat Clements. Clements immediately pitched into trouble with a four-pitch walk to Dykstra. Backman sacrificed Dykstra to second. Hernandez fell behind in the count, but lined Clements' 1-and-2 pitch up with middle to score Dykstra and restore the Mets' two-run margin.
After retiring the Pirates in order in the seventh and eighth innings to sustain the lead, Gooden took the mound in the ninth intent on a complete game. Orsulak led off by working the count full, fouling off three pitches, and then taking a ball low for the Pirates' only walk of the game. Ray followed by ripping Gooden's first pitch past a diving Backman and into right field, putting two runners on base for Bream.
The Pirates had obtained the 25-year-old Bream when they traded Bill Madlock to the Dodgers at 1985's August 31 trading deadline. After the trade, Bream responded well to his first opportunity for regular playing time in the major leagues, registering a .284/.355/.455 slash line in 108 plate appearances. Bullish on their new acquisition, Pirates traded incumbent first baseman Jason Thompson to the Expos four days before the 1986 opener and installed Bream as Opening Day first baseman and cleanup hitter.7
With Roger McDowell and Jesse Orosco warming up in the bullpen and many members of the crowd waving black-and-gold pom-poms in support of the Pirates' rally, Johnson left Gooden in the game and deployed the Mets' infield in a standard defensive alignment, apparently expecting Bream to hit away. Leyland, however, called for a sacrifice bunt on the first pitch. Bream squared and pushed the ball down the first-base line. Gooden — the only Met with a chance of making a play — pounced off the mound, grabbed the bouncing ball, and tagged Bream for the first out.8
On Bream's sacrifice, Ray and Orsulak moved to second and third for Steve Kemp. A strong bat for the Tigers and White Sox between 1977 and 1982, Kemp clung to a part-time role in 1986, eye and rotator cuff injuries having accelerated his professional decline.9 Gooden had struck out Kemp twice earlier in the game, catching him looking at curveballs both times. With the outcome in doubt in the ninth inning, Gooden fell behind in the count 2-and-1, but then threw two fastballs through Kemp's swing for the second out.
Gooden's next pitch was his 104th of the night. Peña tapped it back to the mound. Gooden threw to first for the final out. The Mets had taken their first step on the path to 108 regular-season wins — including 17 wins in 18 games against the Pirates — and a World Series championship.
Sources
In addition to the sources referenced in the footnotes, the author relied on game coverage from two Pittsburgh newspapers (Pittsburgh Post-Gazette and Pittsburgh Press) and two New York newspapers (New York Times and Daily News); a recording of WOR-TV's game broadcast; game, team, and individual player data from Baseball-Reference and Fangraphs; and his own memories of watching the game at age 11 from Section 75 at Three Rivers Stadium with his parents.
baseball-reference.com/boxes/PIT/PIT198604080.shtml
retrosheet.org/boxesetc/1986/B04080PIT1986.htm
WOR-TV game broadcast: youtube.com/watch?v=v6dVZcsOrbA
Notes
1 Jeff Pearlman, The Bad Guys Won! (New York: Harper Collins, 2004), 42.
2 Bob Hertzel, "1985: The Year the Pirates Turned the Page," Pittsburgh Press, October 6, 1985: D3.
3 Phil Musick, "Summer of '86 Will Put Pirates and Fans to the Test," Pittsburgh Press, April 8, 1986: B1.
4 Jack Lang, "Gooden Cy Young-est: At 20, Met Ace Is Writers' Unanimous Choice," New York Daily News, November 14, 1985: 92.
5 Bob Hertzel, "Believer's Reward: Reuschel Rose from Pirates' Ashes in '85," Pittsburgh Press, March 2, 1986: D3.
6 "I wasn't shocked he hit it that far," Gooden revealed afterward. "I threw him two fastballs for strikes, then tried to move him back off the plate and aimed the ball too much. I thought it might be a long day. The Pirates were all pumped up, their home fans shouting, it was like a World Series." Joseph Durso, "Yanks Top Royals, Gooden Foils Pirates in Openers; Mets Win by 4-2," New York Times, April 9, 1986: 23.
7 Charley Feeney, "Spring Cleaning: Pirates Sweep Out Thompson, Lezcano, LeMaster," Pittsburgh Post-Gazette, April 5, 1986: 19.
8 "I thought Kemp or Pena might hit the ball out of the park or get a base hit to tie it," Leyland said of his bunt decision "I felt it was the proper thing to do. The second guess is in baseball. It belongs in baseball." "Pirate Notebook: Gooden Stays Away from Swinger Peña," Pittsburgh Post-Gazette, April 9, 1986: 20.
9 Bob Hertzel, "Kemp Hopes This Season Will Be a New Ballgame," Pittsburgh Press, February 27, 1986: B1.
Additional Stats
New York Mets 4
Pittsburgh Pirates 2
---
Three Rivers Stadium
Pittsburgh, PA
Box Score + PBP:
Corrections? Additions?
If you can help us improve this game story, contact us.
Tags
https://sabr.org/sites/default/files/Gooden-Dwight-1986.jpg
600
800
admin
/wp-content/uploads/2020/02/sabr_logo.png
admin
2020-03-24 12:30:28
2021-09-23 15:04:40
April 8, 1986: Gooden's complete game leads Mets to win on Opening Day