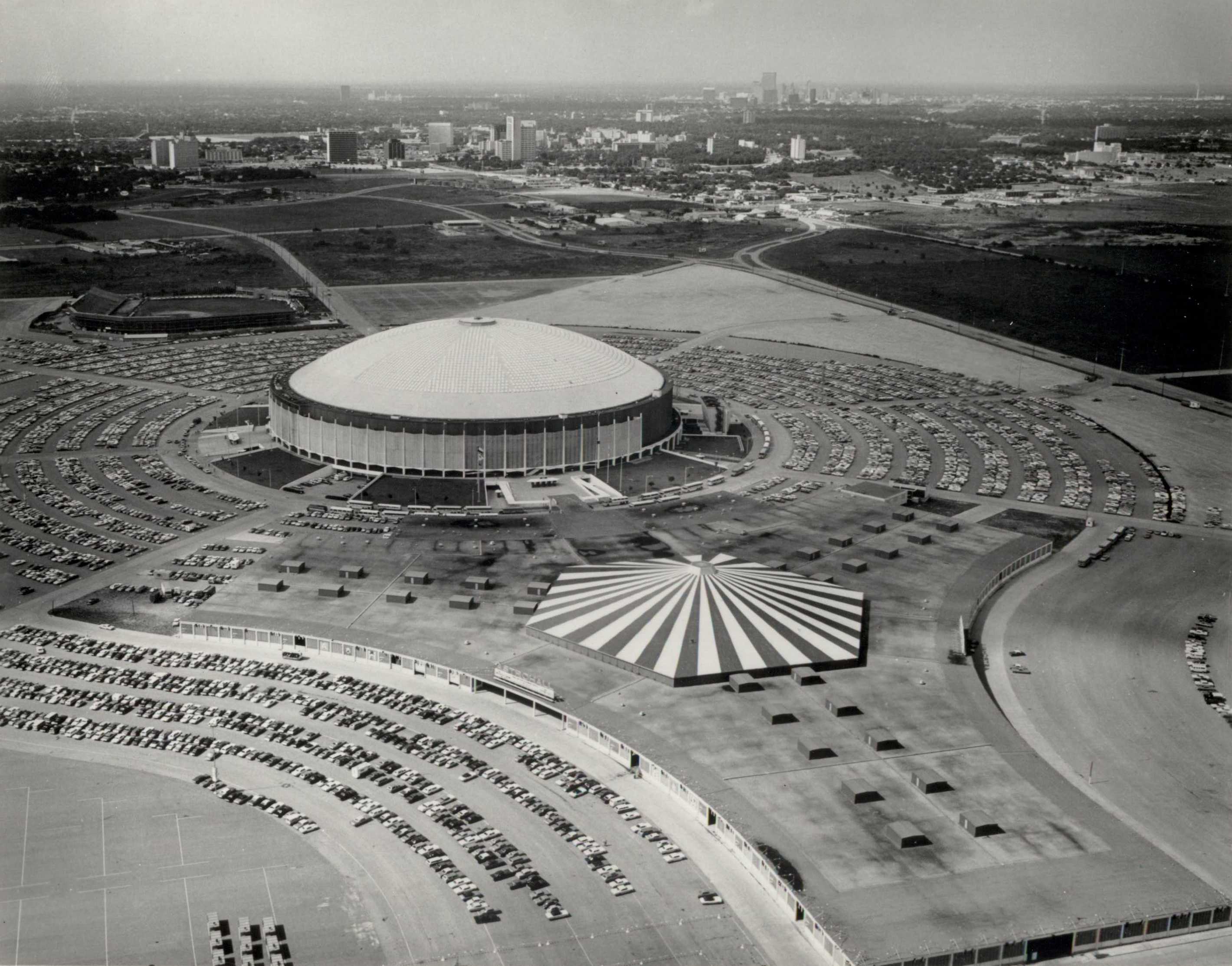 April 9, 1965: Astros beat Yankees in first game inside the Houston Astrodome
---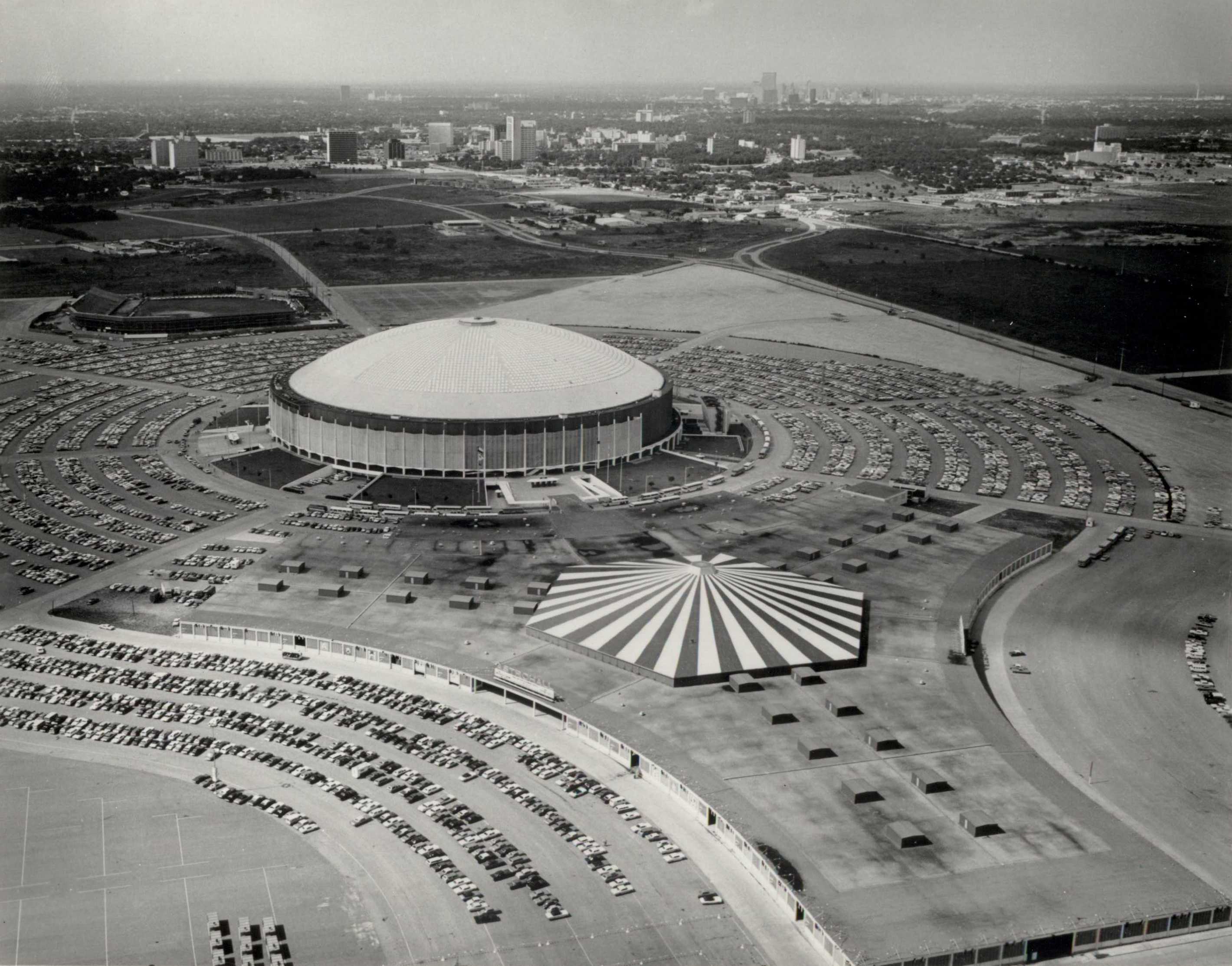 "The opening night against the Yankees was one of the most electrifying nights I've spent in baseball. The excitement was everywhere. It was incredible to see that place filled. It was hard not to look up and be just as awed as any fan."1
That was Rusty Staub in 1985, 20 years after professional baseball's first indoor game. In 1965, Staub — then the Astros' right fielder — was just 21. Yet many older people were just as excited about the brand-new Astrodome. Various veteran sportswriters compared it to the Taj Mahal.2
The most prominent amazed fan that Friday night was the president of the United States, Lyndon Baines Johnson. LBJ told Judge Roy Hofheinz, president and co-owner of the Astros, "Roy, I want to congratulate you; it shows so much imagination." He later called the edifice "massive and beautiful."3 It was one of seven times that a US president was on hand for a major-league ballpark's debut.4
To conclude the 1965 exhibition season, the Astros and Yankees played a three-game series that ended on Sunday, April 11 (the Baltimore Orioles also played two games in Houston that weekend). The date with the Yankees was set at least as early as November 1964.5 The Bronx Bombers were long established as baseball's premier franchise. They were also the reigning American League pennant winners, and their star — Mickey Mantle — was then rivaled only by Willie Mays as the sport's biggest name.
There was a good reason to hold the first game at night. During an intrasquad game that Thursday, the Astros had discovered how difficult it was to see fly balls against the dome's translucent roof when it was sunny outside. They experimented vainly with various shades of sunglasses and even different-colored baseballs.6
The spectacle of the new stadium fueled a standing-room crowd of 47,876 for the first game. Attendance for each of the two weekend games against the Yankees surpassed 48,000 even though, by some accounts, the Astrodome's listed seating capacity for baseball was then 46,000.7
Throwing out the ceremonial first ball — and wearing an Astros cap — was the governor of Texas, John Connally. He was flanked by Warren Giles, president of the National League, and Praxedis Balboa, governor of the Mexican state of Tamaulipas (which borders the southern tip of Texas).8
The Yankees' manager, Johnny Keane — a Houston resident — catered to the fans with his lineup selection. Mickey Mantle had not been in the lineup for several days, yet Keane not only played him but also made him the leadoff batter.9 Mantle opened the game with a single off the Astros' starter, Dick "Turk" Farrell.
Keane also started various other "name" players, including Roger Maris, Bobby Richardson, and Tony Kubek. New York's starting pitcher was Mel Stottlemyre, who had been quite impressive in 1964 after reaching the majors in August. Hofheinz appreciated the gesture, declaring of Keane, "Johnny's a real class gentleman. He always has been."10
Lyndon and Lady Bird Johnson were announced in the bottom of the first inning.11 The native Texans received a huge standing ovation from the crowd in their home state.12 It had been up in the air whether the president would come to the game. Earlier that week he had told Hofheinz that he would not be able to make it. However, Johnson's close adviser, Jack Valenti — a Houstonian who later became the longtime president of the Motion Picture Association of America — told Hofheinz, "You know how the president is: If his desk gets cleared off early enough on Friday, he might just say, 'Come on. Let's go to the ballgame.'"13
Even on Friday afternoon, the White House played it close to the vest, saying only that the president had left "for Texas" — it wasn't clear whether that meant Houston or the LBJ Ranch in Johnson City (about 200 miles west in Blanco County).14 The destination was not confirmed to be Houston until Johnson had been flying for 55 minutes aboard his Air Force jet.15
Along with their entourage, the Johnsons sat in the owners' suite, high in right field just to the right of the giant scoreboard.16 Hofheinz knew LBJ very well. Indeed, he had been Johnson's campaign manager in some races.
A relaxed and smiling LBJ enjoyed hors d'oeuvres, chicken, and ice cream while watching the game.17 The White House had also ordered that nine special phone lines be ready at the stadium for the presidential party's use.18
The Astros did not cash in on a couple of early opportunities, notably in the third, when Ron Brand tripled with one out. In the top of the sixth inning, Mantle hit a solo homer to score the game's first run. He later said that he hit it "pretty good," but the ball barely made it into the first row of seats, just to the right of the 406-foot mark in center field. Echoing Mantle — and prefiguring other players' sentiments for years to come —Stottlemyre said, "This ought to be a pitchers' paradise. The ball just doesn't carry the way it does outdoors. You've really got to hit one to knock it out."19
Mantle and Maris also remarked on other aspects of visibility for outfielders. Mantle (who played left field that night) thought that line drives to left-center and right-center would be hard to handle. "They came out of the lights out there," he said. Maris remarked, "The ball blends into the girders. Maybe not so much as it does in the daytime, but you can notice it just the same."20
Houston tied it with an unearned run in the bottom of the sixth. Stottlemyre issued a leadoff walk to Farrell; Yankees first baseman Joe Pepitone then overthrew second base while going for a double play on a ball hit by Joe Morgan. The bases were loaded after Al Spangler's bunt down the third-base line stayed fair. Staub hit into a fielder's choice, scoring Farrell, but Walt Bond grounded into a double play.
Farrell pitched one more scoreless inning — center fielder Jimmy Wynn threw out Johnny Blanchard at the plate — and then gave way to Hal Woodeshick. Stottlemyre pitched through the eighth; he was relieved by Hal Reniff. LBJ and his party left before the top of the ninth; a rousing Texas-themed scoreboard show saw them off.21 When Houston did not score in its half of the ninth, it was on to extra innings.
Reniff pitched three scoreless frames for the Yankees. Meanwhile, Woodeshick allowed no runs in five innings, giving up just two hits and walking two.
Finally, facing Pete Mikkelsen in the bottom of the 12th inning, the Astros won it. (The game was played in a brisk 2 hours and 34 minutes). Wynn beat out an infield single and stole second. With two out, Nellie Fox hit a bloop single to center to bring Wynn home.22 The 37-year-old Fox had played little in spring training. In fact, before the game he said, "I have retired as a player."23 Although he had been the Astros' starting second baseman in 1964, Fox was released at the end of the season and then signed as a coach. He was on standby in case Joe Morgan didn't make the grade, and he worked hard to remain in shape.24
The next morning, ahead of the first afternoon game, Paul Richards, then Houston's general manager, said to Hofheinz that there was no alternative but to offer a money-back guarantee to fans if the fly ball visibility situation got out of hand. Hofheinz considered for about 10 seconds and then replied, "You're right. We've had a billion dollars worth of publicity and are off to a great start. We can't jeopardize it now."25 Fortunately, Saturday and Sunday were cloudy, and the Astrodome's roof was soon painted.
In later years the Astros continued to celebrate the inauguration of the dome, and Mickey Mantle remained a part of the pregame festivities. On the 10th anniversary of the first game, The Mick (then age 43) hit three home runs off Ken Johnson and Bob Bruce, two other 1965 Astros pitchers.26 On the 20th anniversary, Mantle "took a few obligatory swings at the plate" in his first appearance since Commissioner Peter Ueberroth reinstated him from a 1983 ban.27
Mantle refused, however, to throw out the first pitch as the Astros and Yankees played on March 30, 1995. At that time, Major League Baseball's most crippling strike still had not been resolved. The rosters for that exhibition game consisted of replacement players.28
The Astrodome hosted its last big-league game in 1999. Nonetheless, on April 9, 2015, a 50th-anniversary party was held at Carruth Plaza, outside the dome. The public was allowed inside for photo opportunities. An estimated 23,000 to 25,000 people turned out — including former Astros star José Cruz. The crowd was roughly half that of half a century before, but it was long on loyalty and emotion.29
This article appears in "Dome Sweet Dome: History and Highlights from 35 Years of the Houston Astrodome" (SABR, 2017), edited by Gregory H. Wolf. To read more articles from this book at the SABR Games Project, click here.
Notes
1 Mike Tierney, "In 20 years, Astrodome matures from baseball novelty to tradition," St. Petersburg Times, April 9, 1985: 1C.
2 "Writers Awed by Houston's Dome," Associated Press, April 10, 1965.
3 John Wilson, "Everyone in Orbit Over Astrodome," The Sporting News, April 24, 1965: 9.
4 John F. Kennedy threw out the first pitch at D.C. Stadium (later Robert F. Kennedy Stadium) on April 9, 1962 (although the Washington Redskins of the NFL had played the 1961 season there). George H.W. Bush threw out the first pitch at Baltimore's Camden Yards on April 6, 1992. Bill Clinton did the same at Cleveland's Jacobs Field (later Progressive Field) on April 4, 1994. George W. Bush threw out the second pitch at Milwaukee's Miller Park on April 6, 2001 (following Commissioner Bud Selig) and the first pitch at Washington's Nationals Park on March 30, 2008. Former President Jimmy Carter threw out the first pitch at San Diego's Petco Park on April 8, 2004.
5 "Ford Visits Domed Stadium; Leaves Hospital to Go Home," The Sporting News, November 28, 1964. Whitey Ford, the Yankees' star pitcher, had gone to Houston for an operation performed by the renowned vascular surgeon Denton Cooley.
6 Curt Block, "Astros Top Yanks in New Stadium," United Press International, April 10, 1965. John Wilson, "Lone Star Sun Glare Gives Players Daytime Nightmare," The Sporting News, April 24, 1965:10. "Colored Baseballs Fizzle," Associated Press, April 10, 1965.
7 "Astrodome Opens This Weekend," Associated Press, April 4, 1965. "Astros Take Dome Opener," Associated Press, April 10, 1965. Other references cite 42,217 for the 1965 season.
8 Wilson, "Everyone in Orbit Over Astrodome."
9 "Astro Bosses Praise Keane for Using Varsity Yankees," The Sporting News, April 24, 1965: 9.
10 Ibid.
11 "LBJ Sees Astros," Associated Press, April 10, 1963.
12 Murray Chass, "Astrodome Dedicated," Associated Press, April 10, 1965.
13 "Nine Special Phone Lines Set Up at Stadium for LBJ," The Sporting News, April 24, 1965: 10.
14 Ibid.
15 "LBJ Returns to Scenes of Youth", United Press International, April 10, 1965.
16 Wilson, "Everyone in Orbit Over Astrodome."
17 "LBJ Returns to Scenes of Youth"; "Everyone in Orbit Over Astrodome."
18 "Nine Special Phone Lines Set Up at Stadium for LBJ."
19 Til Ferdenzi, "Yanks Size Up The Astrodome: 'Pitchers' Park," The Sporting News, April 24, 1965: 10.
20 Ibid.
21 Chass, "Astrodome Dedicated." Jimmy Wynn with Bill McCurdy, Toy Cannon (Jefferson, North Carolina: McFarland & Company, 2010). 62.
22 Chass, "Astrodome Dedicated."
23 "Houston, Atlanta Fields Dedicated," Associated Press, April 10, 1965.
24 "'Coach' Fox Just Kidding?," Associated Press, March 27, 1965. "Astros Activate Fox, Cut White," Associated Press, May 13, 1965. Fox played in his last 21 big-league games from May through July 1965.
25 "Judge Ready to Give Refunds If Games Had Proved Farce," The Sporting News, April 24, 1965: 10.
26 "Hey, Mick, how about a DH job," Associated Press, April 10, 1975.
27 "Mickey Mantle takes some swings as Astrodome celebrates anniversary," Associated Press, April 10, 1985. The prior commissioner, Bowie Kuhn, had banned Mantle and Willie Mays from all association with baseball in 1983 because of their public relations duties with Atlantic City casinos.
28 "Replacement baseball debuts for anniversary at Astrodome," Associated Press, March 31, 1995.
29 Doug Miller, Alice Barr, and Marcelino Benito, "Fans gather to celebrate Astrodome's 50th birthday," KHOU.com, April 9, 2015. Anita Hassan and Mike Tolson, "Houston celebrates 50th Astrodome Anniversary with one last party," Houston Chronicle, April 10, 2015.
Additional Stats
Houston Astros 2
New York Yankees 1
---
Astrodome
Houston, TX
Corrections? Additions?
If you can help us improve this game story, contact us.
Tags
https://sabr.org/sites/default/files/images/Astrodomain-1969.jpg
600
800
admin
/wp-content/uploads/2020/02/sabr_logo.png
admin
2018-09-11 13:24:13
2020-04-17 10:24:41
April 9, 1965: Astros beat Yankees in first game inside the Houston Astrodome