April 9, 1993: A Rocky Mountain high on Opening Day in Colorado
---
After decades of waiting, Denver would finally have a major-league Opening Day of its own. The expansion Colorado Rockies, along with the Florida Marlins, joined the National League for the 1993 season. Expectations for on-field success were appropriately tempered, but the excitement for big-league baseball was palpable. Five thousand spectators showed up at Mile High Stadium, the Rockies' temporary home while Coors Field was being built, for the team's workout on Thursday, April 8. That same day, 20,000 people lined the streets of downtown Denver for a parade. The club also announced season-ticket sales totaling 28,250 and advance purchases of 2.8 million tickets.1 Further, the 80,227 who jammed Mile High Stadium comprised the largest home opener in baseball history, surpassing the crowd that greeted the Dodgers' arrival at the Los Angeles Coliseum in 1958.
The excitement, however, was no assurance that everything would go smoothly. For one, the Rockies lost their first two games, at Shea Stadium against the New York Mets, scoring a single run in both games; to be fair, Colorado had faced Dwight Gooden and Bret Saberhagen, but the output was less than optimal. During Thursday's workout, the condition of the patchy turf became an issue. Manager Don Baylor gave his verdict: "Not real good."2 He added, "To just be opening a baseball season in Denver and you have grass that's not even growing in certain spots, it's a little strange."3 After the game, Rockies owner Jerry McMorris noted that the club offered to pay to resod parts of the field 10 days before the opener.4 Nothing happened, and McMorris grumbled, "I'm not at all happy about it."5
The visiting Montreal Expos faced concerns about which players would actually take the field. Right fielder Larry Walker strained his lower right hamstring in the previous game in Cincinnati, and second baseman Delino DeShields became the latest player in the Expos organization to be felled by chicken pox.6
To face Montreal, Baylor called upon veteran right-hander and former Expo Bryn Smith. Possessing a fastball that barely registered at 80 mph and having started only one game the prior season, the 37-year-old Smith seemed an unlikely candidate to take the mound in the inaugural home game.7 Baylor, however, wanted a veteran presence on the mound and Smith would deliver. The first two Expos batters, Mike Lansing and Moises Alou, grounded out to second baseman Eric Young. Marquis Grissom and Frank Bolick singled to place runners at the corners, but Young earned his third assist of the inning by collecting John Vander Wal's grounder for the final out.
Expos manager Felipe Alou had managed previously in Denver with the American Association's Bears and he was familiar with baseball at Mile High. His starting pitcher, Kent Bottenfield, was one of 16 players on Montreal's roster with fewer than two years of major-league service time, but he had pitched at Mile High Stadium in the minors.8 That experience would mean nothing, however. Young led off the for the Rockies and worked the count full. He deposited Bottenfield's sixth pitch, a fastball, over the left-field fence, 380 feet away. Crediting the thin mountain air, Young said, "The altitude carried it. I was just hoping I had a double."9
Alex Cole walked on five pitches, and then swiped second and third with Dante Bichette at the plate. Cole said after the game, "We knew we still had to apply the pressure. If we started to sit back and relax, we're in trouble."10 Cole's aggressiveness positioned him to score easily when Bichette singled to left-center field. Bichette applied the same tactics in stealing second base before Andres Galarraga's at-bat ended with a fly out to Moises Alou in short right field. But Charlie Hayes swatted Bottenfield's slider 390 feet into the left-field stands for a 4-0 Rockies lead. For Hayes, unlike Young, there was no doubt about the result. "When I hit it, I knew it was a home run," he said.11 Jerald Clark doubled to left, but Joe Girardi grounded out and Freddie Benavides struck out to end Bottenfield's miserable inning.
Two Expos hitters reached in the top of the second – Tim Laker on an error by Benavides at shortstop and Bottenfield on an infield single – but Smith held Montreal scoreless. Smith led off the Rockies' second with a groundout to Bottenfield. Young walked on five pitches, then Cole's ball found a gap in the right side of the infield for a single. As Young raced toward third on the play, Alou's throw to third bounced away from Bolick for an error, allowing Young to race home. Bichette popped up and Galarraga flied out, but the Rockies led, 5-0.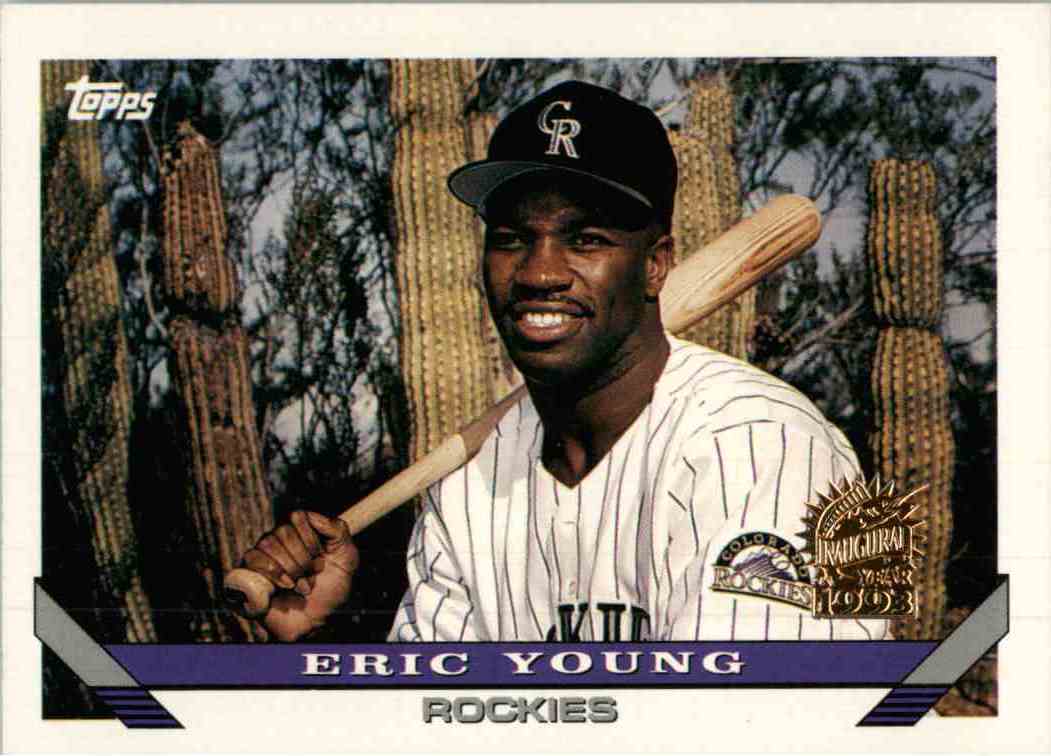 Smith continued to control the Expos from the mound. Alou's double to start the third inning amounted to nothing when he tried to stretch it to a triple and was thrown out. Grissom grounded out and Bolick popped up. In the Expos' fourth, Laker reached first with two outs when he was struck by a pitch from Smith, but Archi Cianfrocco's grounder ended the inning. On the defensive side, Bolick was having a game to forget.
In the third, Bolick committed errors on consecutive at-bats, first by making a bad throw from Girardi's ball and then booting Benavides's grounder, but the Rockies failed to capitalize. Young singled to open the Colorado fourth and Cole bunted. Fielding Cole's ball, Bolick threw wildly to put Rockies at second and third. Young scored on Bichette's fly, and Cole plated when Galarraga singled through the hole between Bolick and shortstop Wil Cordero. Hayes's double-play ball ended the inning with the Rockies now ahead, 7-0.12 Felipe Alou made known his displeasure with Bolick's three-error performance, stating tersely, "We're going to have to make some changes."13
In the Expos' fifth, Smith allowed one-out singles to Lansing and Alou, but Grissom's liner and Bolick's grounder ended the inning. The Rockies added to their advantage in the bottom half. Against Mike Gardiner, Clark singled over second base and Girardi doubled to deep right-center. With Clark at third, Benavides singled for an 8-0 lead. After Smith struck out on a foul bunt, Girardi scored on Young's single to center. Cole's line drive started an inning-ending double play, but the Rockies had stretched the lead to 9-0. That advantage held through a scoreless sixth inning.
Smith maintained his shutout by setting down the Expos in order in the top of the seventh. Baylor sent Daryl Boston to hit for Smith in the bottom of the inning, ended his pitcher's afternoon. Smith was clearly satisfied with his performance. He said, "This is the biggest win I've ever had, and there's been a lot of them."14 Gardiner gave way to Bruce Walton, whom the Rockies abused for four hits and two runs. Boston lined a single to center field, and Young singled with a groundball through the left side of the infield. Cole lined out to Alou, and Dale Murphy came to the plate. Murphy had replaced Bichette in the sixth, and Rockies fans greeted the longtime Atlanta Brave with a standing ovation. An impressed Baylor said, "I thought it was one of the classiest moves I've seen in a long time."15 Murphy repaid the gesture with a line-drive single that scored Boston. Galarraga followed with another single, scoring Young and extending the lead to 11-0.
After a scoreless eighth inning, Steve Reed took the mound in the ninth with the goal of preserving the Rockies shutout. He would not, however. Vander Wal delivered a shot to center field for a double, and Cordero followed with a single. Tim Spehr, who replaced from Laker behind the plate in the sixth, lofted a fly ball to Clark in left field that scored Vander Wal and broke the shutout. After pinch-hitter Darrin Fletcher lined out to Murphy, Reed walked Lou Frazier. Lansing, who would not have been playing but for DeShields's illness, launched Reed's pitch into the left-field stands for a three-run homer.16 Although the Rockies still led, 11-4, some fans began booing. Bichette joked, "Isn't that something? They're spoiled already, huh?"17 Reed retired Alou for the final out, but his performance was no joking matter. He said, "I came out for one inning and couldn't get the job done, so that's disappointing."18
While the ninth inning had not gone according to plan, the other eight innings could not have been scripted any better for the Rockies. After decades of waiting for a major-league team of their own, Rockies fans received a fantastic reward. While 1993 would witness many more losses than wins for the Rockies, Denver's first big-league Opening Day provided plenty of thrills. Murphy observed, "These people are hungry for baseball. When you play in front of people as excited as they were, that makes it fun."19
Sources
In addition to the articles cited in the Notes, the author also referred to baseball-reference.com.
Notes
1 Tracy Ringolsby and Jack Etkin, "Rockies Report," Rocky Mountain News (Denver), April 10, 1993: 14R.
2 Irv Moss, "A Cut Below Expectations," Denver Post, April 9, 1993: 1D.
3 Ibid.
4 B.G. Brooks, "Reed Regrets Losing Shutout After Smith's Strong Effort," Rocky Mountain News, April 10, 1993: 15R.
5 Ibid.
6 Jeff Blair, "Montreal Expos," The Sporting News, April 19, 1993: 17.
7 Joseph Sanchez, "Smith Calls Victory Sweetest of Career," Denver Post, April 10, 1993: 1C.
8 David Fleming, "Expos Rookie Unfazed About Historic Start," Rocky Mountain News, April 9, 1993: 12R.
9 Woody Paige, "Homers Flying at Mile High," Denver Post, April 10, 1993: 3C.
10 Tracy Ringolsby, "Baseball, Victory Barge Into Denver," Rocky Mountain News, April 10, 1993: 3R.
11 Paige.
12 Hayes exited the game, having injured his hamstring coming out the batter's box. The incident was partly blamed on field conditions.
13 Blair.
14 Sanchez.
15 Brooks.
16 It was the first home run of Lansing's young major-league career.
17 Jim Armstrong, "Rockies Roar for 80,227," Denver Post, April 10, 1993: 1C.
18 Brooks.
19 Ringolsby.
Additional Stats
Colorado Rockies 11
Montreal Expos 4
---
Mile High Stadium
Denver, CO
Box Score + PBP:
Corrections? Additions?
If you can help us improve this game story, contact us.
Tags
https://sabr.org/sites/default/files/Mile-High-Stadium.jpg
600
800
admin
/wp-content/uploads/2020/02/sabr_logo.png
admin
2019-03-27 11:26:12
2021-04-09 02:02:39
April 9, 1993: A Rocky Mountain high on Opening Day in Colorado