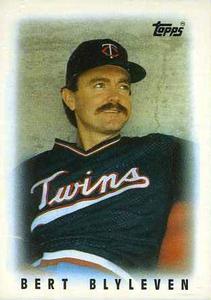 August 1, 1986: Twins' Bert Blyleven notches 3,000th strikeout, Kirby Puckett hits for cycle
---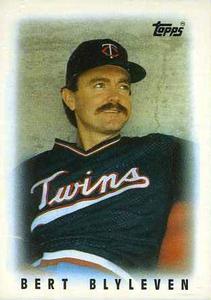 A pair of rare events were accomplished by a pair of future Hall of Famers at the Hubert. H. Humphrey Metrodome on August 1, 1986. The Minnesota Twins were spending the weekend celebrating their 25th anniversary, beginning with this contest against the Oakland A's. In a rout of the Athletics, the Twins' Kirby Puckett and Bert Blyleven gave 14,855 fans something they wouldn't soon forget. Pitcher Blyleven notched his 3,000th career strikeout while center fielder Puckett hit for the cycle.
The A's (44-60) and the Twins (43-58) were struggling in the American League's West Division. Oakland had just finished a 14-game homestand, but despite winning 10 of those games, they remained in seventh place. Sixth-place Minnesota was in the midst of a nine-game homestand and had just completed a series against the Seattle Mariners, taking two of three, but they were still 11½ games out of first.
A pair of right-handed starters battled on the mound. For Minnesota, Blyleven was in his second stint with the Twins. He signed with Minnesota in 1969 and earned American League Rookie Pitcher of the Year honors in 1970. He pitched for Minnesota until 1976, when he was traded in midseason to Texas. He also spent time with Pittsburgh and Cleveland before re-signing with the Twins on August 1, 1985, exactly one year before this game. He entered the contest with a 9-10 record, a 4.70 earned-run average and 2,992 career strikeouts. Opposing him was Oakland's Curt Young (7-6, 3.51 ERA).
Blyleven wasted no time in establishing his dominance, striking out Tony Phillips and Donnie Hill to start the game. In the bottom of the first, batting in the leadoff position, Puckett tripled to start Minnesota's offense. After Billy Beane struck out, Gary Gaetti lifted a sacrifice fly to center, deep enough for Puckett to tag and score.
The next two innings went by in a hitless hurry. By the time the Twins came to bat in the bottom of the fourth, Blyleven had been perfect, retiring all 12 batters he faced while garnering six strikeouts. As the strikeouts piled up, fans "took to chanting, 'Bert! Bert! Bert!'"1 Young's only flaw was Puckett's triple. Then Gaetti led off the home fourth with a home run, his 22nd of the year. After two fly-ball outs, Young walked Roy Smalley. Mickey Hatcher followed with a single up the middle and both runners advanced a base when Young uncorked a wild pitch with Steve Lombardozzi in the batter's box. Lombardozzi stroked a double to left, plating Smalley and Hatcher and making the score 4-0.
Bruce Bochte led off the top of the fifth for Oakland by drilling a single into right field, breaking up Blyleven's no-hitter. Carney Lansford then grounded a ball to third, where Gaetti made an error and Oakland now had two on with no outs. Blyleven regrouped and fanned Dwayne Murphy for the first out and his seventh strikeout of the game. He needed one more for the milestone.
Strikeout number 3,000 came against Mike Davis, on a 1-and-2 count. Davis told reporters after the game that he was "looking for a fastball, but [Blyleven] threw a slider down."2 When Blyleven notched the magical strikeout, the crowd gave a standing ovation, and Blyleven stepped off the mound twice to tip his cap. Mickey Tettleton then drew a walk, loading the bases, but Alfredo Griffin hit a grounder to short and Tettleton was forced at second base for the third out. Blyleven stated, "When I got the (3,000th) strikeout, I didn't want to give up a run because I didn't want to take anything away from it."3
Minnesota kept up the attack in the fifth frame. Puckett led off with a ground-rule double to deep center. An out later, he advanced to third on another wild pitch by Young. When Gaetti walked, Oakland manager Tony La Russa motioned to the bullpen. Darrel Akerfelds entered in relief of Young. This was Akerfelds' major-league debut. His first batter, Tom Brunansky, hit a pop fly into foul territory down the first-base line, but second baseman Phillips dropped the ball. This proved costly, as Brunansky coaxed a walk, sending Gaetti to second. Tim Laudner then smashed a double into right field, clearing the bases. Only two of the runs were earned, but Minnesota led nonetheless, 7-0.
Blyleven was on cruise control, getting two three-up-three-down innings in the sixth and seventh, each with two more strikeouts. He had struck out two Oakland batters in every inning but the second.
Meanwhile, Puckett singled in the sixth, giving him three hits. In the bottom of the seventh, Brunansky led off with a homer, his 19th of the year. It was now 8-0 in favor of the Twins.
Blyleven set down Tettleton on strikes with one gone in the eighth. Then Alfredo Griffin crushed his third home run of the season, ending the shutout. Tony Phillips whiffed for the final out in Oakland's eighth inning, and Blyleven had tied his personal record of fanning 14 batters in a game.
The Twins sought to pick up their pitcher. Lombardozzi singled in the bottom of the eighth. After Greg Gagne flied out, Puckett deposited an Akerfelds pitch into the left-field seats for a two-run home run, extending the lead to 10-1. Puckett had just hit for the cycle. In the ninth, Blyleven bested his personal best, fanning Jose Canseco for his 15th strikeout of the game. This tied a Twins franchise record for most strikeouts in a game by a pitcher.
In becoming just the 10th major-league pitcher to record 3,000 career strikeouts,4 Blyleven evened his record at 10-10. He had allowed only two hits. It was the ninth time as a Twins pitcher that he had thrown a two-hitter. Lansford and Griffin were the only two Oakland batters not to fall prey to the K. In the locker room after the game, Blyleven praised his teammates, saying, "The way everyone played, scoring a lot of runs, it made it much easier for me to do what I had to do. I knew I had 14 strikeouts going into the last inning and I wanted to do better than that. I'm very thankful that I got it."5
In all of the excitement for Blyleven, it's easy to forget that Puckett had just become the seventh Minnesota player to hit for the cycle. He joined Rod Carew (May 20, 1970, against the Kansas City Royals), Cesar Tovar (September 19, 1972, against the Texas Rangers), Larry Hisle (June 4, 1976, against the Baltimore Orioles), Lyman Bostock (July 24, 1976, against the Chicago White Sox), Mike Cubbage (July 27, 1978, against the Toronto Blue Jays), and Gary Ward (September 18, 1980, against the Milwaukee Brewers). Twenty-two seasons would go by before Carlos Gomez became the eighth Minnesota batter to accomplish the cycle, on May 7, 2008.
This was also Puckett's fourth consecutive game garnering at least three hits. In that four-game stretch he went 13-for-20, scored six runs and drove in eight, all from the Twins' leadoff spot. Puckett raised his batting average from .329 to .343.
Just two games before, on July 29 against Seattle, Puckett was in a similar situation, needing only a home run to hit for the cycle. In that game, he struck out. In this game, he launched his 22nd round-tripper of the season to join the Cycle Club. Puckett told the press, "[Teammate] Neal Heaton said to me, 'Puck, you're going to hit for the cycle this time.' I was looking to hit the ball hard, but not a home run. It was a slider and I got it."6
Despite his success with the bat, Puckett was impressed with his pitcher's performance, saying, "It's a night I'll never forget. When Bert got 3,000, I took my hat off and almost shed a tear. I think I donated about 100 of those strikeouts to the cause."7 Interestingly, Puckett never touched a ball in the outfield. In addition to the 15 strikeouts, the Athletics hit nine infield grounders and only three fly balls (two to left and one to right). Puckett said, "I'm glad I didn't have to face Bert."8
Sources
In addition to the sources mentioned in the Notes, the author consulted baseball-reference.com, mlb.com, retrosheet.org and sabr.org.
baseball-reference.com/boxes/MIN/MIN198608010.shtml
retrosheet.org/boxesetc/1986/B08010MIN1986.htm
Notes
1 Howard Sinker, "15 Whiffs Push Bert to 3,007," Star Tribune (Minneapolis), August 2, 1986: 1D.
2 "Blyleven's 3,000th K Marks Twins' 10-1 Win," St. Cloud (Minnesota) Times, August 2, 1986: 1C.
3 Sinker.
4 Blyleven finished the season with 215 strikeouts, nine more than his league-leading mark of 1985. He completed his 22-season career with 3,701 strikeouts, fifth-best in major league history (as of the beginning of the 2019 season).
5 Sinker.
6 Ibid.
7 "Blyleven Hits Milestone in Twins Rout," Chicago Tribune, August 2, 1986: Section 2 Page 3.
8 Sinker.
Additional Stats
Minnesota Twins 10
Oakland A's 1
---
Metrodome
Minneapolis, MN
Box Score + PBP:
Corrections? Additions?
If you can help us improve this game story, contact us.
Tags
https://sabr.org/sites/default/files/Blyleven-Bert-1986.jpg
600
800
admin
/wp-content/uploads/2020/02/sabr_logo.png
admin
2019-08-12 15:26:20
2020-11-10 12:35:05
August 1, 1986: Twins' Bert Blyleven notches 3,000th strikeout, Kirby Puckett hits for cycle