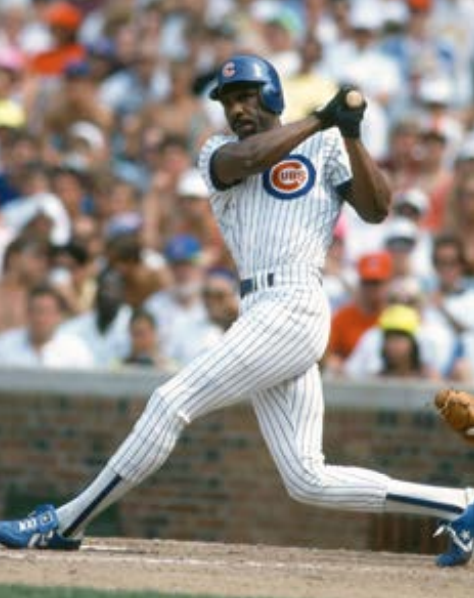 August 1, 1987: 'Tired' Andre Dawson hits three homers in MVP season
---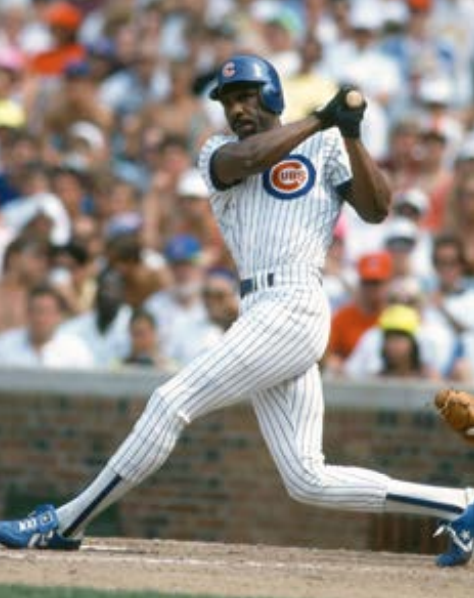 Hall of Famer André Dawson had his finest year in 1987 after joining the Chicago Cubs as a free agent. He became the National League's Most Valuable Player, leading the NL in homers with 49 and RBIs with 137. Both were easily career highs for him.1
The peak moment in this peak season came at Wrigley Field on August 1. He hit three homers and drove in all of Chicago's runs in a 5-3 win over the Philadelphia Phillies. "It was a one-man show by Dawson today," said Phillies manager Lee Elia.2
Dawson had 39 multi-homer games during his 21 years in the majors — eight of them in 1987. He had one other three-homer game, on September 24, 1985, when he was with the Montreal Expos. That outburst also came at Wrigley. Dawson drove in eight runs — a single-game career high — in a 17-15 Montreal victory. Yet he called his showing on August 1, 1987, "a bigger thrill, because it came before the home crowd."3 He added, "A love affair has developed between us. I really respect these fans here." He got a standing ovation after each homer, plus curtain calls for the second and third.4
It was 90 degrees and very humid that Saturday afternoon — night baseball at Wrigley was a little over a year away — and 33,002 "sweltering but satisfied fans" attended. Dawson noted, "I was tired, but the heat and humidity helped. When you're tired, the bat feels heavy and it helps cut down on your swing. You can get your hands into it more."5
It took a brilliant play by third baseman Mike Schmidt to prevent an even bigger day for Dawson.6 In the bottom of the first inning, Phillies starter Tom Hume loaded the bases on a single and two walks. As Bill Jauss of the Chicago Tribune wrote, "Hume couldn't locate the plate Saturday. He walked seven Cubs and threw 91 pitches, 43 of them called balls."7 Dawson, the cleanup hitter, ripped the ball toward left field. Schmidt made a leaping backhanded stab and stepped on third for an unassisted double play. It was nearly a triple play, but Schmidt decided not to throw to first, where Leon Durham was scrambling back.8 Hume walked Jerry Mumphrey, loading the bases again, but got out of the inning when Keith Moreland grounded into a 6-4 force.
The Cubs starter, rookie Les Lancaster, allowed no runs and just two singles through the first three innings. He was struck on the inside of his right (pitching) forearm by Milt Thompson's liner in the third, but stayed in the game.9
Dawson staked Lancaster to a 3-0 lead in the bottom of the third. Dave Martinez, who reached base in four of his five plate appearances, led off with a walk. With one out, Durham doubled, putting runners on second and third. The Hawk then connected for his first homer of the day. He "had no doubt" about the drive, which landed deep in the bleachers in left-center field.10
The Cubs threatened to add more as Mumphrey singled and Moreland walked, but Hume escaped again by getting Jim Sundberg to ground into a 6-4-3 double play. The veteran catcher was starting for the second straight day because first-stringer Jody Davis had gotten in manager Gene Michael's doghouse that Friday. Davis was late to batting practice after filming a commercial.11
The Phillies then drew within a run. With two outs, Glenn Wilson walked and Chris James homered. They could have tied it in the top of the fifth when Steve Jeltz led off with a double, but Hume's sacrifice bunt wasn't good; Lancaster threw out Jeltz at third. He then retired the next two batters.
The first batter in the bottom of the fifth was Dawson. He belted his second long ball of the day, later saying, "I was sure about that one too."12 It landed four rows deep.13
That was all for Hume; in came Wally Ritchie. The lefty got Mumphrey on a fly to right but then gave up a double to Moreland. The Phillies walked Sundberg intentionally, bringing up utility infielder Paul Noce, making one of his 18 starts at shortstop that year while Shawon Dunston was on the disabled list. Ritchie caught Noce looking and got Lancaster to line out to left.
Philadelphia made it close again in the top of the sixth. Von Hayes led off with a walk and Schmidt singled. It looked as though the rally would fizzle when Lancaster got Wilson to fly out to right and struck out James. Facing catcher Lance Parrish, however, he committed his sixth balk of the year, bringing home Hayes.14 Parrish then flied out to left.
In the top of the seventh, the Phillies threatened again. Lancaster walked Jeltz to start the inning and followed by walking pinch-hitter Ron Roenicke. But then he got Juan Samuel to ground to short, and Noce threw Jeltz out at third. Elia wasn't even tempted to flash the bunt sign, though. "You hate to take the bat out of anybody's hands in this ballpark," he said. "You have a guy up there who has 20 home runs and 67 RBI."15
After Thompson flied out, Michael brought in southpaw Frank DiPino to face the lefty-swinging Hayes. DiPino got Hayes to pop out to Noce and the middle reliever's work was done.
Dawson capped the scoring in the bottom of the seventh. Leading off against the third Philadelphia pitcher, righty Mike Jackson, he hit a high fly. This time he wasn't sure whether it would go out. "I thought I might have hit it too high and the wind might have held it back."16 It also went over the deepest part of the well in left field, barely making it into the first row of bleachers (in what was then the alcohol-free Family Section).17 Dawson became the first Cub with three homers in a game since Dave Kingman on July 29, 1979.18
Jackson retired the next three Cubs, and closer Lee Smith entered. He got the first two outs but then landed himself in hot water. After James singled, Parrish walked and so did ace pinch-hitter Greg Gross. Jeff Stone, batting for Jackson, worked a full count. However, Smith struck him out on a high fastball. "It was a borderline pitch," said Elia. "You can't blame him for being aggressive on it."19
Jeff Calhoun allowed a walk but no runs in the bottom of the eighth. Smith then finished the game; it wasn't easy. Thompson and Hayes each singled with one out. That brought up Schmidt — at 37, still a premier slugger — as the potential go-ahead run. Over his career, Schmidt had five homers in 43 at-bats against Smith. He hit a smash up the middle, but second baseman Ryne Sandberg — who won his fifth of nine straight Gold Gloves in 1987 — backhanded it and made an off-balance side-arm throw to Noce.20 The tandem, whose careers were linked in a curious way, turned a game-ending double play.21
"We had the big guy on the ropes," said Elia of Smith, "but he had enough to get out of it."22 Michael said, "He had good stuff and I had to stay with him. Who else do I have who's better?" Dawson added, "I was just praying the big guy would get the job done and get us the win. That's all I cared about."23
The Cubs remained in fifth place in the NL East after that game ended; they wound up finishing sixth. Dawson became major-league baseball's first MVP from a last-place team and just the third from a losing team.24
This article appears in "Wrigley Field: The Friendly Confines at Clark and Addison" (SABR, 2019), edited by Gregory H. Wolf. To read more stories from this book online, click here.
Sources
https://www.baseball-reference.com/boxes/CHN/CHN198708010.shtml
http://www.retrosheet.org/boxesetc/1987/B08010CHN1987.htm
Notes
1 It's worth noting that the 1987 big-league season was marked by suspicions that the ball was juiced. Among many other articles, see Art Spander, "Bugs Bunny Would Enjoy 1987 'Rabbit Ball,'" The Sporting News, May 25, 1987: 8; Frank Deford, "Rabbit Ball: Whodunit?," Sports Illustrated, July 27, 1987.
2 Toni Ginnetti, "Champagne for Andre! Dawson Does It Again With 3-Homer Game," Chicago Sun-Times, August 2, 1987.
3 Ibid.
4 Bill Jauss, "It's Dawson 5 and Phillies 3," Chicago Tribune, August 2, 1987: B1.
5 Bill Jauss, "It's Dawson 5 and Phillies 3"; "Champagne for Andre!"
6 Dan Hafner, "National League Roundup: Dawson Hits Three Home Runs as Cubs End Phillies' Five-Game Win Streak," Los Angeles Times, August 2, 1987.
7 Bill Jauss, "Cub Notes," Chicago Tribune, August 2, 1987.
8 Jauss, "It's Dawson 5 and Phillies 3."
9 Jauss, "It's Dawson 5 and Phillies 3." Precautionary X-rays were taken after the game and proved negative. (Lancaster made his next start five days later.)
10 Ginnetti, "Champagne for Andre!" "Dawson Uncorks Three Homers," Decatur (Illinois) Herald and Review, August 2, 1987.
11 Ibid.
12 Ibid.
13 "Dawson Uncorks Three Homers."
14 "Dawson's 3 HRs Lift Cubs," Kokomo (Indiana) Tribune, August 2, 1987: 23.
15 "Cubs' Dawson Dings Phils 5-3," Wilmington (Delaware) Morning News, August 2, 1987.
16 Ginnetti, "Champagne for Andre!"
17 Jauss, "It's Dawson 5 and Phillies 3," "Dawson Uncorks Three Homers."
18 Jauss, "Cub Notes."
19 "Cubs' Dawson Dings Phils 5-3."
20 Jauss, "It's Dawson 5 and Phillies 3."
21 Sandberg had signed a letter of intent to go to Washington State University as a football quarterback in 1978 when the Phillies drafted him. He was then a shortstop. Washington State then recruited Noce as a shortstop, and he played there from 1979 through 1981. Noce made it to the majors in June 1987; he got his most significant playing time after Sandberg went on the disabled list with a sprained ankle. See Dan Weaver, "For Noce, Hard Work Has Finally Paid Off," Spokane Spokesman-Review, July 25, 1987.
22 "Dawson's Three Homers Power Cubs; Giants win," Greenwood (South Carolina) Index-Journal, August 2, 1987.
23 Ginnetti, "Champagne for Andre!"
24 As of 2017, Alex Rodriguez (2003 Texas Rangers) was the only other MVP from a last-place team. The other MVPs from losing teams were Ernie Banks (1958 and 1959 Cubs) and Cal Ripken Jr. (1991 Baltimore Orioles).
Additional Stats
Chicago Cubs 5
Philadelphia Phillies 3
---
Wrigley Field
Chicago, IL
Box Score + PBP:
Corrections? Additions?
If you can help us improve this game story, contact us.
Tags
https://sabr.org/sites/default/files/DawsonAndre.jpg
600
800
admin
/wp-content/uploads/2020/02/sabr_logo.png
admin
2019-12-16 15:31:47
2020-04-17 10:22:21
August 1, 1987: 'Tired' Andre Dawson hits three homers in MVP season