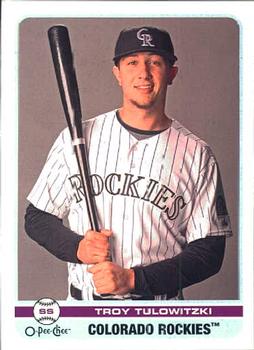 August 10, 2009: Tulowitzki hits for cycle, drives in 7 runs for Rockies
---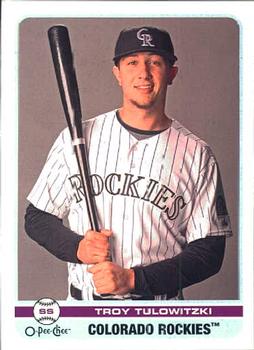 Troy Tulowitzki collects rare event achievements. On August 10, 2009, he smashed his way into the rare-feat record books, hitting for the cycle in Colorado's 11-5 victory over the Chicago Cubs. He also became just the second major leaguer to have both hit for the cycle and turned an unassisted triple play which he accomplished on April 29, 2007 against the Atlanta Braves, joining former Boston Red Sox shortstop John Valentin in that particular feat.1 There were 34,485 fans on hand at Coors Field to witness Tulowitzki's cycle.
On the mound for the home-team Rockies was Jorge de la Rosa, making his 22nd start of the season, with a 5.00 ERA. Opposite de la Rosa was Tom Gorzelanny, whom the Cubs had acquired from Pittsburgh with John Grabow in a trade just 10 days earlier for Kevin Hart, Josh Harrison, and Jose Ascanio. Gorzelanny was making his second start for the Cubs.
The Cubs had notions of a rally, loading the bases with two outs in the top of the first, but Alfonso Soriano forced Derrek Lee at third base for the third out. In their half, the Rockies got on the board. Todd Helton hit a two-out single to left field. Tulowitzki smashed a home run to deep left, and Colorado had a lead it would not relinquish.
In the second inning the Cubs again loaded the bases and again failed to score. The Rockies kept the hot bats going. With one out, Clint Barmes homered well beyond the left-field fence. Yorvit Torrealba doubled to left and de la Rosa singled to left. Dexter Fowler lined a shot off Gorzelanny's foot, and the pitcher fell while trying to field the ball. Torrealba scored and de la Rosa advanced to second. Chicago skipper Lou Piniella was forced to make a pitching change, and he brought in Esmailin Caridad from the bullpen. Caridad was making his major-league debut; he had just been called up from the Iowa farm team that day. Ryan Spilborghs flied out and Helton walked. Batting with the bases loaded, Tulowitzki swung at the first pitch and crushed a very high fly ball down the left-field line, over the foul pole. It was so high that "not even the television cameras could capture it."2 Third-base umpire Bill Welke called the ball foul and Colorado manager Jim Tracy asked the umpire crew for a review. This made the distinction of being the first video review at Coors Field. The homer was denied after a four minute and ten second delay. Two pitches later, Tulowitzki "lashed a two-run single to left to give Colorado a 6-0 lead."3
In the fourth, Colorado added two runs when Spilborghs and Helton each singled with two outs. With Tulowitzki batting, Helton was picked off first base but was safe on an error by Caridad. Spilborghs scored on the throwing miscue and Helton wound up at third. Tulowitzki then doubled to center field, driving in Helton.
Chicago managed a tally when Geovany Soto led off the sixth with a homer deep beyond the left-field wall. The score was now 8-1. In the seventh inning, having singled, doubled, and homered, Tulowitzki discussed the idea of a cycle with right fielder Brad Hawpe. Later he said, "I probably wouldn't have done it if Hawpe had not said something. I'd have felt selfish, going for a cycle. I was like, 'What if I'm on second and the ball's coming?' He was like, 'You've still got to go.'"4 It was as if Hawpe was ordering Tulowitzki to stretch any hit into a triple. Hawpe confirmed the conversation, saying, "What happens all the time is people think they're not going, then they rush it and make a bad throw."5
Sure enough, the Rockies shortstop led off the inning by driving a 3-and-2 pitch into the left-field corner, and Soriano bobbled the ball as it caromed off the wall. As Tulowitzki raced to second base, Soriano had the ball. The relay throw to shortstop Ryan Theriot was not a good one, and third baseman Jake Fox could not handle the second relay. Tulowitzki's gamble had paid off and he now owned a cycle, despite an awkward slide into the bag. "I thought I was out," Tulowitzki said. "I felt like I slid at shortstop. I felt like I crawled there."6 The crowd roared their approval. Hawpe followed with a double and Tulowitzki scored his second run of the game.
The Cubs loaded the bases for a third time in the eighth, and for a third time came up empty. Rafael Betancourt replaced de la Rosa and retired pinch-hitter Aaron Miles on a weak line drive to short to end the inning. In the bottom of the eighth, Tulowitzki singled and drove in two more runs as Colorado turned a walk and three singles into two runs.
With the score 11-1, Huston Street came on to pitch the ninth for Colorado. He faced six Chicago batters and gave up a walk, two singles, and two doubles, which led to four runs. Joe Beimel had to come on to clean things up and get the last two Cubs outs. The final score was 11-5. De la Rosa earned his 10th victory, while Gorzelanny's record fell to 4-2. The Cubs had left 13 men on base, nine in three innings.
Tulowitzki's cycle was the fifth in Rockies history; it had been nine years since the last one, by Mike Lansing. All five had occurred at Coors Field, and three opposing players had done it there.7 Chicago manager Piniella was duly impressed with Tulowitzki's performance, saying, "What did he have, five hits? Seven RBIs? And he just missed that one around the flagpole. I've never seen a guy drive in nine runs in a game. Thank God I didn't."8 Colorado skipper Jim Tracy said, "What you saw offensively from our shortstop, that's a pretty good career for some guys."9 And Tulowitzki himself mused, "When the other team is coming up to you, congratulating you, you know you've done something special."10
A version of this story appeared in "Major League Baseball A Mile High: The First Quarter Century of the Colorado Rockies" (SABR, 2018), edited by Bill Nowlin and Paul T. Parker. To read more articles from this book at the SABR Games Project, click here.
Sources
In addition to the sources mentioned in the Notes, the author consulted baseball-reference.com, mlb.com, and retrosheet.org.
http://www.baseball-reference.com/boxes/COL/COL200908100.shtml
http://www.retrosheet.org/boxesetc/2009/B08100COL2009.htm
Notes
Additional Stats
Colorado Rockies 11
Chicago Cubs 5
---
Coors Field
Denver, CO
Box Score + PBP:
Corrections? Additions?
If you can help us improve this game story, contact us.
Tags
http://sabr.org/sites/default/files/TulowitzkiTroy.jpg
600
800
admin
/wp-content/uploads/2020/02/sabr_logo.png
admin
2017-01-23 17:39:06
2020-04-17 10:25:56
August 10, 2009: Tulowitzki hits for cycle, drives in 7 runs for Rockies