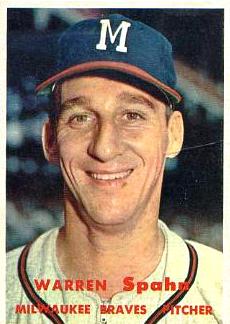 August 11, 1961: Braves' Warren Spahn wins his 300th career game
---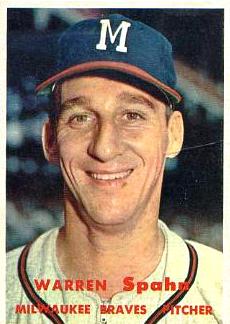 Warren Spahn joined the elite group of 300-game winners with a 2-1 victory over the Chicago Cubs on August 11, 1961, ending the longest gap ever between 300-game winners. The Red Sox' Lefty Grove had won his 300th game 20 years and 17 days earlier, on July 25, 1941.
Fans wanted to witness what they expected to be a historic event, which translated to high ticket sales. Braves assistant ticket director Charlie Bloosfield said, "The response has been amazing. We've had calls from people we haven't heard from in two years. … It seems everybody wants to get in on history in the making."1 As it turned out, the game attracted 40,775 spectators, the largest County Stadium crowd in two years.
Spahn was 11-12 so far in the season. He was impatient to get the game, and victory, behind him, saying, "I realize everyone is pulling for me, and I know I'm gonna get it sometime. Sure, it's a big night for me and all the guys on our club are anxious for me to get it, but I'll also be awfully glad when it's over."2
The game was a pitchers' duel between the 40-year-old Spahn and Cubs rookie southpaw Jack Curtis, who came into the game with a 7-6 record. Spahn allowed only two hits through five innings, a two-out single by George Altman in the fourth, and a one-out infield hit by Jerry Kindall in the fifth. Curtis matched Spahn's performance, allowing just a leadoff hit to Gino Cimoli in the first, and a one-out single off the bat of Henry Aaron in the fourth.
The scoreless tie ended on an unearned run in the bottom of the fifth. The Braves' Joe Torre, leading off, reached second base when rookie left fielder Billy Williams dropped his line drive for an error, and advanced to third base on Roy McMillan's single. Of all people to drive in the game's first run it was Spahn himself. His sacrifice fly scored Torre, although McMillan was thrown out trying to advance to second on the throw home.
The Cubs knotted the game in the top of the sixth. Second baseman Don Zimmer led off with a single to center, but was forced at second base on a grounder off the bat of Ron Santo. Altman popped out to third base and things seemed under control, but consecutive singles by Williams and Andre Rodgers scored Santo. Spahn avoided further damage by getting Kindall to pop out to third baseman Eddie Mathews.
The Braves had a baserunner in the bottom of the sixth on a one-out single by Mathews. After Aaron flied out to center field, Curtis picked Mathews off first base to end the inning. The Cubs' Al Heist reached base after two men were out in the top of the seventh inning courtesy on an error by second baseman Frank Bolling, but he was picked off at first and eventually tagged out at second base.
The situation got difficult for Spahn in the Cubs' eighth inning. Zimmer led off with a single and was sacrificed to second by Santo. With a runner in scoring position, Spahn bore down and retired Altman on a fly ball to center, and Williams on a grounder.
The Braves took the lead in the bottom of the eighth when Cimoli took Curtis deep for his third home run of the season. Spahn retired the first two batters in the ninth, striking out Rodgers and getting more help from Cimoli, who made a sliding catch on his knees in center field on a ball hit by Kindall. But pinch-hitter Ernie Banks reached base on an error by Mathews. Another pinch-hitter, Jim McAnany batting for Curtis, ended the game when he flied out to right fielder Henry Aaron.
The game was over, but the accolades for a remarkable achievement as well as a well-pitched game began. Joe Torre, the Braves catcher for the historic win, said of Spahn's performance, "He was the best he's been since I joined the club."3 After Spahn's death in 2003, Torre further reflected on the game: "Warren Spahn was a fighter and a winner. He made catching in the big leagues a lot easier because he took me under his wing along with Lew Burdette. One of my biggest thrills to this day was catching his 300th victory in 1961." 4
The challenge of winning 300 games was brought up by Lefty Grove, who said in an interview after Spahn's victory, "We used to pitch every fourth day. We did not know that there was a bullpen. If you win 15 games now, it's considered a big year."5
Former Yankees pitcher Waite Hoyt, who won 237 games in a 21-year career, wrote in a letter to Spahn, "When a fellow does something very few of us have been able to do, and in this day of the hopped up ball, it is a feat far beyond the ordinary, requiring an unusual talent, guts and brains. I don't know when we'll see another Warren Spahn or a man of your ability. Good luck. Make it 350."6
Reflecting on his performance, Spahn said in spring training the next season, "It really was a big thrill — the thrill of my life. Winning the pennant and the World Series a few years back was a big thing from a team basis, but this had to be the biggest personally. Everybody made such a hullabaloo about it in advance, the newspapers, radio, and television. It was such a wild day that by the time I got to the park, I wanted just to get it over with. The game was the kind I always wanted it to be. No fluke, no big scoring game when I would be sitting in the clubhouse at the end. It was low scoring and hard fought. A hectic night I was glad to get over and we finally had beaten the Cubs 2-1."7
Spahn was the 13th player to win 300 games. Number 14, Early Wynn, notched his 300th on July 13, 1963. Spahn retired after the 1965 season with 363 victories, baseball's winningest left-hander (as of 2016).
This article appears in "From the Braves to the Brewers: Great Games and Exciting History at Milwaukee's County Stadium" (SABR, 2016), edited by Gregory H. Wolf. To read more stories from this book at the SABR Games Project, click here.
Notes
1 Lou Chapman, "Star Out for 300th Victory," Milwaukee Sentinel, August 12, 1961.
2 Lou Chapman, "Spahn Calm Before Date With Destiny," Milwaukee Sentinel, August 12, 1961.
3 Bob Wolf, "Cimoli Gets Deciding Hit," Milwaukee Journal, August 12, 1961.
4 "The Greatest Lefty Warren Spahn Dead at 82," Baseballdugout.com, November 24, 2003.
5 Associated Press, "Grove Happy for Spahn, Hopes Wynn hits 300," Milwaukee Sentinel, August 13, 1961.
6 Lou Chapman, "Spahn's Goal Now 350 Wins," Milwaukee Sentinel," August 13, 1961.
7 Associated Press, "Warren Spahn Discusses His Biggest Thrill — 300th Win," Sarasota (Florida) Herald-Tribune, March 11, 1962.
Additional Stats
Milwaukee Braves 2
Chicago Cubs 1
---
County Stadium
Milwaukee, WI
Box Score + PBP:
Corrections? Additions?
If you can help us improve this game story, contact us.
Tags
http://bioproj.sabr.org/bp_ftp/images3/SpahnWarren.jpg
600
800
admin
/wp-content/uploads/2020/02/sabr_logo.png
admin
2018-04-04 12:26:37
2020-04-17 10:24:50
August 11, 1961: Braves' Warren Spahn wins his 300th career game