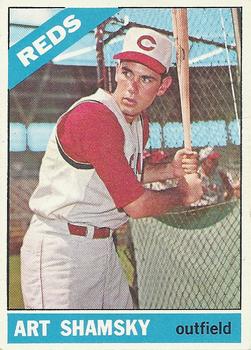 August 12, 1966: Art Shamsky socks three consecutive homers as Reds, Pirates combine for 11 clouts
---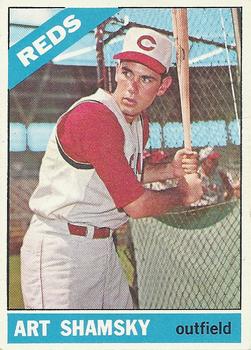 The once-struggling Cincinnati Reds were rested and ready1 on Friday, August 12, 1966, when they hosted the first-place Pittsburgh Pirates for the start of a three-game series at Crosley Field. The Reds had won six of their last seven games against the Pirates, but trailed eight games to seven in the season's rivalry.
As Pittsburgh prepared for a pennant drive, sixth-place Cincinnati, at 58-55, appeared motivated to end the year on a favorable note. The Reds had progressed from eighth place three weeks earlier, but remained nine games behind the Pirates. The Reds were 21-9 under interim manager Dave Bristol, who replaced the fired Don Heffner on July 13. Pittsburgh's skipper, Harry "The Hat" Walker, had the Bucs' frigate navigating at 67-46, while maintaining a slight edge over the San Francisco Giants and Los Angeles Dodgers.
With Shrine Night being promoted, pregame entertainment consisted of a colorful half-hour pageant featuring a 75-piece marching band.2 Fair skies and 73 degrees welcomed the arriving crowd of 25,477 before the distinctive baritone voice of longtime public address announcer Paul Sommerkamp provided the lineups.3 Right-hander Sammy Ellis (9-14, 5.02) started for Cincinnati against Pittsburgh's "blue-flame throwing"4 lefty Bob Veale (12-7, 2.89).
An addition to the Steel City attack was an oversized green hot dog called the "Green Weenie," which had rapidly become a Pittsburgh household term. When pointed and shaken at the opponent, the rubber "whammy weapon" had grown rapidly toward a supernatural application. Chief hex perpetrators were announcer Bob Prince and trainer Danny Whelan.5
Ellis fanned Matty Alou and Bob Bailey before retiring Roberto Clemente to end the first. The bespectacled and imposing 6-foot-6 Veale walked Pete Rose with two outs. Deron Johnson followed with a drive to deep center that appeared to be a homer, but he stopped at second when second-base umpire Al Barlick ruled the ball in play. Rose had already scored by the time Bristol disputed Barlick's rendering. After a talk with arbiter Augie Donatelli, the call was reversed.6 It was judged that the blast had hit on the wooden extension above the wall's yellow line representing a home run under the ballpark's ground rule.7 Walker argued demonstrably, but Johnson's 15th circuit-clout stood, and the Reds led 2-0.8
Pittsburgh struck back in the third when Bill Mazeroski singled and former Red Jesse Gonder drove his fifth homer to center to tie the score. Alou singled with one out and swiped second as Bailey struck out again. Catcher Jimmie Coker's throw to Rose glanced off Rose's heel and rolled into short right-center, and Alou raced home before anyone could make a play. Clemente then drove his 20th home run, to center field, and increased the Pirates' lead to 4-2.9
Cincinnati got even in the fifth when Rose launched an opposite-field two-run shot into the right-field Moon Deck10 for his 12th homer. To start the sixth, Bailey atoned for his earlier strikeouts when he smacked the first pitch from Ellis over the center-field wall for his eighth homer to put Pittsburgh up 5-4. In the bottom half, singles by Tommy Helms and Leo Cardenas coupled with a sacrifice by Coker positioned runners on second and third. Pinch-hitter Don Pavletich drove a fly ball deep to right, and Clemente gunned a strong throw plateward after the catch, but Helms slid home safely. Tommy Harper then singled, scoring Cardenas for a 6-5 Reds lead.11
Reds left-hander Joe Nuxhall entered in the seventh and retired a pair before hitting Alou. The right-handed-swinging Bailey then poked a pitch barely fair down the right-field line into the bleachers for his second round-tripper of the contest and a 7-6 Bucs' edge.12 Right-handed reliever Al McBean pitched around an error in the seventh to hold Cincinnati scoreless.
With one away in the eighth, Bristol switched enough players to keep those marking scorecards busy. Right-hander Don Nottebart took over to pitch, and acquired Gordy Coleman's lineup space. Johnson moved from left field to first base, and rookie Art Shamsky, procuring Nuxhall's spot, entered the game for defense in left. In the Reds' half, Cardenas singled but ended up forced at second when Coker bunted to the mound. Bristol pondered his tying-run options by sending speedster Dick Simpson in to run. The lefty-swinging Shamsky lessened some late-game decision apprehension by cracking his 13th homer over the center-field wall to give Cincinnati an 8-7 lead.13 The Reds wasted an insurance-run opportunity when Johnson flied out with two on.
Johnny Edwards went in to catch as Nottebart seemed poised to get his sixth win. However, former Red Jerry Lynch deposited a one-out pinch-hit drive over the fence near the center-field section of the bleachers to knot things again. It was the first home run of the season for the left-handed clutch hitter, and increased his career pinch-homer record count to 18.14 Nottebart got out of the inning, but the Reds were no match during their turn when reliever Roy Face struck out the side to thrust this "see-saw affair" to extra innings.
Nottebart was victimized again in the 10th when Willie Stargell poled his 27th homer deep into the right-field seats for a 9-8 Pittsburgh upside. After recording his fourth consecutive strikeout to start the bottom half, Face was rocked when Shamsky propelled his second straight long-ball to right for a 9-9 tie. Given new life, Cincinnati loaded the bases on two walks (one intentional to Rose) and a single, but could not record the deciding tally when Face got Johnson to fly to short left and fanned pinch-hitter Mel Queen.15
Billy McCool relieved in the 11th, but control problems challenged the talented Cincinnati southpaw. Mazeroski walked, but was erased when Face bunted back to the mound for a 1-6-4 double play. McCool, nursing a knee injury,16 walked Jim Pagliaroni and Alou. Bailey hammered a double against the wall in left-center, sending home both runners to go up 11-9.17 McCool intentionally passed Clemente, then got pinch-hitter Manny Mota to ground into a fielder's choice.
Determined to close out the Reds, Face retired the first two batters in the bottom of the 11th, but Edwards walked. Up stepped Shamsky, and Walker summoned left-hander Billy O'Dell. Shamsky had just one career homer off a southpaw to his name, that coming off the Cardinals' Larry Jaster on July 14. Remarkably, Shamsky came through for the third straight time as he pulled O'Dell's two-strike pitch deep down the line and it bounced off the foul-pole screen for an 11-11 ballgame, sending the unbelieving crowd into a frenzied ovation.18 Walker hurriedly replaced O'Dell with Pete Mikkelsen, who fanned Harper. Deadline came and went for the Cincinnati Enquirer's first edition, where the local sports headline did not have a winner to declare.19
McCool survived a shaky 12th, and Tommie Sisk put the Reds down to advance to the 13th. Alou singled for his third hit, and Bailey's potential double-play grounder down the third-base line was botched by Helms to put runners on second and third with nobody out. Clemente received another intentional walk before Mota made it 13-11 by bouncing a two-run single to left. Jack Baldschun replaced McCool and got an out before the right-hander's wild pitch scored Clemente for a 14-11 shortfall.20
Pinch-hitter Chico Ruiz singled to begin the bottom half, but Sisk struck out Helms. As Cardenas stepped in, Shamsky was in the hole, and he would represent the winning run should Cincinnati get the next two on. Cardenas banged a hard grounder, but the ball was snatched by Mazeroski. The Gold Glove second baseman flipped to shortstop Jose Pagan to start a 4-6-3 twin killing, ending the marathon at 4 hours 22 minutes.21
Sisk (6-2) was the winning pitcher and McCool (7-7) took the loss. Each team used 20 players with Cincinnati employing five pitchers to Pittsburgh's six. Seventeen walks and 23 strikeouts transpired via the mound personnel. Of the combined 25 runs scored, 17 were byproducts of the 11 home runs, which tied a major-league record set in 1950.22 Twenty-nine safeties were amassed — 16 by the Reds and 13 by the Pirates. Defensively, Cincinnati made two errors, while Pittsburgh committed a lone miscue. Nothing was reported about how often the "Green Weenie" had been activated,23 but those who played and witnessed this contest repeated over and over, "'Doggonedest' game I ever saw."24
Shamsky was very humble about what he had accomplished, but distraught enough about the agonizing defeat that he begged off being on the "Star of the Game" portion of the radio broadcast.25 After not playing in the rain-shortened 11-0 victory over the Pirates the next day, the 24-year-old part-time outfielder knocked his fourth consecutive home run with a pinch-hit two-run blast off right-hander Vern Law during the seventh frame of an eventual 4-2 Pirate decision in Sunday's finale. Tension mounted an evening later in Los Angeles at Dodger Stadium, when Shamsky came to bat in the eighth inning against reliever Bob Miller. However, no record-breaking fifth successive home run resulted when Shamsky singled to right field to end his amazing streak.26
Shamsky was eventually asked by Kenny Smith, director of the Baseball Hall of Fame, to send one of his bats to Cooperstown so it could be put on display.27
This article was published in "Cincinnati's Crosley Field: A Gem in the Queen City" (SABR, 2018), edited by Gregory H. Wolf. To read more articles from this book at the SABR Games Project, click here.
Sources
In addition to the sources cited in the Notes, the author also accessed Retrosheet.org, Baseball-Reference.com, Newspapers.com, the SABR BioProject, and The Sporting News archive via Paper of Record.
https://www.baseball-reference.com/boxes/CIN/CIN196608120.shtml
http://www.retrosheet.org/boxesetc/1966/B08120CIN1966.htm
Notes
1 Lou Smith, "Ellis Opens on Mound Against Leading Bucs," Cincinnati Enquirer, August 12, 1966: 28.
2 Ibid.
3 Mark J. Schmetzer, Before The Machine (Cincinnati: Clerisy Press, 2011), 86.
4 Lester J. Biederman, "Flamethrowing Veale, Stargell Cut Down Braves," Pittsburgh Press, June 20, 1966: 34.
5 Dick Kaegel, "King of the Jesters — That's Bob Prince, Zany Buc Mikeman," The Sporting News, September 3, 1966: 12.
6 Smith, "Bucs Win 11-HR Binge, 14-11," Cincinnati Enquirer, August 13, 1966: 13.
7 Jack Klumpe and Kevin Grace, The Cincinnati Reds 1950-1985 (Charleston, South Carolina: Arcadia Publishing, 2004), 47.
8 Biederman, "'Pop-Gun' Shot Wins Pirate Homer War," Pittsburgh Press, August 13, 1966: 6.
9 Smith, "Bucs Win."
10 Philip J. Lowry, Green Cathedrals (New York: Walker & Company, 2006), 66. The right-field bleachers were called the Sun Deck for day games and the Moon Deck for night games.
11 Smith, "Bucs Win."
12 Ibid.
13 Ibid.
14 Ibid.
15 Ibid.
16 Smith, "Ellis Opens on Mound."
17 Smith, "Bucs Win."
18 Earl Lawson, "Shamsky Equals Record, Hitting 4 HRs in Row," The Sporting News, August 27, 1966: 12.
19 Smith, "Reds, Pittsburgh Tied 11-11 in 12th," Cincinnati Enquirer, August 13, 1966: 13.
20 Biederman, "Bucs, Reds, Tie Homer Record; Clout 11 in See-Saw Marathon," The Sporting News, August 27, 1966: 9.
21 Smith, "Bucs Win."
22 Biederman, "Bucs, Reds, Tie Homer Record." On June 23, 1950, the Detroit Tigers (5) and New York Yankees (6) combined for 11 home runs (in nine innings) during a 10-9 Detroit win at Briggs Stadium.
23 Al Heim, "Reds Help Don — He Returns Favor," Cincinnati Enquirer, August 12, 1966: 28.
24 Biederman, "Bucs, Reds."
25 Ibid.
26 Lawson, "Shamsky, Going for Fifth Homer in Row, Gets Single," The Sporting News, August 27, 1966: 12.
27 Ibid.
Additional Stats
Pittsburgh Pirates 14
Cincinnati Reds 11
13 innings
---
Crosley Field
Cincinnati, OH
Box Score + PBP:
Corrections? Additions?
If you can help us improve this game story, contact us.
Tags
https://sabr.org/sites/default/files/ShamskyArt-CIN.jpg
600
800
admin
/wp-content/uploads/2020/02/sabr_logo.png
admin
2019-10-07 14:53:42
2020-04-17 10:22:29
August 12, 1966: Art Shamsky socks three consecutive homers as Reds, Pirates combine for 11 clouts