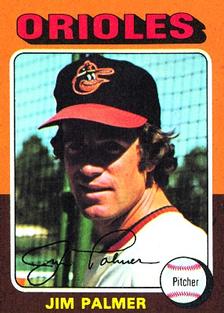 August 13, 1975: Orioles' Jim Palmer outlasts rain, Royals for 18th victory
---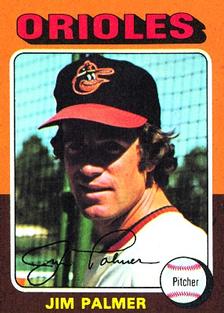 As rain peppered down on Memorial Stadium and forced two long delays on that Wednesday night, the visiting Kansas City Royals (65-51) managed only two hits in a 3-0 shutout loss to stylish right-hander Jim Palmer (17-7, 2.43 ERA) and the Baltimore Orioles (63-52).
Palmer, who notched his major-league-leading 18th win of the season, cruised through the Royals' lineup early in the game before giving up a double to Kansas City catcher Bob Stinson in the top of the sixth. The Royals picked up a second hit on Vada Pinson's single in the top of the ninth with no one out.
There was rhyme — Stinson and Pinson — and perhaps reason why the club's only two hits came from the bottom two hitters in the order: unrelenting rain for nearly three hours.
Stinson's double off Palmer came after a lengthy 2 hour 8 minute weather delay in the second inning. Pinson got his hit after rain held up the American League contest another 42 minutes in the eighth.1
"I feel I'm throwing the ball really well now, although I can't say whether the rain delay really hurt my chances for a no-hitter, but I wouldn't have thrown the same pitch to Stinson if it wasn't for the rain delay," Palmer said after a quarter of an inch of rain had fallen on Baltimore.2 "I'm pitching the way I feel capable of doing. The three-run lead helped. My shoulder got tight tonight but it didn't stiffen. That's why I was in there at the end."3
The Orioles, who sat in second place seven games behind Boston in the American League East standings, scored all three of their runs in the sixth. O's center fielder Paul Blair got the first of his two hits of the night on a single to left. The speedster then swiped second as designated hitter Tommy Davis struck out. It was Davis's third strikeout of the contest.
Now, with two outs and Blair in scoring position, first baseman Lee May smacked a single to right off Royals starting pitcher Marty Pattin (8-7, 3.60 ERA) as lightning flashed above the ballpark.4 The hit scored Blair, and the Orioles had the only run they would need on the warm August night.
Leading 1-0, left fielder Don Baylor gave his Baltimore club a little cushion with a two-run home run, his 19th of the year, that brought home May. Suddenly, the Orioles had jumped out to a commanding — that is, with the dominant Palmer on the mound — 3-0 lead.
Baltimore tried to add more runs and chase the righty Pattin from the mound. The Orioles' Bobby Grich followed Baylor's blast with a double to left. Pattin issued an intentional walk to catcher Elrod Hendricks to get to Brooks Robinson, who fouled out down the first-base line.
Pattin gave up seven hits and three runs, all earned, and struck out eight Orioles. His record dropped to 8-8 and his ERA edged up to 3.63.
Pattin pitched into the seventh, got one Orioles batter out but then gave up back-to-back singles to right fielder Ken Singleton and Blair. With Baltimore runners at first and second, Royals manager Whitey Herzog replaced Pattin with reliever Lindy McDaniel. The right-hander forced Davis to hit into a Rojas-to-Patek-to-Mayberry (that's Cookie, Freddie and John, respectively) 4-6-3 double play to end the Orioles' seventh-inning threat.
Bob McClure made his major-league debut in the bottom of the eighth. His beginning was not auspicious, as the first batter he faced, May, reached on an error. Perhaps unnerved by the error or his debut, he then balked Tony Muser (running for May) to second. McClure had two other career firsts in that inning: Grich was his first intentional walk, and Hendricks was his first strikeout victim. The official record shows a no-hit inning for his debut, but the details were a bit more complicated.5 With the loss, the Royals slipped to 65-52, good for second place in the AL West. Kansas City trailed Oakland by six games in the division race.
The victory improved the Orioles' record to 64-52.
Both teams had been playing solid baseball coming into the game. Each had won eight of its previous 10 games. The win on Wednesday clinched the three-game series for the Orioles, who took the opener 4-0 and lost Tuesday night's affair, 4-2, in 10 innings.
Palmer picked up his fifth win in a row in front of 12,983 faithful fans who braved the rain and long delays at the ballpark on Baltimore's East 33rd Street. There were far fewer spectators when the game ended at 12:39 A.M. Thursday.6
The 29-year-old Palmer had not lost since July 23, a 1-0 decision to the Angels. The shutout was his eighth of the season, tying him for the club record with Steve Barber, who set the mark in 1961.
Palmer credited his leg kick, or lack thereof, for his latest pitching success.
"I'm not throwing my leg as high as I used to," the 1973 Cy Young Award winner explained. "I'm throwing the ball well, certainly as well as I ever have, and I have a great freedom of delivery."7
Palmer's masterful performance, which further propelled his bid for yet another Cy Young8 honor, was his second two-hitter of the season. The first was just eight days previously in a 3-0 win over the Red Sox in Boston.
It might have been his first no-hitter had the game been played on a calm, clear summer evening, and not a rainy night in Baltimore.
Sources
baseball-reference.com/boxes/BAL/BAL197508130.shtml.
retrosheet.org/boxesetc/1975/B08130BAL1975.htm.
Notes
1 Ken Nigro, "Orioles Defeat Royals, 3-0, for Palmer's 18th," Baltimore Sun, August 14, 1975: 39.
2 WeatherUnderground.com
wunderground.com/history/airport/KBWI/1975/8/13/DailyHistory.html?req_city=&req_state=&req_statename=&reqdb.zip=&reqdb.magic=&reqdb.wmo=. Accessed December 14, 2018.
3 Fred McMane, United Press International, "Jim Palmer Doesn't Rust in the Rain," August 14, 1975.
4 Ken Nigro, "Orioles defeat Royals."
5 It may not have been the most auspicious start for a relief pitcher's career, but it worked out okay: He had a 19-year major-league career, pitching for seven teams (mostly in relief).
6 Ken Nigro, "Orioles Defeat Royals."
7 Fred McMane, United Press International, "Jim Palmer Doesn't Rust in the Rain."
8 Palmer won the Cy Young Award in 1975 and 1976.
Additional Stats
Baltimore Orioles 3
Kansas City Royals 0
---
Memorial Stadium
Baltimore, MD
Box Score + PBP:
Corrections? Additions?
If you can help us improve this game story, contact us.
Tags
https://sabr.org/sites/default/files/PalmerJim-1975.jpg
600
800
admin
/wp-content/uploads/2020/02/sabr_logo.png
admin
2018-12-20 15:22:06
2020-04-17 10:23:43
August 13, 1975: Orioles' Jim Palmer outlasts rain, Royals for 18th victory