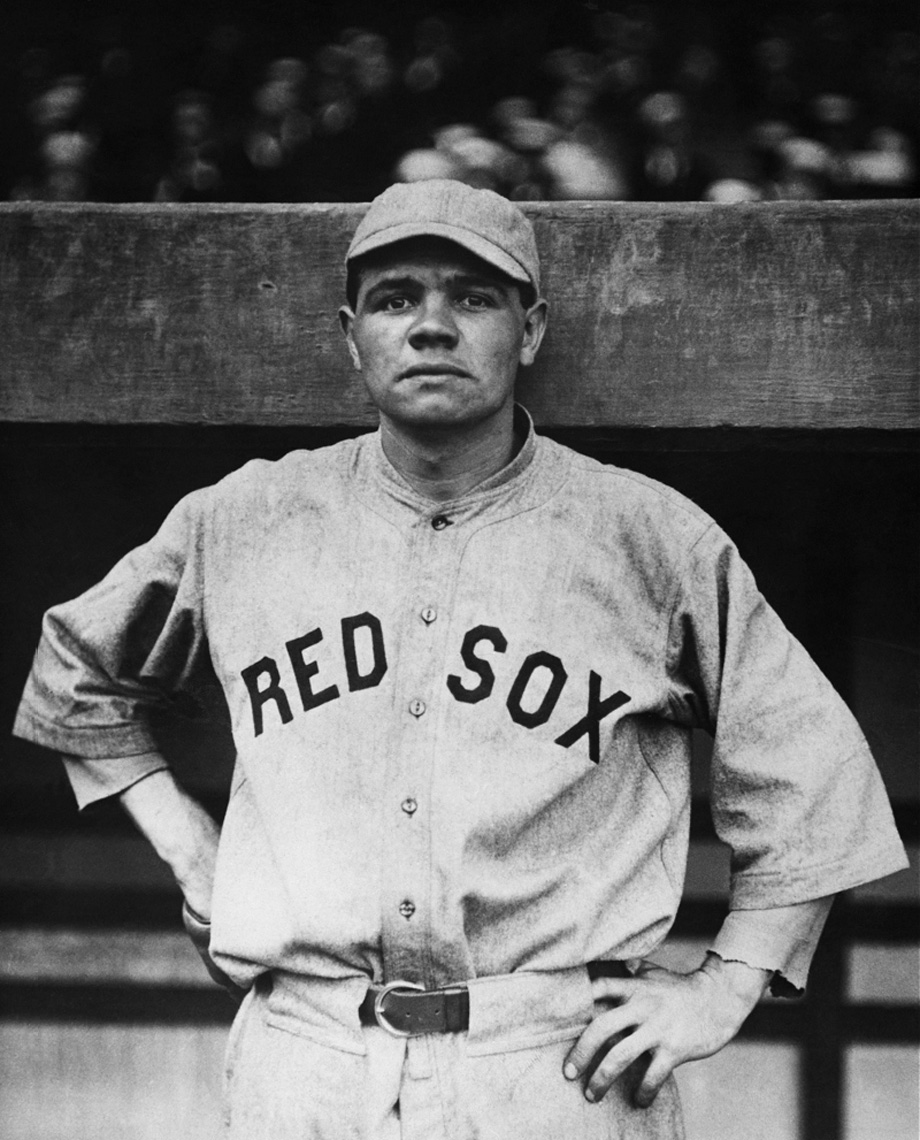 August 14, 1919: Babe Ruth hits 17th home run to set new American League single-season record
---
"How many home runs did Babe Ruth make today?"
This question was asked by a subscriber over the telephone last night.
"One" was the reply.
"Good" came back over the wire almost before the answer had been given.
— John J. Hallahan, Boston Globe1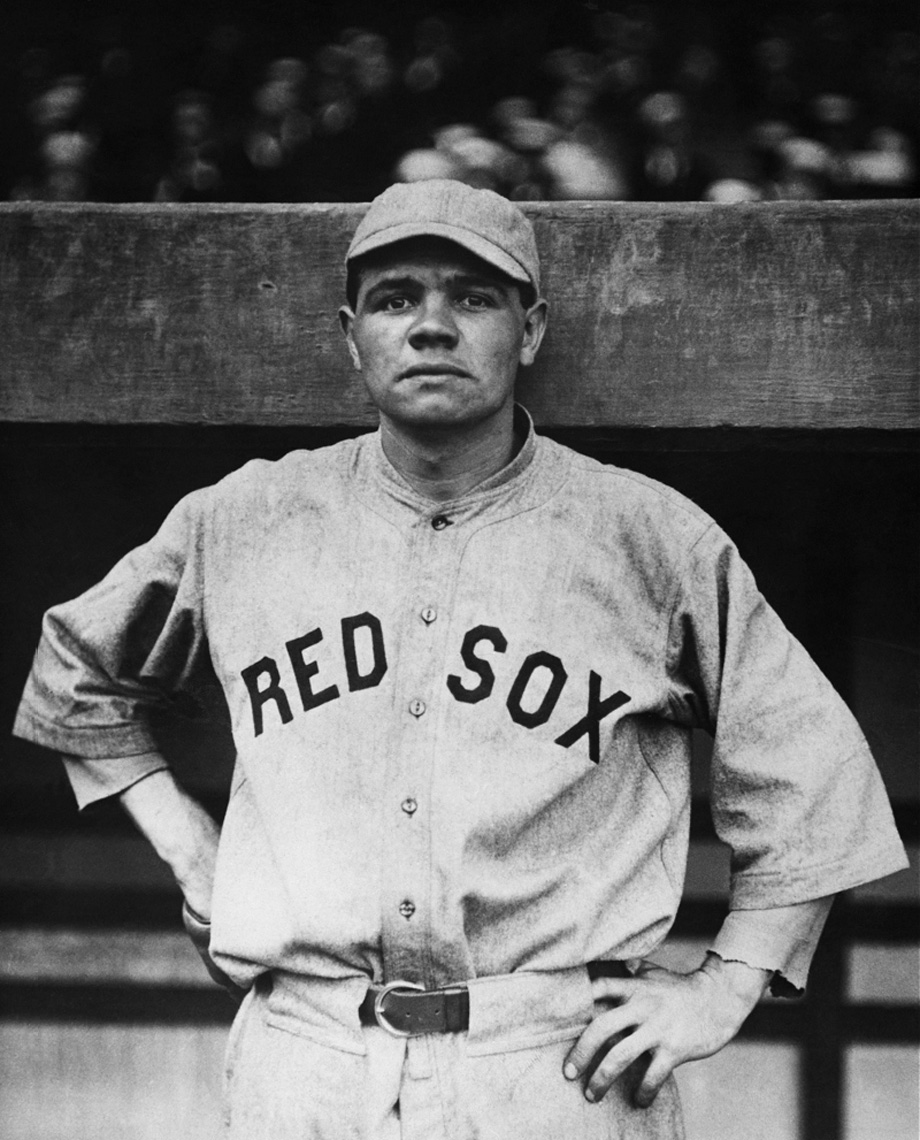 By the summer of 1919, at the precocious age of 24, Babe Ruth was already considered "the greatest drawing card in baseball."2 The Boston Red Sox' two-way superstar led his team to three World Series championships in his first five seasons, topping American League pitchers in ERA and shutouts in one breath and leading the league in home runs and slugging percentage the next.
No one had ever seen anyone like The Babe. Red Sox manager Ed Barrow had long struggled between his competing desires to put Ruth's powerful bat in the lineup every day and to keep the game's best left-handed pitcher on the mound.
"I don't think a man can pitch in his regular turn, and play every other game at some other position, and keep that pace year after year," Ruth said in 1918. "I can do it this season all right, and not feel it, for I am young and strong and don't mind the work. But I wouldn't guarantee to do it for many seasons."3
For most of the 1919 season, Ruth had taken his regular turn on the mound. He won his first five decisions as a pitcher, but by mid-June the defending champions were mired in sixth place and the season looked like a lost cause. Ruth began spending more time as a left fielder and first baseman.
In July, Ruth served notice that his bat was here to stay. He smacked nine home runs in the month — establishing his first modern major-league batting record — and then set his sights on breaking every other home-run record within reach. On July 29, he hit his 16th home run to tie the American League single-season mark, set by Socks Seybold of the Philadelphia A's back in 1902.4 Seybold was able to take advantage of the A's playing their home games at Columbia Park, the AL's smallest ballpark, with an average outfield distance of only 346 feet.5
Ruth's record-breaking home run came two weeks later against the Chicago White Sox on August 14 at Comiskey Park.
By then, Ruth was firmly established as the Red Sox' full-time cleanup hitter. He would take the mound only three more times that season and, following his sale to the New York Yankees in the offseason, just five more appearances as a pitcher throughout his career. No one seemed to mind. With each swing of the bat, The Babe was revolutionizing the game, almost single-handedly bringing baseball out of the Deadball Era.
Ruth's mighty blast on a summer afternoon in Chicago set the stage for his many accomplishments to come. The White Sox were Boston's primary rival for AL supremacy at the end of the Deadball Era — the Red Sox won the pennant in 1915, '16, and '18, while Chicago finished first in 1917 and was on its way to another fateful World Series in 1919.
White Sox ace Eddie Cicotte (21-6, 1.55 ERA) took the mound against his former team to open a long homestand. But the knuckleballer did not have his best stuff, allowing eight hits and seven earned runs before he was mercifully removed in the third inning. Harry Hooper singled twice in the inning and Red Shannon hit a bases-loaded triple as the Red Sox batted around to take a 9-0 lead.6
Reliever Dickey Kerr held off the Red Sox' offensive onslaught until the seventh, when Boston erupted for five more runs. After Braggo Roth singled to score Hooper and make the score 13-3, Ruth came to the plate and rapped a pitch from the White Sox lefty "far and high into the right field bleachers."7 The Boston Globe reported that Ruth's blast landed in the back row, adding that right fielder Nemo Leibold "just stood still and watched the ball sail over him. He knew it was a homer from the crack of the bat."8 Ruth's 17th home run broke Socks Seybold's 17-year-old league record — with a month and a half remaining on the schedule.
In addition to The Babe's celebrated day, Roth and Stuffy McInnis had three hits apiece, while Hooper, Shannon, Wally Schang, and Everett Scott also had multi-hit games.
The Red Sox might have scored more than 15 runs if not for White Sox center fielder Happy Felsch, who tied a major-league record with four assists9 — including throwing three runners out at home plate. "Quite some pegging for one afternoon," wrote James Crusinberry of the Chicago Tribune.10
Ruth's record-setting run in 1919 was far from over. By the end of August, he was closing in on Buck Freeman's major-league record of 25 home runs, set in 1899 with the Washington Nationals. Ruth shattered that mark on September 8 and newspapers around the country began tracking his performance on a daily basis.
Then someone discovered an old-time slugger, Ed Williamson of the Chicago White Stockings, who had been credited with 27 home runs in 1884. The White Stockings' home field of Lake Front Park also featured cozy fences that were less than 200 feet down the foul lines.11 On September 20 — while Fenway Park fans celebrated "Babe Ruth Day" — Ruth tied Williamson's mark with a dramatic walk-off home run against White Sox pitcher Lefty Williams. Four days later, The Babe blasted a ball over the Polo Grounds roof to set the new single-season record, once and for all.
Ruth added one final round-tripper on the season's next-to-last day to give him a grand total of 29 home runs in 1919, more than anyone else had hit in the first half-century of professional baseball. He would surpass his own single-season mark in 1920 and again in 1921, the same year he also became baseball's career home run king at the age of 26. Every home run he hit after that extended his record for years to come.
Sources
Box scores for this game can be found at Baseball-Reference.com and Retrosheet.org.
baseball-reference.com/boxes/CHA/CHA191908140.shtml
retrosheet.org/boxesetc/1919/B08140CHA1919.htm
Notes
1 John J. Hallahan, "Babe Ruth May Better His Home Run Record," Boston Globe, August 15, 1919: 6.
2 Ibid.
3 F.C. Lane, "The Season's Sensation," Baseball Magazine, October 1918: 472.
4 Vince Altieri, "Socks Seybold," SABR BioProject, accessed July 31, 2019.
5 Ron Selter, "Columbia Park II: Philadelphia American League, 1901-08," The National Pastime (Phoenix: SABR, 2013).
6 "Ruth Clouts 17th Homer as Sox Win," Boston Globe, August 15, 1919: 6.
7 "Babe Ruth Breaks American League Home Run Record With 17th Circuit Crash," Boston Herald, August 15, 1919: 10.
8 "Crushing Chicago," Boston Globe, August 15, 1919: 6.
9 "Assist Records for Outfielders," Baseball-Almanac.com, accessed at baseball-almanac.com/rb_ofas.shtml on July 31, 2019. A handful of National League outfielders had recorded four assists in a game before Felsch, but the only American Leaguers to do so were Chicago's Ducky Holmes in 1903 and New York's Lee Magee in 1916. Only three major-league outfielders have done it since: Bob Meusel of the Yankees in 1921, Sam Langford of the Indians in 1928, and Wally Berger of the Boston Braves in 1931.
10 James Crusinberry, "White Sox Notes," Chicago Tribune, August 15, 1919: 19.
11 Bill Felber, "The Most Dominant Home Run Season Ever," SABR Nineteenth Century Committee Newsletter, Spring 2015. Accessed online at ourgame.mlblogs.com/the-most-dominant-home-run-season-ever-9504bc8537c4 on July 31, 2019.
Additional Stats
Boston Red Sox 15
Chicago White Sox 6
---
Comiskey Park
Chicago, IL
Box Score + PBP:
Corrections? Additions?
If you can help us improve this game story, contact us.
Tags
https://sabr.org/sites/default/files/Ruth-Babe-RedSox.jpg
600
800
admin
/wp-content/uploads/2020/02/sabr_logo.png
admin
2019-08-13 12:48:30
2021-10-26 12:29:12
August 14, 1919: Babe Ruth hits 17th home run to set new American League single-season record