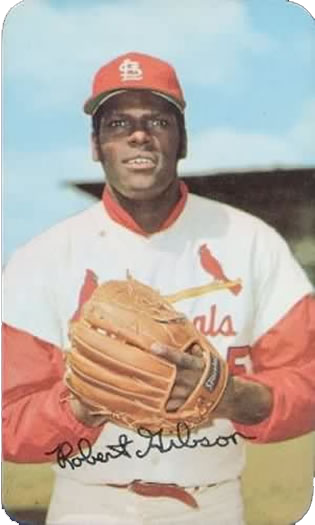 August 14, 1971: Bob Gibson fires his first no-hitter for Cardinals
---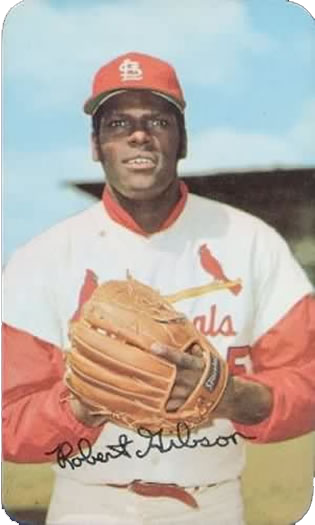 Bob Gibson thought he was running out of time. At 35 years of age, the hard-throwing right-hander from Omaha had accomplished almost everything a pitcher could as the 1971 season commenced. The five-time 20-game winner twice tossed complete games to win Game Seven of the World Series (1964 and 1967), won the Cy Young Award and MVP awards in 1968 on the strength of his record-shattering 1.12 ERA and 13 shutouts, and picked up another Cy Young trophy in 1970. However, a no-hitter had thus far proved elusive. He had come close just a year earlier when he held the San Diego Padres hitless for 7⅔ innings on June 17, ultimately settling for his second one-hitter. All that changed on August 14, 1971, when Gibby held the eventual World Series champion Pittsburgh Pirates hitless in an overpowering performance. "This was the greatest game I've pitched anywhere," said Gibson, who fanned 10.1 "I didn't think that I'd ever throw a no-hitter," admitted the hurler. "I'm a high-ball pitcher and not many high-ball pitchers throw no-hitters."2
The St. Louis Cardinals were trying to make a late-season push to capture their fourth pennant in eight years. After losing four straight at Busch Stadium, skipper Red Schoendienst's squad had taken the first two games of a four-game set at Three Rivers Stadium to inaugurate a season-long 13-game road trip. The Redbirds (66-54) trailed the reeling Pirates by only six games. Manager Danny Murtaugh's Bucs (71-48) had been in sole possession of first place since June 10, but had won only six of their last 20 games.
In his 13th big-league season, Gibson was having a very un-Gibson-like campaign (10-10, 3.39 ERA), especially after posting otherworldly numbers in his previous three seasons (a 65-29 record, 2.13 ERA, and an average of 304 innings pitched and 270 strikeouts per season). Bothered by a sore leg for most of May, Gibson landed on the DL at the end of the month and missed three weeks. The talk of baseball was that the seven-time All-Star with a 4-5 record and 4.27 ERA was washed up. But the competitive hurler had regained his status as one of the game's fiercest since his return, winning six of his previous nine starts, posting a stellar 2.25 ERA and holding opponents to a .212 batting average. His previous victory, a route-going affair in the Gateway City against San Francisco on August 4, was his 200th (against just 126 losses), easily within striking distance of Jesse Haines's franchise record 210. Gibson looked to carry his momentum against the major leagues' highest-scoring offense, affectionately known as the Lumber Company.
Just as the crowd of 30,678 in Three Rivers Stadium was getting comfortable on a Saturday evening, the Cardinals wasted no time attacking the Pirates starter, 28-year-old right-hander Bob Johnson (7-7, 3.21). Johnson was coming off a shutout six days earlier, but this day was forgettable. After former Pirate Matty Alou led off with a walk and moved to second on rookie Jose Cruz's one-out single, Joe Torre and Ted Simmons belted RBI singles to right field. Joe Hague followed with his 11th round-tripper of the season to make it 5-0 and send Johnson to the showers. Swingman Bob Moose (7-7, 4.19 ERA) yielded a single to the first batter he faced, Ted Kubiak, but immediately picked him off first before settling into a groove for the next few innings.
Gibson took advantage of a lineup that was missing two of its integral pieces, the venerable Roberto Clemente, batting .323, and Manny Sanguillen, whose .328 average placed him fourth in the NL. Both had scheduled days off. Supported by what probably seemed an insurmountable five-run cushion, Gibson breezed through the first four innings, allowing three baserunners. Milt May, catching in place of Sanguillen, reached first on a wild pitch after striking out in the second. Jackie Hernandez and Willie Stargell drew walks in the third and fourth, respectively.
The Cardinals, who would lead the majors in hitting with a .275 average and score more runs than any NL team other than the Pirates in 1971, went on another barrage in the fifth. Following Torre's one-out single and Simmons's double, Moose intentionally passed Hague to set up an inning-ending double play. That strategy failed when light-hitting Kubiak stroked a two-run double to right field. Playing the percentages despite a 7-0 score, Moose issued another free pass, to Dal Maxvill to load the bases again. Gibson whacked a sacrifice fly to deep right field to drive in Hague, as the other runners advanced a station. But the third time was a charm for Moose, who retired Ted Sizemore on a fly ball to end the inning after his third intentional walk of the frame.
"You keep looking up at that big scoreboard and see they don't have any hits," remarked Gibson about the growing tension of his no-hitter. "Starting in the seventh, I was really concentrating."3 Gibson began the seventh by punching out Stargell for his eighth strikeout. May followed with the first hard-hit ball of the game, sending Jose Cruz deep into center field where he made, according to the Associated Press, a "running catch" at the warning track.4 After Bob Robertson drew Gibson's third and final walk, Bill Mazeroski lined sharply to shortstop Maxvill to end the frame.
The Redbirds scored their final three runs in the eighth inning off reliever Bob Veale, the former major-league strikeout king (250 in 1964 but now on the tail end of a 13-year career). He loaded the bases on one-out singles by Simmons and Hague and a walk by Kubiak. After Maxvill drew a walk to plate the Cardinals' ninth run, Gibson, one of the league's best hitting pitchers, lined a two-run single.
"In the last two innings, I was bearing down extra hard," Gibson said. "I was trying not to make bad pitches. Even when I was getting behind in the count, I was careful not to groove the ball."5 Gibson set down the side in order in the eighth, benefiting from a stellar play by third baseman Torre, who made a "leaping stab" of Dave Cash's grounder and rifled a throw to first.6 After Nellie Briles, the Pirates' fourth reliever of the game, tossed a scoreless frame, Gibson began the ninth with a no-hitter intact for the first time in his career.
Gibson was "mixing his fastballs and sliders well and even throwing in a few changeups," reported Neal Russo of the St. Louis Post-Dispatch.7 A noted fly-ball pitcher, Gibson had the Pirates reaching for pitches well out of the strike zone. Vic Davalillo and Al Oliver grounded to short and second, respectively, to begin the ninth. Up stepped Stargell, leading the majors with 39 homers, 101 RBIs, and a .660 slugging percentage, and whom Pirates radio broadcaster Bob Prince often introduced with the phrase, "Spread some chicken on the hill, Will." On a 3-and-2 count, Stargell kept his bat on his shoulder as home-plate umpire Harry Wendelstedt emphatically called strike three ending the game in 2 hours and 22 minutes. Cardinals catcher Ted Simmons rushed to the mound to embrace Gibson as other teammates quickly joined the celebration.
"It thrilled me," said Gibson, who threw 124 pitches to record his 48th career shutout and also reached double digits in strikeouts for the first time that season. "I felt as if we'd won the seventh game of the World Series."8 The 22-year-old Simmons seemed awestruck by Gibson's dominance: "Man, he was throwing hard."9
The Cardinals banged out 16 hits, led by eventual NL MVP Joe Torre, who tallied four singles to improve his major-league-leading batting average to .360. Simmons also had four hits, including a double; he and Hague scored three times each.
"I was looking for a fastball and then that slider cut over the plate at the last second," said Stargell of the strikeout that concluded Gibson's masterpiece, Willie's third whiff. "All those people who said that Gibson was washed up should have had to bat against him tonight."10 Stargell was right. Gibson continued his second-half surge, tossing a three- and a four-hit shutout and winning five of his last eight starts to finish with a misleading 16-13 record, tying for the NL lead in shutouts (5) and ranking third in complete games (20).
Gibson's gem was the sixth no-hitter in Cardinals history and the first since Ray Washburn defeated San Francisco, 2-0, on September 18, 1968, at Candlestick Park. It was just the second no-hitter in the Steel City and the first since 1907 when the Pirates Nick Maddox defeated the Brooklyn Superbas, 2-1, on September 20 at Exposition Park. From 1909 through June 28, 1970, the Pirates played in cavernous Forbes Field, which was never the site of a no-hitter.
This article appears in "Moments of Joy and Heartbreak: 66 Significant Episodes in the History of the Pittsburgh Pirates" (SABR, 2018), edited by Jorge Iber and Bill Nowlin. To read more stories from this book at the SABR Games Project, click here.
Sources
In addition to the sources cited in the Notes, the author accessed Retrosheet.org, Baseball-Reference.com, the SABR Minor Leagues Database, accessed online at Baseball-Reference.com, SABR.org, and The Sporting News archive via Paper of Record.
Notes
Additional Stats
St. Louis Cardinals 11
Pittsburgh Pirates 0
---
Three Rivers Stadium
Pittsburgh, PA
Box Score + PBP:
Corrections? Additions?
If you can help us improve this game story, contact us.
Tags
http://sabr.org/sites/default/files/GibsonBob-1971.png
600
800
admin
/wp-content/uploads/2020/02/sabr_logo.png
admin
2016-06-28 15:59:35
2020-04-17 10:26:04
August 14, 1971: Bob Gibson fires his first no-hitter for Cardinals