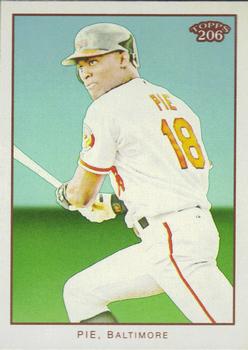 August 14, 2009: Pie cycles and Tillman gets first career win for Orioles
---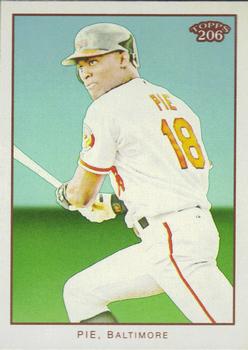 On August 9, 2009, Felix Pie became just the second Baltimore Orioles player to hit for the cycle in a Baltimore ballpark. In the game, Baltimore batters smashed a record nine doubles as part of a 19-hit attack and defeated the Anaheim Angels, 16-6. Orioles rookie Chris Tillman picked up his first career win before a Friday night Camden Yards crowd of 25,836.
The Orioles-Angels matchup also pitted two Izturis brothers against each other. Maicer played second base for the West Division-leading Angels1 and Cesar played shortstop for Baltimore, which was deep in last place in the AL East.
This was Tillman's fourth career start, and he was facing Anaheim's ace, Jered Weaver, who entered the game with a 12-3 record. Weaver had won nine of his last 14and had struck out a career high 11 in each of his two previous starts, against Minnesota and Texas. As for Tillman, in his three previous starts, all no-decisions against Kansas City, Detroit, and Toronto), the right-hander had pitched a total of 17⅓ innings and allowed 10 earned runs.
In the first inning Tillman had trouble finding the plate. He walked leadoff batter Chone Figgins, who was thrown out stealing with Maicer Izturis at bat. Then Tillman walked Izturis. Bobby Abreu struck out, but Vladimir Guerrero singled and Izturis scored on a fielding error by Pie. Juan Rivera doubled to center, plating Guerrero. Tillman was off to a quick 2-0 deficit.
The Orioles came back with a vengeance in the bottom of the inning. Brian Roberts led off with a double deep down the right-field line. Adam Jones walked. With one out, Aubrey Huff doubled into the left-center-field gap as Roberts and Jones scored. Nolan Reimold walked, and with two outs Melvin Mora singled to center, scoring Huff. Pie then stroked a line drive into the right-field corner for the third double of the inning, and Baltimore led, 4-2. Cesar Izturis singled, giving Baltimore two more runs. Roberts singled before Jones forced Roberts at second base for the third out. Eleven Orioles had batted and the team scored six times.
In the third, Pie hit a solo home run well beyond the right-field wall, and it was 7-2. After his rough start in the top of the first, Tillman settled down and faced the minimum inthe second and third innings. In the Angels' fourth, Abreu led off with a home run to deep center. Rivera hit a one-out double to center and advanced to third on a single by Kendrys Morales, but was thrown out at the plate when Erick Aybar grounded to Cesar Izturis at short, who fired home.
The Orioles responded in their half of the fourth. Jones singled and advanced on a wild pitch. An out later, Huff was intentionally walked, then Reimold also drew a walk, sending Weaver to the showers. Angels manager Mike Scioscia brought in Matt Palmer to face the switch-hitting Matt Wieters, and Wieters sent a fly ball to left, bringing in Jones. Mora walked, but Pie struck out to end the rally. Baltimore added a run in the fifth on back-to-back doubles by Izturis and Roberts.
Tillman appeared to run out of gas in the seventh. With two outs, Mike Napoli singled and O's skipper Dave Trembley pulled Tillman for Matt Albers. Albers yielded a double to Gary Matthews and a single to Figgins. Suddenly, it was a ballgame again with the score 9-5 in favor of Baltimore.
Shane Loux had retired the Orioles in order in the sixth after relieving Palmer, but in the seventh he faced 10 Orioles batters. Pie started the hit parade with a soft single to short. Izturis tripled, Roberts, Jones, and Nick Markakis all doubled and Huff was hit by a pitch before an out was recorded. With two outs and runners at first and second, Pie strode to the plate for the second time in the inning and he shot a ball into the gap in deep right-center, motoring around to third base. The fans gave Pie a standing ovation. Only then did Scioscia lift Loux for Jose Arredondo. Baltimore led by 11 runs, 16-5. Anaheim added two doubles in the eighth for one more run, and the final score was 16-6.
With the triple, Pie had completed the rare feat of hitting for the cycle. According to Baltimore's third-base coach, Juan Samuel, Pie didn't know what he had done. Samuel had to explain to him why the crowd was cheering. "He was like, 'I don't know.' So I said, 'Well, you've got a double, you've got a triple now, you've had a home run and a single. You hit for the cycle. And he said, 'Really?'"2 This caused the 24-year-old Pie to get excited, pump his fists, and yell to his dugout, which earned him a "staredown from Angels manager Scioscia."3 Pie apologized to the Angels after the game.
Baltimore hitting coach Terry Crowley said, "You can't begrudge a young kid his emotion when he hits for the cycle. I don't think Scioscia realized that it was the fourth hit of a cycle." He added, "That kid has worked every day. Every day, without missing any time, he just comes in and works. And he went a long span without getting to play because other guys were playing good. It's to his credit. We know he's got some ability, and tonight was a game he'll never forget."4
The Orioles tied a franchise record for most doubles in a game, nine. Twelve of their 19 hits were for extra bases (also a record). The Angels added five doubles of their own in a losing cause, with Rivera hitting three in his 3-for-4 performance. The record (as of 2016) for the most doubles by one team in a modern-era game is 12, set by the Boston Red Sox against the Detroit Tigers, on July 29, 1990, and equaled by the Cleveland Indians against the Minnesota Twins on July 13, 1996.5
Cesar Izturis nearly matchedPie, missing the cycle by a home run. Orioles skipper Trembley chimed in on Izturis's 3-for-5 game, saying, "He told me he was going to have a big series. It's his turn to turn the tables on his brother. That was fun tonight. Gosh, that was fun."6Maicer Izturis was 0-for-4 with a walk and a run scored.
In gaining his first career victory, Tillman matched his season high of 6⅔ innings pitched and allowed four runs (three earned).7 He said, "It's every kid's dream to pitch in the big leagues, and to finally be here and to get the win—especially with Felix doing what he did tonight—that's awesome."8 The 21-year-old struck out three and walked two. Weaver, on the other hand, allowed "more earned runs than he had in 21 of 23 games this season."9 The 3⅓-inning start was his worst of the season. He threw 38 pitches in the first inning.
Pie's cycle was one of the few bright spots in Baltimore's 2009 season. Baltimore slipped into last place in the American League East Division in May and stayed there. Until this win, they had been 7-19 since the All-Star break. A 13-game losing streak to end the month of September took them to 41½ games behind division winner New York. Pie had often been used as a late-inning defensive replacement. However, after August 24, he started every game. Pie's batting average jumped 20 points to .254 after the cycle. He finished the season at .266. He told reporters that this game was "unbelievable," adding, "I'll never forget this game. When I got to the dugout, they hugged me. Good feeling."10
Pie became the fourth Oriole to hit for the cycle, joining Brooks Robinson (July 15, 1960), Cal Ripken Jr. (May 6, 1984), and Aubrey Huff (June 29, 2007). Pie's accomplishment came just four days after Colorado Rockies shortstop Troy Tulowitzki hit for the cycle and 12 days after Yankees outfielder Melky Cabrera did it.11
Sources
In addition to the sources mentioned in the Notes, the author consulted Baseball-Reference.com, MLB.com, and Retrosheet.org. The author sincerely thanks Meg Gers of the Enoch Pratt Free Library for assistance in obtaining sources from the Baltimore Sun.
Notes
Additional Stats
Baltimore Orioles 16
Anaheim Angels 6
---
Camden Yards
Baltimore, MD
Box Score + PBP:
Corrections? Additions?
If you can help us improve this game story, contact us.
Tags
http://sabr.org/sites/default/files/PieFelix.jpg
600
800
admin
/wp-content/uploads/2020/02/sabr_logo.png
admin
2016-12-07 18:04:50
2021-10-28 01:22:03
August 14, 2009: Pie cycles and Tillman gets first career win for Orioles