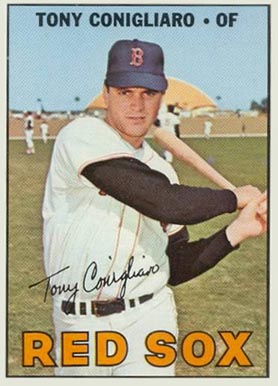 August 18, 1967: 'A very sick sound': Tony Conigliaro's devastation gives way to purpose
---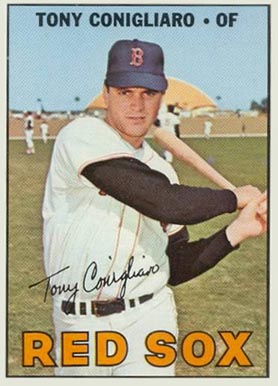 With the passage of time, most memories fade into oblivion but some events will never leave one's consciousness. The decade of the 1960s was defined by such moments – from exhilaration to tragedy, and from events in the athletic arena to events on the world stage. These moments marked, for a generation of Americans, a never-dull march from adolescence to adulthood.
On the evening of Friday, August 18, 1967, at Boston's Fenway Park, before a near-sellout crowd of 31,027, the Red Sox faced the California Angels in the opener of a four-game series. Both teams were involved in the fight for the American League pennant. The Red Sox entered the game in fourth place, trailing the league-leading Minnesota Twins by 3½ games. The Angels were hot on their heels, 4½ games out of first place.
Gary Bell was the Red Sox' pitcher. The veteran had been traded to Boston on June 4 for Don Demeter and Tony Horton and had amassed a 6-5 record in 17 games with the Red Sox. On this night he was making his 16th start. He was up against Jack Hamilton of the Angels in a game that would ultimately change the course of two careers.
Through the first 3½ innings, the pitchers were in command. The game was scoreless and the only hit was a second-inning single to center field by Boston's Tony Conigliaro, who had first played at Fenway Park in 1960, after his sophomore year of high school.
Hamilton, who had been traded to the Angels from the Mets in June for Nick Willhite, brought an 8-2 record into the game. Since joining the Angels, he was 6-2 with a 2.34 ERA. He registered two outs in the bottom of the fourth inning, but there was a delay between the two outs. George Scott was out trying to stretch a single into a double and before Reggie Smith stepped in, the game was delayed as a fan of questionable intellect threw a smoke bomb onto the field. The grounds crew removed the device from the field, and Smith flied out to center field.
Next, Conigliaro stepped in against Hamilton, his stance close to the plate. Hamilton's first pitch was an inside fastball that raced toward the plate to make a sound that would never leave the consciousness of a chorus of onlookers ranging from players, coaches, and managers to umpires, to media, to spectators.1 Author David Cataneo recounts what happened:
"Tony knew he was going to be hit, the way a motorist knows he is about to crash. He jerked his head back. His batting helmet, like almost everyone else in the big leagues at the time, he wore one without an earflap – flipped off. He heard the ball hiss as it cut through the air and felt it wallop squarely at ninety miles per hour into his left eye and cheekbone just below his temple."2
Conigliaro, barely conscious, was carried off the field by his teammates as the stunned crowd looked on in silence.
What happened next in the game was at the same time anticlimactic and significant. The next batter to face Hamilton was Rico Petrocelli. Petrocelli had rushed from the on-deck circle to offer words of encouragement to Conigliaro and then had to regain his composure and step into the batter's box against Hamilton, who could not help but be concerned about hitting Conigliaro.
Petrocelli slammed a triple, scoring Jose Tartabull, who had entered the game as a pinch-runner for Conigliaro. When Jim Fregosi's relay throw to the plate went past the catcher, Petrocelli scampered home with Boston's second run.
Meanwhile, Bell was pitching his best game since joining the Red Sox. In the first four innings, he had retired all 12 men he faced, and he took a no-hitter into the seventh inning. By that point, the Red Sox had 3-0 lead. Petrocelli's fourth-inning triple had scored the first two Boston runs. A sixth-inning single by Bell had tallied Petrocelli, who had walked and advanced to second base on a groundout.
Bell lost his no-hitter and shutout with one out in the top of the seventh inning when Jimmie Hall homered. Don Mincher followed Hall's home run with a single, but was left stranded. Bell allowed an eighth-inning leadoff single to Bobby Knoop, but the Angels were unable to capitalize. Manager Bill Rigney sent up two pinch-hitters. Roger Repoz popped out to first and Bubba Morton grounded into a 4-6-3 double play. The Red Sox took their 3-1 lead into the top of the ninth inning and Bell registered two quick outs, getting Jose Cardenal and Jim Fregosi on grounders. Hall represented the Angels' last chance and he hit his second homer of the game to cut the lead to 3-2. Bell then grabbed a liner off the bat of Don Mincher for the final out.
Bell's eighth win of the season (seventh since joining Boston) pushed the Red Sox season's record to 63-54 and kept them in fourth place, three games behind the league leaders. The Angels, who could have tied Boston in the standings with a win, saw their record slip to 62-57. Although they were in fifth place, they were only five games out of first place with six weeks and two days remaining in the season.
It was not the first time in 1967 that Conigliaro had been hit by a pitch. In spring training, a fastball from John Wyatt during batting practice had sent Tony sprawling. His shoulder blade was broken and although he returned to the lineup by Opening Day, his first 31 games were unproductive, with only two home runs and a .262 batting average.3 He then surged, and by August 18 he had 20 homers and was batting .284.
Conigliaro's injuries were serious. He suffered a cracked cheekbone and a severe nasal hemorrhage. Some observers predicted he would be out for three to four weeks.4 A somewhat cautionary statement was made by Boston's team physician, Dr. Thomas Tierney: "He'll be kept under close observation for 48 to 72 hours. He'll be out at least three or four weeks. We'll know better after the observation period."5 Tony C. would miss the rest of 1967 and the entire 1968 season before returning in 1969. That season he slugged 20 homers in 141 games and in 1970 he had career highs with 36 homers and 116 RBIs. After that season he was traded to the Angels in a six-player deal. He did poorly with the Angels in 1971, was released after the season, and decided to retire at the age of 26. He tried a comeback with the Red Sox four years later, but after playing in 21 games and not performing well, he retired again, appearing in his last game on June 12, 1975.
Red Sox fans refused to dwell on what might have been. Since 1990 the Boston chapter of the Baseball Writers Association of America has recognized Conigliaro's indomitable spirit by presenting the Tony Conigliaro Award to players who have come back from a broad range of physical and emotional obstacles and adversities.
Hamilton, the first of four Angels pitchers, absorbed the loss, bringing his record to 8-3. Although only 28, he would be out of baseball two years later. After the Conigliaro beaning, he went 6-9 with an ERA of 4.93 in 123 innings. Over the course of his career, Hamilton had not been bashful about pitching inside, and had shown a wild streak. In his rookie season, 1962, he led the National League in walks (107) and wild pitches (22). Over the course of his career, he hit 13 batters – none after August 18, 1967. Of the beaning he said, "Gosh, I hope he's all right. He's a fine ballplayer. The ball took off a little and he appeared to freeze. Nobody in the league crowds the plate more than he does."6
The Red Sox were in the midst of what was to be a great homestand in which they would go 10-2. They had taken two out of three, losing only the finale, against the Tigers, before the Angels came to town. They went on to sweep the series with the Angels and continued their winning ways against Washington, taking the first three games of a five-game series. The seven consecutive wins moved Boston into a first-place tie with White Sox. Four teams at that point were within one game of one another. The crowded tightrope would stay congested until the season's final day. Boston, Minnesota, and Detroit were all within one-half game of one another. Boston beat Minnesota and Detroit lost the second game of a doubleheader with the Angels. The Red Sox went on to face the Cardinals in the World Series.
Sources
In addition to the sources listed in the Notes, the author used Baseball-Reference.com and
Golenbock, Peter. Fenway: An Unexpurgated History of the Boston Red Sox (New York, G.P. Putnam's Sons, 1992), Chapter 32.
Reynolds, Bill. Lost Summer: The '67 Red Sox and the Impossible Dream (New York, Warner Books, 1992), 150-157.
Notes
1 David Cataneo. Tony C.: The Triumph and Tragedy of Tony Conigliaro (Nashville, Tennessee: Rutledge Hill Press, 1997), 107.
2 Ibid.
3 Larry Claflin, "Hats Off, Tony Conigliaro, The Sporting News, August 5, 1967: 26.
4 Ron Rapaport (Associated Press), "Conigliaro to Be Out Three to Four Weeks," Nashua (New Hampshire) Telegraph, August 19, 1967: 10.
5 Dave O'Hara (Associated Press), "Red Sox Lose Conigliaro 3-4 Weeks," Charleston (West Virginia) Daily Mail, August 19, 1967: 9.
6 Ibid.
Additional Stats
Boston Red Sox 3
California Angels 2
---
Fenway Park
Boston, MA
Box Score + PBP:
Corrections? Additions?
If you can help us improve this game story, contact us.
Tags
http://sabr.org/sites/default/files/images/ConigliaroTony.jpg
600
800
sabr
/wp-content/uploads/2020/02/sabr_logo.png
sabr
2017-06-28 12:10:54
2022-10-28 12:13:37
August 18, 1967: 'A very sick sound': Tony Conigliaro's devastation gives way to purpose