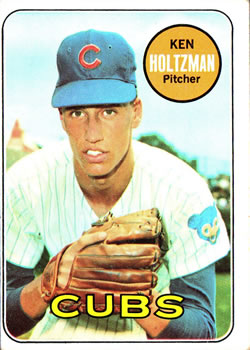 August 19, 1969: Cubs' Ken Holtzman throws no-hitter without striking out a batter
---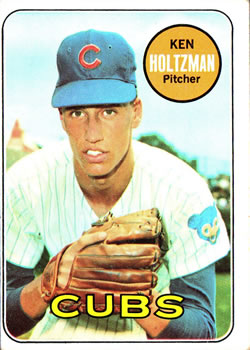 A no-hitter without a strikeout. Since 1901, there have been only four recorded in either the American or National Leagues. Given the current trend of hard-throwing starting pitchers with fastball velocities averaging in the mid-90s and almost a quarter of plate appearances ending in strikeouts, there will likely never be another. Deadball Era hurlers Pete Dowling of the Cleveland Blues in 1901 and Earl Hamilton of the St. Louis Browns in 1912 were the first two to accomplish the feat, followed by the New York Yankees' Sad Sam Jones in 1923. In 1969 Ken Holtzman of the Chicago Cubs joined this very exclusive fraternity of pitchers to author a no-hitter without striking out a batter.
"When I saw my curve wasn't breaking early in the game, I thought it was going to be a long day," said the 23-year-old southpaw, known for his knee-buckling breaking balls and heaters that evoked comparisons to the recently retired Sandy Koufax.1 "I must have thrown 90 per cent fastballs," he quipped and added, "[T]he umpire (Dick Stello) was squeezing the corners on me … wasn't giving 'em to me. I thought, 'Uh oh, if I have to throw my fastball down the center of the plate, I'm in trouble.'"2
A euphoric atmosphere permeated the Wrigleyville neighborhood on the north side of Chicago as the Cubs prepared to kick off an 11-game homestand on August 19. After years of inconsequence, the Cubs, the veritable lovable losers, seemed destined for the postseason for the first time since 1945. In the inaugural season of divisional play, skipper Leo Durocher's squad (76-45) was in first place in the NL East, holding what seemed to be an insurmountable eight-game lead over the New York Mets. The visiting Atlanta Braves (66-57), who had sat atop the NL West for most of the season, were reeling. Manager Lum Harris's team was on a 7-14 skid and had slipped into a tie for third place; however, only 1½ games separated five teams in the tightly packed division. The reorganization of baseball into four six-team divisions seemed like a stroke of genius.
Toeing the rubber for the Braves was 30-year-old right-handed knuckleballer Phil Niekro. A converted reliever, he led the majors with a 1.87 ERA as a rubber-armed swingman in 1967 and earned his first All-Star berth in 1969. He had a 47-37 career slate in parts of six seasons, including 16-10 (2.63 ERA) thus far in '69. His mound opponent, Holtzman, since debuting as a teenager in 1965 had been hailed as a wunderkind, but had not yet reached his potential. He showed signs of it in 1967, going 9-0 in 12 starts in a season cut short by his stint in the Army Medical Corps. He seemed to put it all together in '69, winning 10 of his first 11 decisions, but had since gone just 3-6 and owned a 44-37 career record.
The weather was perfect for a Tuesday afternoon of baseball in the Windy City. Temperatures were in the mid-70s and the sun was bright, while a pleasant nor'easter gusted off Lake Michigan, located a mile east of the ballpark. Wrigley Field was packed with a standing-room-only crowd of 37,514. Times had indeed changed. Just three years earlier, when the Cubs finished in the NL cellar with a 59-103 record, they averaged an NL-low 7,851 at home games.
After Holtzman set down the Braves 1-2-3 in the first, the Cubs took their whacks at Niekro. Don Kessinger and Glenn Beckert opened the game with singles, then Ron Santo crushed a one-out home run, his 25th homer of the season and his first since August 2, to give the Cubs the lead. "I knew it was gone as soon as I hit it," said the inspirational team leader who had earned his sixth All-Star berth the previous month.3 "I hit the knuckler and it was down low," gushed Santo. "You gotta be lucky to hit one of those. I was just trying to get my bat on it."4 The affable third baseman's blast might have portended an offensive explosion; however, an undaunted Niekro mesmerized the Cubs with his floater, yielding just two more hits through the seventh inning. Only once did the Cubs advance as far as second again, when in the seventh Bill Heath walked with one out and Don Young singled, but both were left stranded.
The story of the game was Holtzman, who was no stranger to pitching shutouts in 1969. He tossed five of them, including three straight as part of a career-best streak of 33⅔ scoreless innings in May. No soft-tosser, Holtzman had fanned at least 10 batters in a game twice already in '69.
The good-natured St. Louis native systematically retired the Braves lineup, pounding the zone.  He issued three free passes and no runner advanced beyond first. He didn't yield the semblance of a hit, while the Cubs played error-free defense and chipped in with a trio of excellent plays.
The first of those plays came in the third when Felipe Alou hit a scorching grounder to the right side of second sacker Glenn Beckert. According to sportswriter Richard Dozer in the Chicago Tribune, the All-Star corralled the ball, then "throwing grotesquely, off-balance, almost from behind first base," retired the speedy Alou at first.5 "The high grass slowed it up a bit," said Beckert, "but still, it was right in the hole and I didn't know if I could get it."6
Another All-Star chipped in with a "sensational catch," according to scribe Wayne Minshew of the Atlanta Constitution, in the seventh.7 Hank Aaron connected with a fastball that he sent to deep left field, but the wind slowed the ball down. Flychaser Billy Williams followed the ball's arc and snared it on the warning track, lightly falling into the ivy adorning the brick outfield walls. "It was gone if it hadn't been for the wind," said Williams. "Just one more foot over, and it was a homer. I was in the vine anyway."8 Holtzman thought Aaron's blast had ended his no-hitter and shutout, "I thought it was gone — even with the wind blowing in."9
There are two cardinal sins in no-hitters: Don't talk to the pitcher and don't change the catcher in mid-game. The Cubs broke the second rule, but not willingly. Bill Heath took a foul tip off his right hand from Bob Didier to lead off the eighth. He was replaced one batter latter by veteran Gene Oliver, who had caught only nine innings all season. Taken to the hospital, Heath was diagnosed with a broken transverse metacarpal in his index finger and never played another game in the majors. The team's primary catcher, Randy Hundley, who was en route to leading all NL catchers in games played for the fourth straight season, was shelved with a finger injury suffered a week earlier in San Diego.10
The change in catchers bothered Holtzman. "I was worried about what Gene [Oliver] would do when he came in."11 After a quick discussion on the mound, the batterymates decided on the obvious: Stick with the heater.
Holtzman took the mound three outs away from becoming the first Cub to toss a no-hitter at Wrigley Field since Don Cardwell held the St. Louis Cardinals hitless on May 15, 1960. The third defensive highlight occurred with leadoff hitter Alou, who popped to shallow center, behind second base. Beckert raced back to the ball just as center fielder Don Young came sprinting. A collision seemed imminent, but at the last second Young jerked out of the way and fell to the ground as Beckert snared the ball. "The crowd was making so much noise we couldn't hear anything," explained Beckert about the confusion. "Don says he called for it, but I didn't hear him."12 The next batter, Felix Millan, sent a chopper to Santo at the hot corner; however, moments earlier, he had induced a collective gasp from the crowd when his screeching bullet down the third-base line went foul by 10 feet. To the plate stepped Hank Aaron, en route to finishing second in the NL in home runs (44) in '69. On a 3-and-2 pitch, Hammerin' Hank hit a routine grounder to Beckert, who tossed to Banks at first to end the game in exactly two hours.
While the players converged on Holtzman at the pitcher's mound, Wrigley Field burst into what Windy City sportswriter Robert Markus called an "unprecedented fit of frenzy."13 The Bleacher Bums jumped down from the outfield stands and rushed the field, mixing with the players.
"I can't believe it," said Holtzman about his masterpiece. "I threw about 14 bad pitches and got away with them all."14 His skipper, Durocher, was equally pleased. "When you get a guy like Holtzman who has a great curve ball but it isn't working and he still wins," quipped the Lip, "he has to be some kind of pitcher."15
In his next outing, Holtzman fanned 10 in a complete-game victory, 11-5, against the Houston Astros on August 23. He joined the no-hit ranks again on June 3, 1971, at Riverfront Stadium, in Cincinnati, holding the Big Red Machine hitless and whiffing six.
Sources
In addition to the sources cited in the Notes, the author also accessed Retrosheet.org, Baseball-Reference.com, and SABR.org.
https://www.baseball-reference.com/boxes/CHN/CHN196908190.shtml
https://www.retrosheet.org/boxesetc/1969/B08190CHN1969.htm
Notes
1 Wayne Minshew, "His 0-0-0! Holtzman No-Hits Braves," Atlanta Constitution, August 20, 1969: 45.
2 Ibid.
3 Richard Dozer, "41,033 See Holtzman Hurl No-Hitter," Chicago Tribune, August 20, 1969: Sec 3, 1.
4 Minshew, "His 0-0-0! Holtzman No-Hits Braves."
5 Dozer, "41,033 See Holtzman Hurl No-Hitter."
6 Ibid.
7 Minshew, "His 0-0-0! Holtzman No-Hits Braves."
8 Ibid.
9 Dozer, "41,033 See Holtzman Hurl No-Hitter."
10 Richard Dozer, "Cubs Escape from San Francisco; Come Home with 75 Victories," Chicago Tribune, August 18, 1968: Sec 3, 1.
11 Robert Markus, "Holtzman Had No Curve, but His Fast Ball Stunned Braves," Chicago Tribune, August 20, 1969: Sec 3, 1.
12 Ibid.
13 Ibid.
14 Minshew, "His 0-0-0! Holtzman No-Hits Braves."
15 Wayne Minshew, "Another Sandy Koufax," Atlanta Constitution, August 20, 1969: 1C.
Additional Stats
Chicago Cubs 3
Atlanta Braves 0
---
Wrigley Field
Chicago, IL
Box Score + PBP:
Corrections? Additions?
If you can help us improve this game story, contact us.
Tags
https://sabr.org/sites/default/files/HoltzmanKen-CHC.jpg
600
800
admin
/wp-content/uploads/2020/02/sabr_logo.png
admin
2019-12-10 16:21:41
2021-09-23 12:49:51
August 19, 1969: Cubs' Ken Holtzman throws no-hitter without striking out a batter